Coconut Water Market By Nature (Conventional, Organic), Application (Food, Beverages, Cosmetics & Personal Care), Flavour (Unflavored/Original, Flavored), Sales Channel (B2B/Direct, B2C/Indirect) & Region - Forecast to 2020 - 2030
Coconut Water Market - Analysis, Outlook, Growth, Trends, Forecasts
July 2020

REP-GB-12177

260 pages
Coconut Water Market Outlook & Key Findings
Future Market Insights (FMI) forecasts positive growth for global coconut water market at a CAGR of 10.5% between 2020 and 2030
Consumer preferences are shifting towards natural beverages hence big manufacturers are offering packaged coconut water drinks and beverages to gain traction
Over 70% of coconut water accounts for original/ unflavored. Despite availability in various flavors, regular coconut water will remain consumer favorite, accounting for nearly one-fourth of the market, finds FMI
Pervasive Digitization of the Path to Purchase and Last-Mile Delivery
Progressive developments at the junction between artificial intelligence and flavour science are poised to revolutionize global beverage industry.
From 'Internet of Food' to machine learning, manufacturers are coming up with technologies that can predict flavour combinations, tools are being developed that can offer solutions to some of the critical challenges faced by the F&B industry.
Advancement in the field will enable the beverage sector to radically optimize flavour formulation and product development.
Digital thread can enable calculation of nutritional profile of products to finalizing recipes in lab, to monitoring the whole supply chain and tracking ingredient sourcing from multiple suppliers all the way to the consumers. Digitization has helped resolving various complexities within the supply chain of the coconut water market.
Future Market Insights therefore observes digital developments as the key to success of the market in the near future.
Stabilizing Prices of Organic Coconut Water to Provide Sales Impetus
Pricing is a crucial variable of the market and clearly controls the uptake / demand of coconut water. It is noteworthy to understand that price per / ton of target products around the globe differs at a significant ratio, yet reflects similar pattern of variance.
In the global coconut water market, the derived weighted average selling prices of is near 3000/MT for organic coconut water and near 2000/MT for conventional coconut water. Graph below presents a perspective of price variance across regions and key segment categories.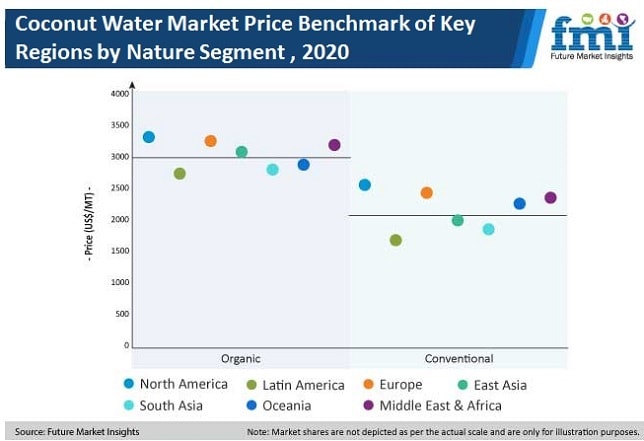 Demand for Clean Label Stems from Idea of Deep-rooted Transparency
The clean label trend is embracing a wider range of products that can be attributed with health benefits. The clean label is a term that has been used in the food industry for many years, however, nowadays this term is used as a catch phrase to attract modern day consumers.
Clean label has now become a mainstream with consumers demanding to understand everything about the products, starting from their evolution to their benefits. This trend is prompting the manufacturers to upscale their clean label game and introduce more products with greater transparency, less complexity and simple sounding ingredients.
Application of Coconut Water in Food and Beverage Industry
Coconut water is used to nutritionally functionalize and enrich a wide range of food and beverage products including cereals, nutrition bars, baked goods, dairy products, drinks, snacks, soups, sauces, and some of the authentic culinary cuisines from South Asia, among others.
Coconut water provide innovative solutions to improve the technological and nutritional functionality of food and beverage products thus are witnessing growing prospects in food and beverage industry.
Plant-based beverages are been increasing preferred over dairy based beverages owing to several factors. Individuals assume that plant-based beverages are healthier and allergen free and hence it is becoming a trend to consume plant-based products.
Key players are launching different plant-based drinks, owing to increased consumption and additional health benefits. Plant-based drinks such as flavoured coconut water does not contain lactose and consumed by increasing lactose intolerant individuals.
Plant-based beverages are highly preferred by individuals over dairy-based products, owing to its health benefits and increasing popularity.
Manufacturers and Restaurants Strives to Innovate
Changing consumer essentials and tastes with changes in processing technology, heftier domestic, rising costs, shortening product lifecycles and overseas competition all upsurge the pressure to innovate.
Restaurants and beverage manufacturers spend millions, coupled with months of efforts, to create new food products. Teams of expert chefs, consumer feedback, and state of the art kitchens together help in creating great tasting food.
For food manufacturers and restaurants, it is important to capitalize on taste to increase the sales of products. When consumers see an alluring flavor proposition, they're likely to try it. Hence, food giants are continuously striving to innovate their product offering.
In 2017, Coca-Cola launched packaged coconut water in India, as increasing consumer preference towards non-sugary drinks take the fizz out of cola sales.
Key Players are Focusing at Product Launches and Strategic Collaborations
According to FMI, nearly 45% of the market belongs to Tier 1 companies and the leading manufacturers are concentrated in North America.
The manufacturers are investing in e-Commerce across multiple channels. It is collaborating with retailers to expand its e-Commerce business. The producers are working towards digitization: In India, the company sets up a Digital Command Center to analyze links between consumer activities and business outcomes.
In 2017, the Pepsi Co. teamed up with leading universities, innovators, and governments on projects for developing biodegradable film resins to make sustainable flexible packaging for its products.
Manufacturers are now shifting their focus towards natural ingredients and additives obtained from natural sources to cater to the changing demand among consumers. This has resulted in a slew of launches within the market, which according to FMI will aid in spurring growth. Some of the recent launches in the coconut water market are:
In 2018, Tropicana Products, Inc., a Bradenton, Fla.-based division of PepsiCo, introduced Tropicana Coco Blends. Tropicana Coco Blends is a juice drink featuring a splash of coconut water, and available in Pineapple with Coconut Water and Peach Passion Fruit with Coconut Water.
Latent Opportunities in Established Market
Mature markets are characterized by critical demographic as well as consumer behavioral changes that tends to dictate the global demand-supply balance paradigm.
With health consciousness and environmental sustainability being the broad-level indicators of consumer demand, governments of developed economies are imposing more stringent standards of food production, forcing manufacturers to either comply or pull out of the game.
Consumers are willing participants in this growth wave – demanding that the food and beverage they consume passes through the necessary certifications; is healthy and functional to meet their daily dietary needs; and offers complete supply chain traceability to ensure acceptable levels of food safety and sustainability.
The future belongs to F&B companies that willingly comply with the global environmental standards and food safety certification requirements. In this context, innovation across the value chain is a no-brainer – adapting to the new food revolution propagated by consumer tastes and preferences by effectively leveraging automation and robotics is clearly the most important – and only – success imperative.
Coconut Water Market Challenges- Erratic Raw Material Supply and Quality Leading to Limited Output
The production of fruits is affected by many environmental conditions and diseases. A change in an environmental factor can affect the yield or quality of the produce, or can induce a disease on the crop.
Unpredictable environmental changes affect the supply of raw materials, thus affecting the coconut market. Besides, fruits are often adulterated using chemicals such as citric acid, ethylene, etc., in order increase their lifespan or make them good and fresh.
Adulterated raw materials don't give the expected output and quality, thus affecting the production and quality of coconut in the global market.
Top Coconut Water Brands in the Market
Companies operating in the global coconut water market are expected to go through a stagnant phase in the forecast years owing to the unprecedented COVID-19 outbreak. This is expected to result in economic slowdown for the next 3-4 years.
As coconut water is a convenience product and not a necessity for a large share of the population, the demand is expected to decline for a year or two and then gain regain momentum. The manufacturers of the coconut water could concentrate on expanding their reach and launch products with proven health benefits.
FMI profiles some of the leading companies in the market. These include:
Americas
The Coca-Cola Company
PepsiCo, Inc.
All Market Inc.
Goya Foods
Europe
Nestlé S.A.
Wichy Plantation Company (Pvt) Ltd.
The Coconut Collaborative
Holos Integra
Asia Pacific
Singabera
Niulife
Malee Group PCL
Coconut Water Market: Region Wise Analysis
Europe and South Asia have the largest consumers for coconut water, whereas North America is anticipated to have notable growth of 13% during the forecast years in the coconut water market owing to the rising health and wellness awareness among the consumers.
Hence, the manufacturers should focus on their expansion of business in the developing markets to generate more revenue.
Coconut Water: The Way Forward
Marketing and branding plays crucial role in attracting and retaining customers to a profit. The manufacturers are constantly updating and working towards strengthening their marketing and branding strategies by developing strong supply chain linking the processing units and retail points. Building new product awareness & social media buzz amongst core segments in the coconut water market.
The companies are tapping into fitness influencers and healthy eating across social media platform like Instagram and Facebook having large audience/communities. Driving purchase intent by getting consumers to try product and communicate benefits to their base.
Coconut water manufacturers are trying to attract consumers by packaging their products in bottles, cartoons, and cans that are designed creatively and beautifully.
This helps manufacturers set their product apart from the rest, and attract consumers, because consumers tend to buy a visually attractive bottle or can more as compared to a traditional, normal looking bottle.
The manufacturers are promoting the coconut water products in terms of nutritive attributes, health attributes, quality of product, natural product, organic product and others.
World's Most Profilic Intelligence Engine
Get Access To The World's Largest Market Research Database.
Sign Up Now
Key Segment
Nature
Application
Food
Bakery & Confectionery
Breakfast Cereal
Dairy Products
Sauces and Salads
Other Food Products
Beverages
Alcoholic Beverages
Tea & Coffee
Other Beverages
Cosmetics & Personal Care
Skin Care
Hair Care
Nutraceutical
Animal Feed & Pet Food
Retail
Flavour
Unflavored/Original
Flavored
Sales Channel
Global
North America
Latin America
Europe
East Asia
Southeast Asia and Pacific
Middle East and Africa
Need specific information?
Our Clients