High Demand for Offshore Vessels and Construction of New Ships to Propel Demand for Watertight Doors
Watertight doors minimize flooding during the grounding or collision of a ship or when a ship undergoes structural damage and thus, minimize the risk of sinking as in the event of severe structural damage, the ship might be flooded with water. Thus, watertight doors are crucial for all marine vessels including commercial, yachts, cruiser, coastal military patrol vessels and combat ships as they restrict the entry of water.
Increasing significance and criticality of marine surveillance through maritime naval patrol vessels has positively impacted demand for watertight doors. The global watertight doors market is estimated to be valued at US$289.9 Mn by the end of 2018 and is projected to reach US$546.1 Mn by the end of 2028, expanding at a CAGR of 6.5% over the forecast period.
Growth of Coastal and Marine Tourism Globally to Drive Watertight Doors Market Growth
Coastal tourism can be defined land and sea based travel for pleasure taking place along the coast and within proximity to the sea. Marine tourism is similar to coastal tourism, but is more focused on sea-based activities. The tourism industry, from a global perspective, has witnessed healthy growth post the recession era, recording more than 1 Billion tourists for the first time in 2012 and growing at around 4% annually.
This has positively impacted coastal and marine tourism as well with Europe pegged as the worlds' most visited tourist region. The number of tourists arriving in Europe has been growing 6% annually, according to estimates published by WTO, with a large percentage of tourists (an average of 200 Million visitors yearly) concentrating on the Mediterranean Coastal region.
This trend of tourists taking part in marine tourism has led to an increase in the sales of marine vessels such as farriers, boats and cruise ships and thus, has been indirectly contributing to the sales of watertight doors. According to a study published by E.C. 2011, more than 60% of tourists prefer to visit coastal areas over inner lands.
Increasing Exploration & Production of Natural Gas to Boost the Market of Marine Vessels and Subsequently, that of Watertight Doors
Global natural gas production grew by approximately 2.2% in 2015 as compared to the the preceding year, whereas the consumption of natural gas increased by 1.7% in the same time frame. Countries such as Australia, Qatar and Norway have been contributing to the increasing export of natural gas significantly.
The demand for LNG is expected to witness significant growth over the forecast period. Global trade of LNG was pegged at around 244.8 MT in 2015, with an increase of nearly 4.7 MT as compared to 2014. Numerous new liquefaction and regasification terminals that will accommodate processing facilities and bulk storing are under construction in Asia Pacific, Europe, and the Americas and are expected to start operating during the forecast period
According to reports, over 410 liquid bulk carrier fleets were active in 2015, which could meet over 30% of the global LNG demand. Also, around 416 ships were reported under construction, which are estimated to join the supply chain during the forecast period. The new construction of ships is expected to positively impact the sales of watertight doors during the forecast period.
Increasing emphasis on the use of natural gas by large economies as well as developing nations in Southeast Asia and increasing exploration activities are expected to boost the demand for offshore vessels, which in turn is estimated to propel the demand for services in the SEA market throughout the forecast period.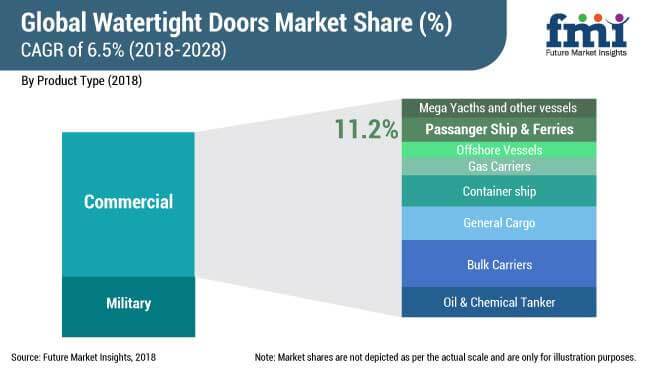 Asia Pacific to Remain a Prominent Region in Watertight Doors Market
On the basis of geography, the global watertight doors market has been segmented into Americas, Asia Pacific, Europe and Middle East & Africa. The Asia Pacific watertight doors market accounts for a major value share and the region is projected to remain prominent in the global watertight doors market over the forecast period.
The China watertight doors market is expected to account for a 31.6% market share in the Asia Pacific watertight doors market, in terms of value, by the end of 2018, projecting a CAGR of 7.3% between 2018 and 2028. The watertight doors market in South Korea is expected to represent an incremental opportunity of US$ 49.5 Mn between 2018 and 2028.
On the basis of product type, the watertight doors market has been segmented into sliding watertight doors and hinged watertight doors. Hinged watertight doors are expected to account for a high share in the global watertight doors market during the forecast period.
Key Market Participants in Watertight Doors Market
The report highlights some of the major companies operating in the watertight doors market, including MML Marine Limited, IMS Groups, REMONTOWA HYDRAULIC SYSTEMS Sp. z o.o., Baier Marine Company Inc. Westmoor Engineering Ltd., Ocean Group, Van Dam B.V., AdvanTec Marine, SeaNet SA and Winel B.V.
Prominent manufacturers of watertight doors are found to be involved in collaboration activities to improve their market presence across the shipbuilding market. Further, offering efficient & well-structured watertight doors along with an improved sales network in the shipbuilding industry are the major growth strategies being adopted by the manufacturers of watertight doors to reach end users.
Watertight Doors Market: Segmentation
Product Type
Hinged Watertight Doors
Sliding Watertight Doors
By Source
Hydraulic Watertight Doors
Electric Watertight Doors
By Type of Vessel
Commercial
Oil & Chemical Tankers
Bulk Carriers
General Cargo
Container Ships
Gas Carriers
Offshore Vessels
Passenger Ships & Ferries
Mega Yachts and Other Vessels
Military
By Region
America
Europe
Asia Pacific (APAC)
Middle East & Africa (MEA)
Need specific information?