KEY RESEARCH FINDINGS
Pet humanization and pet ownership are defining the top trends fueling pet food processing demand in global market.
The expanding food and beverages industry and rising demand for fermented supplements is complementing the growth of global pet food processing market.
By the end of 2030, the market valuation is projected to reach US$ 6.7 Mn. The market was valued at US$ 4.1 Mn in 2020.
Asia Pacific is expected to emerge as a highly lucrative market.
KEY FACTORS SHAPING PET FOOD PROCESSING MARKET
Pet Humanization Bolsters Demand
Growing pet humanization trends on the back of high-disposable income pet owners is central to the growth of the pet food processing market. Increasing consumer knowledge about pet specific intolerances, and allergies furthers consumer spending on niche pet food products.
Emergence of private label brands supported by increasing urbanization of developing economies creates ample opportunities of growth for market players. Awareness about these products and their benefits through social media, and digital marketing increases consumer engagement with products by pet food processing manufacturers.
Quality Certification Offers a Competitive Edge
Consumer attraction and engagement with quality certified products is a popular strategy for differentiating products. Market players are generating financially rewarding opportunities by marketing quality certifications of products. Increasing statutory guidelines and monitoring of pet food processing has created a significant shift in consumer preference. In a competitive market, products approved by regulatory bodies such as GFSI, ISO, FSSAI, FDA, HALAL, and KOSHER perform better than non-certified products.
These certificates ensure consumers of the quality of pet food products and their nutritional value. Further, HALAL and KOSHER certifications engage environment conscious consumers that wish to buy certified beef or pork related products that abide by ethical opinions of consumers.
Proliferation of E-commerce Presents Lucrative Opportunities
The proliferation of E-commerce platforms in booming digital economies such as India, and Indonesia present new target markets. Ecommerce platforms expand the global footprint of pet food processing manufacturers by connecting them with consumers worldwide. Coupled with the increase in disposable income of empathetic millennial consumers, market players can find gainful prospects in developing countries.
Impact of COVID-19 on Pet Food Processing Market
Pet food processing market has been largely affected by the outbreak of coronavirus. According to FMI's analysis, the market will take time till the end of 2020 to recover completely. Border closures, quarantines, and supply chain and trade disruptions have restricted access to sufficient/diverse and nutritious sources of food, especially in countries such as the U.S, China and Italy, which are hit hard by the virus or already affected by high levels of food insecurity. Due to restriction on movement and the basic aversion behavior by workers, the market continues to suffer amid the pandemic.
MARKET STRUCTURE ANALYSIS
The key players are majorly inclined towards expansion, and acquisition & mergers in order to strengthen their product offering portfolio. Remunerative strategies are further aided by Investments in building stronger distribution networks will be the remunerative strategies for leading players in the pet food processing industry. Some of these companies are particularly focusing on making their products widely available across online channels, which would boost their businesses in the coming years.
REPORT SCOPE
Base year considered - 2020
Actual estimates/Historical data - 2016 - 2020
Forecast period - 2020 - 2030
Forecast units - Value (USD) Bn/Mn
Segments covered - Form, Application and Type
Regions covered - North America, Latin America, Europe, APEJ, Japan and MEA
Key Players - Precision Food Innovations, Mepaco Group, F.N. Smith Corporation, Reading Bakery Systems, Andritz Group,Buhler Holding AG, The Middleby Corporation, GEA Group,Gold Peg International, Fusion Tech Integrated, Inc. and others
Report coverage - Revenue forecast, company share, competitive landscape, growth factors, and trends
By Application, Dog Food Segment Holds Dominance with 44.8% Share
Increasing concerns among pet owners about their pet's health have caused them increase their spending on healthy pet foods. Customers are eyeing for more specific pet food that is bolstering the global pet food production. They have started identifying various signs of intolerance and allergies in their pets. According to tails.com (dog nutrition service) around 75% of proliferation in the market demand for hypoallergenic food combinations for dog food since 2016.
To cater to this rising demand, pet food suppliers are incorporating omega-3 fatty acids in their products. Furthermore, many are offering gluten free products to offer weight control and hair fall control in pets, which is owing market demand for pet food processing market.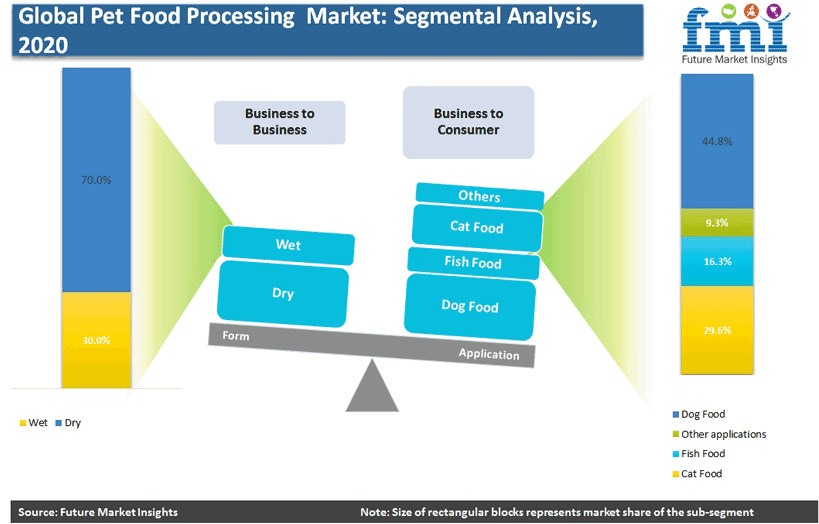 Pet Food Products with HALAL and KOSHER Certifications to Witness High Demand
Quality certification is very essential to soar high in the competitive market. Quality certification plays a very important role, as it ascertains quality and quantity of the product offered. Quality certifications help in maintaining the grade of food. Therefore, consumers easily trust products, which are approved by regulatory bodies such as GFSI, ISO, FSSAI, FDA, HALAL, KOSHER.
These certifications ensure product quality through certain laboratory tests, thus demand for pet food processing market is also rising across the globe. The HALAL and KOSHER certifications are especially for particular communities, ensuring that the certified beef or pork-related products are fit for consumption as per their ethical laws.
Inclination towards Non-Modified Convenience Ingredients Creates Growth Opportunities in North America
North America is anticipated to account for maximum share in the global pet food processing Market by 2030. The region witnesses a high demand for pet food products due to the increasing acceptance of pets. . Pet owners have a very high level of empathy towards animals than those that do not have pets. Therefore, an increasing number of pet owners are focusing on feed diets that are healthy as well as cruelty-free.The rising concerns among pet owners regarding the health of pets have led to an increase in demand for high-quality pet food products that require specialized machinery.
How Growth will Unfold
Rising penetration of e-commerce websites is boosting the pet food demannd across the globe, which is simanetonusly fueling the market demand for pet food processing market. The expansion of electronic media could bode well for pet food sales. E-commerce provides a very wide range of products on the same platform.
With the help of e-commerce, a product can be easily delivered to the costumer. Manufacturers should keep this in mind and they should expand their global business via e-commerce.For Instance In 2108, Amazon aiding to its e-commerce section launched its private label pet food Wag, which is especially available for amazon prime subscribers. It is gaining maximum traction among customers from the U.S. customer. Listed factors are fueling are fueling the pet food processing market.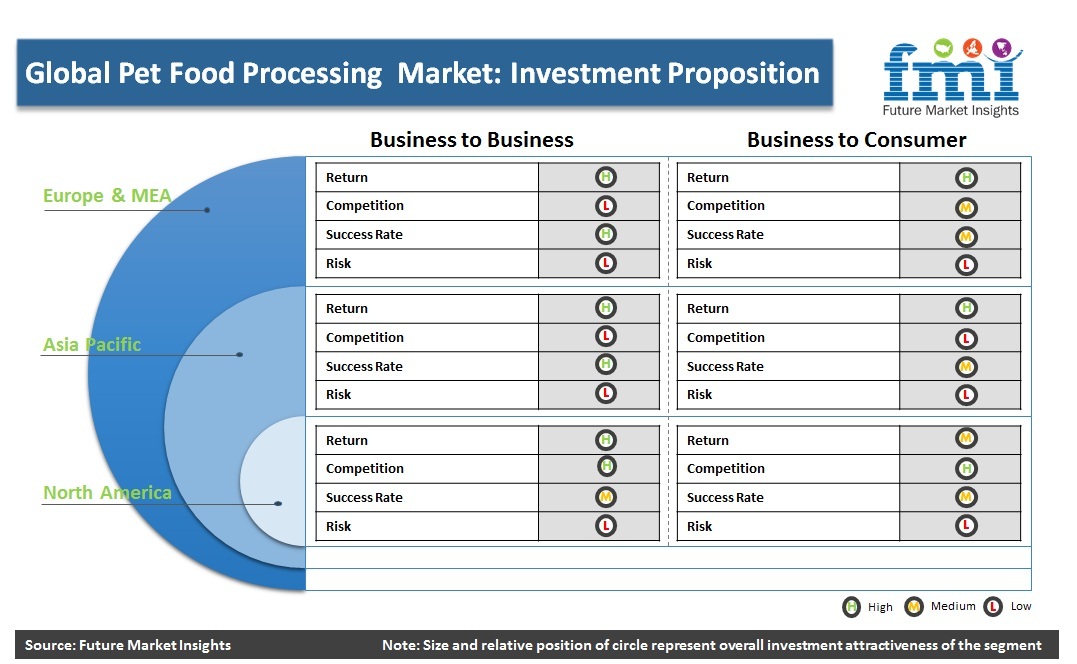 PET FOOD PROCESSING MARKET TAXONOMY
The global Pet Food Processing Market is segmented in detail to cover every aspect of the market and present complete market intelligence to readers.
Product type
Mixing & Blending Equipment
Forming Equipment
Baking & Drying Equipment
Cooling Equipment
Others
Form
Application
Dog Food
Cat Food
Fish Food
Others
Region
North America
Latin America
Europe
East Asia
South Asia
Oceania
MEA
Need specific information?