Pet Milk Replacers Market Outlook & Key Findings
Non-medicated pet milk replacers to generate higher return to shareholders (TRS)
Pet milk replacers in powdered form to remain highly preferable among consumers
Dog segment to capture leading share in overall market stack
Market players continue to target North America and Europe for investment opportunities through 2030
Pet Milk Replacers Market Analysis – Rising Trend of Pet Ownership to Boost Sales
Pet milk replacers play a crucial role in improving as well as maintaining the health of various animals, especially kittens and puppies during their early phases. This nutritional food product provides a broad range of micronutrients such as vitamins and minerals that are essential for development, growth, and well-being of commercial pets.
The trend of pet ownership has been substantially increasing among consumers across the world over the last few years. The number of pets is considerably increasing worldwide, thus, creating fertile breeding ground for market players.
As households adopt more dogs and cats, demand for industry goods such as milk replacement products, foods, medicine, and accessories, has been surging.
Recent data suggests that an average dog or cat owner spends about US$ 200-300 on pet food including, milk replacements, for young animals every year. Going forward, rising prices of milk are influencing consumers to shift towards pet milk replacers.
Better nutritional value in tandem with low cost is likely to fuel the consumption of pet milk replacers. Further, the global market for pet milk replacers is driven by rising adoption of gluten-free diet among various animals.
Pet Milk Replacers Market Trends – Consumption of Non-Medicated Products to Remain High
Non-medicated pet milk replacers have been considerably leveraged to substitute whole milk for dogs, cats, and calves. These products are manufactured using various ionophores, vitamins, probiotics, and coccidiostats as additives to support overall growth of companion animals.
Medicated pet milk replacers are given to only to those that are born with deficiencies or illnesses. On the flip side, these products are not given to healthy pets, given presence of various antibiotics as digestive system of newborn pets is not be compatible with them.
Several studies reveal that 90% cats and 37% dogs are more susceptible to infection in their early phase due to lack of their mother's milk or various other factors. Mortality rate of puppies is relatively higher due to improper care and diet that necessary for them after their birth.
Companies such as Nature's Farmacy are developing Dogzymes Puppy-Bac pet milk replacers for orphaned puppies or puppies born via C-section surgery. The products contain vitamins, probiotics, added fat, and minerals that help in digestion and proper nourishment of puppies
High Production Costs to Hit Profit Margins of Manufacturers
Cost of pet milk replacers relies on ingredients that are utilized to prepare the final product. Case in point, inclusion of other supplements such as vitamins and prebiotics in a bid to improve nutritional profile of products in tandem with milk solids increases the overall cost of pet milk replacers.
In addition, consistent monitoring of product quality is essential to manufacture contamination-free products. This demands for complicated analytical equipment for checking the quality of in-process and final products, thus, increasing the total manufacturing cost of pet milk replacers.
The high cost associated with pet replacers is anticipated to creating fundamental challenges for market players.
Pet Milk Replacers Market Regional Analysis – Developed Regions Continue to Engage Manufacturers
The trend of pet ownership in North America and Europe is expected to propel the demand for pet milk replacers.
The American Pet Products Association (APPA) reveals that 67% of households in the US – around 85 million families – own a pet as per their 2019-2020 survey. The figure has risen from 56% of US households in 1988. In addition, expenditure was expected to value around US$ 75 Bn in 2019 – threefold surge from 1988.
In Europe, 85 million households – about 38% - own a pet, with Russia, Germany, and the UK leading the pack. Moreover, consumers spend about €21 Bn on pet food products.
Moving ahead, players in pet milk replacers market are also tapping white spaces in Asia, owing to rising trend of 'pet humanization', especially in the south-east region. Pet owners from both high-income and middle-income households are increasingly demand for healthy and organic pet food products.
While conventional brick-and-mortar stores have been the primary source of market players for selling pet milk replacers in these regions, the COVID-19 pandemic has influenced them to turn their sights to e-commerce platforms.
Several retailers are stepping up from mid-range and economical products to premium variants to facilitate pet owners with high-quality products. Offer better consumer experience in physical and click stores will allow pet owners to utilize both offline and online platforms.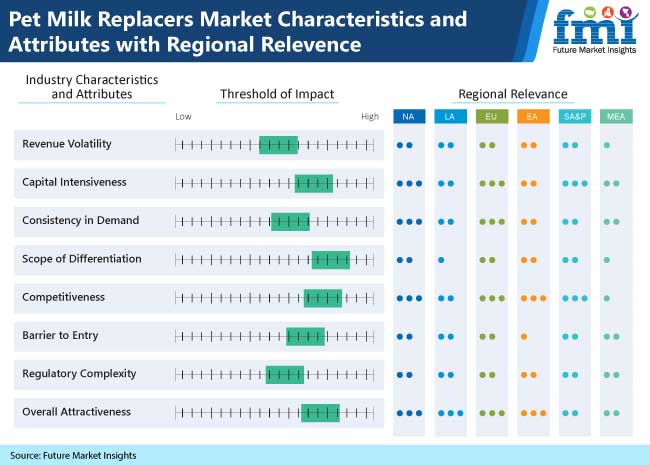 Pet Milk Replacers Market Players – Manufacturers Bank on Product Launches and M&As to Survive Market Competition
The global pet milk replacers market is slightly consolidated with leading players capturing lion's share of overall revenue. In order to capture the value at stake, several other players are expanding their product portfolio.
These players are adopting various marketing strategies such as new product launches, mergers & acquisitions (M&A), and expansion of product portfolio. For instance,
CHS Inc. has announced to take over West Central Distribution LLC, which is an end-to-end service wholesale distributor of agricultural products. With this acquisition, the company aims to extend its services, product portfolio, and technology expertise.
PetAg Inc. is offering Esbilac, which is a powdered puppy milk replacer with butterfat, dried skimmed milk, and probiotics that can be provided to newborns to six weeks old puppies. In addition, the company is developing goat milk Esbilac that can serve as a great choice for puppies, who cannot digest cow milk.
Land O' Lakes has created an agreement with Royal Agrifirm Group to set up a dairy animal feed unit in China. The new establishment – Agrilakes - leverages conventional market insights, knowledge, research capability, and technologies from both Agrifirm and Land O'Lakes to offer top-notch service to China-based dairy farmers and feed customers.
Moving ahead, pet milk replacers for kittens and puppies are generally produced from skimmed milk powder that contains high protein content. That said, market players leverage methods such as drying the milk powder at high temperatures that damage protein molecules
As such, players such as Beaphar Group are using low-temperature drying technique for producing their product - Lactol Puppy Milk – that retain protein structure.
Pet Milk Replacers Market Future Outlook - Gluten-free Diet to Enter into Pet Nutrition
With fad diets such as gluten-free, keto, vegan, and vegetarian dominating the healthy lifestyle discussions, consumers are finding it difficult to discover the type of nutrition that is best for their lifestyle and needs.
The trend is sweeping the four-legged members of the family as well. Pet owners are encountering more decisions than ever with regards to fueling their companion animals.
While gluten is considered harmless and a crucial component of balanced diet for majority of pets, for those having gluten intolerance or coeliac disease, the proteins in gluten results in prolonged damage to gastrointestinal (GI) tract. Some dog breeds such as the Irish Setter are biologically prone to gluten intolerance, or coeliac disease.
Moreover, newborn puppies, or kittens do not have a fully developed digestive capacity, as such, Driven by this trend, several market players are focusing on developing gluten-free or grain-free pet milk replacement products.
Case in point, Naturally For Pets produces pet milk replacers that are derived from grass-fed cows. Bosch Tiernahrung develops puppy milk that is highly soluble in water and easy to handle.
That said, sales of grain-free pet food are slightly sliding in developed regions due to investigation by the Food and Drug Administration (FDA) that associates grain-free pet food with canine dilated cardiomyopathy (DCM). Consequently, this is creating lucrative opportunity for pet milk replacer manufacturers who have moved in advance of a clear outcome of such investigations.
Key Segment
Pet Category
Product
Form
Region
Image Recognition
Signal Recognition
Data Mining
Others
Need specific information?