PET Preforms Market by Capacity (Up to 500 ml, 500 ml to 1000 ml, 1000 ml to 2000 ml, More than 2000 ml), Neck Type (ROPP/BPV, PCO/BPF, Alaska/Bericap/Obrist), End Use & Region - Forecast to 2020-2030
PET Preforms Market - Analysis, Outlook, Growth, Trends, Forecasts
November 2020

REP-GB-3676

178 pages
Introduction
PET preforms are used for packaging in various industries such as food and beverage industry, pharmaceutical, home care, personal care, domestic goods and others. The demand for PET preforms is on the rise owing to high consumption of packaged beverages. Also, domestic goods manufacturers are making use of PET preforms for packaging of things like edible oil, cleaning solutions and many others.
Companies use PET preforms to manufacture bottles which then are used to store their produce. The process used for this is called the hot filling process and it is very common in the developed countries as it does not involve use of any preservatives and requires a very low capital.
Global PET preforms market is expected to reach market value of US$ 22 Bn by end of forecast period 2020-2030 and exhibit a CAGR of 3.8%, according to a recent report published by Future Market insights (FMI).
Ready to drink Beverages driving the market
Beverages industry is predicted to remain a key end user of PET preforms throughout the forecast period. Expansion of the ready-to-drink (RTD) market is boosting the global PET preforms market. Single-serve RTD beverages are already quiet popular in developed countries and are gaining popularity in the developing countries as well. Availability of such products in the local grocery and convenience stores is expected to help the market expand and have accelerated growth.
In the US alone, ready-to-drink coffee accounts for more than 30% of the entire coffee consumed. Ready-to-drink (RTD) beverages are seeing rise in their popularity, thanks to the changing lifestyles. Also contributing to the reasons behind increasing popularity are diverse products and packaging, which is carefully designed by the manufacturers with target customers in mind.
The market for these single use beverages, which are packaged for immediate consumption on purchase, is bigger than ever, with a wide range of beverages in the offering from iced teas and coffees to cocktails and wines. Many beverage brands are joining to cash in on the opportunity and offering innovative RTD beverages.
As more and more consumers are becoming health conscious, the demand for functional drinks with clean labels is boosting the RTD market.
With RTDs backing the beverage industry, the market for PET preforms is estimated to grow by 1.4x of the current market value by the end of 2030.
Surge in Bottled Water Consumption to Fuel Demand
The demand for PET preforms for packaging of water is growing at an accelerated rate, taking its market value to more than half of the total beverages market.
Bottled water is projected to be the most consumed drink as it is the only drink which is calorie free, without additives, sugar and is nourishing.
According to a recent study by the European Federation of Bottled Water (EFBW), 48% people prefer bottled water over other packaged non-alcoholic beverages. Be it sparkling or still, with high or low mineral content, water still remains the most favored drink by many.
Beverage manufacturing bigwigs such as Coca Cola, PepsiCo, and many others are therefore investing in premium water bottles in order to increase their dominance in the global beverages market.
As consumers in developed countries is avoiding sugary drinks and becoming more cautious about health, the demand for bottled water is expected to rise further as water offers diversity that can suit everyone's taste and requirement.
Key challenges
The PET preforms market is witnessing challenges as many governments, Environmentalists and NGOs are demanding ban on single use plastic.
Plastic bottles have been impacted heavily after the implementation of measures to reduce plastic usage. The inclination towards more sustainable and recyclable materials is picking demand as a result.
Bottled water industry is therefore seeking an alternative way of packaging as well to reduce harmful impact of plastic on the environment.
As the discussion over plastic ban grows stronger, companies need to rethink their strategies and bring in more innovative and recyclable packaging material in order to survive.
Regional Analysis
North America PET Preforms Market
North America is expected to be the largest market and exhibit a CAGR of 3.8% over the forecast period 2020-2030. It is expected to cover 1/4th of the global PET preforms market by end of 2030.
High consumption of packaged soft drinks, functional drinks, bottled water and others are driving the PET preforms market in the region.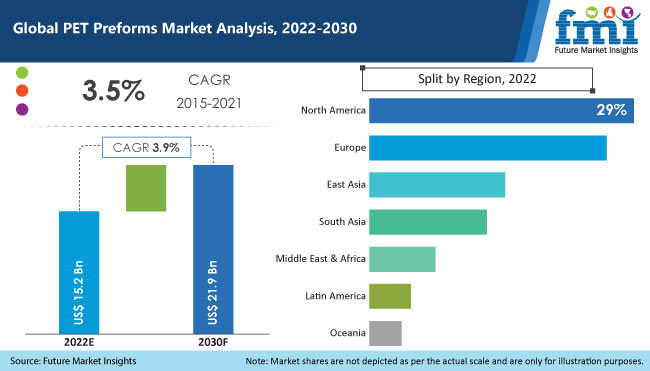 According to a study conducted by International Bottled Water Association, 9 out of 10 Americans opt for packaged water bottle where other drinks are sold. The retail sales of packaged water has gone up owing to the high demand and is expected to continue doing so in the next decade.
Request a sample specific to North America market
Europe PET Preforms Market
Europe is one of the leading markets for PET preforms market. Countries like France, UK and Italy are expected to contribute towards market growth in the region.
According to a study by EFBW, 48% people opt for bottled water, whereas 39% go for other soft drinks. This high consumption rate is the key factor driving the European market.
Together, Europe and North America are expected to capture more than half of the global PET preforms market by end of 2030.
Request a sample specific to Europe market
East Asia PET Preforms Market
East Asia is anticipated to have highest growth trajectory, at a CAGR of 4.6%. The region is expected to capture market as big as Europe by the end of 2030.
Developing countries are joining the race to make their presence felt in the global market. With consumers in these countries growing aware about their health, the demand for healthy functional packaged drinks is increasing. Also, the lifestyle upgrade of the people is anticipated to boost the growth of the market in East Asia region.
Request a sample specific to East Asia market
Category wise analysis
500 ml to 1000 ml PET Preforms Growing Popular
There are various types of PET preforms classified based on the capacity of the bottle. Bottles with capacity up to 500 ml and capacity 500 ml to 1000 ml are much more popular than the bottles in the capacity range of 1000 ml, 2000 ml and above.
Pricing for PET preforms changes as per the regions it is sold and capacity of the bottles. Hence a bottle of capacity up to 500 ml is much cheaper than others, making it the most popular for small and medium manufacturers.
Alaska/Bericap/Obrist Neck Type to Lead
Based on the neck type of the preforms, they are classified into ROPP/ BPV, PCO/BPF, Alaska/Bericap/Obrist, and others. Of these, Alaska/Bericap/Obrist is the most extensively used and hence having the highest growth. Closely following it are the PCO/BPF neck type preforms. However, preforms with neck type ROPP/BPV are expected to have a slight decline in the market over the forecast period.
Beverages to Dominant End User
PET preforms have several end users in the global market. These include beverages, food, personal care, pharmaceuticals, home care, and others. Although beverages are the dominant end users, others like food, pharmaceuticals, home care and personal care products are growing at a rapid pace.
Beverages industry as end users is expected to have highest market value at the end of forecast period. Food industry too is expected to have a positive growth trajectory by the end of 2030.
Competitive landscape
The market for PET preforms is fragmented with the presence of many small as well as big companies. Nearly 20 % of the market is covered by key players. They are focusing on expanding their market globally along with bringing a diversified product portfolio in order to gain edge over their competitors. Also, upgrading supplier and distributor network and working on recyclability are few strategies employed by the market leaders.
Since the rest 80% of the market remains covered by medium and small scale industries, mergers and acquisitions play an important role in strategizing.
For instance, a leading manufacturer of PET bottles has introduced new product named 'X-LITE'. It weighs only 6.5 grams which means nearly half of the weight of normal 500 ml bottle .This helps in increasing sustainability of raw materials for the company.
Few key players in the market are
ALPLA Werke Alwin Lehner GmbH & Co KG
Plastipak Holdings, Inc.
RETAL Industries Ltd.
Resilux NV
Societe Generale Des Techniques (SGT)
Taiwan Hon Chuan Enterprises Co., Ltd.
Zhongfu Enterprise Co Ltd.
Manjushree Technopack Limited Co.
Logoplaste UK Ltd.
Indorama Ventures Public Co., Ltd.
The list is only indicative – a full list of PET Preforms Market key players is available upon request
PET Preforms Market Report: Scope
| | |
| --- | --- |
| Attribute | Details |
| Forecast Period | 2020-2030 |
| Historical Data Available for | 2015-2019 |
| Market Analysis | US$ Million for value |
| Key Regions Covered | North America, Latin America, Europe, East Asia, South Asia & Pacific, and Middle East & Africa (MEA) |
| Key Countries Covered | US, Canada, Brazil, Mexico, Germany, Italy, France, U.K., Spain, BENELUX, Russia, China, Japan, South Korea, India, Thailand, Indonesia, Malaysia, Australia, New Zealand, GCC Countries, Turkey, Northern Africa, South Africa |
| Key Segments Covered | Materials ,Applications, End user, Region |
| Key Companies Profiled | ALPLA Werke Alwin Lehner GmbH & Co KG ,Plastipak Holdings, Inc. ,RETAL Industries Ltd. ,Resilux NV ,Societe Generale Des Techniques (SGT) ,Taiwan Hon Chuan Enterprises Co., Ltd |
| Report Coverage | Market Forecast, brand share analysis, competition intelligence, DROT analysis, Market Dynamics and Challenges, Strategic Growth Initiatives |
| Customization & Pricing | |
Enquiry before Buying
Is this report analysis evaluated by Future Market Insights?

Yes, each aspect of this report is evaluated by the experts of Future Market Insights through primary and secondary research methods. If you wish to know more, then kindly speak to our research analyst.

What are the primary research methods used by FMI?

FMI follows the strategy relating to the demand assessment of the market through the supply-side analysis. This analysis is evaluated considering standard market structure, method, and definitions.

Who are the respondents for primary research?

FMI connects with stakeholders across the spectrum, including C-level staff, distributors, product manufacturers, and experts. Contact us for more information on the primary research respondents.

What are the other sources of secondary level research?

The research report is conducted through detailed databases, including information available on paid domains. Besides referring to industry information, we look over the press release, annual report, presentations, and research papers.

Is the sample report available for future analysis?

Yes, you can request a sample that would be available to you via email.

How may I purchase this report?

You can seamlessly buy the report with safety measures on our channel.
World's Most Profilic Intelligence Engine
Get Access To The World's Largest Market Research Database.
Sign Up Now
PET Preforms Market: Segmentation
By Capacity
Up to 500 ml
500 ml to 1000 ml
1000 ml to 2000 ml
More than 2000 ml
By Neck Type
ROPP/BPV
PCO/BPF
Alaska/Bericap/Obrist
Others
By End Use
Beverages

Bottled Water
Carbonated Drinks
RTD Tea & Coffee
Juice
Sports Drinks
Other Soft Drinks
Alcoholic Drinks

Food
Personal Care
Pharmaceuticals
Home Care
Others
By Region
North America
Latin America
Europe
South Asia
East Asia
Oceania
Middle East & Africa
Key Questions Answered in the Report
What is the expected growth rate for PET preforms market?
The PET preforms market is predicted to grow at a CAGR of 3.4 % at the end of the forecast period 2020-2030.
Which region is leading the global PET preforms market?
North America is the largest markets for PET preforms market. Europe is close behind accounting for the second-leading share. In the coming years however, South Asia is forecast to exhibit growth at a higher rate.
Which are the top companies influencing the PET preforms market?
Some of the key players in the PET preforms market are ALPLA Werke Alwin Lehner GmbH & Co KG ,Plastipak Holdings, Inc. ,RETAL Industries Ltd. ,Resilux NV ,Societe Generale Des Techniques (SGT) ,Taiwan Hon Chuan Enterprises Co., Ltd
What is the most popular type of preforms based on capacity in the PET preforms market?
Preforms for bottles with capacity up to 500ml and 1000ml are the most popular ones in the market.
Which is the leading end-use industry in PET preforms market?
Beverage industry is the leading end user with highest market share.
Need specific information?
Our Clients