KEY GROWTH INFLUENCERS - PET PREFORMS MARKET
High Demand for Single-serve Beverages
PET preforms offer reasonable packaging solution in terms of cost, which are used in packaging of bottled water, carbonated soft drinks, edible oil, and other special care & domestic goods. The demand for PET preforms has been increased in the last decade due to high consumption of convenient food & beverages products such as ready-to-drink coffee, tea, soft drinks, and juices in both developed and developing countries.
The hot filling process is common in developed countries, which is boosting the PET preforms bottles market as it requires low capital investments and excludes the usage of preservers. Overall, the outlook of the global PET preforms market is expected to remain positive during the forecast period.
Single serve ready-to-drink coffee accounts for more than 30% of the entire coffee sold at grocery stores in the U.S., which is expected to be a prime driver of the PET preforms market growth in the country.
Upsurge in Bottled Water Consumption
Increasing consumption of packaged drinking water is significantly responsible for heightened prospects of PET preforms market. Developing regions will particularly continue to face challenges related to water supply concerns that are posed due to poor supply and quality of potable water in developing economies. Shortage of well-established public drinking water arrangements is further aggravating sales of packaged water. This will continue to push PET preforms market in the near future.
In line with this, beverage companies like PepsiCo, and Dr Pepper Snapple etc. are looking for opportunities in bottled water and energy drinks segments, thereby assisting the growth of PET preforms market.
Ban on Single-use Plastics Weighing Heavy on PET Preform Sales
Plastic bottles have been one of the highest impacted product post implementation of the prohibitive measures imposed on single-use plastics. Subsequently, beverage brands are inclining more towards sustainable packaging solutions. Bottled water industry has also been seeking alternatives over plastics that could have lesser environmental impact. This will remain one of the prime factors negatively influencing sales of PET preforms.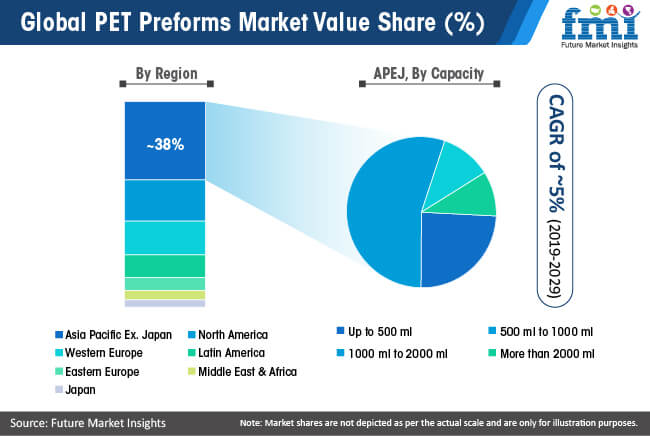 PET PREFORMS MARKET: STRUCTURE ANALYSIS
ALPLA Werke Alwin Lehner GmbH & Co KG, RETAL Industries Ltd., Plastipak Holdings, Inc., Resilux NV, Esterform Packaging Limited, Societe Generale Des Techniques (SGT), Koksan AS, and Taiwan Hon Chuan Enterprises Co., Ltd are leading manufacturers in the PET preforms market, worldwide.
Growing consumption of ready-to-drink tea and coffee in emerging economies create opportunities for PET preform manufacturers.
Lightweight and recyclable qualities of PET bottles are expected to change PET preforms market dynamics
Huge potential of personal care, home care and pharmaceutical industry towards packaged products are expected to be future driver of growth in the PET preforms market. In this report, individual strategies followed by key market players in terms of improving their product portfolios, creating new marketing strategies, and acquisitions and mergers have been elaborated.
PET Preforms Market: Segmentation
The global PET preforms market is segmented in detail to cover every aspects of the market and present a complete market intelligence approach to readers.
Capacity
Up to 500 ml
500 ml to 1000 ml
1000 ml to 2000 ml
More than 2000 ml
Neck Type
ROPP/BPV
PCO/BPF
Alaska/Bericap/ Obrist
Others
End Use
Beverages

Bottled Water
Carbonated Drinks
RTD Tea
Juices
Sport Drinks
RTD Coffees
Other Soft Drinks
Alcoholic Drinks

Food
Personal Care
Home Care
Pharmaceuticals
Others
Region
North America
Latin America
Western Europe
Eastern Europe
Asia Pacific Excluding Japan
Middle East and Africa
Japan
Need specific information?