Pet Care Market Outlook & Key Findings
Future Market Insights (FMI) projects the global pet care market to exhibit a CAGR of 6% between 2020 and 2030
The pet care market is expected to witness a higher demand for professional services, as pet owners give more importance to grooming, boarding, and day care
East Asia is expected to emerge as a lucrative market for pet care products and services
North America and Europe are exhibiting a higher rate of cat adoption, fuelling demand in the cats' pet type segment
Rising Focus towards Pet's Health and Wellness is Transforming Pet Care Market
The pet care market has been reporting impressive growth. According to the American Pet Products Association, the pet ownership in the U.S. alone has spurred from 56% to 68% in the last three decades.
While rising pet ownership is partially influenced by cultural changes. An increasing number of consumers are embracing pet owning and pet-loving lifestyles. This trend to an extent is more prevalent among generation Z and millennial consumers. Consequently, household dominated by younger cohorts exhibit a higher inclination towards pet ownership hence constitute a lucrative demography for the pet care market.
A synced changed in trend has also been observed in terms of preference for products. Paradigm shift from traditional pet food to healthier and more organic ingredients is one of the more prevalent trends. Sales prospects for fresh and made-to-order pet food is higher than ever before.
Similarly entry of private brands via online channels has caused disruption in the pet food market. Other niche and smaller players as well are leveraging their online presence to create a brand identify amid behemoths.
There are also companies venturing to boost the playful element in the pet and owner relationship by innovative gadgets, which can also monitor a pet's health closely. Coupled with these advances, the convenience of shopping has spurred the demand for pet care products.
A plethora of factors are driving the global pet care market. For instance, the rising willingness to spend on pet welfare will fuel demand for pet care products and professional services. Resultantly, value added services are expected to lose 400 – 600 bps between 2020 and 2030.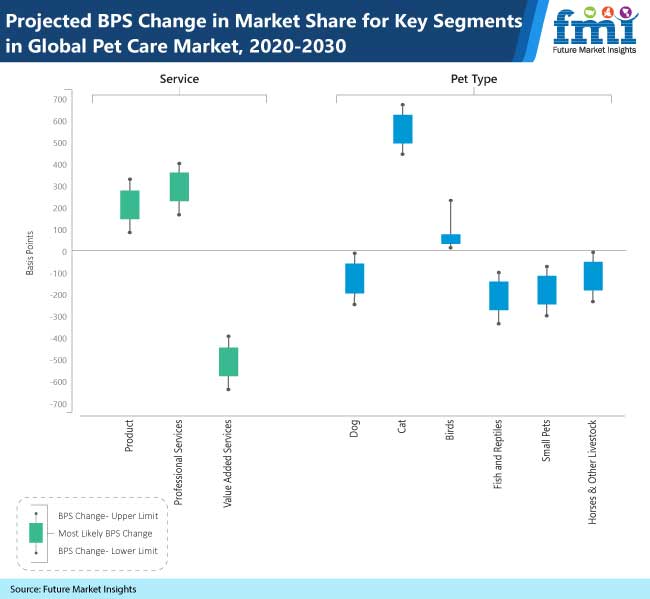 Technological Innovations are Changing Status Quo in Pet Care Market
Regardless of financial constraints or economic struggle, pet industry is growing with an increasing number of pet owners prioritizing their pet's health and wellness beyond their own. Thanks to recent advances in technologies, pet owners now find it more convenient to interact and take care of their furry friends.
From the advent of pet care centers to launch of virtual programs helping people train their pets, the pet care market today has evolved into a multi-billion dollar industry. FMI predicts technological innovations to spur growth witness in the market, which is expected to surpass US$ 189 Bn by the end of 2020.
Several innovations have bolstered the market in the last couple of years. For instance, smart collars with in-built GPS pet tracker and activity monitoring devices are in high demand among pet owners.
Besides technological advancements, customized pet food solutions are in high demand. This had led to the launch of a slew of digital solutions and apps such as Tails.com and Petfinder particularly designed to support pet owners at every stage of their pet's lives.
Some of the leading establishments such as Nestle Ventures are launching innovative solutions in the pet care market. There is ample focus on personalization and customizing solutions as per specific consumer needs.
Recent advancements in technologies also allow improved access to veterinary services. The vision to revolutionize the pet care market through state-of-the art technology will enable pet businesses to boom unabated through the course of the forecast period.
Manufacturers are Including Natural Ingredients to Reach Pinnacle of Nutrition in Pet Care Market
As awareness pertaining to ingredients used continues to grow, manufacturers within the pet care market will come under scrutiny of pet parents who are looking for premium ingredients and refined recipes.
Future Market Insights however sees this as a lucrative growth opportunity for the pet care market. The rising demand for natural and organic pet food will encourage producers to expand their product portfolio.
Spurred by the prevailing trends, Kroger Co. has ventured into pet products containing natural ingredients. Several other companies have joined the bandwagon making natural offerings in the pet sector more ubiquitous.
Driven by greater attention towards the ingredient list, more manufacturers are encouraged to deliver their all-natural claims. As a result, the pet care market today has numerous options available from grain-free products and organic ingredients to limited-ingredient formulas.
Companies are following the strategy of helping consumers make the smartest decisions. Through innovations and launch of natural products, they are looking at gaining a competitive edge in the global market.
Focus on Sustainability Emerges as Key to Success in Pet Care Market
An increasing number of consumers are expressing their desire for more sustainable products in the pet care category to avoid negative impact on the environment. The higher level of awareness among consumers have compelled pet care companies to adopt more sustainable practices.
Several companies are taking proactive steps offer more sustainable solutions to their consumers. For instance, Mars Petcare has collaborated with Terra Cycle to introduce a sustainability program in the U.K., which is a scheme for recycling pet food and packages.
Driven by this trend, companies are adopting innovative strategies. For instance Paws and Pals brans is offering their shampoos natural and conditioners for pet grooming in bottles made from 100% recyclable materials.
Such trends are indicative of shifting paradigm in the pet care market. Spurred by the increasing focus on animal welfare, FMI projects the pet care market to surpass US$ 343 Bn by the end of 2030.
Focus on Pet Health and Wellness Has Impelled Brands to Expand their Therapeutic Offerings
Obesity among pets is more prevalent than ever before. This, coupled with the rising focus on pet health has encouraged investment in advanced veterinary practices. Consequently, veterinary weight loss clinics are mushrooming.
According to the Association for Pet Obesity Prevention, 54% of dogs and 59% of cats in the U.S. were overweight in 2016. Concerns pertaining to pet obesity have surged over the years, drawing more focus towards pet wellness.
The rising demand for better health and fitness in pets has encouraged companies to introduce quality supplements in the pet care market. Novel fitness models are designed especially for pets as brands seek to offer alternative approaches to pet care.
From easy play devices encouraging both play and exercise in dogs to feline exercise mats, the pet care market has witnessed a spurt of new launches in the last few years, which is expected to bolster it over the coming years.
Pet Care Market to Get More Competitive with the Entry of Private Labelled Brands
Existing retailers such as Amazon are generating handsome revenues through their newly introduced private labels. In 2016, the well-established online retailer Amazon extended its private label brand portfolio in the pet category as well. The company markets dog beds and carriers under its brand name Amazon Basics.
In 2018, Amazon launched Wag- a pet products brand. Under this brand, the company sells dry pet food. Currently, it is looking forward to add a few more options to the product offerings. Besides this, Walmart has launched Ol'Roy, its maiden pet food brand.
The entry of private labelled brands is expected to give impetus to the pet care market. It is also likely to make competition fiercer, spurring investment in innovations.
Rising Demand for Pet Insurance to Support Growth Witnessed in Pet Care Market
The demand for pet insurance has considerably surged in the last few years. The concept of pet insurance is already famous across countries in the west, however, it is a relatively new for high potential markets in the east.
The expansion of the pet insurance market is happening at a higher pace than expected. The rising demand from less developed countries backed by higher awareness is creating attractive opportunities.
Pet owners are showing more willingness towards investing in pet insurance to avoid unexpected huge financial expenses that they might incur on pet health. According to the North America Pet Health Insurance Association, the demand for pet insurance will rise at a considerably pace in the coming years.
Rising Cases of Fraud in Pet Insurance May Hamper Pet Care Market
The incidents of insurance frauds are rising in the pet insurance segment. These fraud pet claims include the claimant obtaining benefits on injuries inflicted by the person themselves or even include claims for pets that are not existent.
Such fraudulent activities can deplete funding capacities of insurance companies. The severity of impact of insurance frauds might hamper the pet care market as well.
North America Forecast to Remain Dominant, Yet East Asia is Poised to Surge at a Higher Rate
North America currently holds dominance in the pet care market. The rising focus towards pet health and wellness and higher willingness to spend on advanced products among consumers have catapulted North America to the market's fore.
An increasing number of companies based in North America have begun exporting via extensive distribution channels to Asia Pacific and Latin America. Higher penetration of these companies has bolstered North America's footprint in the pet care market.
Europe, according to FMI, holds the second-leading share in the market, trailed by East Asia. In the coming years however the East Asia market for pet care will exhibit a growth rate nearly 10% higher than Europe.
Besides improved purchasing power there is greater willingness among consumers in East Asia to spend on pet care. This could be an effect of evolving cultural influences. The rising focus on pet health is expected to fuel the demand for pet care products in the region.
Besides this, FMI projects the Southeast Asia market for pet care to exhibit impressive growth over the forecast period. Changing consumer attitude towards pet is driving the market in the region.
Leading players in Pet Care Market
The presence of various reputable players, who account for a considerable market share characterizes the global pet care market. Leading market players are currently focusing on expansion of their sales channel, product launches, and strategic collaborations to gain competitive advantage.
Future Market Insights has profiled some of the leading market players. These include:
Americas
The Procter & Gamble Co.
JM Smucker Co
Hill's Pet Nutrition SNC
Cargill
Mars Incorporated
Blue Buffalo Co. Ltd
Crosswind Industries Inc.
Europe
Crown Pet Foods Ltd.
Nestlé Purina Pet Care Co
Monge & C. Spa
Others
*The list is not exhaustive, and only for representational purposes. Full competitive intelligence with SWOT analysis available in the report
Pet Care Market: The Way Forward
Pet care market is currently capitalizing on increasing product availability via retail channels. Investment in advertisements via television and social media channels has surged as well, giving impetus to sales witnessed across the world.
Strategic adopted for product marketing as well are focused on highlighting key ingredients in pet food. This is intended to attract pet parents in more conscious and determined manner. According to Future Market Insights, higher investment is likely especially since market players are aiming to create an upscale retail environment to showcase their curated set of ethically-sourced, premium, natural, and functional pet foods.
Several retailers in the U.S. have already used this strategy to gain an edge over their peers. For instance PetSmart's Pinnacle Nutrition Shop features a unique collection of organic and minimally processed brands to target high-income pet parents.
Some of the other brands are adding services to their portfolio to generate higher traffic. For instance in the UK, Pets a Home has included vet clinics in its outlets back in 2015. Other popular retailers such as Kiwoko and Tiendanimal in Spain have added grooming services to their offerings besides veterinary care.
Future Market Insights forecasts an increasing number of market players to join the bandwagon. Besides upscaling their retail portfolio, these companies are likely to make ample investment towards strengthening their online presence.
Key Segments
Service
Products

Pet Food
Pet Healthcare
Fashion, Toys, and accessories

Professional Services

Day Care
Grooming/Boarding
Pet Breeding and Training

Value Added Services

Insurance
Veterinary Care
Pharmacy
Adoption and Charity
Crisis Relief Service
Pet Type
Dogs
Cats
Birds
Fish and Reptiles
Small Pets
Horses & Other Livestock
Sales Channel
Modern Trade
Convenience Stores
Care Service Centers
Veterinary Clinics
Online Retail
Support Care Centers
Pet Specialty Stores
Region
North America
Latin America
Europe
East Asia
South Asia
Oceania
Middle-East and Africa
Need specific information?