Global Pet Insurance Market to Surpass/ Reach ~US$ 15 Bn by 2029
The global pet insurance market is projected to reach ~US$ 15 Bn by the end of 2029. The market was valued at ~US$ 4 Bn in 2019. If these figures hold true, the market will exhibit a CAGR of ~8.5% between 2019 and 2029. Regionally, North America is expected dominate the market.
However during the forecast period, Latin America & East Asia will exhibit more lucrative growth opportunities. In terms of policy type, the market can be classified accident, accident & illness. Of these, accident & illness segment will lead the global market owing to the coverage type which includes both accident & illness.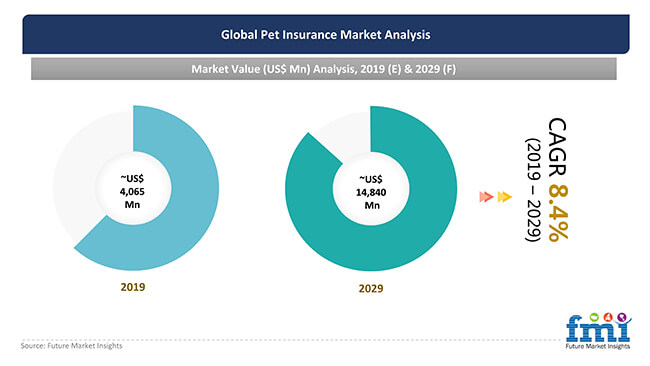 Key Factors Driving the Market
Latin America will Offer Robust Growth Opportunities
Regionally, the global pet insurance market covers North America, Europe, Latin America, East Asia, South Asia, Oceania and Middle East & Africa. Among these regions North America currently leads the market. Factors such as increasing pet ownership, total number of insured pets, increasing disposable income of the middle class population and major concentration of pet insurance companies in U.S. are driving the North America pet insurance market.
In addition to this, the demand for pet insurance is expected to uplift the Latin America pet insurance market owing to high adoption rate of pets, rising awareness of pet diseases and willingness to spend more on pet care products.
Rising Awareness among Consumers will Stoke Growth Opportunities
The rising awareness among consumers about pet diseases will drive pet insurance market. In addition to this, the market will benefit from their increasing disposable incomes and consequent willingness to spend on pet care products. Companies are nowadays operating in a dynamic business environment. It is therefore important that the companies keep track of ever evolving preferences of consumers to stay relevant in the market.
By Policy Type
Accident Only
Accident & Illness
By End User
Dog
Cat
Horse
Exotic Pets
Others
How will Growth Unfold?
Pet insurance market is primarily dominated by North America market owing to high number of pet owners and growing awareness among consumers about the pet diseases. Pet health insurance has been in existence worldwide since the early 1900s but was not offered in North America until the 1980s. Partnership with veterinaries and other pet organisations and word of mouth referrals propel the pet insurance industry to grow to a substantial height.
There is growing trend observed in U.S. of purchasing accident & illness policy owing to greater medical coverage in terms of accident & health. According to NAPHIA, 98% of policies written in 2017 were for accident and illness insurance while 2% were accident only.
FREQUENTLY ASKED QUESTIONS ABOUT PET INSURANCE MARKET
What drives the pet insurance market?
Rise in number of companion animals, increase in awareness about pet insurance, growth in pet ownership propels the growth of the pet insurance market.
Which factors put market players at risk?
Strict market regulation by the government and higher premium cost of pet insurance put the players at risk of losing market share.
Which region will lead the global sales of pet insurance?
North America dominates the pet insurance market however increasing number of pet ownership and rising awareness of pet diseases fuel the Latin America and East Asia market with ample opportunities.
Which end user segment offers most lucrative growth opportunities?
Cat segment in end user category is expected to have lucrative growth opportunities due to growing preference for cat among female consumers.
Which segment based on policy type will record the highest growth?
Accident & illness policy type is expected to expand at highest CAGR during the forecast owing to its greater policy coverage, both accident & illness.
Market Segmentation
The global pet insurance market is segmented in detail to cover every aspect of the market and present complete market intelligence to readers.
Policy Type
Accident
Accident & Illness
End User
Dog
Cat
Horse
Exotic Pets
Others
Region
North America
Latin America
Europe
East Asia
South Asia
Oceania
Middle East & Africa
Need specific information?