Rise in Demand for Healthy and Nutritive Snacks will Boost Sales of Almond Ingredients
Consumers are looking for nutrition rich and healthy food items to help them stay fit and stave off risk of diseases. Therefore, they are choosing snacks that are rich in nutritive values. Their change in preference will in turn improve the sales of almond ingredients. Nowadays consumers are locked in a busy lifestyle and have little time to invest in cooking healthy food at home.
Since snacking and gorging on comfort food have become highly popular, they are likely to look for healthier options in these items. Their interest to stay fit they are making them adopt healthy eating habits. This would provide growth opportunities to the market.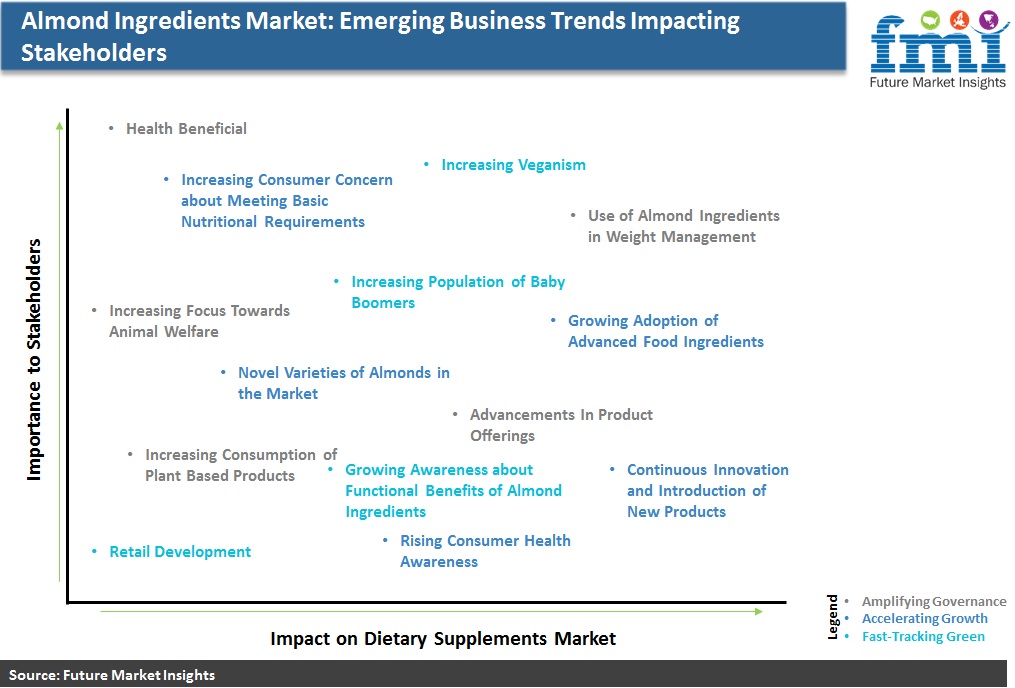 Growing Demand of Whole Almond Due to Their Multifunctional Attributes is Impacting Growth Positively
Among different types of almond ingredients, whole almond are most famous due to their various application as snack, bars, confectionery, bakery and other desserts. Almonds are multi-nutritional ingredient consumed widely among consumers as snacks and nutritional bars as consumed by consumers going to gym and focused towards body building. These factors are contributing in growing demand for snacks segment of almond ingredients market globally.
Willingness to Spend on Food with Higher Nutritive Value will Boost Growth Opportunities
The rising awareness about almond and related food products and their impact on human health among consumers will drive almond ingredients market. In addition to this, rising disposable income and purchasing power of consumers in developed markets will boost sales witnessed in the market. Despite this, almond prices often fluctuate and this is common across the world. Volatility in almond price could restrain the growth to an extent. Furthermore, the demand for almond is growth at an unprecedented pace, creating demand and supply gaps, which could negatively impact the market's overall growth prospects.
How Growth will Unfold
Europe has emerged as the leading market for almond ingredients since consumers in the region are exhibiting high demand for food with health benefits. The rising consumption of almond-based snacks and bakery food is also expected to boost the market in Asia Pacific. The Asia Pacific market is expected to grow at a faster pace than other regions.
Consumers are ready to spend on healthy food items due to their increased purchasing power. Animal welfare is rising across the globe which increases the vegan population. Increasing vegan and health-conscious population driving the almond ingredients market.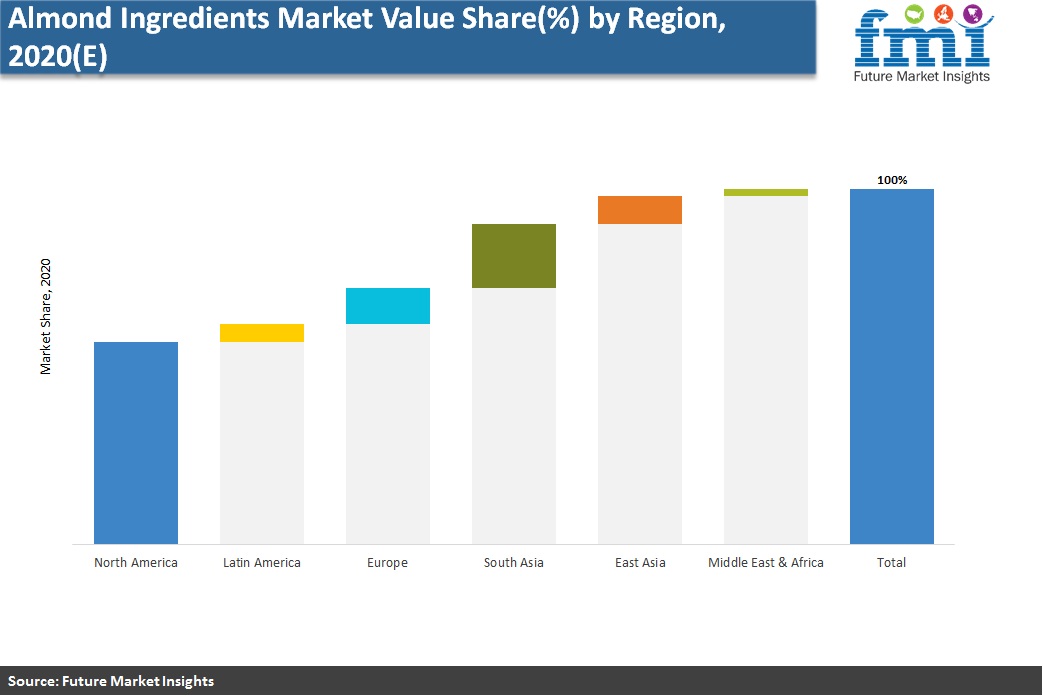 ALMOND INGREDIENTS MARKET TAXONOMY
The global Almond Ingredients Market is segmented in detail to cover every aspect of the market and present complete market intelligence to readers.
Product Type
Whole Almond
Pieces
Flour
Milk
Paste
Oil
Others
Application
Bakery and Confectionary
Snacks and Bars
Dairy Products
Nuts and Seed Butter
Others
Region
North America
Latin America
Europe
East Asia
South Asia
Oceania
Middle East & Africa
Need specific information?