Malt Ingredients Market - Key Research Findings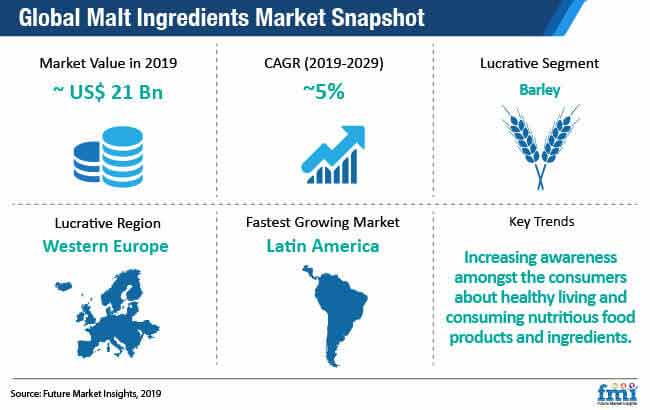 The global malt ingredients market is valued at ~US$ 21 Bn in 2019.
The malt ingredients market is expected to grow at a CAGR of ~5% during the forecast period of 2019-2029.
Increasing consumer awareness of healthy living and consuming nutritional food products including digestion resistant food is expected to propel the demand for malt ingredients in the forecast period of 2019-2029.

Latin America is expected to account for major revenue growth in the malt ingredients industry, by the end of 2029.
Latin America is also likely to account for relatively high consumption of malt ingredients during the forecast period, due to increasing awareness among consumers about the benefits of malt ingredients to their health.

Increasing demand for traditional food from consumers has led to high adoption of malt ingredients in the food industry.

Preference for traditional or home-cooked foods and cooking processes is regaining traction among various consumers worldwide. This is more pertinent to baked goods; however, it is expected to remain a challenge due to majority of the global population either working with a busy and hectic lifestyle, or due to the fact that most do not have access to traditional methods of cooking and baking. In order to attract this segment of consumers, food industry is turning to traditional ingredients and cooking processes, thereby potentially raising the demand for malt ingredients.
Key Factors Shaping the Malt Ingredients Market
Growing Consumer Awareness and High Nutritive Value of Diastatic Malt Extract

Increasing consumers awareness about health benefits associated with malt ingredients has been influencing their application in various food products, especially bakery products. Diastatic malt, which is an extract from sprouted grains, can be used as a replacement for honey and sugar needed to feed yeast in bakery products. It also helps reduce the need for extra synthetic sugar in bakery food products and label the product as 'sugar-free'.

As diastatic malt extract contains enzymes and vitamins, it improves nutritional value and helps increase shelf-life of baked products. Such benefits have led to high demand for malt ingredients-based food products from the F&B industry.

Food Manufacturers Adopting 'Better for You' Strategy

In the current scenario, several food manufacturers are focused on sustaining in an ever-growing competitive market by adopting 'better for you' strategy, providing improved natural ingredient-based food products to consumers. Growing inclination towards natural ingredients and healthy diet amid the rise of numerous lifestyle diseases is likely to lead to increasing demand for malt ingredients from the food manufacturers.

In addition, many food manufacturers are taking initiatives to offer natural ingredient-based foods to consumers with additional benefits, which in turn, is expected to complement the growth of the malt ingredients market.

Considering notable increase in the demand, malt ingredients market players, such as Dohler GmbH, are offering ingredient systems that extend from natural flavors, colors, and juices to sugar-free sweetening systems and 'beyond dairy' solutions for lactose-free products.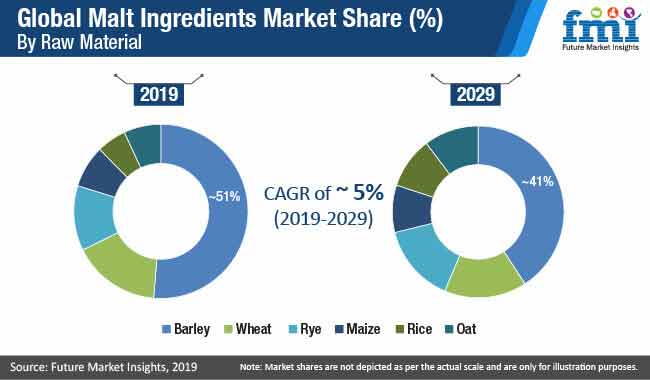 Malt Ingredients Market Structure Analysis
The global malt ingredients market represents a fairly consolidated competition landscape, where majority of key players maintain their strategic focus on the development of solid distribution partnerships and joint ventures, targeting a firmer global footprint.

Major players in the malt ingredients market are Cargill Incorporated, Ireks GmbH, Dohler GmbH, Simpsons Malt Limited, The Soufflet Group, Axereal (BOORTMALT NV), Malteurop Group, Viking Malt Oy, Polttimo Oy, Malt Products Corporation, Cooperativa Agraria Agroindustrial, GrainCorp Ltd., Malteries Soufflet SAS, Muntons Plc., Chunlei Malt Group Company, Crisp Malting Group, Holland Malt B.V., Barmalt India Pvt. Ltd. and Shun Taimai bud Group Co., Ltd.

The malt ingredients market has been relatively moderate in size, which remains a key factor for its dynamic competitive nature.
Leading manufacturers of malt ingredients are currently prioritizing R&D and new product launches to resonate with the booming demand for natural ingredients in Latin America and Middle East & Africa.
Portfolio extension is also identified to remain one of the key developmental strategies adopted by manufacturers of malt ingredients market.
For a stronger foothold in target markets, malt ingredients manufacturers will continue to rely on inorganic strategies, such as mergers and acquisitions.
Key Segment
Raw Material
Barley
Wheat
Rye
Maize
Rice
Oat
Product Type
Malt Extract

Dry Malt Extract
Liquid Malt Extract

Malt Flour
Others
Grade
Specialty Malt

Caramelized Malt
Roasted Malt

Standard Malt
End-Use
Food & Beverages Industry

Food

Bakery Products
Confectionaries
Dairy & Frozen Food
Pet Food

Beverages

Brewing
Distilling
Health Drinks
Other Non-alcoholic Beverages

Pharmaceutical Industry
Medicines
Neutraceuticals
Personal Care
Region
North America
Latin America
Western Europe
Eastern Europe
APEJ
MEA
Japan
Need specific information?
Talk Show:
The Rise of Intelligent Packaging
Personalized, Connected and Sustainable
November 18, 2021
11:00-11:45 AM PST (USA & Canada)
This is a LIVE session