Introduction
In 2017, the Europe malt extract market is estimated to be valued at a little over US$ 7,900 Mn and is expected to reach more than US$ 12,900 Mn by the end of 2026, registering a CAGR of 5.6% over the forecast period. The market is estimated to represent incremental dollar opportunity of US$ 5,411.5 Mn between 2016 and 2026.
High nutritive value of diastatic malt extract is fuelling sales in the European region
Diastatic malt extract is derived from sprouted grains and is used as a substitute product replacing sugar and honey needed to feed yeast in bakery products. Another important feature of diastatic malt is that it can also reduce the need for additional artificial sugar in bakery products and thus can be labelled as sugar-free. Also, as diastatic malt is rich in vitamins and enzymes, it increases the nutritional value of baked products and also helps in extending the shelf life of baked products.
These positive properties of diastatic malt and awareness about its health benefits is fuelling the demand for malt ingredient based bakery products. To underscore this point, it should be considered that malted barley extract replaces sugar needed for feeding yeast at a ratio of three-fourth in bakery products; 12 oz of malted barley extract replaces 16 oz of sugar. Health conscious consumers of the present times prefer sugar-free or less sugary food products, and this factor is expected to fuel demand for malt ingredient based bakery products during the forecast period.
Increasing preference for clean label products boosting the demand for malt extracts
The consumers of today have shifted their preference towards natural and organic food products, with a focus on the various health benefits such types of food offer. Additionally, strict government regulations on food additives are currently a major concern for food manufacturers. Due to this, food manufacturers are focussing on producing clean label products by limiting or not using food additives and increasing the adoption of natural food flavours and colours as substitutes to synthetic additives.
Food manufacturers are also focussing on leveraging the preference of consumers towards health and wellness over cost of products and using malt as an ingredient, besides others, to secure clean label approval for various food products. In addition to the clean label claims, malt based ingredients enable bakers and food producers to replace high fructose corn syrup from product labels.
Non availability of substitutes with the same characteristics as malt extracts limiting the growth of the market
Due to an increasing demand for malted wheat and malted barley in various applications, the need for similar substitutes is gaining traction globally. The shortage of wheat and barley malt can be averted by using other grains such as rice; however the substitute grains don't possess the same nutritional as well as fermentation and other qualities such as that of barley and wheat, and therefore cannot be incorporated as a straight substitute. This is one of the main restraining factors impeding revenue growth of the Europe malt extract market.
Presence of fewer players in the market creates a suitable opportunity for new entrants
Even though there are a large number of players in the bakery sector offering traditional bakery products, only a few players use malt ingredients in the products they offer. On the other hand, people all over the world are increasingly preferring food with natural ingredients owing to the inherent health benefits. This is a major trend creating high potential opportunities for companies offering such products.
This also creates opportunity for new domestic players to enter the malt extract market to leverage growing demand for gluten-free, sugar-free, high nutritional value, and clean label products from the brewery, bakery and food and beverage industries.
Europe Malt Extract Market Attractiveness Analysis, by Application
The Beverages segment accounted for a high value share of 48% in 2016 and is expected to register a relatively high CAGR of 6.0% during the forecast period. The Bakery segment is anticipated to register a CAGR of 5.5% in terms of value over the forecast period.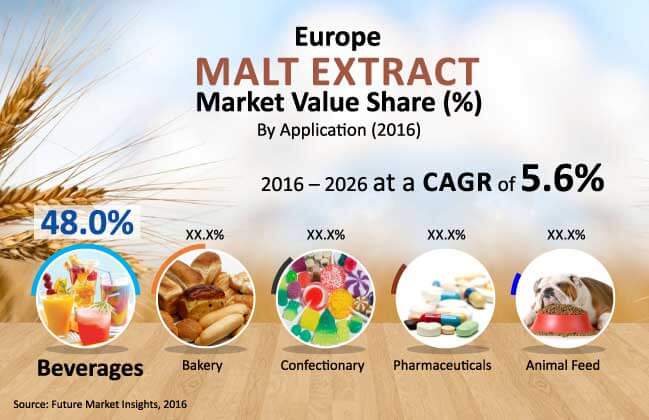 Increasing preference for gluten-free bakery products is a growing trend all over the world and this encourages the use of malt based products
"There is a significant demand for gluten-free bakery products in countries such as the United States, United Kingdom, Japan, India and China, due to the increasing prevalence of diseases like obesity, joint pains and other health related issues apart from a growing aging population. The demand for gluten-free malt extracts that can be used as a specific flavour component and as a natural ingredient for a variety of products to impart natural colouring and sweetening is skyrocketing. This will lead to an increase in the demand for malt based products."
Market Taxonomy
By Application
Bakery
Confectionary
Beverages
Alcoholic
Non-Alcoholic
Animal Feed
Pharmaceuticals
By Source
By Product Form
By Product Type
Need specific information?