Europe Platelet Rich Plasma (PRP) Market by Product Type (Instruments, Kits, Kits BY Origin), Application (Knee, Elbow, Foot and Ankle, Shoulder, CMF, Others) & Countries Covered - Forecast to 2016-2026
Platelet Rich Plasma (PRP) Market - Analysis, Outlook, Growth, Trends, Forecasts
June 2016

REP-EU-1599

99 pages
Introduction
Platelet rich plasma (PRP) is a blood plasma concentrate enriched with platelet count above the baseline of whole blood prepared from patient's own blood or from a healthy donor's blood. There are different types of PRP, categorised on the basis of source of blood and end-product type.
Autologous PRP is a cost-effective, quick, and easy production method involving lower threat of disease transfusion as it is prepared from patient's own blood, thus leading to its widespread adoption. Autologous PRP has been increasingly used in treatment of musculoskeletal injuries, especially in the treatment of sports-related injuries.
Allogenic PRP is prepared using blood from well-characterised donors. Allogeneic PRP helps generate more consistent and reliable therapeutic effect and also helps avoid taking large quantities of blood from patient.
Homologous platelet rich plasma is a concentrated form of blood derived from blood relatives.
Drivers and Trends
The Europe PRP market was valued at US$ 35.3 Mn in 2015, and is projected to grow at a CAGR of 6.6% over the forecast period 2016-2024 owing to rising demand for PRP therapy in sport injuries.
Platelet-rich Plasma (PRP) therapy is a minimally invasive procedure and an alternative option to surgery. PRP therapy is a quick and highly effective treatment for reducing the pain and enhances tissue regeneration power with less recovery time along with higher success rates. PRP treatment is very cost effective compared to surgical procedures for orthopedic and sports injuries.
Some major factors driving the growth of PRP market are expanding PRP application in the sports medicine industry, technological advancements in PRP therapy, progressive demographic ageing of the older population etc. These factors are expected to fuel the growth of the market growth rate over the forecast period.
Analysis by Country
By country, the Europe PRP market has been segmented into Germany, France, Italy, Spain, the U.K., and Rest of Europe. The U.K. PRP market has been estimated to hold maximum share in Europe region in 2016 and expected to grow at a CAGR of 8.0% over the forecast period. France is the second largest market for PRP in Europe, followed by Rest of Europe.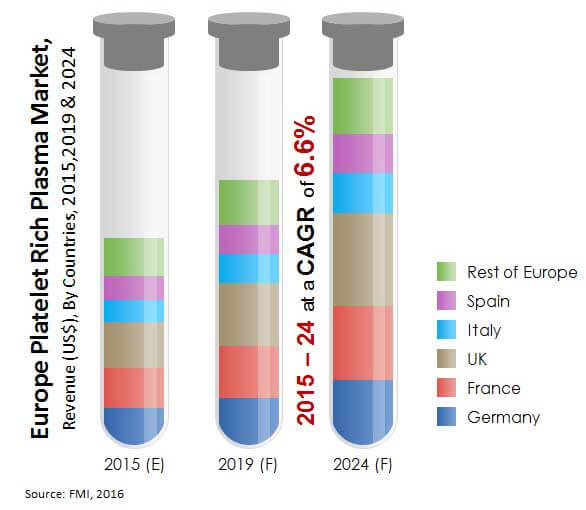 Analysis by Product Type
The European PRP market is segmented into instruments and kits segment. The kit product type segment is further sub-segmented into P-PRP kits, L-PRP kits, L-PRF kits and P-PRF kits based on end PRP product type. The kits segment also sub-segmented into autologous - PRP kits, homologous - PRP kits, and allogeneic - PRP kits based on the source of blood. Currently, the kits segment accounts for a major share of the Europe PRP market, whereas the P-PRF kits sub-segment is expected to witness an impressive growth during the forecast period.
Analysis by Application
By application, the Europe PRP market is segmented into knee, elbow, foot and ankle, shoulder, CMF and others. The elbow application segment is expected to grow at a CAGR of 7.4% in terms of revenues over the forecast period. The knee segment was estimated to dominate the overall European PRP market and expected to grow at a healthy CAGR over the forecast period.
Competitive Landscape
Some of the key players identified in the European PRP market report include Arthrex, Inc., Stryker Corporation, Johnson and Johnsons Ltd, Zimmer Biomet Holdings Inc., Terumo Corporation, Glofinn Oy, Medira Ltd., and Regen Lab S.A. The report offers invaluable insights into company-specific strategies related to PRP market, market consolidation initiatives and analyses of the various market players' specific strengths, weaknesses, opportunities and threats. Companies are focusing on developing innovative products in order to remain competitive in the Europe PRP market.
World's Most Profilic Intelligence Engine
Get Access To The World's Largest Market Research Database.
Sign Up Now
Key Segments Covered
Product Type
Instruments
Kits

Kits BY Type

Pure Platelet-Rich Plasma (P-PRP)

Leukocyte-Rich Platelet-Rich Plasma (L-PRP)

Leukocyte-Platelet-Rich Fibrin (L-PRF)

Pure Platelet-Rich Fibrin (P-PRF)

Kits BY Origin

Autologous Platelet-Rich Plasma

Homologus Platelet-Rich Plasma

Allogeneic Platelet-Rich Plasma
By Application
Knee
Elbow
Foot and Ankle
Shoulder
CMF
Others
Key Countries Covered
Europe
The U.K.
France
Germany
Spain
Italy
Rest of Europe
Need specific information?
Our Clients