Maltodextrin Market Snapshot
[250+ Pages Report] Newly released report on global maltodextrin market by Future Market Insights (FMI) estimates that the maltodextrin market will register year-on-year (YoY) growth of 4.8% to reach US$ 3.61 Bn in 2021. The market has been projected to expand at a CAGR of 5.0% to reach the value of US$ 5.87 Bn in 2031
Maltodextrin sales in the food and beverage industry will grow by 3.5% in 2021. The The increasing demand from downstream products such as milk powder, ice cream, and other instant drinks will fuel maltodextrin consumption.
Driven by this, the sales of maltodextrin will represent 28% of the overall demand in the global thickeners market in 2021.
Maltodextrin is more commonly used in sugar-free products because it is not actual sugar and is suitable for diabetics. However, this component might not be suitable for Individuals with gluten intolerance, which could hinder growth in the maltodextrin market to an extent.
| | |
| --- | --- |
| Attribute | Details |
| Market Size Value in 2020 | US$ 3,445.5 Million |
| Market Forecast Value in 2031 | US$ 5,872.4 Million |
| Global Growth Rate | 5.0% |
Maltodextrin Market Historical Outlook vs Future Projections
As per FMI, over the past half-decade, the global maltodextrin market value grew at a CAGR of around 3.6%. The rising demand for maltodextrin as an ideal carbohydrate used as specialized ingredient for nutrition in sports nutrition, infant nutrition, and clinical applications will continue pushing growth through the assessment period.
Meanwhile, sales of maltodextrin are projected to grow at a CAGR of around 5.0% over the forecast period as healthy plant based ingredient become increasingly popular in daily diets. Increasing demand for organic and natural food ingredient in comparison to synthetic ingredient will encourage growth in the maltodextrin market in the coming years.
Maltodextrin also is used as a partial fat substitute since it improves the texture of meals without adding calories. Considering this, it is widely consumed by gym and health enthusiasts. Maltodextrin is prized for its gelling, texturizing, non-crystallizing and emulsifying properties. It provides a neutral taste, and can help incorporate spices in dishes.
The aforementioned maltodextrin uses make it an ideal ingredient for incorporation in a number of food and drinks items.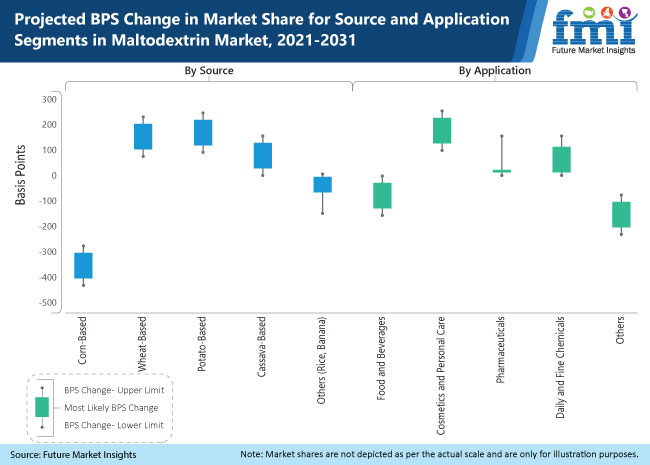 How is Maltodextrin Application for Advanced Nutrition Affecting Sales?
Maltodextrin is a type of carbohydrate that can be found in many foods. They have a 4 kcal/g calorific value. Carbohydrates are necessary for basic metabolic processes in the body and should account for 50-55 percent of total energy consumption. The European Food Safety Authority (EFSA) has proven that carbohydrates, especially maltodextrin, help the brain and muscles work normally.
Maltodextrin use as powdered sugar substitute is increasing because of its neutral flavor and low sweetness. It also is frequently used as excipients (inactive ingredients) in the pharmaceutical and cosmetic industries.
Driven by higher awareness regarding various health benefits it offers, application will rise in diverse sectors, including breweries, food, and snacks like sweets, instant soft drinks, and ice cream as a flavoring agent and essence. It is an important component of sports drinks and often used in the production of frozen foods.
Maltodextrin is used in breweries to improve dryness and head retention of the beverage. With application projected to continue in the sugar-free food items, demand in the maltodextrin market will grow significantly in the near future.
Will Application in Infant and Sports Nutrition Drive Maltodextrin Market?
Maltodextrin is regarded as a useful source of energy for both infants and athletes. They also help in restoring intestinal osmolarity in neonates who are suffering from intestinal disorders. Because osmolarity is linked to hydration, maltodextrins can aid in the hydration of infants and athletes.
Furthermore, maltodextrin is easy to utilize and is suitable for neonatal nutrition. Its solubility ensures a lump-free bottle-feeding formula and a consistent milk consistency.
Maltodextrin is included in EU Regulation No. 609/2013 and Delegated Regulation (EU) No. 2016/127, which regulate newborn nutrition, as authorized carbohydrates for use in infant food. These factors will continue favoring maltodextrin market growth through the course of the forecast period.
Country-wise Analysis
What are the Factors Driving Maltodextrin Market in EU-5?
The Europe maltodextrin market is anticipated to exhibit growth at a CAGR of 3.8% over the forecast period, owing to increasing demand for plant based sports beverages products. The EU-5 maltodextrin market will dominate Europe with a share of more than 73.3% in 2021.
Meanwhile, in Europe, like in the United States and Canada, health and fitness spending will continue to drive maltodextrin sales. Despite COVID-19 induced restrictions, healthcare and fitness spending in most European countries remained constant in 2020.
Maltodextrin demand is increasing in the EU-5 and across Europe, with uses ranging from healthy snacks to bakery items and beverages to plant-based treats.
Will China Maltodextrin Market Continue Dominating Asia Pacific?
The China maltodextrin market size is estimated to reach US$ 413.6 Mn in 2021, but the consumption of maltodextrin in Japan is expected to grow at a higher rate.
China's rising urbanization and industrialization have resulted in consumers' hectic and chaotic lifestyles. This fast-paced lifestyle has in turn led to new eating habits that stray from the typical three square dinner table meals.
Consumers in Asia are focusing on healthy beverages with plant based ingredients. All these factors will contribute towards the China maltodextrin market growth over the forecast period.
What is Driving Sales in India Maltodextrin Market?
In 2021, the India maltodextrin market held a share of 23.6% in Asia Pacific. The increasing trade of corn based maltodextrin, wheat based maltodextrin and cassava based maltodextrin within Asia Pacific countries will drive growth in the India market.
What will Support Demand Growth in GCC Maltodextrin Market?
According to FMI, the sales of maltodextrin in GCC countries are estimated to account for 28.3% of the overall Middle East and Africa market in 2021. Increasing demand for infant nutrition with clearer and cleaner labelling in GCC Countries as a result of high consumer awareness regarding the plant based ingredient will drive the GCC maltodextrin market.
How will Brazil Maltodextrin Market Fare?
According to FMI, Brazil maltodextrin market size in 2021 will reach US$ 74.4 Mn which is also expected to witness a lucrative growth rate of CAGR 4.0% during the forecast period. The rising uptake in bakery industry will result in high growth in the country.
Demand for bakery products and frozen desserts in the country is fuelling the growth of the maltodextrin market.
Category-wise Insights
Why is Corn Based Maltodextrin More Preferred?
According to FMI, the corn based maltodextrin market is expected to register growth at a CAGR 4.3% over the forecast period, owing to increasing application of corn based thicker in sports nutrition.
Corn maltodextrin is a low-cost food additive that improves the texture, flavour, and shelf life of foods. These factors are resulting in higher sales of corn based maltodextrin.
Will Spray-Dried Maltodextrin Powder Remain Top-selling?
In 2021, spray dried powder maltodextrin accounted for approximately 63.0% of the global market, while the demand for "instantized" / agglomerated** is expected to rise at a CAGR of 5.8% during the forecast period.
Maltodextrin usefulness as a carrier or encapsulating agent has made it one of the most commonly used drying aids for spray drying.
What is Supporting Maltodextrin Application in Food and Beverages Sector?
Based on application, maltodextrin use in food and beverage segment is estimated to account for a market share of 60.9% in 2021.
Maltodextrin is often used as diluents in sachets and other single-unit dose formulations in pharmaceuticals. It is an effective binders for direct compression because of its intrinsic polymeric structure. Owing to these factors, application of maltodextrin is estimated to grow in the food and beverages sector.
Competition Landscape: Top Maltodextrin Companies
Top maltodextrin market players are focusing on product launches which is expected to help in growth of the market.
For instance, in 2021 Cargill launched rice flour-based maltodextrin substitute. According to the company, this ingredient can be used as a one-to-one substitute for maltodextrin and can also improve mouthfeel. Consumers found a SimPure rice flour prototype to be creamier in sensory tests of powdered chocolate milk, according to Cargill.
Besides this, some manufacturers are focusing on mergers to launch innovative products. For instance, Archer Daniels Midland Company (ADM) in 2018, a US-based food processing company, had teamed up with Vedan International to offer a line of specialty tapioca starches and tapioca maltodextrin components.
Maltodextrin Industry Report Scope
Attribute

Details

Market Size Value in 2020

US$ 3,445.5 Million

Market Forecast Value in 2031

US$ 5,872.4 Million

Global Growth Rate

5.0%

Forecast Period

2021-2031

Historical Data Available for

2016-2020

Market Analysis

MT for Volume and US$ Million for Value

Key Regions Covered

North America, Latin America, Europe, Asia Pacific and MEA

Key Countries Covered

United States, Canada, Brazil, Mexico, Rest of LATAM, EU-5, Nordic, Poland, BENELUX, Rest of Europe, India, China, Japan, South Korea, Oceania, Rest of Asia Pacific, South Africa, GCC Countries and Rest of South Africa

Key Market Segments Covered

Product Type, Nature, End-Use Application, and Region

Key Companies Profiled

Grain Processing Corp
Roquette
Matsutani
Ingredion
Tate and Lyle
Agrana Group
Avebe
Nowamyl
Others

Pricing

Available upon Request
World's Most Profilic Intelligence Engine
Get Access To The World's Largest Market Research Database. Ngage with a revolutionary intelligence engine that scale and pricing that flexes as per your needs
Sign Up Now
Market Segments Covered in Maltodextrin Market Analysis
By Source:
Corn-Based
Wheat-Based
Potato-Based
Cassava-Based
Others (Rice, Banana)
By Form:
Spray-Dried Powder
"Instantized" / Agglomerated**
By Application:
Food and Beverages
Cosmetics and Personal Care
Pharmaceuticals
Daily and Fine Chemicals
Others
Region:
North America
Latin America
Europe
Asia Pacific
MEA
Key Questions Answered in the Report
How much is the maltodextrin market worth?
Currently maltodextrin market is worth more than US$ 3.61 Bn.
At what CAGR is the maltodextrin market expected to grow?
The maltodextrin market is expected to grow at a CAGR of around 5.0% during the period 2021-2031.
How did the maltodextrin market perform in the last five years?
In terms of revenue, maltodextrin market grew at a CAGR of around 3.6% during 2016-2020
What are the key trends boosting maltodextrin sales?
An increase in private label brands, steady increase in demand for maltodextrin in sports and infant nutrition industry, and rising demand for the maltodextrin by beverage industry are the latest trends observed in the market.
How much do top ten maltodextrin market players contribute towards sales?
The top 10 producers of maltodextrin hold around 30-50% of the market share.
Which are the major countries driving demand for maltodextrin?
The U.S., EU-5, Brazil, India and China are the major countries driving demand for maltodextrin.
What is Asia Pacific maltodextrin market outlook?
Asia Pacific will hold around 35.1% of the total maltodextrin market in 2021.
At what rate will the U.S. maltodextrin market grow?
The U.S. maltodextrin market is projected to grow at a CAGR of around 4.3% over the next ten years.
Need specific information?