About the Report
The rising prevalence of diabetes, cardiovascular disease, and obesity, combined with consumers' interest on healthy food, including a lower sugar consumption without compromising texture and taste, has resulted in a need to develop new products. The growing popularity of "healthy indulgences," such as encapsulation and flavour changing in sugar-free gum, functional benefits in hard candy, and sugar replacement in chocolate is driving the isomalt market.
Sugar replacement and reduction sugar are perceived megatrends in the food and beverage industry. This trend has played a key role in increasing the demand for crystalline sugar alternative such as isomalt. Lab tests have aided manufacturers in the Iiomalt market, helping them in increasing their production capacities.
Isomalt has a plethora of nutritional and technical advantages. Despite being derived from sugar beet, it is non-cariogenic, tooth-friendly has half the calories, and is low glycemic. The sugar-like and mild sweetness of isomalt complements candies with fine and subtle flavour that do not have a cooling effect. Sugar-free candies containing isomalt not only have a vibrant colouring without being adhesive but also have longer-lasting flavor, which improves the product's quality.
In its new study, ESOMAR-certified market research and consulting firm Future Market Insights (FMI) offers insights about key factors driving demand for isomalt. The report tracks the global sales of isomalt in 20+ high-growth markets, along with analyzing the impact COVID-19 has had on the food and beverage industry in general, and isomalt in particular.
How the Historical and Future Outlook for Isomalt Market Match Up?
Isomalt was first produced in 1957 by researchers from Südzucker AG, Germany's largest sugar producer. Since 1990, isomalt has been accepted for use as a natural sweetener used in foods and beverages in the United States.
Food and health are deeply connected with each other. The World Health Organization (WHO) defines health as, 'not merely absence of disease or infirmity, but a state of complete physical, mental and social well-being.'
People are well aware of food that they consume and are therefore emphasizing on products that contain gluten-free, non-GMO, eco-friendly, and kosher ingredients. This shows that consumers are more focused towards sustainability and ethical values while choosing food products. This is one of the impactful trends in the food and beverage industry, fueling the demand for isomalt.
The food and beverage industry is exposed to the changes in regulatory framework related various risks posed to human health. Isomalt is majorly used in the food and beverage industry. Manufacturers have to pay special attention to isomalt specifications, labelling, and quantity to be used under the regulations implemented. Isomalt is used around the world, with its highest consumption in North America and Europe due to the presence of many manufacturing companies and availability of raw material (Beet).
There lies eminence potential in the emerging markets of Asia-Pacific due to increasing disposable income and rising awareness of consuming healthy food. The versatile properties of isomalt have made its application area vast which includes sugar confectionery, bakery, pharmaceuticals, beverages, nutritional food, candies and jelly. Now with increased research, the manufacturer is introducing a new product category of isomalt in personal care products as a body moisturizer. According to FMI's analysis, isomalt sales have grown at 5.1% CAGR between 2016 and 2020.
Isomalt is being used widely used in bakery and dairy products as it is easily available in grocery stores, bakery, and through other retail channels. There are several large manufacturers and producers of isomalt present worldwide. This convenience of availability is resulting in increasing use of isomalt at household as well as commercial levels. Thus, the increase in demand for Isomalt is expanding its market share in the food and beverage industry. FMI expects the global isomalt market to grow with a CAGR of 4.9% over the forecast period 2021-2031.
Is Increasing Usage of Isomalt in Sugar Crafting triggering the Growth?
Syrup made of isomalt is popularly used in blown sugar works and candy jewels. Among home bakers, the use of isomalt is rising day by day. This is because isomalt can effortlessly blend with any flavour, varieties of bakery products can be made with it. Isomalt can easily be molded in different shapes and can withstand high temperatures. This makes isomalt convenient for handling and use. In this way, demand for isomalt from home bakers is on the rise.
Will Rising Demand for Sugar Substitutes Increase Adoption of Isomalt?
Isomalt is a natural sweetener derived from sugar beets that are used as a sugar alternative in a variety of food and beverages products. Isomalt has a very low glycemic index, which means it has little effect on glucose or blood insulin levels. As a result, it could be used as a dietary supplement to lower the risk of obesity and cardiovascular disease. As a result, key manufacturers in the isomalt market are profiting from an increase in consumption of sugar-free food products and supplements from consumers suffering from obesity and diabetes.
Will Increasing Applications of Isomalt as a Key Ingredient in the Food Industry Drive Growth?
Isomalt is non-hygroscopic, which makes it resistant to humidity. It absorbs much less water, resulting in non-sticky products. It dissolves slowly in the mouth and has a long aftertaste. Because of these properties, isomalt is the best choice for making chewing gum and candies. It is also widely used in the decoration of desserts and cakes. As a result of these factors, the demand for isomalt is increasing.
Will Easy Availability of Isomalt Boost Sales?
Isomalt is widely used in dairy and bakery products because it is widely available in specialty stores, grocery stores, bakeries, and other retail stores. Globally, there are many manufacturers and producers of isomalt. This ease of access is leading to an increase in the use of isomalt at both the commercial and household levels. As a result of the increased demand for Isomalt expanding market its share in the food and beverage industry.
Country-wise Insights
How big is the opportunity in U.S. for isomalt market?
FMI has projected North America isomalt market to gain significant value share over the forecast period with the market share of 21.8% in 2020. The U.S held 90.0% of the North America market in the year 2020. An increasing number of consumers in the U.S. are shifting towards natural ingredients and demanding forfeited for isomalt products. The Institute of Food Technologists has provided some guidelines regarding alternative sweeteners such as stevia, isomalt and others.
Implementation of these guidelines are expected to have considerable impact on sales of isomalt in the U.S. Also the increasing cases of diabetes and obesity will spur growth in the country. According to the Centers for Disease Control and Prevention (CDC), 34.2 million people of all ages of the U.S. population had diabetes in 2018. With the incidence forecast to rise further, the demand for sugar substitutes is expected to surge in the coming years.
How big is the opportunity in EU-4 for Isomalt Market?
Eu-4 (Germany, France, Italy, and Spain) remains one of the most lucrative markets for isomalt in Europe, accounting for a market share of 42.9% in 2020. Consumers in EU-4 are enthusiastically participating in activates related to fitness. For this, they are opting for healthy food products that help them to maintain higher levels of immunity and keep them free from illnesses. Currently, consumers have become conscious about their diets, owing to which they are ready to spend more on food products that promise better quality. Such consumers are focused towards quality ingredients and nutrition-rich food that is beneficial for their health.
How Big Is The Opportunity In China Isomalt Market?
China remains one of the most lucrative markets in the East Asia for isomalt, with a market share of 70.3% in 2020. With the growing population and increasing focus on health and wellness, the demand for natural sweeteners is rising. This is anticipated to enable growth in the isomalt market. Rising demand for low calorie food products in China fueling the growth of isomalt market in East Asia. Key manufacturers operating in the global market focusing on emerging nations of Asia Pacific to reach large consumer base. For instance: In 2017, Evonik launches low-calorie sugar alternative in Asian market.
How Big Is The Opportunity In Russia Isomalt Market?
FMI has projected the Russia isomalt market to gain significant impetus over the forecast period with the market share of 22.2% in 2020 within Europe. Recent studies have indicated that isomalt products have a positive impact on the health of consumers. Isomalt is very low in calorie ingredient, making it suitable for use in nutritional supplements. It provides various food alternatives for health conscious consumers, particularly by meeting the demand for low-calorie food and beverage products. Thus, increasing the demand in Russia market.
How Big Is The Opportunity In India Isomalt Market?
FMI has projected the India isomalt market to considerably grow over the forecast period. According to the report, India accounted for over half of isomalt sales registered in South Asia market in 2020. Abundant supply of raw materials boosting production of isomalt in South Asia market. Isomalt is derived from natural sources such as berries, sugar beets, and peaches. There are several producers and farmers across the India that cultivates these fruits.
Category-wise Insights
What is the Expected Market Share of Conventional Isomalt Globally?
The conventional isomalt is expected to account for the lion's share in the global isomalt market through the forecast period. However, the demand for organic isomalt is expected to increase at a higher pace in response to the increasing awareness about the benefits of organic and natural sweeteners.
Consumer inclination for nature derived ingredients has soared in the last few years. They consider organic ingredients as key to review health benefits of any food products. Therefore, change in consumer behavior pattern will emerge as a primary precursor of growth in sales within the organic segment.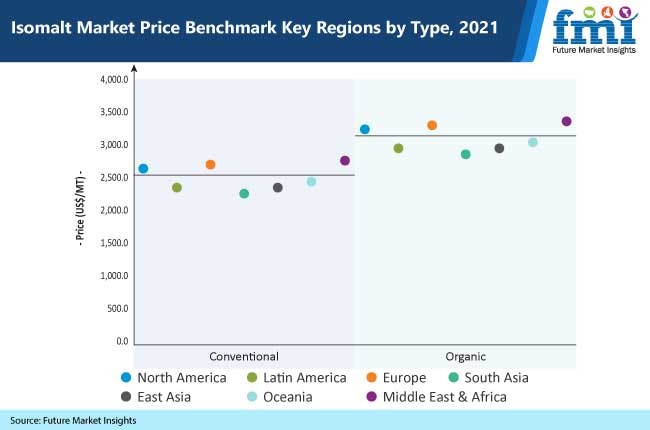 Which form of Isomalt Holds Maximum Market Share?
Powder isomalt segment has been registering higher demand. It is expected to remain dominant in terms of form within the market. The dominance of powder isomalt can be attributed to its ease of transportation and low risk of contamination. The powder form is therefore widely preferred over the syrup form around the world.
Why is Isomalt Gaining More Traction for Application in Beverages?
The increasing demand for low-calorie beverages from health conscious customer triggering the demand for isomalt based beverages in global market. Also the rising incidence of various ailments such as diabetes and cardiovascular diseases, besides increasing focus on weight management will fuel application of isomalt in beverages.
Opportunities Abound in Isomalt Market.
Isomalt is constantly being researched and developed for new applications. Isomalt is being heavily considered for 3D printed scaffolds due to its unique property of being biodegradable and water-soluble. In addition, the study considers isomalt for use in micro fluidics and bio-printing in laboratories.
In recent years, the growing potential promised by the development of innovative products has created opportunities for key players in the global isomalt market in developing regions such as the Asia Pacific and Middle East. This is primarily due to an increase in the number of diabetic patients in these areas. As consumers become more aware of the risks of obesity, they are shifting to nutritional and dietary supplements, creating profitable opportunities for players in the isomalt market.
Competitive Landscape
In order to build a strong consumer base for their business, companies are adopting a customer-centric approach. For instance, SINOFI, one of the leading Isomalt producers, not only sells food ingredients and processed foods, but also provides clients with high-value-added services. Clients benefit from the company's one-of-a-kind and innovative products. The final products are of the highest quality- Kosher, FDA, Halal and HACCP certified.
Established brands are focusing more on new product development to expand their product portfolio. For instance: In 2016, BENEO launches isomalt translucent gum coating technology. This innovative coating method allows chewing gum manufacturers to develop attractive products that deliver in terms of shine and translucence while also maintaining stability over the course of their shelf life.
Some of the leading companies in the isomalt market are:
Cargill, Inc.
Merck KGaA
Baolingbao Biology Co., Ltd
Akhil Healthcare Pvt Ltd
SINO Food Ingredients (SINOFI)
KF Specialty Ingredients
Wilmar BioEthanol
Deiman SA de CV
Quadra Chemicals Ltd
S. A. Pharmachem Pvt. Ltd.
*The list is not exhaustive, and only for representational purposes. Full competitive intelligence with SWOT analysis available in the report.
Scope of the Isomalt Report
Attribute

Details

Forecast Period

2021-2031

Historical Data Available for

2016-2020

Lactose Market Analysis

USD Million for value and '000 MT for Volume

Key Regions Covered

North America, Latin America, Europe, East Asia, South Asia, Oceania Middle East & Africa

Key Countries Covered

US, Canada, Mexico, Brazil, Peru, Chile, Rest of Latin America, Poland, Germany, Italy ,Spain, France, U.K., BENELUX, Nordic, Russia, Rest of Europe, China, Japan, South Korea, Indonesia, Malaysia, Singapore, India, Taiwan, Thailand, Rest of South Asia,, Australia, New Zealand, GCC Countries, Turkey, South Africa, Rest Of MEA,

Key Segments Covered

By Nature, Form, End use and Region

Key Companies Profiled

BENEO GmbH
Cargill, Inc.
Merck KGaA
Baolingbao Biology Co., Ltd
Akhil Healthcare Pvt Ltd
SINO Food Ingredients (SINOFI)
KF Specialty Ingredients
Wilmar BioEthanol
Deiman SA de CV
Quadra Chemicals Ltd
S. A. Pharmachem Pvt. Ltd.

Report Coverage

Isomalt Market Forecast, brand share analysis, competition intelligence, DROT analysis, Isomalt Dynamics and Challenges, Strategic Growth Initiatives

Customization & Pricing
Key Questions Answered in the Report
Which is the most lucrative market for isomalt?

Europe currently leads the global isomalt market. As a result of the rising incidence of health problems associated with being overweight or obesity, consumers in Europe have begun to follow various weight management and weight loss diets, including drinks, better-for-you food, weight loss supplements, and others. This rise in the number of health problems is expected to fuel the demand for isomalt in the coming years.

Which form of isomalt is generating the most sales?

Powder form of isomalt is registering high sales due to increasing applications o bakery products, dairy products, sports drink, confectionery & sugar confectionery, and other food products.

Which are some of the leading companies offering isomalt?

Some of the leading companies offering isomalt are BENEO GmbH, Cargill, Inc., Merck KGaA, Baolingbao Biology Co., Ltd., Akhil Healthcare Pvt Ltd, SINO Food Ingredients (SINOFI), KF Specialty Ingredients, Wilmar BioEthanol, Deiman SA de CV, Quadra Chemicals Ltd, S. A. Pharmachem Pvt. Ltd.

Who is the key end user of isomalt?

The beverages and bakery products sectors are exhibiting high demand for isomalt. Of these, the beverages industry holds dominance in the isomalt market.
Isomalt Market by Category
Nature
Organic Isomalt
Conventional Isomalt
Form
Powder Isomalt
Syrup Isomalt
End Use
Confectionery
Sugar Confectionery
Bakery Products
Breakfast Cereals & Bars
Dairy Products
Frozen Desserts
Beverages
Sports Drink
Meat & Fish Products
Infant Formula
Pharmaceuticals

Cough Syrups
Multivitamins
Supplements
Others

Oral Care
Others
Region
North America
Latin America
Europe
East Asia
South Asia
Middle East and Africa (MEA)
Oceania
Need specific information?