An Incisive, In-depth Analysis on the Combi Ovens Market
This study offers a comprehensive, 360 degree analysis on the Combi Ovens market, bringing to fore insights that can help stakeholders identify the opportunities as well as challenges. It tracks the global Combi Ovens market across key regions, and offers in-depth commentary and accurate quantitative insights. The study also includes incisive competitive landscape analysis, and provides key recommendations to market players on winning imperatives and successful strategies.
Key Findings
Tier 1 Companies to Account For Over 63% of the Overall Combi Ovens Market Revenues
The combi ovens marketplace remains consolidated among tier 1 players where top players in the combi ovens market accounts for over 63% of the total combi ovens market. Prominent players target commercial kitchens and institutions where demand for medium and heavy capacity combi ovens is increasing significantly. Presence of several small and medium sized players have increased the market competition in the combi ovens market where these players continue to introduce low cost combi ovens.
In a bid to maintain the combi ovens market sustainability amidst increasing competition, Tier 1 players are engaged in expanding manufacturing capacities and strengthening regional presence. For instance, Electrolux, in 2017, acquired Continental Brand in Latin America with an aim to strengthen Electrolux's growth in the Latin America region.
Combi Ovens Manufacturers Introduce ENERGY STAR Models amidst Increasing Preference for Energy-Efficient Equipment
Demand for energy-efficient appliances has led manufacturers in the combi ovens market to introduce energy-efficient appliances. Amidst the intense competition of the food service industry, end-users of the combi ovens continue to seek energy-efficient models in a bid to increase profit margins. As outcome of commercial kitchens significantly relies on the efficiency of combi ovens, demand for energy efficient models is on the rise which help end users in cost savings.
Gas-based combi ovens are highly preferred for their energy-efficiency. Aware of these end user preferences, manufacturers in the combi ovens market are introducing combi ovens models with ENERGY STAR certification for different powered models including electric combi ovens.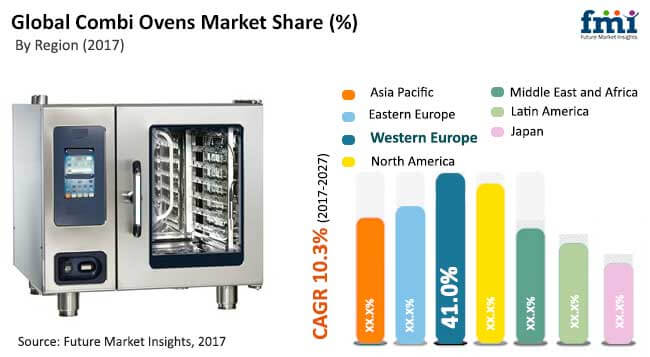 Small and Medium-Sized Combi Ovens Market Players Intensify Market Competition with Low-Cost Offerings
The high manufacturing costs and complex design of combi ovens have led to the emergence of several small and medium-sized players who introduce low cost combi ovens in the market. As these players generate revenues through manufacturing of required units only, their market share remains lower as compared to prominent players. However, with their stronger presence in the regional market, medium-sized players continue to capture steady gainful opportunities in the combi ovens market.
Boilerless Combi Ovens Gain Centerstage while Mitigating Impacts of Maintenance Cost and Equipment Downtime
In the combi ovens market, steam-based combi ovens have served the food service industry for a longer time. However, complete reliance on the steam or water for operations has bemused end users with the problems of hard-scape build-up and corrosion, in turn, influencing costs of maintenance & repair and energy as well as equipment downtime.
On the other hand, development of boilerless combi ovens have come in handy to several end users. Boilerless combi ovens have entirely quelled the issues of corrosion, maintenance costs and increased downtime. Owing to this, boilerless combi ovens are highly preferred in commercial kitchens, particularly in locations with differing water qualities.
'Eating In' – A New Consumer Mantra Confines New Combi Ovens Sales in the Restaurant Industry
The restaurant industry has flourished in past few years against the backdrop of increasing 'Dine Out' trend. A new trend called 'Eating In' is transforming the landscape of the restaurant industry. The trend has invited a prominent shift in consumer preference towards eating at home against dining out. Considering the nature of equipment, commercial kitchens usually make less frequent capital investments in combi ovens. Decreasing profit margins of restaurant owners have, in turn, impacted the sales of new combi ovens in the hotels and restaurants.
Competitive Landscape
Prominent players in the combi ovens market are engaged in implementing novel technology solutions to align evolving end-user demand. RATIONAL, a leader in the combi ovens market has launched new enhancements in company's SelfCookingCenter® line of combi ovens. The new next generation compact-sized combi ovens are with multiple advanced technology features and RATIONAL's customer care service.
Another leader in the combi ovens market, Alto-Shaam Inc. expanded its Vector Series Multi-Cook Oven Line with F Series full-size electric models. These new combi ovens models are designed to fit full-size pans and allows operators to combine oven chambers to accommodate taller food items.
Giorik SpA, another player in the combi ovens market launched Easyair Combi Oven in 2017. This new model is a medium duty combi oven with stackable and temperature pre-setting functions.
A new report on combi ovens provides perceptive insights on the chronological growth flight of the market along with the future prospects and present scenario. The report offers an exclusive analysis of the global market and also presents insights on regions and other segments.
Combi Ovens Market: Overview
The report offers a complete summation of the market including an official abstract that draws out the centre examples progressing in the market. It also discusses on a couple of facets, for example, drivers and obstacles that have been observed as well as predictions with respect to growth trajectory of the global market. It also acquaints readers with figures related to volume, value, and development rate of the market. With reverence to market segmentation, each segment is analysed and presented in the report. It also gives an assessment in light of the market condition, and moreover presents a value chain analysis of the products and applications in concern. A year to year progression of the market has likewise been offered in the report for the reader to be predominantly aware of the altering scenario of the market.
Combi Ovens Market: Segmentation
Region

End Use

Product Type

Capacity

Power Unit

North America

Latin America

Western Europe

Eastern Europe

Middle East and Africa (MEA)

Asia Pacific Excluding Japan (APEJ)

Japan

Hotels & Restaurants

Bakery Stores

Retail Outlets

Domestic & Institutional

Commercial Kitchens

Steam Generated

Boilerless

Combi Ovens Market: Research Methodology
The report is the end result of the cautious research work of the market analysts employing reliable sources. The information introduced has been studied carefully by industry experts of FMI. The data that has been presented here has been assembled from various tried and tested sources. The figures have also been checked by the analysts and can be used to settle on key decisions and formulate strategies.
Combi Ovens Market: Competitive Dashboard
The market study conveys an immense outlook on the engaged scene of the overall combi ovens market. It features the rivalry prevalent among the present vendors in the market and also puts weight on the future circumstance of the market. The profile of the players is based on a SWOT examination sought down by company angle, product portfolio, strategies, finance related information, and year-to-year projections. The organisations have been explored minutely covering their key developments, innovations as well as mergers and acquisitions and agreements with other prominent establishments.
Reasons to invest in our report
The reports made by our industry analysts are credible and have been researched and validated from several primary and secondary resources. What makes us unique is the fact that along with presenting an analysis of the market's historical and present scenario, we also present a forecast review of the market for the benefit of our reader. The presentation is exclusive in the form of various charts, tables, and diagrams. Every bit of information present in the market research report is unique. Expert opinions are also present in the study that can be directly used by the readers to make future decisions.
COVID -19 : Impact Analysis
Request the coronavirus impact analysis across industries and markets
Request Covid -19 Impact
CASE STUDIES
See how our work makes an impact.
At FMI, we design strategies that are adaptive, impactful, and implementable.