An Incisive, In-depth Analysis on the Compostable Plastic Packaging Market
This study offers a comprehensive, 360 degree analysis on the Compostable Plastic Packaging market, bringing to fore insights that can help stakeholders identify the opportunities as well as challenges. It tracks the global Compostable Plastic Packaging market across key regions, and offers in-depth commentary and accurate quantitative insights. The study also includes incisive competitive landscape analysis, and provides key recommendations to market players on winning imperatives and successful strategies.
Key end-users and healthcare and food service industries to indulge in strong competition in the compostable plastic packaging material market during 2018-2018
According to recent market research, among all the end-use industries of compostable plastic packaging material, food and beverage industry is expected to hold the highest market value of over US$ 1,100 Mn by the end of 2028. However, in terms of growth rate, both healthcare and food service industries are expected to witness increasing demand with an anticipated CAGR of 6.4% during the forecast period of 2018-2028.
Government rules mandate the use of compostable plastic packaging materials for various end-use industries
Government bodies of several regions across the world have already mandated the use of compostable plastic packaging materials. Recycled plastics are more harmful due to additional coloring agents, flame retardants, stabilizers and other chemicals. Various associations such as SPI (Society of Plastics Industry), NFPA (National Food Processor Association), FDA (Food & Drug Association) and others have thus formed additional regulations for the usage of recycled plastics in food packaging. These regulations and government policies have restricted the usage of fossil based and recycled plastics, in turn promoting the consumption of compostable plastic materials. Sustainable development and production of primary products is one of the effective marketing techniques that portrays the complete brand as an ethical and responsible manufacturing firm towards nature.
The compostable plastic packaging material market is marked by growing concerns regarding the environmental impact of plastic and packaging manufacturers' initiatives to address the challenge by introducing biodegradable packaging solutions. The compostable plastic packaging material is similar to biodegradable plastic, however, it provides additional nutrients to the soil after decomposition. Introduction of innovative packaging solutions that can be composted is trending in the plastic packaging industry. NatureWorks, a leading producer in the compostable plastic packaging material market has recently introduced novel coffee capsules with compostable plastic packaging material. Along with introducing compostable plastic packaging material, manufacturers in the compostable plastic packaging material market are also taking initiatives in establishing a complete chain that ends in proper disposal of plastics. BASF has launched a new 'Futuro Compostable' initiative that engages in bio-waste management and promotes appropriate use of compostable plastic packaging material to ensure closed-loop disposal system. A new trend – plastic-free shopping aisle- has been introduced by a Dutch supermarket Ekoplaza which has introduced a compostable plastic packaging material used by TIPA- a leader in sustainable and compostable plastic packaging material. Although the use of compostable plastic packaging material is being promoted by government initiatives, manufacturers in the compostable plastic packaging material market are likely to face challenges of establishing a closed loop system of disposal because, despite their compostable nature, compostable plastic packaging material has to be treated in an industrial composting facilities.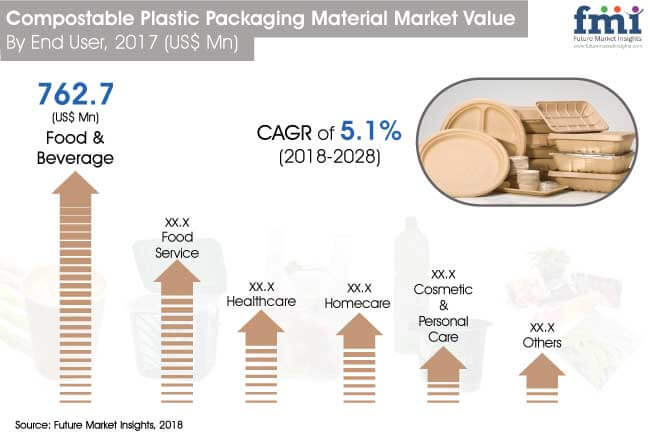 High cost and limited availability may hinder the growth of the global compostable plastic packaging materials market
The compostable plastic materials are designed to degrade in certain conditions only. The commercial compost facilities provide required conditions for composting of materials. Thus, for the application of compostable plastic resins, the availability of compost facilities is prime requirement. It limits the availability of compostable plastic to mostly developed regions like United States, China, Germany, Spain, and Italy which have enough compost facilities.
This type of plastic materials are also high in cost. The price of compostable plastic resins are found to be around three times higher than the fossil based plastic resins. Production of shopping bags and other retail plastic bags is not found to be feasible for large number of retail consumers. This restricts the implication of compostable plastic resins in packaging industry as the usage these plastic will lead to overall high cost of primary product and will either reduce the profitability margin of the manufacturer or affect the sales of the product.
In the years to come, sustainable packaging may no longer be viewed as an oxymoron. Packaging companies are embracing "green" techniques in manufacturing processes, accepting sustainability as a part of solution, rather than a problem. Apart from government initiatives and stringy industrial regulations, customers are also putting pressure on packaging companies to reduce content of non-biodegradable materials in their packaging products – a measure commonly known as down gauging. Urbanization can play a pivotal role in instrumenting the growth in adoption of sustainable packaging practices. Rising concentration of customer base in urban cities is propelling the awareness towards green packaging. Leading brands in the packaging sector are making more environmental choices, and are understanding that consumers' inclination towards sustainability can render cost-savings to manufacturers and deliver tangible profits.
As the global plastic production increases at a rapid pace, packaging companies realize the need for new, smarter materials that will not swamp our oceans and stuff-up our landfills. Materials with wider range of properties are being tested for their flexibility across multiple packaging applications. Short, one-use life cycle of plastic as packaging material, is also observed to drive the demand for sustainable alternatives. Packaging for food & beverage products is witnessing an uptick in adoption of edible films & wraps made from organic starch. Some players in the sector have pioneered the use of agar as packaging alternative to bubble wrap or foam materials. Biopolymers are also making foray into packaging as alternatives to unrecyclable plastic materials.
When supply is constrained in the face of high demand, key feedstock suppliers in the packaging sector, who are often large global producers, may pass on increased commodity costs to packaging manufacturers. Packaging companies, observed as "converters" in the materials industry, are currently in a potentially vulnerable position in the value chain since they engage in converting these raw materials into value-added packaging products. It is important for packaging businesses to regulate the stability of their input raw material costs. Due to undulating feedstock costs & fluctuating raw material prices, many packagers transfer the raw material price inflation to customers, as much as possible. In terms of procurement, several players in the packaging sector tend to balance the security of raw material supply contracts with their needs assessment.
Research Methodology
FMI utilizes robust methodology and approach to arrive at market size and related projections. The research methodology for this report is based on 3 dimensional model. We conduct about 45-60 min duration detailed interviews with product manufacturers; apart from this we also collect market feedback from industry experts. To validate this data, we interact with senior panel members having more than 10 years of experience in relevant field. The panel members help in validating the findings and fill the gaps if any. In addition, we leverage on our existing pool of information, paid database and other valid information sources available in public domain. Usually industry interactions extend to more than 50+ interviews from market participants across the value chain.
Data Validation
In this phase, FMI validates the data using macro and micro economic factors. For instance, growth in electricity consumption, industry value added, other industry factors, economic performance, growth of top players and sector performance is closely studied to arrive at precise estimates and refine anomalies if any.
Target Audience
Production Companies

Suppliers

Channel Partners

Marketing Authorities

Subject Matter Experts

Research Institutions

Financial Institutions

Market Consultants

Government Authorities
Market Taxonomy
Material Type

Application

End-user Industry

Region

PBAT

PBS

PLA

PHA

Starch Blends

Others

Bags

Pouches

Boxes

Bottles

Cups

Trays

Plates & bowls

Others

Food service

Food & Beverage

Cosmetics & Personal Care

Homecare

Healthcare

Others

North America

Latin America

Western Europe

Eastern Europe

MEA

APEJ

Japan
COVID -19 : Impact Analysis
Request the coronavirus impact analysis across industries and markets
Request Covid -19 Impact
CASE STUDIES
See how our work makes an impact.
At FMI, we design strategies that are adaptive, impactful, and implementable.