Dehydrated Onions Market By Nature (Organic, Conventional), Variety (White Onion, Red Onion, Pink Onion, Hybrid), Form (Chopped, Minced, Granules), End Use (Food Proccessing, Food Service Providers), Technology (Air Drying, Vaccum Drying, Freeze Drying), Distribution Channel (B2B, B2C) & Region - Forecast to 2021 - 2031
Dehydrated Onions Market - Analysis, Outlook, Growth, Trends, Forecasts
June 2021

REP-GB-6694

250 pages
Dehydrated Onions Market Snapshot
The dehydrated onions market is forecast to exhibit steady growth, with its overall valuation reaching US$ 1,061.5 Mn in 2021. As per Future Market Insights, dehydrated onion sales are expected to surge at 5.1% CAGR over the course of the assessment period.
The growth trajectory for the market is likely to remain positive in the foreseeable future, supported by a growing demographic of working women. White onion products will hold dominance accounting for more than 65% of the global market in 2021 on the basis of variety.
Key Points Covered in Dehydrated Onions Market Survey
Market estimates and forecast 2016-2031
Key drivers and restraints impacting market growth
Segment-wise, Country-wise, and Region-wise Analysis
Competition Mapping and Benchmarking
Brand share and Market Share Analysis
Key Product Innovations and Regulatory Climate
COVID-19 Impact on Dehydrated Onions Market and How to Navigate
Recommendation on Key Winning Strategies
2016-2020 Dehydrated onions Market Outlook Compared to 2021-2031 Forecast
Increasing consumer awareness regarding nutritious diets and improved shelf life of dehydrated food products has escalated the growth of the dehydrated onions market globally during 2016-20 with a CAGR 3.7%, which is further expected to rise at a CAGR of 5.1% during the forecast period of 2021-31.
Dehydrated onions have a number of health benefits including treatments for cough and cold, reducing the risk of cancer, and diabetes management. These benefits will drive sales prospects for the foreseeable future.
Also, the higher shelf life of dehydrated vegetables allows for logistical benefits. The dehydrated onions market is growing directly in proportion to the growth of dehydrated vegetables as a result of the various advantages of dehydration technology.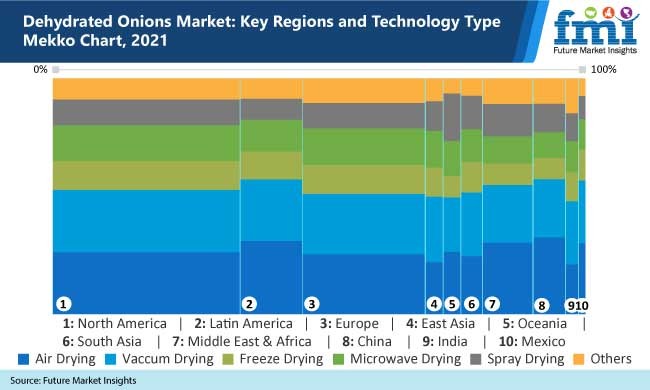 How Is the Growth in Demand for Convenience Food Affecting Growth?
Customers are seeking convenience food increasingly to complement their hectic lifestyle. The demand for convenience food is driven by a busy lifestyle and ageing population. Customers prioritize ease of use, packaging, nutritional value, safety, variety, and product appeal when purchasing convenience foods.
Some of the most favored vegetables in dehydrated formats include onions, broccoli, potatoes, and tomatoes, which have wide availability and are easy-to-cook. Dehydration technology can be used to process most vegetables, preserving nutritional content in addition to texture and flavor.
Manufacturers are focusing on producing dehydrated vegetables to gain a better market share to meet the high demand. The rapid growth of the food service industry in various developing markets is also expected to fuel demand.
What is the Impact of the Expanding Processed Foods Sector?
Demanding work culture in cities has resulted in difficulties for consumers to spend time cooking food at home. Consumers have been driven to choose ready-to-eat meals or other convenience food options.
The increasing number of working women, globally, is also driving the global dehydrated onion market. According to the U.S. Department of Labor, there were 128.2 million working women in the U.S. in 2015, which is expected to reach 164.8 million by 2026.
Due to fast-paced lifestyles, consumers are looking for quick, inexpensive, and delectable food products, creating substantial growth potential for dehydrated vegetable products. The need for dehydrated products is growing especially in tier-1 cities.
What is the Impact of the COVID-19 Crisis on the Dehydrated Onions Market?
The rapid spread of the COVID-19 pandemic into low-income countries with poor medical facilities has led to a negative impact on the sales of dehydrated onions.
Change in government policies, investments towards the control of the pandemic and the improvement in per capita disposable income of countries would lead to recovery in the sales of the dehydrated onions in the long term.
Country-wise Insights
How are Dehydrated Onions Sales Faring in the U.S.?
According to FMI, North America will remain one of the most attractive markets during the forecast period. According to the study, the U.S. is anticipated to account for over 81.2% of the North America market through 2031.
Consumers in U.S. are opting for healthy snacking due to the rising awareness towards obesity and high calorie foods. They are opting for food products with nutrient-rich profiles.
Thus, the U.S. holds a substantial portion of the global dehydrated onions market due to its huge population, affinity for dehydrated foods, and high expenditure capacity.
What is Driving the Demand for Dehydrated Onions in Brazil?
The Brazil dehydrated onions market is expected to be valued at US$ 25.7 Mn in 2021. The global trend of rising food ingredient quality is also rising in Brazil, and is becoming increasingly significant for urban consumers and retailers.
Consumers in the middle and higher social classes in cities want food that is both safe and convenient. For the manufacturers of dried onions in Brazil, this is both a challenge and an opportunity.
What are the Growth Prospects of the Dehydrated Onions Market in the U.K.?
Rising health consciousness is anticipated to result in consumers seeking healthier diets which is driving demand. Despite the economic slump due to the COVID-19 outbreak, the food industry is anticipated to improve over the next decade.
Sales are expected to increase steadily year on year. Over the forecast period through 2021-2031, revenue is expected to grow at a CAGR of 4.1% to reach over US$ 66.6 Mn in the year 2031.
How are Dehydrated Onions Producers in China Contributing to Growth?
According to FMI analysis, China is expected to grow at a CAGR of 5.2% over the forecast period of 2021-31. The dehydrated onions market is growing due to Chinese consumer needs for healthy and innovative foods. Foreign retail manufacturers are also increasing their presence in the country, which is projected to fuel market expansion.
Furthermore, the dehydrated onions market in China is rapidly expanding, owing to increased consumer demand for processed foods and a growing preference for ready-to-eat meals.
Why is the India Dehydrated Onions Market Reflecting Faster Growth?
According to FMI analysis, the India market is expected to grow at a CAGR of 8.6% over the forecast period of 2021-31.
India is a leading producer of processed vegetables such as onion and garlic in South Asia. Due to the higher quality and aromatic properties of locally produced goods, demand for dehydrated onions from the country has increased dramatically.
Also, India has emerged as a leading supplier of dehydrated products made from onions to other South Asian countries because of high product quality and abundant yield.
Category-wise Insights
Why are Organic Dehydrated Onions High in Demand?
The organic dehydrated onions segment is expected grow at a CAGR of 6.3% through the forecast period of 2021-31. The surging demand for organic dehydrated onions is primarily due to their increasing production and growing awareness about their health benefits.
Despite the increased prices, consumers are ready to pay extra for organic goods because they contain lower risk of pesticides and are widely considered to be more nutritious. The market for dehydrated onions is predicted to rise as customers become aware of the health benefits of organic products.
Which Variety of Dehydrated Onions Holds the Maximum Share?
Among the varied onion types, white onions remain the most preferred form and the segment holds a dominant share of more than 65% in 2021 and is expected to grow at a CAGR of 4.9% over the forecast period.
Which is the Top-selling Form of Dehydrated Onions?
Granulated dehydrated onions segment is exhibiting relatively faster growth. The segment is expected to rise at a CAGR of 6.1%, and is expected to be valued at US$ 249.1 Mn in the year 2031. This growth can be attributed to ease of use in food processing and relatively longer shelf life.
Why is the Use of Spray Drying Technologies on a Rise?
The spray drying technologies segment is expected to exhibit a CAGR of 5.4% through the assessment period and is expected to generate a market value of US$ 207.6 Mn in the year 2031.
One of the most prevalent methods for dehydrating onions is spray drying. It entails removing moisture for the vegetable in a quicker manner as compared to conventional methods. Spray drying, in combination with other unit processes, is critical for meeting market demand for dehydrated onions.
Will the Food Processing Sector Remain the Dominant Dehydrated Onions End User?
The food processing sector is expected to hold a market value share of 73.6% in 2031. Sales of dehydrated onions within the sector is anticipated to be valued at US$ 1,289.5 Mn in the year 2031.
The expansion of the food processing industry and rising demand for ready-to-eat or convenience foods will spur demand for dehydrated onions in the coming years. As a result, the application of dried onions in snacks, soups, sauces, and baking and confectionery goods has increased.
How are B2C Distribution Channels Influencing Dehydrated Onion Sales?
Online retailers constitute the fastest growing B2C distribution channel in the market. The segment is expected to register 7.3% CAGR over the forecast period, reaching a valuation of US$ 55.1 Mn by 2031.
Online retailers make it easy for consumers to compare food price levels and gain information on the origin of food products and details of the producer or supplier. They offer greater transparency with regards to product information, which will remain one of the chief growth drivers in the segment.
Competitive Landscape
Food manufacturing companies are proactively implementing research and development and technology advances in response to the growing demand for healthier food by consumers. Many food companies are working to reduce the quantity of salt, sugar, and sodium in their products.
For instance, in Aug, 2017, ITC, one of India's foremost multi-business enterprise, announced its entry into the dehydrated vegetables market, providing consumers with healthy food.
In July 2020, BC Foods announced the acquisition of an onion and garlic dehydration facility from Darshan Foods in Gujarat, India, with the objective of meeting its geographical expansion needs.
In January 2021, Anuha Foods launched a new range of ready to cook products under its gluten free and dehydrated food product ranges under the Zilli's brand including dehydrated onion flakes.
Scope of Report
Attribute

Details

Forecast Period

2021-2031

Historical Data Available for

2016-2020

Market Analysis

USD Million for Value

Key Countries Covered

US, Canada, Germany, U.K., France, Italy, Spain, Russia, China, Japan, South Korea, India, Thailand, Malaysia, Indonesia, Australia, New Zealand, GCC Countries, Turkey, Northern Africa, and South Africa

Key Segments Covered

Nature, Variety, Form, End Use, Technology, Distribution Channel, and Region

Key Companies Profiled

Jain Farm Fresh Foods Ltd
Daksh Foods Pvt. Ltd.
Natural Dehydrated Vegetables Pvt. Ltd.
Real Dehydrates Pvt. Ltd.
Earth Expo Company
Kisan Foods
Harmony House Foods, Inc. Company
Silva International Inc. Company
Green Rootz
BC Foods Inc.
Suszarnia Warzyw Jaworski Sp. J.
Pardes Dehydration Company
Murtuza Foods Pvt. Ltd.
Darshan Foods Pvt. Ltd.
Garon Dehydrates Private Limited
Rocky Mountain Spice Company
R. J. Van Drunen & Sons, Inc.
German Foods

Report Coverage

Market Forecast, Company Share Analysis, Competition Intelligence, DROT Analysis, Market Dynamics and Challenges, and Strategic Growth Initiatives

Customization & Pricing

Available upon Request
World's Most Profilic Intelligence Engine
Get Access To The World's Largest Market Research Database.
Sign Up Now
Dehydrated Onions Market by Category
By Nature:
By Variety:
White Onion
Red Onion
Pink Onion
Hybrid
By Form:
Chopped
Minced
Granules
Powder
Flakes
Kibbled
Sliced
By End Use:
Food Proccessing

Dressing & Sauces
Ready Meals
Snacks & Savory
Infant Food
Soups
Others

Food Service Providers
Retail/Household
By Technology:
Air Drying
Vaccum Drying
Microwave Drying
Spray Drying
Others
By Distribution Channel:
B2B
B2C

Hyper/Super Markets
Convenience Stores
Specialty Stores
Traditional Grocery Retailers
Online Retailers
By Region:
North America
Latin America
Europe
East Asia
Oceania
South Asia
MEA
China
India
Mexico
Key Questions Answered in the Report
What is dehydrated onions market size?
Supported growing consumer awareness about health and wellness, the global dehydrated onions market will surpass US$ 1.06 Bn in 2021. It is expected to surpass US$ 1.7 Bn in 2031.
At what rate did the dehydrated onions market expand in the last five years?
According to FMI's analysis, dehydrated onions sales have grown at 3.7% CAGR between 2016 and 2020.The market's valuation stood at over US$ 1.01 Bn in 2020.
What are the key trends shaping the dehydrated onions market?
Key trends include a development of customized packaging, focus on bulk supplies to the food processing sector, and increasing consumer interest towards organic onion products are shaping the market.
What are the key factors driving dehydrated onions market demand?
Longer shelf life of dehydrated onions, rising preference for convenience foods, and benefits offered in terms of logistics and exports are driving the dehydrated onions market.
What is the North America dehydrated onions market outlook?
Demand for dehydrated onions in North America will continue to rise, aided by rising sales across the U.S. and Canada. As per FMI research, North America will hold 37% of the global dehydrated onions market in 2021.
Which countries are key producers of dehydrated onions?
The U.S., Germany, U.K. and China are the key producer markets of dehydrated onions
What is the cumulative share of top five companies in the dehydrated onions market?
The cumulative market share of the top 5 players including R. J. Van Drunen & Sons, Inc., Olam International, Natural Dehydrated, Vegetables Pvt. Ltd., Real Dehydrates Pvt. Ltd., and German Foods constitutes 15 - 20% of the overall market.
Which countries are key exporters of dehydrated onions?
The U.S., U.K., Germany and China are key exporters of dehydrated onion products.
Which are the top countries driving demand for dehydrated onions?
The U.S., Germany, U.K., Russia and China are the top 5 countries which are driving the demand in the dehydrated onions Market.
What are the key statistics for dehydrated onions market in Japan and South Korea?
Japan is gaining traction in the dehydrated onions market and it is expected to hold 39.4% of the East Asia market. South Korea holds a revenue share of 25.3% in the East Asia dehydrated onions market.
Need specific information?
Our Clients