Introduction
Dehydrated onions register widespread consumption worldwide, predominantly due to growing popularity of convenience/packaged food products. Manufacturers are constantly striving to provide nutrition-rich dried products through their offerings of on-the-go or ready-to-cook meals and snacks, which is believed to be another key factor impacting adoption of dry vegetables globally.
Rising consumer awareness about the improved shelf life of dehydrated foods has contributed to the growing adoption of dry onions among consumers, especially within developing economies. Volatility in production and pricing of vegetables primarily due to seasonal variations, and availability and utilization of resources, has been identified to be a decisive factor influencing the market scenario.
The global market for dehydrated onions registered the revenue worth US$ 950 Mn in 2017, which is likely to reach in excess of US$ 1,500 Mn by the end of 2028.
Future Market Insights expects the dehydrated onions market to observe stable growth at a promising CAGR of 4.8% over the 10-year assessment period, 2018-2028. While dry onion markets within developed regions such as North America and Europe have been consistently registering significant consumption volumes, those within the emerging economies are still witnessing moderate growth.
However, the forecast period is expected to experience attractive growth rates in case of developing countries due to growing awareness among consumers and increasing demand for dehydrated onions from households.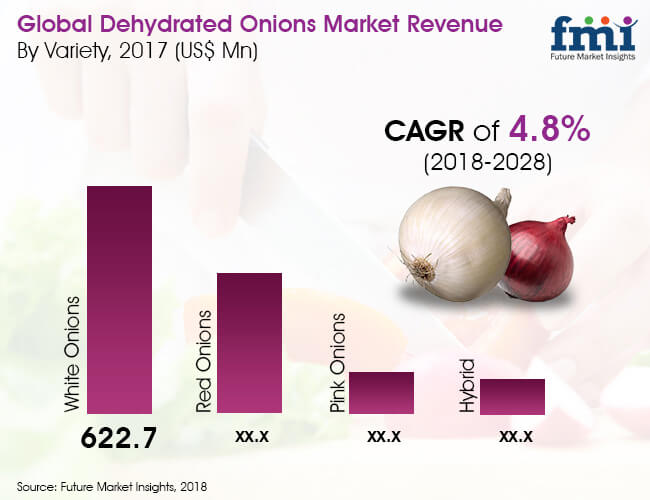 Taxonomical insights at a glance
White onions will continue to lead in terms of sales; pink onions are likely to gain higher traction in coming years. Conventional onions are expected to continue capturing the maximum share of the total market revenue. Dry onion powder is anticipated to lead; dry onion granules will witness significantly growing demand in next decade.
Dehydration process technologies such as vacuum drying and freeze-drying are likely to become more mainstream owing to increasing preference over traditional dehydration technologies. Food processing industry will reportedly remain the leading end-user of dry onion.
India and China are likely to remain major exporters through 2028, whereas Europe will retain the top importer position.
During the projection period, India is anticipated to empower its position in terms of the export-oriented region; whereas China and US are presumed to remain a key exporters of dry onions. While European countries will continue to generate robust demand for dehydrated onions, the dry onions industry will also witness development of several other regional markets in terms of increased import.
Dry onion sales are poised to be influenced by consumer preferences and packaging innovations.
Gluten-free diet is gaining high traction, especially among consumers based in the Western countries. Growing health concerns that are pushing the demand for gluten-free food products will eventually fuel sales of dried foods, including dry onion. Increasing consumer preference for dried foods as healthier products is likely to further support market growth during the projection period.
A majority of dry onion manufacturers have been pushing their R&D efforts for promoting healthier substitutes in order to meet the growing demand for healthy dried food products. Dry onion manufacturers will continue to shift from conventional drying techniques such as solar drying to encounter with less risk of contamination, better and more effective moisture removal, and extended shelf life.
Increasing consumer awareness about an extended shelf life of dry onions, and consistent innovation in processing and packaging are anticipated to encourage sales of dehydrated onions especially within emerging regional markets. With rising consumer confidence in the nutritional integrity of dried vegetables, the demand for dehydrated onions is presumed to spike steadily in the upcoming decade. Innovations in dehydrated onion packaging industry are also said to be playing a key role in market growth.
Market Taxonomy
By variety
White Onions
Red Onions
Pink Onions
Hybrid
By Form
Chopped
Minced
Granules
Powder
Flakes
Kibbled
Sliced
By Distribution Channel
Direct Sales
Indirect Sales
Hypermarkets/Supermarkets
Convenience Stores
Specialty Retail Stores
Traditional Grocery Retailers
Online Retailers
By Nature
By End-use
Food Processing
Dressing and Sauces
Ready Meals
Snacks & Savory Products
Infant Foods
Soups
Others
Food Service
Retail/Household
By Technology
Air Drying
Vacuum Drying
Freeze Drying
Microwave Drying
Spray Drying
Others
By Region
North America
Latin America
Western Europe
Eastern Europe
China
Japan
India
Southeast Asia & Rest of APAC
Middle East & Africa
Need specific information?