An Incisive, In-depth Analysis on the Dehydrated Vegetables Market
This study offers a comprehensive, 360 degree analysis on the Dehydrated Vegetables market, bringing to fore insights that can help stakeholders identify the opportunities as well as challenges. It tracks the global Dehydrated Vegetables market across key regions, and offers in-depth commentary and accurate quantitative insights. The study also includes incisive competitive landscape analysis, and provides key recommendations to market players on winning imperatives and successful strategies.
COVID -19 : Impact Analysis
Request the coronavirus impact analysis across industries and markets
Request Covid -19 Impact
Dehydrated vegetables register prevalent consumption worldwide, mostly due to the growing popularity of convenience/packaged food products. Manufacturers are constantly striving to provide nutrition-rich dried products through their offerings of on-the-go or ready-to-cook meals and snacks, which is believed to be another key factor impacting the adoption rate of dehydrated vegetables globally. Rising consumer awareness about the improved shelf life of dehydrated foods has contributed to the growing adoption of dehydrated vegetables among consumers, especially within developing economies. Volatility in production and pricing of vegetables primarily due to seasonal variations, and availability and utilization of resources, has been identified to be a decisive factor influencing the market scenario.
The global market for dehydrated vegetables registered the revenue worth US$ 54,241.9 Mn in 2017, which is likely to exceed US$ 90,636.0 Mn by the end of 2028.
Future Market Insights expects the dehydrated vegetables market to observe stable growth at a promising CAGR of 4.8% over the 10-year assessment period, 2018-2028. While dehydrated vegetables within developed regions such as North America and Europe have been consistently registering significant consumption volumes, those within the emerging economies are still witnessing moderate growth. However, the forecast period is expected to experience attractive growth rates in the case of developing countries due to growing awareness among consumers and increasing demand for dehydrated vegetables from households.
Taxonomical Insights at a Glance
Beans will continue to lead in terms of sales; cabbage is likely to gain higher traction in coming years. Conventional dehydrated vegetables are expected to continue capturing the maximum share of the total market revenue. Food manufacturers are anticipated to expand its product portfolio due to growing demand for ready to eat food and processed food products in the next decade. Dehydration process technologies such as vacuum drying and air drying are likely to become more mainstream owing to increasing preference over traditional dehydration technologies. Food processing industry will reportedly remain the leading end-user of dehydrated vegetables
During the projection period, India is anticipated to strengthen its position in terms of the export-oriented region; whereas China and U.S. are expected to continue as key exporters of vegetables. While European countries will continue to generate robust demand for dehydrated vegetables, the dehydrated vegetable industry will also witness the development of several other regional markets in terms of increased import.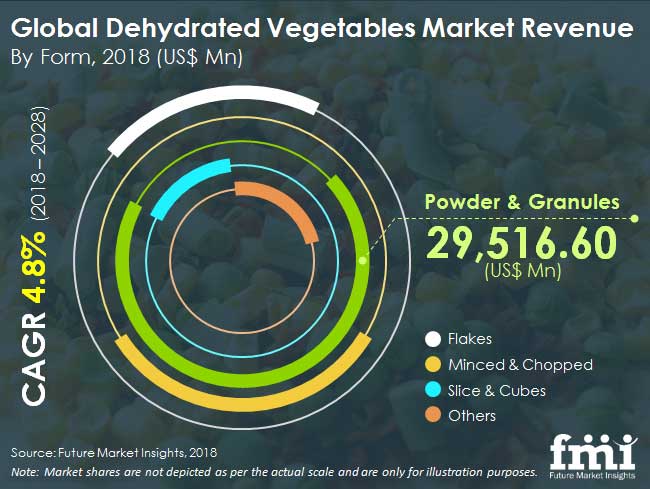 Long Shelf Life to Influence Consumer Preferences for Dehydrated Vegetables Market
Dehydrated Vegetable is witnessing a rise in demand due to the improved technologies being used for their production. Technologies such as vacuum and air drying techniques have resulted in the possibility of consuming fruits and vegetables for a longer period of time when preserved in specified conditions. Dehydrated vegetables have a shelf life ranging from weeks to months, which helps customers consume them in the future. The long shelf life of vegetables in the dehydration process is achieved by the removal of moisture, which keeps the vegetable free from microorganisms. Also the approvals from regulatory agencies have opened the doors for dehydrated vegetable manufacturers who have identified the potential of this business and started the supply of new age products. Companies such as Symrise AG (Diana), Jain Fresh Farm, Olam International, and others are producing dehydrated vegetables from the past many years. Many new players are emerging in China, India, and Brazil, who have started the production of dehydrated vegetables, and have also discovered many new varieties for the same.
Changing Lifestyle Imparting Demand for Ready-to-Eat Food Products
The demanding work culture in cities mostly results in increased work time, which makes it difficult for consumers to spend time cooking food at home. Hectic lifestyles have forced consumers to opt for ready-to-eat meals or other ready-to-eat food items. Dehydrated vegetables help customers enjoy tasty food, which consumes less time for preparation. Since dehydrated vegetables are available in various varieties, consumers can eat any food of their choice. Consumers are looking for convenient, affordable, and flavorful food products throughout the day due to a fast-paced life, thus providing ample growth opportunities for dehydrated vegetable products. The need for dehydrated products is growing due to the fast-paced life of individuals working in tier-1 cities. Most employees living in major cities spend a significant amount of time working in an office and traveling, which makes it difficult for people to take out time for cooking. In order to overcome this problem, people tend to move towards options such as dehydrated food products.
This report provides forecast and analysis of the global dehydrated vegetables market. It provides historical data of 2013 along with estimated data for 2018, and forecast data up to 2028 in terms of revenue (US$ Mn) and volume (MT). The report also includes macroeconomic indicators along with an outlook on dehydrated vegetables for the global market. It includes drivers and restraints of the global dehydrated vegetables market and their impact on each region during the forecast period. The report also comprises the study of current industry trends and opportunities for dehydrated vegetables. It also provides with an insight on value chain analysis. In order to provide users of this report with a comprehensive view of the market, we have included detailed competitiveness analysis, key players and their strategic overview. The dashboard offers a detailed comparison of dehydrated vegetables' manufacturers on parameters such as total revenue, product offerings, and key strategy. The study encompasses market attractiveness analysis by end use, by nature, by form, by technology, by product type, and by region.
As different variety of vegetables are available seasonally and cannot be stored for longer time. The majority of the vegetables are not available during offseason. To overcome the problem dehydration technique has been developed by which vegetables can be preserved for longer period and consumed as and when needed. This value addition to the vegetables besides ensuring availability also improves its economics. In the present day life style when both the almost most members of family work and do not find time to shop for fresh vegetables, clean them, sort them and size them before cooking, dehydrated vegetables are convenient. The report further states that the use of dehydrated vegetables in food industry is likely to result in a lucrative market opportunity for producers of dehydrated vegetables targeting this segment.
The report includes company profiles of key producers of dehydrated vegetables and the revenue generated from the companies across North America, Latin America, Western Europe, Eastern Europe, Asia-Pacific excluding Japan (APEJ), Japan, the Middle East & Africa. By nature, the global dehydrated vegetables market is segmented into organic and conventional. By form, the global dehydrated vegetables market is segmented into minced & chopped, powder & granules, flakes, slices & cubes, and others. By product type, dehydrated vegetables market is segmented into carrots, onions, potatoes, broccoli, beans, peas, cabbage, mushroom, and tomatoes. By end-use, the global dehydrated vegetables market is segmented as a food manufacturer, food service, and retail. By Technology, dehydrated vegetables market is segmented into air drying, spray drying, freeze drying, drum drying, vacuum drying, and others
For the estimation of revenue, regional average prices were obtained through quotes from numerous dehydrated vegetables manufacturers, exporters, and distributors. The data for vegetables production is obtained from the U.S. Food and Agriculture Organization (FAO), associations, and government bodies and for all key countries considered in the study. The trade analysis for these crops has been done to arrive at the consumption scenario of vegetables. The analysis of food processing industry is done for estimating the dehydrated vegetables market scenario. All key end-use segments have been considered and potential uses have been estimated on the basis of secondary sources and feedback from primary respondents. Some of the key data points collected for modeling approach include food and beverage industry scenario, fruits & vegetables market outlook, food processing industry overview, major types of dehydrated vegetables etc. The market has been forecasted based on constant currency rates.
A number of primary and secondary sources were consulted during the course of the study. Secondary sources include Factiva, and Hoovers, and company annual reports and publications. This report covers market dynamics related to dehydrated vegetables market that includes market dynamics such as drivers and trends influencing the segment and opportunities in dehydrated vegetables market. Report also includes analysis and insights into the potential of the dehydrated vegetables market in specific regions. Detailed profiles of the providers are also included in the scope of the report to evaluate their long-term and short-term strategies, the product portfolio of dehydrated vegetables manufacturers and recent developments in the market. The key players in the dehydrated vegetables market space includes E. I. du Pont de Nemours, Chr. Hansen Holding A/S, Merck KGaA, Kemin Industries, Inc., Koninklijke DSM N.V. , Archer Daniels Midland Company, Kerry Group Plc, Naturex SA, BTSA Biotecnologías Aplicadas, S.L., Galactic S.A, Handary S.A., Zhengzhou Bainafo Bioengineering Co.,Ltd., Kalsec Inc., Siveele B.V., Cayman Chemical Company, Inc, MAYASAN Food Industries A.S., Wiley Organics, Inc. (Organic Technologies), Chihon Biotechnology Co., Ltd., and Dumoco Co. Ltd.
Global Dehydrated Vegetables Market – By Nature
Global Dehydrated Vegetables Market – By Form
Minced & Chopped

Powder & Granules

Flakes

Slices & Cubes

Others
Global Dehydrated Vegetables market – By Product Type
Carrots

Onions

Potatoes

Broccoli

Beans

Peas

Cabbage

Mushroom

Tomatoes
Global Dehydrated Vegetables market – By End-Use
Food Manufacturer

Food Service

Retail
Global Dehydrated Vegetables market – By Technology
Air Drying

Spray Drying

Freeze Drying

Drum Drying

Vacuum Drying

Others
Global Dehydrated Vegetables market – By Region
North America

Western Europe

Eastern Europe

Latin America

Asia Pacific excluding Japan

Japan

Middle East & Africa
Harish Tiwari
Global Head - Business Development
Akshay Godge
Client Partner - Global Business Development
CASE STUDIES
See how our work makes an impact.
At FMI, we design strategies that are adaptive, impactful, and implementable.