Celebrity endorsements and consumer market are an important growth driver
Several dermatology association members i.e. service providers and clinics have seen an increased uptake of aesthetic procedures in the year 2016. The American Academy of Facial Plastic and Reconstructive Surgery estimates that more than 80% of surgeons believed a celebrity endorsement played a vital role in the patient being willing to go under the knife and undergo treatment.
The most common procedures are the application of botilinum toxin leading to wrinkle reduction by way of volume restoration. Social and mainstream media have also had an outsized impact on the customer psyche, influencing them to start these treatments early to avoid the onset of ageing or delay it as much as possible.
Rising preference for non-invasive surgical procedures across the globe
The demand for minimally invasive cosmetic treatment, a phenomenon seen worldwide, is poised to benefit the Dermal Fillers and Botulinum Toxin Market. Dermatologists prefer to treat skin diseases through less invasive procedures or topical applications in place of surgical methods. The non-surgical procedures that witnessed a dramatic spike in popularity in 2016 were dermal fillers with hyaluronic acid and botulinum toxin. Injectable treatments are chosen because of greater awareness of measurable improvement in procedures and more information dissemination.
Hyaluronic Acid and Botulinum Toxin key in dermal fillers and botulinum toxin market
Botulinum Toxin is the largest segment in the Dermal Fillers and Botulinum Toxin Market by product type and is larger than the other two segments combined. It is expected to push past US$ 5 Bn by the end of the forecast period making it imperative for key stakeholders in the Dermal Fillers and Botulinum Toxin Market to target. However, the Hyaluronic Acid segment is anticipated to witness a high CAGR of 8.5% from 2017-2027, which companies would do well to take note of while devising their Hyaluronic Acid Dermal Fillers and Botulinum Toxin Market strategies.
The Botulinum Toxin segment dominated the global Dermal Fillers and Botulinum Toxin market by product type in terms of revenue in 2017, and this trend is projected to continue throughout the forecast period. Botulinum Toxin is the most attractive segment, with a market attractiveness index of 1.6 over the forecast period.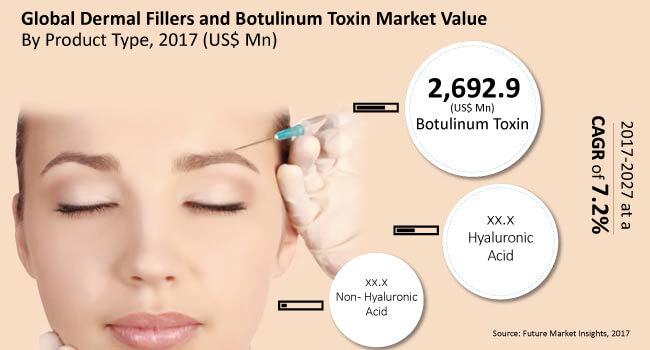 Inadequate professional training serious concern in the dermal fillers and botulinum toxin market
The treatments are sometimes administered incorrectly to patients and this can lead to serious complications with extremely adverse side-effects. Fillers are injected around the temple region of the head to even out fine lines and reduce crow's feet. Patients could experience symptoms such as swelling, fever, and extreme pain within two days, especially if the injection punctures a facial vein during the process of administration.
These unfortunate accidents would need patients to be administered a dose of antibiotics or steroids that have their own additional side-effects. At present, a limited number of medical institutions offer the required advanced training and this is a particular problem in resource-starved, poorer countries in the world where such treatments are more of a luxury only enjoyed by the privileged few.
High cost a major restraint in the dermal fillers and botulinum toxin market
The cost of botolinum toxin treatments is on the higher side and multiple sessions are necessary to achieve the desired results. The surgeon or physician cost alone is approximately half the cost in the case of dermal fillers; and fillers such as HA, PLLA, CaHA last for a maximum period of two years.
Most of them are naturally occurring in the body and they get degraded quickly, which is why multiple sessions are needed, thereby driving up the cost of treatment substantially. Frequent visits to the surgeon or physician is the norm that could potentially stifle the growth prospects of the global Dermal Fillers and Botulinum Toxin Market.
Dermal Fillers and Botulinum Toxin Market: Taxonomy
Region
North America
Latin America
Western Europe
Eastern Europe
APEJ
Japan
MEA
Application
Aesthetic Volume Restoration
Wrinkle Reduction
Product Type
Hyaluronic Acid Based Fillers
Non-Hyaluronic Acid Based Fillers
Botulinum Toxin
Need specific information?