Dermal Fillers Market Set to Hit US$ 4 Bn Mark by 2021
In recent years, significant advancements in skincare technology are making facial aesthetic treatments far more accessible and affordable for consumers keen to improve their skin hydration and texture. Injectable fillers or dermal fillers are fast becoming a popular method of facial rejuvenation, attributing primarily to increasing number of women in workforce with high disposable income. Future Market Insights, in its new offering, estimates worldwide adoption of dermal filler to grow 3.3% y-o-y in 2021 over 2020 to attain a valuation of US$ 4 Bn. Gains will remain further driven by introduction of minimally invasive or non-surgical techniques that promise improved outcomes.
Frequently asked questions about dermal fillers market
Which region is expected to lead the dermal fillers market?
North America is expected to hold half of the total dermal fillers market share and grow at an impressive growth rate during forecast period. India, China and Japan are anticipated to remain as targeted geographies for leading market players.
Which product is expected to have significant demand during the forecast period?
Absorbable dermal fillers are expected to hold more than 90% of revenue share in the dermal fillers market owing to its biodegradable properties along with high water retention capacity with maximum binding site offering better clinical outcomes and high level of patient compliance.
What are the opportunities provided by emerging countries to key and local players?
From an investment point of view, emerging markets can offer high market returns as compared to developed markets for dermal filler. As per the American Society of Plastic Surgeons (ASPS), Brazil hold second largest number for cosmetic procedures with almost 2.3 million procedures in 2018 followed by Mexico (1.0 million), India (0.89 million), and Argentina (0.60 million).
Which type of dermal filler is expected to offer significant market growth potential over the next decade?
Non-animal origin cross-linked hyaluronic acid has been utilized and proven to be a useful dermal fillers owing due to its safety profile and biodegradable properties. Various manufacturers have invested in developing new and innovative technology for product development, resulting in higher quality fillers that are easier to use and better satisfaction for patients.
Which end users are expected to contribute maximum revenue share during the forecast period?
Retail pharmacies and drug stores accounted for major revenue share, which constitutes half of total market revenue owing to availability and supply of comprehensive range of dermal fillers, which ensures clinics is fully prepared for all patient for cosmetic and aesthetic medicinal procedures.
Hyaluronic Acid – The Ingredient of Choice
Hyaluronic acid remains highly preferred dermal fillers agent or ingredient, which accounts for 90% of the total market value. Injected for cosmetic volume improvements, hyaluronic acid (HA) products are garnering robust traction, on the account of being minimally invasive and showing instant results. However, given consideration mounting concerns about some of serious risks associated with HA fillers, innovations are forthcoming for safer formulations and long-lasting fillers. Apart from filling out wrinkles and creases in the patient's skin, the next wave of HA fillers are also used as Lip fillers for lip augmentations would make skin look airbrushed or eliminate shadows on the face.
North America Maintains Supremacy, Opportunities Abound in APAC
North America leads the global adoption of dermal fillers with 50% revenue share. Once a treatment of choice for A-list celebrities, dermal fillers are becoming highly accessible with changing dynamics of beauty. With social media culture shaping new beauty trends and obsession of smooth skin reaching new heights, companies active in the dermal fillers are eyeing opportunities in Asia Pacific. The emergence of China, Japan, and South Korea as the home of the most important beauty markets with regional identities and market realities of the world is leading to realignment of stakeholders' strategies.
Market Stakeholders to Capitalize on Booming Male Beauty Industry
The perception that facial rejuvenation procedures are for women of certain age is on the wane, and positively booming male beauty industry is opening new target audience for companies active in the dermal fillers market. An influx of male consumers or patients in the field of aesthetic restoration, in an attempt to enhance their facial features, is offering tailwinds to growth of the dermal fillers market. However, when it comes to dermal fillers, calls for increased regulations are gaining momentum, thereby compelling companies to invest in bio-remodeling innovation with no added chemicals.
Absorbable fillers remain the bestselling category
Non-absorbable continues to witness slow adoption
Hyaluronic acid accounts for 90% revenue share
Demand for collagen fillers to grow moderately
High application in aesthetic restoration
Use in reconstructive surgery to pick pace
How Growth will Unfold
In the current scenario, demand for Hyaluronic acid as well as Non-Hyaluronic acid dermal fillers in the facial aesthetics market is gaining a boost from millennial demographic becoming far more open to filler treatments and growing number of aging population looking for ways to retain their youthful skin. Use of dermal fillers in aesthetic restoration is accounting for relatively high revenue share as compared to application in reconstructive surgery and dentistry. As 7 in 10 units of dermal fillers are used in aesthetic restoration, market players are specifically focused in this category. In addition, numerous advancements in reconstructive surgery is expected to new avenues for market growth in foreseeable future.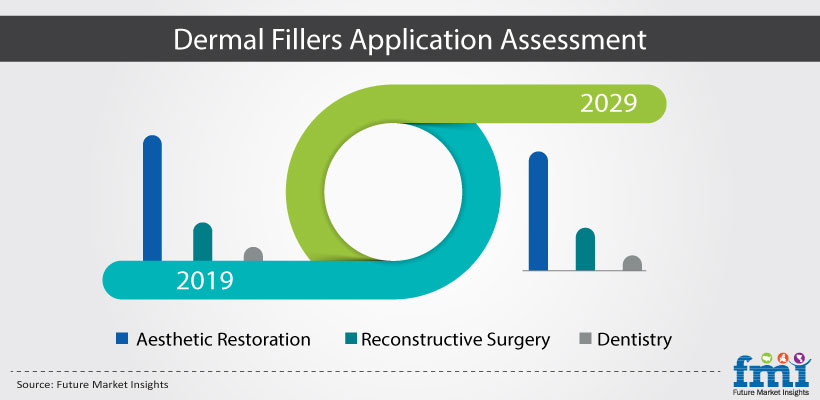 * This data is only a representation. Actual data may vary and will be available in report.
Click Here To Know How The Growth Will Unfold
Custom Market Research Services
FMI offers custom market research services that help clients to get information on their business scenario required where syndicated solutions are not enough.
Overview
Dermal Fillers Market Analysis 2019-2029
A recent market study published by Future Market Insights (FMI) on the dermal fillers including global industry analysis for 2014-2018 & opportunity assessment for 2019-2029, delivers a comprehensive assessment of the most important market dynamics. After conducting a thorough research on the historical as well as current growth parameters of the dermal fillers market, growth prospects are obtained with maximum precision.
Dermal Fillers Market Taxonomy
The global dermal fillers is segmented in detail to cover every aspect of the market and present a complete market intelligence approach to the reader.
Product
Absorbable
Non-absorbable
Ingredient
Hyaluronic Acid
Poly-L-Lactic Acid
Calcium Hydroxylapatite
Polymethyl methacrylate
Collagen
Application
Aesthetic Restoration
Dentistry
Reconstructive Surgery
Distribution Channel
Retail Pharmacies and Drug Stores
Clinics and Hospital Pharmacies
Online Pharmacies
Region
North America
Latin America
Western Europe
Eastern Europe
APEJ
MEA
Japan
How the research was conducted?
Primary Research
Marketing Directors
Product Managers
Business Development Officers
Production Managers
Sales Executives
Industry Experts
Current Market Dynamics and Challenges
Yesteryear Trends
Market Characteristics
Market Performance and Growth Quadrants
Strategic Growth Initiatives
Near-term and long-Term Market Growth Prospects
Market Segment Splits and Authenticity
Opinions on Market Projections and Validity of Assumptions
Secondary Research
Associations
American Society of Plastic Surgery
Cosmetic Surgery National Data Bank
Factiva
Company Press Releases
Annual Reports and Investor Presentations
Research Papers
Government Websites and Publications
Primary Interview Splits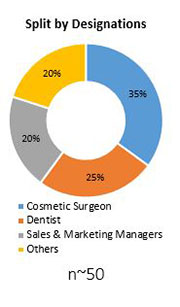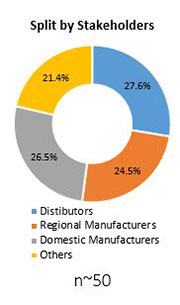 To Learn More About our Comprehensive Perspective on Dermal Fillers Market,
Get in touch
COVID -19 : Impact Analysis
Request the coronavirus impact analysis across industries and markets
Request Covid -19 Impact
CASE STUDIES
See how our work makes an impact.
At FMI, we design strategies that are adaptive, impactful, and implementable.