Educational Tourism Market Snapshot
As per the latest Future Market Insights (FMI) analysis, the educational tourism market size will surpass US$ 399.8 Bn in 2021. Between 2021 and 2031, the market is expected to exhibit compound annual growth rate (CAGR) of 17.2%.
Various countries are focusing on educational tourism as a development strategy. As the host country benefits from an international student's expenses on food and beverages, accommodation, tuition fees, entertainment and leisure activities and not to mention the inevitable taxes, the market will have a positive impact on the economy.
On the other hand, students benefit from education tourism as it fosters personal as well as professional growth, not only from their studies, but also from interacting with the people in the respective region. These factors have been contributing towards the growth of the educational tourism market in future. Future Market Insights (FMI) has forecast the market to register a year-on-year growth rate of 16.5% in 2021.
Don't pay for what you don't need
Customize your report by selecting specific countries or regions and save 30%!
Key Points Covered in the Educational Tourism Market Report
Market estimates and forecast 2016-2031
Key drivers and restraints impacting market growth
Segment-wise, country-wise, and region-wise analysis
Competition mapping and benchmarking
Brand share and market share analysis
Key product innovations and regulatory climate
COVID-19 impact on educational tourism market and how to navigate
Recommendation on key winning strategies
2021-2031 Educational Tourism Market Outlook in Comparison to Sales Registered in 2016-2020
To increase value for customers and for higher sales, various promotional activities like direct marketing, sales and discounts, offering free giveaways, hosting an event and many other activities to promote their countries are being followed in the educational tourism industry.
Given the scenario, digital marketing plays a vital role in the promotion or advertising of products or services being offered by any company. As the potential customers of edu-tourism are mostly millennials who spend much of their time on the internet using search and social media, creating an online presence will definitely increase the business value.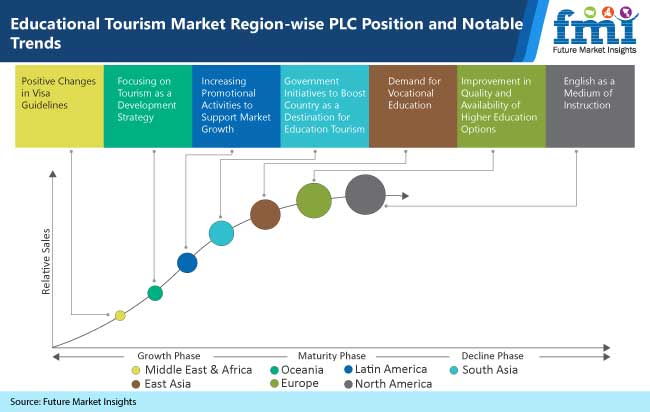 Hosting a seminar also has become a trend for the educational tourism industry, through which a company can engage with its students to better understand their needs and desires. FMI has forecast the educational tourism market to rise at 17.2% CAGR between 2021 and 2031.
How School Trips Are Driving the Demand for Educational Tourism?
School trips are usually prearranged by the teachers or the students' parents through private agencies or through scholarships provided by Ministries of Education. They are usually of short or medium stays since the students are of low age.
The main aim is to develop cultural knowledge and other languages. Moreover, the modality to learn foreign languages among young children is spurring, as they have more sharp and flexible minds than adults and therefore a greater ability to learn another language.
Thus, rising demand for national and international school trips is expected to supplement the market growth throughout the forecast period.
Will Colleges Opened by Private Partners Attract More Students?
Private universities offer the opportunities to learn and explore alongside world-class faculty, for a lifetime of personal achievement. Further, many private universities have started the trend of foreign internships or international tours for a period of 2 to 3 months, which is creating a lot of traction among millennials.
As a result, they are willing to pay high prices for the courses in order to visit abroad. In addition, governments around the world, particularly those in developing countries, face significant educational challenges. As a result, students are more attracted towards private universities and colleges for further studies.
In Feb 2021, India gave the green-light to dual and joint degrees which are awarded by Indian universities with international partners as part of its internationalization plan being pushed through forcefully since its inclusion last year in the National Education Policy (NEP).
Country-wise Insights
Why is Educational Tourism Gaining Popularity in the U.S.?
According to Future Market Insights, the U.S. is expected to account for over 3/4th of market share in educational tourism market. The market is acquiring popularity with regards to education, as it provides and strives to maintain the best educational facilities, encourages educational tours and spends on quality learning and research.
Presence of ivy-league collages and informative & profitable courses offered in the country for the students is propelling the market growth. Diverse international study programs and student exchange programs offered in the universities are attracting the international student bodies to the U.S. ivy and community colleges.
What is the Demand Outlook for Educational Tourism in Brazil?
Brazil is identified as the most attractive region for educational tourism and international studies among youth. The most significant economic feature of activities is that they contribute to three high-priority goals: the foreign exchange earnings, generation of income, and employment.
One of the main advantages of educational tourism is the ability to earn money through foreign exchange. Educational tourism expenditure generates income for the host economy. The money that the country makes from tourism is then reinvested in the economy.
Some countries like Brazil utilize the money on increasing their tourism industry further, while some countries in Latin America region spend the money on public services such as healthcare and education. In this respect, the educational tourism sector can play an important role as a driving force of economic development.
Why is the Demand for Educational Tourism Increasing in India?
One of the benefits of educational tourism is the opportunity to have a new experience and witness different cultures especially in South-Asian countries such as India. Traveling outside one's home region and comfort zone enhances the knowledge about different cultures in the world.
Educational tourists visit the area in order to learn more about a culture, or visit cultural and tourist attractions point, such as museums and live shows during the journey, which further helps to contribute to the economic growth of the area. Attractions must be staffed, bringing with it employment prospects, and tertiary businesses can also benefit, such as restaurants, taxi firms and hotels.
Furthermore, for those seeking in-depth cultural experiences, options such as homestays can have positive economic benefits for the members of the community which hosts the tourists. As a result, educational tourism activity helps oneself to understand the history and culture beyond their geographical location, which is further driving the education tourism industry.
Besides this, favorable government initiatives and offers on attractive Master's degree and secondary education are expected to woo a lot of foreign exchange students, propelling the growth of educational tourism market.
Category-wise Insights
Which Age Group Is More Likely To Show High Demand for Educational Tourism?
The total number of global educational tourists in 2020 stood at 6,115,861. The number of tourists in the age group of 19-25 years is likely to increase significantly. As master's degree has the highest demand among inbound educational tourists in global education tourism market.
Moreover, the increasing awareness and importance of Edu-tourism is driving the market growth. New information, education styles, research techniques and good exposure to science has enabled the growth of the educational scenario across the world.
According to Future Market Insights, around 73% of revenue for global educational tourism market is generated by the age group of 19-25 years.
Which Course Type is More Preferred by the Customers?
In course type segment, master's degree is more preferred by the customers to get better academic education, from reputed professors along with great facilities and academic resources.
Thus, customers are aiming for a highly ranked world universities which would help them to improve their language & communication skills, and helps students to stand out on the job market.
Which Education Type is More Preferred by the Students?
In education type segment, post graduate is more preferred by the students as having a period spent studying abroad or having attended international seminars gives a positive impression to the employers.
A well-travelled person who is open to different cultures and different points of view, and who has the ability to be independent and is likely to possess valuable language skills, can be a valuable employee. These are the some of the major factors propelling the growth of the educational tourism market.
Get the data you need at a Fraction of the cost
Personalize your report by choosing insights you need
and save 40%!
Competitive Landscape
The players are primarily engaged to establish a new standard for education and international development organizations and social enterprises. Further, several players run National Scholarship Programs (NSP) worldwide to enable and fund local nationals to participate in their programs and receive all relevant training.
Moreover, the players are adopting a virtual and online approach to connect with potential people/students. For instance, GVI Company provides virtual internship program and online classes. This approach helps the company to attract more people.
Scope of Report
Attribute
Details
Forecast Period
2021 to 2031
Historical Data Available for
2016 to 2020
Market Analysis
USD Million for Value
Key Regions Covered
North America, Latin America, Europe, East Asia, South Asia, Oceania, and the Middle East & Africa
Key Countries Covered
USA, Canada, Germany, UK, France, Italy, Spain, China, Japan, South Korea, India, Thailand, Malaysia, Indonesia, Australia, New Zealand, GCC Countries, Turkey, Northern Africa, and South Africa
Key Segments Covered (% of Demand)
Tourism Type, Purpose of Visit, Age Group, Education Type, Type of Occupation, Course Type, and Region
Key Companies Profiled

Meridean Overseas
GVI Company
Global Volunteers
Capital Tours, Inc.
EF Educational Tours
Road Scholar
AAI Edutourz
ACIS Educational Tours
GoIreland
Qadri International Education Consultancy
Intelligent Partners
Futures Abroad
ProEd DMCC
Education Resources Network (ERN)
Education Zone
Fact
IQ Education Consultants
M.K.H Consultancy Services
Stratix Consultants

Report Coverage
Market Forecast, Company Share Analysis, Competition Intelligence, DROT Analysis, Market Dynamics and Challenges, and Strategic Growth Initiatives
Customization & Pricing
Available upon Request
Market by Category
By Age Group (% of Demand):
Less Than 12 Years
13-18 Years
19-25 Years
26-40 Years
41-55 Years
By Education Type (% of Demand):
Primary
Secondary
College
Post Graduate
By Type of Occupation (% of Demand):
Students
Scholar
Teachers
Government Officials
Corporation Managers
Enterprise Owners
Workers
Others
By Course Type (% of Demand):
Master Degree
Secondary Education
Primary Education
By Region (% of Demand):
North America
Latin America
Europe
East Asia
South Asia
Oceania
Middle East and Africa (MEA)
Frequently Asked Questions
In 2021, the educational tourism market is expected to reach a valuation of over US$ 399.8 Bn.
The educational tourism market grew at an impressive CAGR of 12.9% from 2016 to 2020.
Meridean Overseas, GVI Company, Global Volunteers, Capital Tours, Inc., EF Educational Tours, Road Scholar, AAI Edutourz, ACIS Educational Tours, GoIreland, Qadri International Education Consultancy, and Intelligent Partners are some of the leading market players, cumulatively accounting for a 15%-20% value share.
The U.S., the U.K., France, Canada, Hong Kong, New Zealand, Russia, Japan, Germany, China, Australia, and India, are major countries reflecting consistently high demand for educational tourism.
The educational tourism market grew by US$ 56.6 Bn between 2020 and 2021.
Demand for new courses, increasing government initiatives to boost country's tourism industry, and millennials growing interest to experience the culture and understand history of different places are some of the key factors that will fuel the growth.
As per Future Market Insights, North America will account for over 31% of global market share during the forecast period.
Europe will contribute nearly 27% of the global market share in educational tourism market over the next decade.
Increasing focus on promoting educational tourism as a development strategy by various countries around the world will continue positively affecting sales. Besides this, government policies aimed at boosting a country's image as destination for educational tourism will create opportunities for growth.