Fertility and Pregnancy Rapid Test Kits Market By Product Type (Pregnancy Rapid Test, Line-Indicator Devices, Strip/Dip Sticks), Test Type (LH Urine, FSH Urine, hCG Blood), Distribution Channel (Pharmacy, Drug Stores, Gynecology/Fertility Clinics, e-Commerce) & Region - Forecast to 2020-2030
Fertility and Pregnancy Rapid Test Kits Market - Analysis, Outlook, Growth, Trends, Forecasts
July 2020

REP-GB-607

185 pages
Fertility and Pregnancy Rapid Test Kits Market Outlook & Key Findings
Fertility and pregnancy rapid test kits market likely to grow at over 4% in 2020 as adoption of point-of-care and self-testing likely to increase
Consumer purchase preference shifting from conventional channel to app based online channels. Brands synthesizing supply chain accordingly and strengthening digital presence
Three-fold increase sales of in digital test kits anticipates comparing against conventional line indicators
Price of dip sticks in North America to stabilize on lower threshold by 2025 as consumers prefer the use of mid-stream devices for accurate results and convenience of use
Brand centric customer sentiments are 2.6X higher for fertility and pregnancy rapid test kits in comparison to other rapid test kits
A Convenient and Rapid Way to Track Fertility and Pregnancy, Lays Foundation for Pregnancy and Fertility Rapid Test Kits Market Growth
Pregnancy and fertility rapid test kits are ease to use and low complexity testing option of female as well as male fertility. These kits detect the presence of reproductive hormones, such as Follicle Stimulating Hormone (FSH), Luteinising Hormone (LH) and Human Chorionic Gonadotropin (hCG) hormone.
Fertility rapid test kits are precise enough to track the exact day of ovulation or confirm the presence of menopause in women. Whereas in male systems fertility rapid test kits are used to detect the sperm count. In order to perform the analysis, these kits require miniscule volume of blood or urine as sample, and results are very quick in comparison to alternate testing methods available in the market.
ART with Age No Bar: A Driver to Fertility and Pregnancy Rapid Test Kits Market
Clinical factors such as PCOD (Polycystic Ovary Syndrome), low AMH (Anti Mullerian Hormone), Endometrial Tuberculosis, Endometrial Polyps, Blocked Fallopian Tubes, and irregular menstrual cycle in women and low/poor quality sperm count and loss of libido in men. These health conditions often result in infertility in women.
Though, advancements in technology have paved the way for ART (Assisted Reproductive Technology), which has witnessed remarkable success in the past few years. For instance – as per CDC's 2018 Fertility Clinic Success Rates Report, around 1.9% of infants born all across the US have their conception through ART. This factor has catalyzed the fertility and pregnancy rapid test kits market till date and this trend is expected to continue in the forecast period as well.
Increasing Preference to Mid-Stream Devices Over Strips and Cassettes
Cassettes involve usage of droppers to add precise quantity of urine sample to pipette that may be difficult for women. This precision in terms of addition of sample takes a back seat; so does the result. This prompts women to opt for mid-stream devices. They give precise results; and are easy to operate. As per National Center for Biotechnology Information, close to 95% of the women in the US preferred midstream pregnancy kits. This preference is expected to help the market stand in a good stead in the forecast period (2020-2030)
Covid-19 Crisis Impact - Significant Rise in Fertility and Pregnancy Rapid Tests
Covid-19 has left an indelible mark on several domains, and the healthcare industry is no exception. Fertility and Pregnancy Rapid Test Kits Market is expected to witness a major upswing as the demand for self-test kits (midstream kits included) and point-of-care kits will increase due to people preferring to stay at home instead of visiting hospitals during the ongoing pandemic. For instance – Irish "Dealz stores" did report increase in sales by 25% at the time of lockdown. Majority of these sales comprised pregnancy test kits. Along the similar lines, a pharmacy located in the eastern part of Ireland did report 67% increase in sales of pregnancy kits amidst lockdown. On the Indian front, Apollo Pharmacy reported almost 50% rise in sales. This rise was also associated with pregnancy rapid test kits.
Likewise, the market will continue to be on the "growing" spree with sales of fertility and pregnancy rapid test kits compelling the players to count more on them. For instance – Prestige Brands recorded 3.5% rise in earnings in the last quarter. This could be attributed to its "International OTC Healthcare" arm witnessing a steep rise in revenues. Prestige Brands have also stated that 75% of women prefer self-testing of pregnancy over the laboratory tests. This ascertains growth of self-testing kits in the forecast period.
Key Marketing Strategies to Utilize Maximum Market Potential
Market players in fertility and pregnancy rapid test kits market are focused on maintaining strong association with distribution partners across the globe. For instance, Quidel Corporation, one of the premier players in this market, has maintained distribution agreements with Beijing Bio-online (China) and Genbiotech (Brazil). Alliances with e-Commerce partners and distribution agreements with strong local players in Europe and Asia Pacific is the key market strategy being employed by the key players in this market. Co-marketing and co-promotions are another key marketing strategy for many companies. For instance - the same Quidel Corporation has inked a co-marketing agreement with bioMerieux SA for marketing of QuickVue pregnancy test kits outside the U.S.
Fertility and Pregnancy Rapid Test Kits' Online Sales To Catch Up
In terms of sales channel, drug stores and pharmacies collectively hold nearly half the market share in most regions. Easy accessibility to OTC pregnancy and fertility rapid test devices drives growth from drugstores for fertility and pregnancy rapid test kits. Meanwhile, e-Commerce sales are also catching up, and poised for impressive growth.
With emerging economies like India allowing online pharmacy licenses in some of their regions; the number of medicines ordered online range between 10,000 and 15,000 per day. The developed countries are already tying up with e-Commerce chains like Walmart and Amazon to facilitate sales of drugs and also fertility and pregnancy rapid test kits. As such, drug stores as well as online sales channels are driving the market and the latter one is expected to lead on this count in the forecast period.
False Positives & False Negatives: Key Industry Challenge
In many regions physicians often prescribe laboratory tests in place of home tests. Non-reliable results such as false negative and false positive results dissuade consumers to a certain extent. Additionally, not following user instructions, device complications (insensitivity or hook effect) and obscure time window for test are some of the reasons behind non-reliable or false results. As per UK's Medicines and Healthcare Products Regulatory Agency, in 2018, 58,000 "Clear & Simple brand digital pregnancy tests" manufactured by Guangzhou Wondfo Biotech (and sold in the UK) were reported to give false reports. Results like these certainly pose a challenge to the home testing kits. Manufacturers will have to provide infallible results before floating these kits in the near future.
Fertility and Pregnancy Rapid Test Kits Market: Region-wise Analysis
North America continues to be the most lucrative market for fertility and pregnancy rapid test kits. The U.S. fertility and pregnancy rapid test kits market has consistently shown growth rates year-on-year, and the market is set to grow at over 3.9% in 2020. This growth is expected due to the Covid-19 impact (people's abstinence to visit hospitals due to social distancing) and increase in first time pregnancy. The fertility and pregnancy rapid test kits market in Europe accounts for nearly 20% of global fertility and pregnancy rapid test kits market revenue The market herein is estimated to witness a staggering growth as ongoing as well as prospective distribution agreements between European and the other players are on the rise.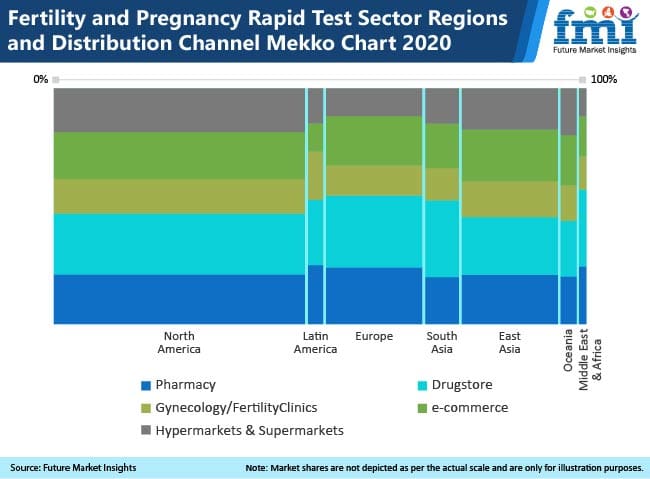 Outside of these two lucrative markets, China, Brazil, and India represent significant opportunities for fertility and pregnancy rapid test kits market players. An exponential growth in these countries is expected due to high rate of birth (India: 2.24 births per woman; China: 1.68 births per woman; Brazil: 1.74 births per woman; all as per the year 2017).
Leading Manufactures in Fertility and Pregnancy Rapid Test Kits Market
The fertility and pregnancy rapid test kits market has seasoned players. They have been providing these kits to the customers across their local as well as global geographies through tie-ups, distribution agreements. Right now, majority of them are focusing on making home testing kits available; as Covid-19 has compelled people to operate from home keeping social distancing in mind. Some of the key players in the fertility and pregnancy rapid test kits market are
Americas
Quidel Corporation
Prestige Brands Holdings, Inc.
Church & Dwight Co., Inc.
Abbott Laboratories
Procter & Gamble Co.
Europe
bioMérieux SA
Geratherm Medical AG
DCC Plc.
Swiss Precision Diagnostics GmbH
Asia Pacific
Yancheng Cordial Medlab Co., Ltd.
Hangzhou Laihe Biotech Co., Ltd.
Mankind Pharma
Fertility and Pregnancy Rapid Tests Kits Market: The Way Forward
The long-term outlook on fertility and pregnancy rapid test kits market remains fairly lucrative, with FMI's analysis estimating revenues to grow at over 4% consistently. Global outbreak of Covid-19 has created a temporary spike in demand for fertility and pregnancy rapid test kits. However, the market is expected to witness normal growth rate the following year.
Fertility and pregnancy rapid test kits market players will need to move beyond their conventional strategic approaches and adopt new strategies to improve market presence globally. For instance – home testing kits are in great demand as of 2020; but once Covid-19 subsides; people will try to get onto the previous mode. Something concrete needs to be worked out to keep the cash flowing. Many players have already started establishing a better local and international presence through co-marketing and distribution deals.
World's Most Profilic Intelligence Engine
Get Access To The World's Largest Market Research Database.
Sign Up Now
Key Segments Covered
The global market is segmented in detail to cover every aspect of the market and present a complete market intelligence approach to the reader.
By Product type
Pregnancy Rapid Test
Line-Indicator Devices
Strip/Dip Sticks
Mid-Stream
Cassettes
Digital
Fertility Rapid Test
Line-Indicator
Digital
By Test Type
LH Urine
FSH Urine
hCG Blood
hCG Urine
Distribution Channel
Pharmacy
Drug Stores
Gynecology/Fertility Clinics
e-Commerce
Hypermarket/Supermarket
Region
North America
Latin America
Europe
South Asia
East Asia
Oceania
Middle East & Africa (MEA)
Need specific information?
Our Clients