Top 3 Factors Shaping the Fusion Beverage Market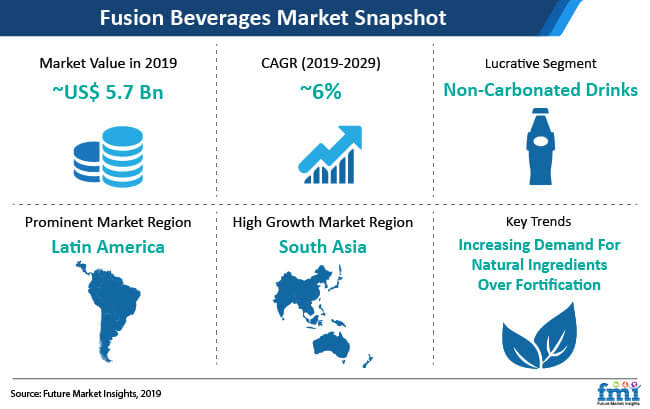 Consumers Demand that Beverage Manufacturers Grant More Attention Towards Global Sustainability
Current trend heads towards more ecologically sustainable packaging. Whereas, the beverage industry has made inordinate strides in lessening the applications of plastics, it is a short term solution. By 2015, customers looked for more and more beverages to be offered in glass and aluminium containers. In terms of health effects, some plastics were abandoned while others proved to be benign.
In 2004, The Biodegradable Products Institute, BPI, ratified the first decomposable water bottle manufactured by BIOTA spring water. The bottle, which breaks down rapidly, was deemed nontoxic for composting as it is made exclusively from corn. Since then, many beverage manufacturers have followed suit and now manufacture biodegradable and compostable packaging.
In 2011, Pepsi introduced a bottle they claim is 100% recyclable, as it is composed of self-generated plant by-products.
Coca-Cola established both paint free aluminum cans and square, compostable bottles to lessen the impact of their packaging. Though, as of 2013, Coca-Cola has considered these products as impractical and customers cannot purchase them. Nevertheless, present trends of packaging are shifting as they are considered unsustainable.
Local brand holders have already taken a leading position in the realm of utilizing recycled, recyclable and other earth-friendly packaging materials. Some brands can now claim 'totally green' status with everything from the ingredients to inner and outer packaging materials being entirely compostable.
Enhancing corporate reputation
Manufacturers want to be stand-in a responsible and ethical manner in order to entice progressively issue-savvy customers. They want to know that corporations are not destructively impacting environment or the communities, and beverage manufacturers are coming beneath burden to indorse responsible drinking and healthy lifestyles. Ultimately, firms will profit - adopting steps such as encourage innovation, reducing water usage will bring down costs, and generate optimistic exposure.
Sharpening implementation
Sharpening implementation in rapid-growth and developed markets is a theme beverage manufacturers return to recurrently. Capability to perform in the on- and off-trade markets is a perilous success factor for their industries, therefore those manufacturers getting it right will achieve substantial competitive benefit.
Rising profitability of local businesses, sustainably
'Making more beer but using less water' is one of SABMiller's ten ecological improvement strategic primacies as it targets 'to continuously increase profitability of local businesses, sustainably.' SABMiller aims ~25% reduction in water usage per hectoliter of beer by ~25% by 2017 and is a member of the WEF Water Project and the Water Foot Printing Network, as well as associating with the World Wide Fund for Nature to comprehend and enumerate water related challenges within functioning countries and to improve fitting action plans.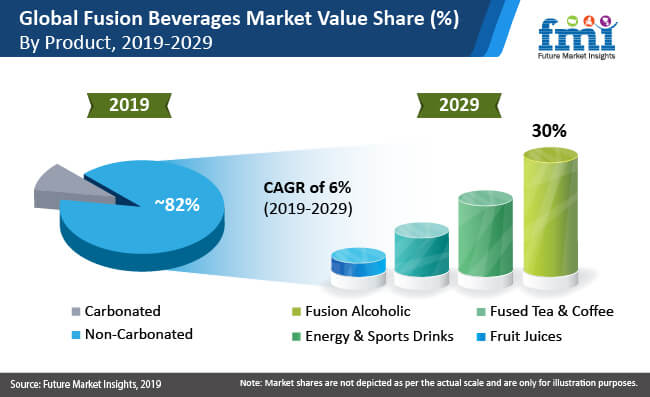 Fusion Beverage Market Structure Analysis
The global Fusion Beverage market is classified into a three-tier analysis, where tier-1 companies hold a prominent market share and have a strong presence across the globe.
Leading companies operating in the global Fusion Beverage market include Coca Cola, PepsiCo, Campbell, Danone, etc.
Most of the key players in the global Fusion Beverage market are based out of the U.S. or Europe, as consumer demand is higher in these regions. Moreover, it has been observed that, a majority of the organized players operating in the global Fusion Beverage are focusing on strategic mergers and acquisitions to broaden their product portfolios and strengthen their foothold in the global Fusion Beverage market.
Fusion Beverages- Functional or Fad?
Food and beverage industry is at the cusp of significant transitions, primarily led by dietary assessments and re-assessments by the new-age consumers. Wellness has now become a priority and a 'self-assessed' aspect of consumers, which helps them make pragmatic choices from a wide array of food and beverage products.
Gone are the days when consumers used to feel satiated with the conventional beverages wherein 'taste' was the one and only compelling factor. Rather, consumers have started bypassing store shelves loaded with conventional beverages and are on the lookout for variants offering a perfect convergence of taste and wholesomeness.
With health drinking becoming more of a lifestyle choice, beverage brands worldwide are redesigning their product pipelines with newer additions to catch up with this dynamic trend. In addition, consumers seek beverages that offer multi-sensory experiences – a value add that goes way beyond mere refreshment and indulgence.
This is where fusion beverages come into play, offering new grounds for consumers to lose themselves in offbeat indulgences. However, new test regulations are likely to add uncertainties to the near-term outlook of fusion beverages, posing new challenges for manufacturers to wade through.
Market Players Rethink Packaging to Craft New Experiences
Manufacturers of fusion beverages are rethinking their packaging prototypes via the reset of three key aspects- function, form, and design. Though the packaging formats with catchy images and color pallets will surely stand out, convenience and flexibility is also something that will really matter to consumers. This is the one of the primary reasons why manufacturers of fusion beverages are focusing on easy tear and pouch packaging, without any compromise on the strength parameters.
Manufacturers are also drawing upon the trend of 'clean label' by mentioning about all the ingredients used in their fusion beverage offerings, which would help the 'self-directed' consumers with rational decision-making. Story-telling is also emerging as one of the most effective marketing gimmicks in the fusion beverages landscape, wherein packaging formats mirror the story behind a particular brand and reflect its core values.
As millennials are increasingly drawn to products with personality, manufacturers are using packaging forms with compelling brand stories to involve and engage consumers like never before.
Asian Millennials: The Next Leg of 'Target Marketing'
Brands offering fusion beverages are rolling out new concoctions that combine ingredients originating from as well as popular in Asia, which would help them effectively grapple regional consumers' attention. With the increasing demand for botanicals in India, China, Japan, and other countries, manufacturers are shifting their strategic focus on infusion of natural ingredients that would help them well position their products in the Asian market.
For instance, DRGN, a leading UK beverage brand has set its sight on APAC millennials via launch of its new exclusive fusion soft drink. According to the brand, the citrus-flavored, vegan-friendly, and caffeine-free DRGN drink contains a mere 80 calories, offers a range of antioxidant properties, and supports liver health.
Customized Fusion Beverages - The Future Lies in 'Personalized'
Brands offering fusion beverages are centering their focus on development of concoctions with a tinge of 'personalization', for the fact that consumer clamor for tailor-made experiences continues to see remarkable growth. As the 'one-size-fits-all' approach is worn-out and customized nutrition picks pace, brands offering fusion drinks are drawing upon this trend to reap substantial profits.
In the pursuit of personalized beverages' production, one of the biggest roadblocks for the market players might be combining 'small-batch' custom manufacturing along with mass production lines. This combination would require systems that are intelligent, agile, and flexible and have efficiency as their core strengthener.
This is precisely where industry 4.0 would come into picture, bringing new possibilities to the fore. It wouldn't be incorrect to say that personalized beverages would hugely benefit from industry 4.0, with the latter offering massive tailwinds to the former.
How Growth will Unfold?
Experts foresee the growth of fusion beverage brands to largely depend on their product innovation endeavors. Product innovations will play a crucial role in enabling manufacturers to stay relevant in the long run, giving them an edge over other competitors active in the fusion beverages space. For instance, in 2018, ZICO Beverages – an American beverage company - unveiled a new range of fusion beverage named 'ZICO COCO-LIXIRS', with an objective of capitalizing on the growing demand for coconut water.
ZICO COCO-LIXIRS is an innovative fusion of organic, cold-pressed juice and the new ZICO Chilled Organic coconut water. In 2019, The Coca-Cola Company unveiled its first ever 'coffee-infused' cola drink named 'Coca-Cola Plus Coffee' in South Africa. This new variety represents a sparkling fusion of rich bold coffee aroma and mild sweetness along with subtle caramel notes, creating multi-sensory experiences for consumers to relish.
Key Segment
Product Type
Carbonated Drinks
Fused Tea & Coffee
Fruit Juices
Fusion Alcoholic Beverage
Energy Drinks
Others
Distribution Channel
Off-Trade

Hypermarkets
Supermarkets
Discounters
Grocers
Off-license stores, alcohol & confectionery stores
Highly specialized retailers
Petrol stations
Online stores

On-Trade

Pubs, bars, cafe's
Restaurants
Clubs, discos
Hotels
Temporary retail points, mass events
Need specific information?