Fusion Beverages Market
Fusion Beverages Market by Fusion Beverages Market by Type (Fused coffee and tea, Sports and Energy Drinks), Distribution Channel (On-Trade, Off-Trade) & Region - Forecast 2022 - 2032
January 2022

REP-GB-1824

350 pages
Market Insight for Fusion Beverage
[350 Pages Report] The global fusion beverage market size is estimated to be USD 6.6 Bn in the year 2022 that is expected to grow at a CAGR of 6.0% to reach USD 11.5 Bn by the year 2032.
| | |
| --- | --- |
| Attribute | Details |
| Market Size Value in 2022 | USD 6.6 Bn |
| Market Forecast Value in 2032 | USD 11.5 Bn |
| Global Growth Rate (2022 to 2032) | 6.0% CAGR |
| Forecast Period | 2022-2032 |
Europe and North America markets hold great potential for the fusion beverage market as they are estimated to hold nearly 51% market share by the year 2022. The growth is assisted by the rising consumption of fusion beverages infused with minerals and vitamins with enriched health benefits.
Manufacturers in the fusion beverage industry are looking forward to sustainable and eco-friendly ways for packaging, which is not only good for the environment but also saves a lot of profit for the company. For instance, Pepsi inducted bottles for their product that are 100% recyclable such concepts attract consumers as the recent trend of eco-friendly products is widely discussed among consumers.
Sustainable and Biodegradable Packaging Will Help Companies Make More Profit and Utilize Customer Sentiment for Eco-Friendly Products
Non-carbonated drinks are one of the most popular fusion beverages globally. To attract consumers for a product with such significant demand, companies are focusing on the trend that is followed but the consumers. The young generation covers a major share of consumers for fusion beverages are very sensitive to environment-friendly products.
Companies can use the sentiment of their customer to attract them by inducting sustainable processes and producing environmentally friendly products. A company like BIOTA uses biodegradable bottles which are biodegradable and environment friendly. Coca-cola also follows sustainability by recycling or refilling approximately 60% of their packaging.
They also focus on having more than 80% of their packing recyclable. The use of sustainable packaging, reusing and designing strategy is a great way to promote the product and attract customers. There is going to be positive growth in the fusion drink market in the forecasted period.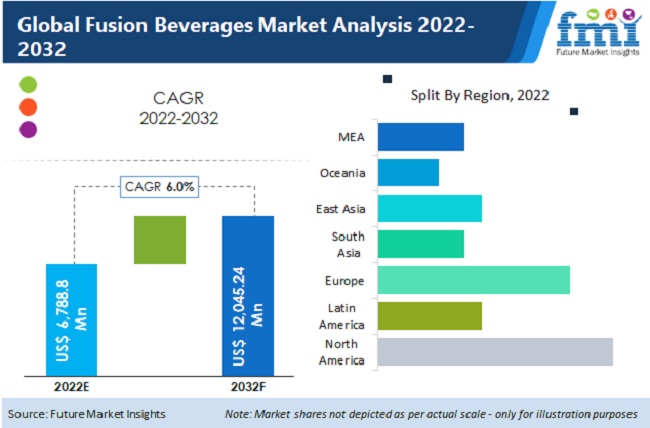 Young Consumers are shifting to Beverage Options That Offer Unique Flavors and Experiences for Which Companies Should Keep up with the Trend to Benefit the Growing Demand.
Consumer demand for artful combinations of 'flavour' and 'wholesomeness,' as well as the expanding trend of dietary assessments, are two important factors impacting the future consumption of fusion beverages.
The new-age client wants to try new flavours in their foods and beverages while maintaining a healthy lifestyle. Fusion beverages have smartly carved out spaces on consumer wish lists in this regard, and a growing appetite for functional beverages will encourage their use in the future years. Demand will put pressure on fusion beverage firms to build a culture of continual innovation to keep up with shifting market trends.
Consumers want beverages that provide 'multi-sensory' experiences, therefore fusion beverages are expected to find new opportunities in 2022 and beyond.
The Low Sugar and Low-Calorie Segment of Fusion Beverages are going to Grow Due to Changing Lifestyles, Health Awareness and Rising Diabetes Cases.
Sugar consumption is becoming increasingly unpopular among consumers all around the world. Diabetes affects 537 million people aged 20 to 79, or one in every 10 people. By 2030, this number is expected to surge to 643 million, and by 2045, to 783 million. As a result, governments are introducing laws to drastically reduce the consumption of sugar in meals, such as imposing the sugar penalty tax.
Various manufacturers have created specialised sweetening systems and innovative beverage concepts that not only satisfy the needs of various markets but can also be used in a variety of settings. As a result, beverage concepts range from sweet nectars made from fermented juice to high-end reduced-sugar lemonades and low-calorie fruit and vegetable juices.
Coke No Sugar, Reed's Zero Sugar Real Ginger Ale, Bubly Sparkling Water (Cherry), and Zevia Zero Calorie Soda Cola are among the many low sugar/no sugar fusion beverages that allow for a sugar reduction of up to 100%, giving a further boost to the fusion beverage market.
Fusions Beverage Incorporate Many Minerals And Vitamins That Are Healthy And Tasty To Drink Is Gaining Popularity Due To Recent Trends.
Customers can only be won over by naturalness and wellness if a product's taste is good. Customers want authentic, pure, and unadulterated flavour, as well as new and unique flavour combinations.
Manufacturers are creating product concepts that contain ingredients like juices, nectars, smoothies, and fruit splashes, which not only impress customers with their naturally fresh flavour but also inspire healthy and creative product positioning.
Citrus fruits are recognised as the flavour world's "evergreens." However, there is an increasing need in this sector for more authentic flavour sensations. The most significant components in making extracts and developing a fully natural flavour profile are the freshness and quality of the fruits, as well as the different technologies used by manufacturers to create these fusion beverages.
This gives greater room for the fusion beverages market to grow. Fusion beverages also include products like mineral water, energy drink and juice that have infused minerals and vitamins that nourish the human body in a tasty way. Due to the hectic lifestyle and increasing health awareness, such beverages are gaining popularity which will cause significant growth in the fusion drink market.
The Use of Organic Ingredients Will Attract Consumption Due to Increasing Health Awareness in the Global Population.
The organic trend has evolved into much more than a standard for quality. It's a way of life that has far exceeded its former exclusivity. The organic movement is gaining traction; the younger generation, in particular, loves organically produced goods since they are "healthier" and "more sustainable."
Consumers, on the other hand, are looking for more organic products on store shelves than the usual murky apple splashes and such items. To fulfil the growing demand for organic beverages, manufacturers are developing organic fusion beverages.
COCO-LIXIRS was introduced by ZICO Beverages in 2018. This was an attempt to capitalize on the increasing popularity of coconut water. With the addition of organic coconut water, this is an organic, cold-pressed drink. To cater to evolving consumer preferences of organic fusion beverages, most companies have started manufacturing similar fusion beverages that are organic.
The trend of leading a healthy lifestyle and hectic work life has promoted the consumption of energy drinks. Energy Drink is having great potential in the global market especially the Indian market. The Indian energy drink market is estimated to grow at 8.2% from 2022 to 2032.
Due to hectic work life and trend of having a healthy lifestyle has encouraged people to consume energy drinks. Since energy drink is categorized under non-alcoholic beverage, it is becoming a popular drink for young adults. The growing popularity of energy drinks is expected to boost the fusion drink market.
The Rapid Increase in Convenience Stores, Malls, Food Outlets, Pubs and Bars Is Going To Cause a Spike in the Consumption of the Fusion Beverage Market
There has been an unprecedented spike in the number of convenience stores malls, supermarkets and hypermarkets. This factor has caused people to get easy access to fusion beverages. In supermarts and hyper marts, consumers get attracted by the visual appeal and packaging of products.
Due to Covid restriction on travel, online shipping has made access to fusion market products very easy. With the young population inclining towards having nightlife, pubs and bars are gaining popularity. Since fusion drink is a major product served in these places, the market is looking very positive in future for fusion beverage.
Countries That Hold Great Potential For Fusion Beverage Market Growth
Brands that sell fusion beverages are introducing new concoctions that mix ingredients that are both native to and popular in Asia, in the hopes of capturing the attention of regional consumers. Manufacturers are focusing their strategic focus on the infusion of natural components that will help them position their products better in the Asian market, as demand for botanicals grows in India, China, Japan, and other nations.
Additionally, with rising people's standards of living, the presence of the majority of market players, and people's busy lifestyles, North America leads the fusion beverage market, while East Asia and South Asia are expected to grow exponentially between 2022 to 2032 due to raising people's disposable income and rising standards of living.
Scope of Report
| | |
| --- | --- |
| Attribute | Details |
| Market Size Value in 2022 | USD 6.6 Bn |
| Market Forecast Value in 2032 | USD 11.5 Bn |
| Global Growth Rate (2022 to 2032) | 6.0% CAGR |
| Forecast Period | 2022-2032 |
| Historical Data Available for | 2017-2021 |
| Market Analysis | MT for Volume and USD Bn for Value |
| Key Regions Covered | North America, Latin America, Europe, East Asia, South Asia, Oceania and Middle East & Africa |
| Key Countries Covered | United States, Canada, Brazil, Mexico, Chile, Peru, Argentina, Rest of LATAM, EU-4, UK, BENELUX, Nordic, Russia, Poland, Rest of Europe, China, Japan, South Korea, India, Thailand, Indonesia, Singapore, Rest of South Asia. |
| Key Market Segments | Product Type, Distribution Channel and Region |
| Key Companies Profiled | ZICO Beverages, Pepsico, Lucozade, Coca-Cola, Pocari, Gatorade, 100 Plus, Power Ade and others |
| Pricing | Available upon Request |
World's Most Profilic Intelligence Engine
Get Access To The World's Largest Market Research Database.
Sign Up Now
Fusion Beverage Market Segmentation
By Product Type :
Fused coffee and tea
Carbonated Drinks
Fusion alcoholic Beverage
Fruit Juice
Energy and Sports Drinks
Others
By Distribution Channel :
Off-Trade

Grocers
Hypermarkets
Discounters
Online stores
Highly specialized retailers
Alcohol, confectionery and Off-license stores
Supermarkets
Petrol stations

On-Trade

Bars, Pubs and cafeterias
Restaurants
Hotels and resorts
Temporary retail points, mass events
Clubs, discos
By Regions :
North America
Latin America
Europe
East Asia
South Asia
Oceania
Middle East & Africa
Key Questions Answered in the Report
How much is the fusion beverages market currently worth?
Currently fusion beverages consumer market is worth more than USD 6.6 Bn.
At what CAGR is the market expected to grow?
Fusion beverage consumption is expected to grow at a CAGR of around 6.0% during the period 2022-2032.
What are the key trends boosting fusion beverage sales?
Healthy lifestyle, hyped online market after covid, increasing trend for sports and fitness, demand for tasty and flavorful experience in beverage can be considered key trends boosting fusion market.
How are market players reacting to the new developments in the market?
Market players are opting for technological advancement, new product developments, and production capacity expansion.
How many shares do the top 5 companies hold?
The top 5 producers of fusion beverages hold around 26.4% of the market share.
Which are the major countries driving demand for fusion beverages?
The US, Germany, UK and China are the major countries driving demand for fusion beverages.
Who are the major players in the fusion beverage consumer Market?
The major players involved in the fusion beverage market are ZICO Beverages, Pepsico, Lucozade, Coca-Cola, Pocari, Gatorade, 100 Plus, Power Ade and others.
At what rate will the U.S. fusion beverage consumer market grow?
US fusion beverage consumer market is projected to grow at a CAGR of around XYZ% over the next ten years.
Need specific information?
Our Clients