IV Infusion Bottle Seals & Caps Market Set for 5% CAGR During 2019 - 2029
Rising awareness pertaining to parenteral nutrition therapy and advancements in form fill seal technology (FFS) are shaping the growth of IV infusion bottle seals & caps market during the forecast period (2019-2029). The growing prevalence of chronic diseases including ischemic gut malady, gastrointestinal diseases, and malignancy are particularly responsible for upholding adoption of IV infusion bottles wherein seals and caps of different sizes and types are widely used to prevent external contamination. On the back of these factors, the global IV infusion bottle seals & caps market would grow at a promising CAGR of around 5% during the forecast period.
Which factors will uphold the top market positions of developed regions throughout the period of projection?
While North America has been at the forefront of the growth of the IV infusion bottle seals & caps market, Europe will also be an important market through 2027. In addition to ascending prevalence rate of chronic ailments, the European market will gain a prominent push from the growing popularity of parenteral nutrition therapy - particularly in Germany, France, U.K., Italy, and Spain.
Which regional markets would develop a favorable growth scenario for sales of IV infusion bottle seals and caps?
East Asia and South Asia, led by China and India respectively, would be the most promising regions for the growth of IV infusion bottle seals & caps market in the next decade. Their growth potential will be on account of strong growth of emerging economies, rapid expansion of the pharmaceutical industry, and growing per capita healthcare expenditure.
How will the growing acceptance of IV drug therapy among geriatric population shape up the infusion bottle seals & caps market?
Expanding size of geriatric population that consequently translates into diverse health conditions demanding therapeutic attention continues to fuel the growth of IV infusion bottle sales. Aging patients tend to prefer intravenous therapy over oral medication, which warrants accuracy along with efficiency and effective treatment in a shorter time. Growing acceptance of IV administration will be a key booster to sales of IV infusion bottle seals & caps during 2019 – 2029.
Will increasing preference for IV bags hinder sales of IV infusion bottles, and thereby seals & caps?
Our projections suggest that between 2019 and 2029, the IV bags market will expand at a healthy 5% CAGR, which indicate how rapidly IV bags are replacing IV infusion bottles. Adoption of IV bags in the pharmaceuticals industry is gaining momentum, which would probably hamper adoption rate of IV infusion bottles, and thereby, the IV infusion bottle seals & caps.
PP Caps Account for over 50% Share
The advent of cutting-edge technologies in the pharmaceutical packaging sector, coupled with stringent regulations pertaining to packaging safety is likely to propel the demand for PP caps in the near future. Further, as PP caps have the ability to retain their shape and are resistant to breakage and bending, they are increasingly being used to seal IV infusion bottles and thus, forecasted to account for over 50% of the total share. The adoption of rubber seals is on the rise owing to the versatility and flexibility it provides to the manufacturers in terms of elasticity, shape, and strength.
North America to Maintain Lead, East Asia Gaining Ground
Robust healthcare system, strong pursuit of optimum medical polymers, and increasing innovations in pharmaceutical plastic bottles are collectively driving the market growth in North America. However, as prominent pharmaceutical packaging companies are swaying towards outsourcing their production to countries such as China, the market in East Asia is projected for a healthy CAGR of around 6% over the assessment period. In addition, relatively low cost of raw materials in East Asia is attracting investments from established brands that are striving to expand their global footprint.
Supply and Distribution Channels under Spotlight
Leading participants in the IV infusion bottle seals & caps market are vying to expand their global presence and maximizing their ROI by adopting an outsourcing model. Pharmaceutical packaging companies from North America and Western Europe are tying up with local companies in East Asia and South Asia to reduce their operational, logistics, and transportation costs.
PP caps remain top-selling
Adoption of rubber seals rising
21-28 mm remains preferred thickness
Preference for 29-32 mm to gain momentum
How Growth will Unfold
Accounting for over 60% of the total market value, pharmaceutical packaging companies have identified 21-28 mm as the most reliable and stable neck size for caps. In addition, PP or rubber seals of the mentioned size offer enhanced gripping capabilities and ensure product integrity – a leading factor that is likely to influence the demand for 21-28 mm neck sized caps in the foreseeable future.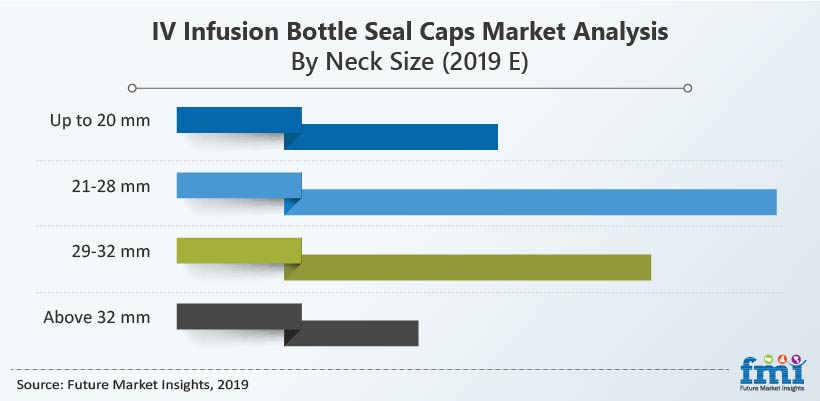 * This data is only a representation. Actual data may vary and will be available in report.
Click Here To Know How The Growth Will Unfold
Custom Market Research Services
FMI offers custom market research services that help clients to get information on their business scenario required where syndicated solutions are not enough.
Overview
IV Infusion Bottle Seals & Caps Market Analysis 2019-2029
A recent market study published by FMI, "IV Infusion Bottle Seals & Caps Market: Global Industry Analysis 2014-2018 & Forecast 2019-2029" offers a comprehensive assessment of the most important market dynamics. After conducting thorough research on the historical as well as current growth parameters of the IV infusion bottle seals & caps market, growth prospects of the market are obtained with maximum precision.
IV Infusion Bottle Seals & Caps Market Taxonomy
The global IV infusion bottle seals & caps market is segmented in detail to cover every aspect of the market and present complete market intelligence to readers.
Product
PP Caps

Euro Pull Ring Caps
Double Fold Caps
Foil Caps

Rubber Seals
Neck Size
Up to 20 mm
21-28 mm
29-32 mm
Above 32 mm
Region
North America
Latin America
Europe
South Asia
East Asia
Oceania
Middle East and Africa (MEA)
How the research was conducted?
Primary Research
Primary research interviews with key opinion leaders and other participants were conducted for data collection and validation of the below information:
Key Segments in the IV Infusion Bottle Seals & Caps Market
Market Share Analysis
Average Selling Price (US$) and Market Growth
Comparative Analysis of Several IV Infusion Bottle Seals & Caps Present in the Market
Market Size
Key Trends & Developments
Competition & Key Vendor Strategies
Secondary Research
Industry Journals
Pharmaceutical Packaging Industry Growth
Annual Reports/SEC filings/Investor Presentations
Primary Interview Splits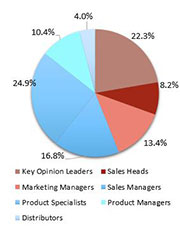 To Learn More About our Comprehensive Perspective on IV Infusion Bottle Seals & Caps Market,
Get in touch
COVID -19 : Impact Analysis
Request the coronavirus impact analysis across industries and markets
Request Covid -19 Impact
CASE STUDIES
See how our work makes an impact.
At FMI, we design strategies that are adaptive, impactful, and implementable.