Introduction
Several countries are increasing their spending to improve the healthcare infrastructure. As with the current healthcare infrastructure countries such as India and South Africa, among others, are not capable of delivering proper healthcare services to their people.
Majority of the population in these countries lives in rural areas with low healthcare facilities. Thus, these countries are increasingly making investments to increase the number of hospitals and improve the quality of care, particularly in the rural areas.
For instance, the National Rural Health Mission (NRHM) was established to improve the health care in the rural areas in India. The NRHM sought to improve the infrastructure with adequate human resources for health care. In 2016, Mexico made public–private partnership for improvement of the healthcare infrastructure.
North America is anticipated to stay on the vanguard in the gynaecological examination chairs market
The market in North America for powered gynaecological examination chairs is growing at a significant rate due to the easiness provided to the doctors while performing complex minimally invasive surgeries and examinations.
Electrically controlled examination chairs have features such as they are adjustable, have electrical mechanism to change the positions and height, and provide comfort and support. Some of the gynaecology examinations chairs are operated through remotes, which makes handling easy and smooth.
Moreover, increasing number of gynaecological diseases in North America will consequently increase the number of diagnosis and examination procedures, which will indirectly boost the demand for gynaecological examination chairs in the region.
Gynaecological diseases such as ovarian and cervical cancer, menstrual problems and reproductive diseases are increasing due to lifestyle changes. Overeating and lack of exercise, sedentary lifestyle lead to obesity, which is the vital reason for reproductive and pregnancy problems. As result of these factors, the gynaecological examination chairs market in North America is expected to witness significant growth in the coming years.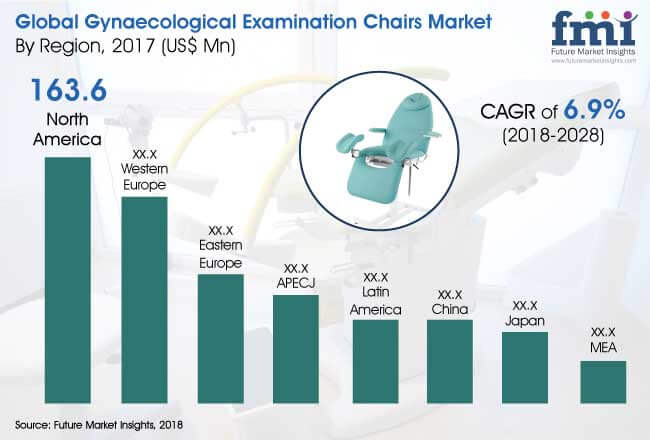 Western Europe is expected to closely follow North America in terms of adoption owing to companies in the region focusing on different strategies
The companies in the region are focusing on direct sale and supply to the medical organizations in order to increase their market share and expand the consumer base. For instance, Plinth Medical Ltd. directly sells their products to different organizations, such as NHS trust, Wimbledon, Papworth Hospitals, Royal AirForce, Great Ormand Street Hospital, Bupa, The World's Strongest Man Organization, Nuffield Health, and Team GB, among others.
The companies are also focusing on strengthening their distribution channel to increase the sale and expand their network across the globe. For instance, Schmitz u. Söhne GmbH & Co.KG established a partnership with ZMT, a central association of medical equipment dealers, manufacturers, service providers, and consultants.
Another factor is that the manufacturers are increasingly focusing increasingly focusing on strategic partnerships and acquisitions for expanding the innovation map beyond the pre-established portfolio and to also invest in new areas for developing new business fields and also meet the demands of the consumers.
Product innovation due to acquisitions and mergers are also expected to drive the demand and growth of the gynaecological examination chairs market in Western Europe.
Market Taxonomy
The global gynaecological examination chairs market has been segmented into:
Product Type
Non-electric gynaecological Examination Chairs
Electric gynaecological Examination Chairs
Price Range
End User
Hospitals
Obstetrics & Gynaecology Clinics
Others
Region
North America
Western Europe
Eastern Europe
Latin America
Asia Pacific Excl. China & Japan
(APECJ)
China
Japan
Middle East and Africa
Need specific information?