Antimicrobial Nanocoatings Market Outlook (2022 to 2032)
The global antimicrobial nanocoatings market is projected to reach a valuation of US$ 930.5 Million in 2022. The antimicrobial nanocoatings market is expected to witness steady growth at a CAGR of 20.3% from 2022 to 2032. It is further expected to top a valuation of US$ 5,893.7 Million by the end of 2032.
Demand for antimicrobial nanocoatings is anticipated to be influenced by certain industrial and innovative factors, including their surging utilization in the healthcare, automotive, food, beverage, and packaging sectors. Rising investments in research & development activities and the growing focus of companies toward sustainability are also projected to bode well for the market.
Antimicrobial nano-coatings are considered to be nanotechnology-based coating techniques that are used to kill both gram-positive and gram-negative bacteria. They can bind to bacterial cell membranes and interfere with bacterial metabolism to create a pathogen-free surface.
They are effective against viruses, fungi, and certain microorganisms such as methicillin-resistant staphylococcus aureus (MRSA) and vancomycin-resistant enterococci (VRE), depending on the type of antimicrobial agent used. The antimicrobial nanocoatings market is expected to account for around 15% to 18% of the global nanocoatings industry.
Antimicrobial nanocoatings are projected to gain immense popularity in the healthcare industry owing to their ability to reduce the risk of microbes such as E. coli and legionella. They play a vital role in maintaining infection control protocols. Antimicrobial nanocoatings are also anticipated to find application in drop-in centers, surgical rooms, home care, and hospitals, with products including pull cords, floors, beds, nurse call systems, cubicle curtains, handles, case note holders, paints, and walls.
| | |
| --- | --- |
| Attributes | Key Insights |
| Global Antimicrobial Nanocoatings Market Estimated Size (2022E) | US$ 930.5 Million |
| Projected Market Valuation (2032F) | US$ 5,893.7 Million |
| Value-based CAGR (2022 to 2032) | 20.3% |
| Collective Value Share: Top 3 Countries (2022E) | 40.2% |
Expansion of the construction industry in numerous countries such as Ireland, the USA, the United Kingdom, Sweden, the Netherlands, Germany, Poland, and Hungary is further projected to drive the global antimicrobial nanocoatings market in the next ten years. Rising funding from government agencies, especially in Europe, as well as the presence of supportive measures like incentives, tax breaks, and subsidies, is likely to aid growth. Furthermore, numerous upcoming public-private partnership (PPP) projects in both developed and developing countries for the construction of airports, schools, offices, hospitals, and roads are anticipated to propel the antimicrobial nanocoatings market during the evaluation period. Several big and small companies worldwide are projected to innovate their in-house products to offer hygienic experiences to their clients.
Don't pay for what you don't need
Customize your report by selecting specific countries or regions and save 30%!
2017 to 2021 Global Antimicrobial Nanocoatings Market Outlook Compared to 2022 to 2032 Demand Forecast
The global antimicrobial nanocoatings market witnessed about 7.6% year-over-year growth in the historical period (2017 to 2021). Demand for antimicrobial nanocoatings has been consistently growing across the globe owing to the consistent expansion of several end-use industries. Based on the current estimations by FMI, the antimicrobial nanocoatings market is projected to witness growth at nearly 20.3% CAGR over the forecast period of 2022 and 2032.
Substantial growth in population, rapid urbanization, and urgent need for microbes-free, non-toxic food & packaging materials are also set to remain key attributes for growth in the antimicrobial nanocoatings market. In addition, the healthcare industry witnessed substantial growth during the historical period. To avoid bacterial infections and significantly lower healthcare expenses, materials and surfaces in medical & healthcare facilities must be treated with antimicrobial chemicals to protect them against bacteria and other microbes.
Antimicrobial nanocoatings are already being used in the life sciences and healthcare industries, thereby pushing the development of new anti-bacterial surfaces for medical catheters. These are also expected to be added to paints and lacquers that are used to cover hospital operating tables, doorknobs, and door handles.
Some of the key companies are creating ultra-hard porous coatings for orthopedic and surgical implants like screws, plates, and joint implants. Owing to the above-mentioned factors, the global antimicrobial nanocoatings market is projected to witness considerable growth in the next ten years.
Top Trends Propelling Sales of Antimicrobial Nanocoatings
Expansion of Healthcare Facilities in India & China to Boost Nanocoating Applications
Growth potential in the antimicrobial nanocoatings market exists in emerging economies, including India, China, and others owing to rapid growth in the industrial sector. These countries are witnessing a significant demand for antimicrobial nanocoatings on the back of rapid expansion of the medical & healthcare, food, packaging, as well as building and construction industries.
Antimicrobial nanocoatings are increasingly finding applications in the healthcare sector to create a sterile environment in hospitals. Further, increasing investments by key players in the manufacturing industries through domestic and foreign direct investment (FDI) flows are expected to propel the antimicrobial nanocoatings market.
All of these factors are expected to create considerable growth opportunities for companies and drive growth in the antimicrobial nanocoatings market on a global level in the assessment period. Besides, manufacturers in the automotive, building & construction, medical & healthcare, and food & beverages industries are likely to find a wide variety of applications for antimicrobial nanocoatings in emerging nations.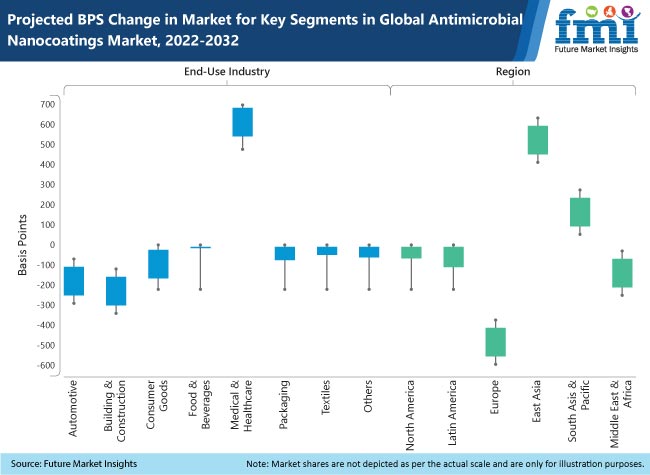 Which are Some of the Factors Restraining the Demand for Antimicrobial Nanocoatings?
Rising Concerns about the Environment & Human Health May Hinder Growth
Environmental concerns and health hazards associated with the use of antimicrobial nano-coated products are restraining growth in the market as antimicrobial compounds such as metal nanoparticles, can be toxic if they enter cells and cause lysosomes to produce reactive oxygen species (ROS), which can damage the DNA.
The toxicity of advanced molding compounds (AMCs) is caused due to metallic nanoparticles, particularly nano-silver. The toxicity of biocides and antimicrobial nanoparticles, as well as their environmental persistence, may raise concerns for human health and the environment.
This diversity of antimicrobial nanocoated materials has led to a wide variety of physical and chemical properties in the finished product. Organometallic antimicrobial nanocoated materials are very efficient and cost-effective, but their use has been limited because of environmental concerns and market perception regarding their long-term toxicity.
Antimicrobial nanocoated products with the capability to modify or destroy the cell structure of microorganisms could influence the cell structure of living organisms in the environment and this concern is hampering the antimicrobial nanocoatings market to a certain extent.
Country-wise Insights
How are Antimicrobial Nanocoatings Manufacturers Faring in the USA?
Demand for Microbes-free Coatings to Surge in the USA with Rising Need among Healthcare Professionals
Demand for microbes-free coatings is expected to remain prominent in the United States of America. The availability of well-developed healthcare infrastructure and insurance coverage is expected to fuel demand for innovative healthcare products and services in the United States of America.
The number of procedures is predicted to rise along with the aging population and the frequency of accidents in this country. As a result, it is expected that the nation will continue to need antimicrobial nanocoatings in the medical and healthcare end-use industry over the course of the forecast period.
The United States of America is estimated to be a key producer and consumer of antimicrobial nanocoatings all over the globe. The United States of America antimicrobial nanocoatings market was valued at US$ 240.4 Million in 2021. Substantial development in the medical & healthcare industry, the presence of well-developed healthcare facilities, and high demand for microbes-free coatings are some of the key driving factors for the antimicrobial nanocoatings market in the United States of America.
Why are Sales of Antimicrobial Nanocoatings Surging Rapidly in China?
Rapid Development of Non-toxic Coatings Formulations to Bolster Sales in China
China is anticipated to be a leading country in terms of the consumption of antimicrobial nanocoatings in the global market. The antimicrobial nanocoatings market in China is estimated to witness a 22.9% growth rate over the coming assessment period of 2022 and 2032. Increased consumer disposable income and high demand for cost-effective, non-toxic coatings formulations are expected to bolster the sales of antimicrobial nanocoatings in China.
Various manufacturers in China are constantly focusing on the production of target-specific formulations. They are also striving to resist the growth of microorganisms, especially in marine vessels and hulls where the antifouling coating is not effective. The development of resistant strains increased microbial resistance to metal ions & antibiotics, and new legislations have led coating makers in China to look for alternatives to conventional antimicrobial coatings. All these factors are expected to drive the antimicrobial nanocoatings market in China.
Category-wise Insights
Who is the Leading End User of Antimicrobial Nanocoatings?
Healthcare Professionals to Utilize Hydrophobic Nanocoatings for Maintaining Hygiene
Antimicrobial nanocoatings are increasingly finding their application in healthcare, food, beverages, and other industries owing to rising awareness about hygienic products. Improving living standards and busy lifestyles have also resulted in high demand for hygienic antimicrobial plastic products, especially for healthcare applications.
Changing lifestyles of consumers and longer working hours are resulting in an increasing demand for packaged ready-to-eat and frozen foods. This is also expected to drive the demand for antimicrobial coatings and additives. Antimicrobial nanocoatings are extensively utilized on shelves, floors, kitchen mats, storage containers, water coolers, and water hydration systems to keep them safe.
Rising concerns among consumers regarding personal and family wellness are further set to create new growth opportunities for key players in the field of antimicrobial apparel, home furnishings, and footwear. Owing to the aforementioned factors, the global antimicrobial nanocoatings market is estimated to surge at a rapid pace.
Which is the Most Preferred Substrate of Antimicrobial Nanocoatings?
Companies Worldwide to Utilize Coatings Made of Plastic to Prevent Harmful Bacteria
In 2021, by substrate, the plastic segment generated the largest antimicrobial nanocoatings market share due to its high versatility. Increasing the use of plastic substrates in the manufacturing of various products like food containers, breathing apparatuses, soap dispensers, and surgical tools is another vital factor that is anticipated to aid growth. Plastic is prone to microbiological growth, including the formation of bacteria and mold, which is anticipated to reduce a product's functional lifespan.
Plastic items produced with antimicrobial nanocoatings provide resistance to various bacteria and contribute to the long-term durability of plastic goods. Medical equipment, culinary appliances, and automobile components are some examples of products that use antimicrobial nanocoatings. The nano-coating used in medical and healthcare infrastructure imparts protection against harmful microbes when applied to plastic, metals, and alloys.
Get the data you need at a Fraction of the cost
Personalize your report by choosing insights you need
and save 40%!
Competitive Landscape
Some of the key manufacturers in the global antimicrobial nanocoatings market are inclining towards the adoption of various business models, such as backward integration and forward integration models. The growing adoption of different business models has helped companies to enhance their manufacturing capabilities and avoid disruptions in the supply chain.
For instance,
In July 2022, Bio-Gate AG, a leading provider of innovative health technology, signed an agreement with one of the world's leading medical technology manufacturers for the coating of orthopedic implants in human medicine.
In March 2022, Nano Care, which is a leading producer of high-performance nanotechnology coatings, launched a product named Nanoflex L-Care. It is a wash-on treatment for leather & textile and a fluorine-free direct spray for healthcare uniforms and bedding where it kills bacteria and hence starves bed bugs & high-touch upholstery.
Scope of the Antimicrobial Nanocoatings Market Report
Attributes
Details
Estimated Market Size (2022)
US$ 930.5 Million
Projected Market Valuation (2032)
US$ 5,893.7 Million
Value-based CAGR (2022 to 2032)
20.3%
Forecast Period
2022 to 2032
Historical Data Available for
2017 to 2021
Market Analysis
Value (US$ Million)
Key Countries Covered
USA, Canada, Brazil, Mexico, Germany, Italy, France, United Kingdom, Spain, BENELUX, Russia, China, Japan, South Korea, India, ASEAN, Australia and New Zealand, GCC Countries, Turkey, South Africa
Key Segments Covered
Substrate, Material Type, End-Use Industry, and Region
Key Companies Profiled

Bio-Gate AG
Nilima Nanotechnologies
Nano-Care Deutschland AG
NANOSONO LTD.
GBneuhaus GmbH
NANOPOOL GmbH
NANOPOOL GmbH
NANO4LIFE EUROPE L.P.
Vetro Sol
Inframat Corporation
P2i Ltd.
Nanofilm Ltd.
Others

Report Coverage
Market Forecast, Company Share Analysis, Competition Intelligence, Drivers, Restraints, Opportunities and Threats Analysis, Market Dynamics and Challenges, and Strategic Growth Initiatives
Antimicrobial Nanocoatings Market Outlook by Category
By Substrate:
Plastics

Ethylene Tetrafluoroethylene
Polycarbonate
Others

Glass

Soda-lime Glass
Borosilicate
Quartz

Metal & Alloys

Aluminum
Brass
Copper
Steel

Others
By Material Type:
Nano-silver
Nano-gold
Metal Halides
Organic Nanoparticles
Nanocomposites
Metal Nanohybrids
Others
By End-Use Industry:
Automotive
Building & Construction
Consumer Goods
Food & Beverages
Medical & Healthcare
Packaging
Textiles
Others
By Region:
North America
Latin America
Europe
East Asia
South Asia & Pacific
Middle East & Africa
Frequently Asked Questions
The global antimicrobial nanocoatings market is estimated to reach a valuation of US$ 930.5 Million in 2022.
The antimicrobial nanocoatings market is anticipated to witness a growth rate of 20.3% over the forecast period of 2022 and 2032 in terms of value.
Medical & healthcare is estimated to be a key end-use industry, and the segment is set to account for about 60%-65% of the global antimicrobial nanocoatings market.
Key players in the global antimicrobial nanocoatings market are expected to account for about 40 - 45% of the overall market share.
The top countries driving the global antimicrobial nanocoatings market are China, the USA, Germany, and India.