Advancements in Rapid AST Methods and Instruments to Boost Growth of the Antibiotic Susceptibility Testing Market
Constant advancements in instruments used for antibiotic susceptibility testing have led to gaining FDA clearance for these systems. Modifications in antibiotic susceptibility testing instruments include improvements in the computer software for either providing an extended incubation period for difficult organism-drug combinations or, by using expert software to edit susceptibility test results for prevention of unwanted results from being noted.
These modifications in the instruments, at times, also allow prolonged incubation, i.e., >10 hours of test panels to ensure efficient and accurate results. For instance, oCelloScope is an optical screening system that is based on time-lapse imaging of 96 antibiotic-bacteria combinations at any given time.
This particular screening system also allows real-time detection for antibiotic susceptibility testing and bacterial growth with imaging material, which support and manage automatically-generated graphs. This antibiotic susceptibility testing system provides a fast high-throughput screening for detection in antibiotic susceptibility testing.
Rapid antibiotic susceptibility testing enables targeted therapy for any treatment, as early as possible. Growing advancements in antibiotic susceptibility testing methods are expected to boost the market growth for antibiotic susceptibility testing during the forecast period.
Direct-from-sample Pathogen Identification
Many antibiotic susceptibility testing products have been developed that are capable of providing the direct-from-sample identification of pathogens, majorly for cases in which the pathogen concentration in the sample is 103-4 CFU/ml or higher. This bypasses the requirement for isolating the colonies. For instance, certain systems, such as the Verigene Bloodstream Infection Panel by Luminex Corp, ePLEX Blood Culture ID Panel by Genmark Diagnostics, and BioFire FilmArray by Biomerieux, can provide the direct-from-sample identification of pathogens.
Majority of these antibiotic susceptibility testing systems provide information regarding the presence or absence of a particular set of genes that cause antibiotic resistance. Identifying the presence or absence of these antibiotic resistance genes also provides guidance for selecting relatively narrow spectrum antibiotics.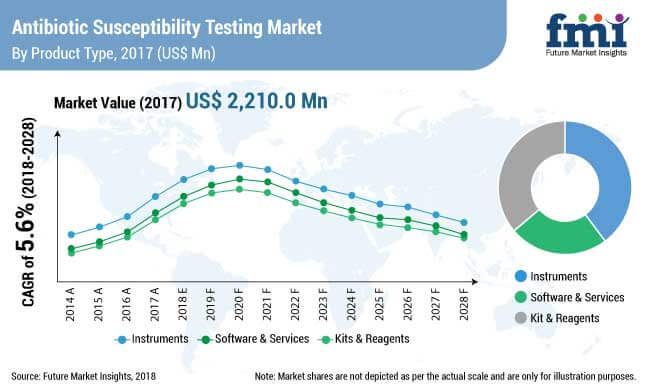 Growing Popularity of Online Distribution Channels
The widespread usage of online channels is responsible for a consistent and rapid increase in the sales of antibiotic susceptibility testing systems in recent years. According to a research study conducted in 2015, it was estimated that approximately 70% of the U.S. population relies on online shopping portals for buying various items. Hence, vendors operating in the antibiotic susceptibility testing market are focusing on online marketing and promotional strategies to increase sales and ensure better access to their devices.
The systems offered online help various vendors cut down the operational and distribution costs. Online platforms enable vendors to offer information about the devices in their portfolios as well as gain access to local as well as global markets. In addition, online marketing websites offer a wide selection of branded antibiotic susceptibility testing systems at affordable costs and attractive discounts.
Increase in Expenditure on Antibiotic Drugs
Improvements in healthcare infrastructure are expected to majorly impact the antibiotic susceptibility testing market. Increasing healthcare expenditure by governments has enabled the installation and usage of more advanced, efficient, and sophisticated antibiotic susceptibility testing systems and techniques for antibiotic susceptibility testing in healthcare facilities around the globe. For instance, the healthcare expenditure of the U.S. in terms of percentage of GDP grew from 17.2% to 17.3% from 2016 to 2018.
Competitive Landscape
The competition section of the antibiotic susceptibility testing market report features profiles of key players operating in the antibiotic susceptibility testing marketbased on their differential strategies, market shares, product offerings, company dashboard and marketing approach. Examples of some of the key players operating in the antibiotic susceptibility testing market are BD, Danaher, Thermo Fischer Scientific, Bio-Rad Laboratories, Creative Diagnostics, Accelerate Diagnostics, Alifax, Liofilchem srl, bioMérieux SA, and Merck KgaA.
Definition
Antibiotic susceptibility testing is performed as a routine to ensure efficient use of antibiotics. It determines the lowest of concentrations of new or existing antimicrobial agents and inhibits consistent and visible growth of the bacterium that is being investigated, under specific test conditions. It is the detection of possible drug resistance in some of the most common pathogens and discovery of susceptibility of the drugs of choice for particular infections.
About the Report
FMI conducted a research study on antibiotic susceptibility testing market for the forecast period 2017 to 2028. The antibiotic susceptibility testing report offers a comprehensive evaluation of the business opportunities prevailing in the antibiotic susceptibility testing market along with insights on the antibiotic susceptibility testing market evolution, market trends, developmental roadmap, antibiotic susceptibility testing technology assessment, product type recommendations based on applications and end user, and antibiotic susceptibility testing market competition. The report elaborates the macroeconomic factors influencing the dynamics of the market and its futuristic potential.
Additional Questions Answered
Some of the additional questions addressed in this report on the antibiotic susceptibility testing market-
What is the revenue potential of the antibiotic susceptibility testing market across regions of North America and Europe?
Who are the key competitors and what are their portfolios in the antibiotic susceptibility testing market?
What are the major challenges influencing the growth of the antibiotic susceptibility testing market?
How intervention from regulatory authorities is shaping the antibiotic susceptibility testing market growth?
Key Segment
Based on product type
instruments

automated broth microdilution systems
manual broth microdilution systems
semi-automated broth microdilution systems

software & services

image & analysis software
installation services

kits & reagents
Based on applications
sepsis
respiratory infections
gastrointestinal infections
meningitis & encephalitis
endocarditis
others
Based on end user
diagnostic laboratories
hospitals
research laboratories
Based on regions
North America
Latin America
Europe
Asia-Pacific
Middle East & Africa
Need specific information?
Talk Show:
The Rise of Intelligent Packaging
Personalized, Connected and Sustainable
November 18, 2021
11:00-11:45 AM PST (USA & Canada)
This is a LIVE session