Antimicrobial Wipes Market: Key Research Findings
Future Market Insights (FMI) forecasts the antimicrobial wipes market to exhibit a CAGR of 10% between 2020 and 2030
Sales of alcohol-based cleaning wipes is surging, spurred by the unprecedented COVID-19 outbreak
Demand from hospitals and healthcare centers is attributable for increasing sales of antimicrobial wipes
Legislative concerns with regards to biodegradability and quaternary ammonium used in antimicrobial wipes pose threat to growth
Antimicrobial Wipes Demand Spikes from Rising Focus on Personal Hygiene
Antimicrobial wipes will continue to remain among the highest selling all-purpose cleaning wipes. Already showcasing an impressive CAGR, the unprecedented outbreak of COVID-19 has given a big push to the market.
Despite lack of innovations wipes market has continued to grow and today it boasts a wide range. From a modest start to more consumer-centric approach, companies in wipes businesses have reshaped their strategies. For instance, against the prevailing backdrop production of antimicrobial and antibacterial wipes is prioritized.
Their sales is primarily underpinned by the surging consumption of wipes on a daily basis. Largely owing to higher disposable income and better awareness, the focus on personal hygiene has increased. With consumers seeking more convenient and time saving methods of cleaning, antimicrobial wipes have emerged as an indispensable option.
Spurred by prevailing dynamics, FMI estimates the valuation of the global antimicrobial wipes to surpass US$ 7 Bn by the end of 2020.
Market Conditions and Industry Attributes are well in Sync to Support the Market
Anti-microbial market is characterized with low revenue volatility and is also low capital intensive. The Covid-19 pandemic situation further pushed masses to adopt hygienic working and living condition, which eventually is going to translate to consistent demand. The market which are well positioned with these attributes generally possess high attractiveness and are good bet for investment.
Exhibit below illustrates the impact of different industry attributes and its regional variance.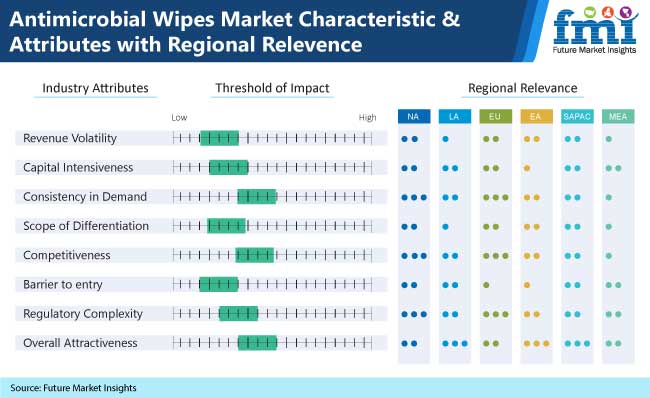 Antimicrobial Surface Disinfectant Wipes Cannibalizing Sales of Traditional Surface Cleaners
Surface disinfectant products maintain a strong footprint, bolstered by steady demand from industrial, commercial, and household sectors. Despite being relatively new in the category, the unprecedented spread of novel coronavirus has enabled antimicrobial wipe producers to get a jump start.
Steered by already existing demand, antimicrobial or disinfectant wipes are touted as a more hygienic alternative to traditional liquid floor cleaners. Evidences claiming that these wipes are tested effective in killing infections and germs are enabling growth in the segment.
Some of the prominent behemoths see this as an opportunity to expand their portfolio. A few have even taken their efforts a few notches higher by testing their products as per EPA's threshold before formally launching them in the market.
PDI for instance has launched Super Sani-Cloth® wipes, which is one of its hospital grade disinfecting products, which is being tested for efficacy as per EPA standards. Very recently, ITC also has launched multipurpose wipes under the brand called Savlon.
Future Market Insights projects that the slew of launches by leading conglomerates and the higher demand from hospitals and healthcare centers, manufacturing facilities and laboratories will result in sales uptick of antimicrobial surface disinfectant wipes.
Alcohol-based Antimicrobial Wipes Touted Safer than Cleaning Rubs
As consumers seek innovative and more hygienic ways of decontaminating, the demand for alcohol based hand wipes will rise. Until very recently, alcohol free products were more popular, following the COVID-19 outbreak, the paradigm of sanitization has shifted to alcohol based products.
Thanks to greater initiatives to spread awareness, consumers now realize the importance of alcohol based sanitizing wipes to decontaminate their hands. Alcohol based antimicrobial hand wipes are touted as effective germ killers.
FMI projects this segment to gain traction. A Special Pathogens Laboratory (SPL) study published in the American Journal of Infection and Control's November issue tells that wipes saturated with alcohol are more effective in reducing germs on hand than alcohol-based hand rubs.
Several other studies are conducted to examine the viability of alcohol-based wipes. Positive results obtained from these observations are helping the alcohol-based antimicrobial hand wipes segment gain traction.
Besides Formula, Biodegradability of Antimicrobial Wipes Will Determine their Success with Consumers
Consumers around the world are seeking improved convenience besides added benefits, especially in disinfectant wipes. There is also ample focus towards sustainability and biodegradability to address environmental concerns.
Antimicrobial wipes are considered more convenient than sprays or gels. Their fuss free and one-step design is their USP. While convenience of wipes remains one of the most appealing factors, their disposability is a concern among consumers, who may consider it wasteful.
Manufacturers are therefore leveraging innovations to attract new consumers and retain their existing ones. Besides choice of material, they are focusing on cleaning formula. In order to get registered by the Environmental Protection Agency (EPA) or Food and Drug Administration (FDA) approved, manufacturers are ensuring to eliminate any toxic formula that could pose threat to human health.
Spurred by aforementioned initiatives, the FMI projects the market for antimicrobial wipes to expand considerably in the coming years.
Expansion of Production Capacity Undertaken by Leading Players is Spelling Growth
Antimicrobial wipes are currently enjoying the spotlight due to their effectiveness in killing germs. The unprecedented spread of novel coronavirus has spurred the demand for antimicrobial wipes exponentially.
This has rendered the market highly attractive for established brands and new players alike. An increasing number of companies are speeding up their production to cater to the surging demand. A U.S. based company called Safetec of America, Inc., for instance has amplified its production of antimicrobial wipes to keep pace with the rising demand.
Impelled by the unprecedentedly surging need of consumers, another U.S. based company called GoodFibers has announced its plans of expanding its production capacity to accommodate the rising demand for antibacterial wipes.
The COVID-19 outbreak is undoubtedly spelling growth in the antimicrobial wipes market. With leading companies ploughing increased funds to production, coupled with change in consumer behavior, the market is unlikely to slow down anytime soon.
Restrictions on Using QACs Could Create Bottlenecks to Growth
Antimicrobials wipes are meant for single use. However, quaternary ammonium compounds (QACs) present can trigger side-effects. QACs are among the most common disinfectant component generally included in surface cleaners.
Some of the key drawbacks of QAC are its low efficacy against bacteria and susceptibility to high water hardness. It has therefore become increasingly important for companies to look for more effective alternatives.
Also wipes are often meant for single-use, which means they are disposed of in the nature once used. Consumers have become more conscientious hence they are looking for better biodegradability in wipes as a sustainable option.
Also, regulations curbing the use of QAC could create bottleneck for the market players, unless they shift to eco-friendlier ingredients.
Antimicrobial Wipes Market: Region-wise Analysis
FMI has identified the U.S. and Europe as the two leading markets for antimicrobial wipes. Both these markets exhibit a higher consumption of antimicrobial wipes. Spurred by the rising incidences of various infections and on an average greater awareness regarding the importance of personal hygiene have made both Europe and the U.S. highly attractive for antimicrobial wipes sellers. Also aiding expansion is the presence of a sophisticated network of distribution channel in both markets.
In the coming years however, India and China are likely to exhibit a higher rate of growth. The increasing demand in high potential markets of East Asia and South Asia is aided by better consistency of demand in both regions, coupled with lower entry barriers.
Key Players in Antimicrobial Wipes Market
The antimicrobial wipes market offers remarkable prospects for the entry of new players. The market is yet to be saturated by big brands, which has paved way for new entrants. Companies operating in the market are currently focusing on adding new features that emphasize germs killing besides promoting consumer safety.
Some of the leading players in the market are:
Americas
The Procter & Gamble Company
Crosstex International, Inc.
coVita
Hopkins Medical Products
ConvaTec Inc.
Nootie
CleanTex
Europe
GAMA Healthcare Ltd.
Teampac Oy
Prodene GmbH
Asia Pacific
Eisai Co., Ltd.
The Himalaya Drug Company
NBC Meshtec Inc.
*The list is not exhaustive, and only for representational purposes. Full competitive intelligence with SWOT analysis available in the report
Antimicrobial Wipes Market: The Way Forward
Antimicrobial wipes market is expected to record a dynamic performance in the post COVID-19 period. As a result of the increasing focus towards personal hygiene, the demand for antimicrobial wipes will surge.
Besides witnessing higher sales in hospitals and healthcare centers, the market is expected to record significant demand from household and commercial sectors. During COVID-19, most consumers will exhibit a tendency of stockpiling, thus giving tailwinds to the sales of both surface and hand wipes.
Once coronavirus passes, FMI projects the antimicrobial wipes market to continue exhibiting robust growth through the rest of the forecast period. Consumers however will become more vigilant towards ingredients used in these products.
This could result in loss of sales of certain types of wipes containing harmful or toxic ingredients. Meanwhile, those ensuring sustainability and better biodegradability will continue recording impressive sales.
Market Segmentation
Product Type
Skincare Wipes
Surface Disinfectant Wipes
End User
Hospitals/Healthcare Centers
Offices/Commercial
Food Services
Food Processing Industry
Manufacturing & Industrial
Schools & Universities
Hospitality
Grocery, Convenience Stores and Retail
Individual
Household
Nature
Sales Channel
Hypermarkets/Supermarkets
Specialty Stores
Discount Stores
Multi-Brand Stores
Online Retail Sales
Independent Departmental Stores
Other Sales Channel
Region
North America
Europe
South Asia & Pacific
East Asia
Latin America
Middle East & Africa (MEA)
Need specific information?
Talk Show:
The Rise of Intelligent Packaging
Personalized, Connected and Sustainable
November 18, 2021
11:00-11:45 AM PST (USA & Canada)
This is a LIVE session