Antimicrobial Car Care Products Market By Type (Fabric & Surface Cleaners, Foam Cleaners, Coating Shield), Vehicle Type (Passenger Cars, Commercial Cars), Sales Channel (Online, Offline) & Region - Forecast 2020 - 2030
Antimicrobial Car Care Products Market - Analysis, Outlook, Growth, Trends, Forecasts
April 2020

REP-GB-11425

189 pages
KEY RESEARCH FINDINGS
The antimicrobial car care products market value will inflate twice over 2020-2030.
Rising shift toward sanitized and hygienic environment in commercial and residential sectors would offer growth spurt to market.
Fabric and surface cleaners continue to generate greater returns to shareholders; foam cleaners to gain rapid momentum.
Manufacturers would stay glued to passenger cars, while usage in commercial vehicles will decline in the near term.
Europe continues to remain the epicentre of value-capture opportunities; market in Asia Pacific to speed up.
KEY FACTORS SHAPING ANTIMICROBIAL CAR CARE PRODUCTS MARKET
Increasing Awareness About Health and Hygiene Among Consumers
In automotive industry, there are usually lax protocols for regular cleaning. When unprotected surfaces come in contact with microbes, these microbes infect them and double every 20 minutes. Additionally, contact with sources of nutrition such as moisture can further increase the growth of microbes.
As these microbes continue to multiply on surfaces, stains and odour can occur, contributing to premature product degradation and requiring early replacement. Hence, the antimicrobial products are considered vital in car care technologies.
Furthermore, increasing awareness among consumers for hygiene and health due to increasing cases of nosocomial infections and outbreaks of life threatening diseases as well as for prevention from such diseases is projected to drive the demand growth of antimicrobial car care products during the forecast period.
Global COVID-19 Pandemic to Present Lucrative Growth Opportunities
The COVID-19 pandemic has created an unprecedented situation, globally, compelling several industries to undergo total shutdown. The pandemic has highlighted the need for practising hygienic and cleaning habits to stay protected from deadly viral infections.
This presents a huge opportunity for the global antimicrobial car care products market. With people looking for ways to keep themselves and their belongings safe from viral infections, the antimicrobial car care products manufacturers can tap into growing demand for anti-bacterial and anti-microbial cleaning solutions for automotive customers.
Booming Demand for Car Wash Technologies
Antimicrobial car care products market is witnessing growth spurt, owing to rising shift towardof water-based solvents, consumer awareness regarding vehicle maintenance, and inflating automotive fleet. Europe and North America account for leading share in the antimicrobial car care products market, given strong presence of leading automotive manufacturers in these regions and consumer proactiveness for hygiene-related issues. East Asia is expected to witness highest growth rate on account of rise in private vehicle ownership, and advancements in car wash technologies.
ANTIMICROBIAL CAR CARE PRODUCTS MARKET STRUCTURE ANALYSIS
The global antimicrobial car care products market is fairly fragmented, with presence of several regional and local players in the market. However, rapid penetration of small and medium enterprises (SME) across the world is intensifying the market competition.
Biocote Ltd, 3M Company, Microban International, Sanitized AG, Biopledge LLC are some of the prominent players in the global antimicrobial car care products market.
Tier-I players in antimicrobial car care products market are focusing on enhancing R&D capabilities and expansion of manufacturing capabilities to comply with increasing demand worldwide.
Base Year - 2019
Historical Period - 2015-2019
Forecast Period - 2020-2030
Market Value in 2019 - US$ 159.2 Mn
Segments Covered - Type, Vehicle Type, Sales Channel
Regions Covered - North America, Latin America, Europe, South Asia & Pacific, East Asia, and Middle East and Africa
Key Companies - Biocote Ltd., 3M Company, Microban International, Sanitized AG, Clean Control Corporation, Adam's Polishes, GardGroup Inc., Ziebart International Corporation, Biopledge LLC, Dow Chemical Company, Clariant AG, Addmaster (UK) Ltd., Clorox Professional Products Company.
Growth Drivers

Expanding on-road vehicle fleet
Flourishing car sharing and car rental services
Elevated awareness regarding health and hygiene due to COVID-19 spread
Fabric & Surface Cleaners Remain Sought-after
Easy availability, and low-cost attributes of fabric & surface cleaners are making them a preferred category to invest in antimicrobial car care products market. While fabric & surface disinfectants carve out a substantial share in overall market revenue, their adoption will dampen over due course of time. Foam cleaners offer better output compared to other antimicrobial car care products. Although these products generate relatively lesser total returns to stakeholders, they will experience swelling demand growth in the near term.
Rise in COVID-19 Cases in Europe and APAC to Attract Stakeholders
The exponential spread of COVID-19 has compelled governments across the world to impose travel bans, in-house quarantines, and at-scale hygienic measures in every sphere. As epidemiological numbers are outperforming in Europe, at present, players in antimicrobial car care products market continue to cite prospective avenues in the developed region.
The trend is similar in Asia Pacific (APAC), especially in China, which is again witnessing a notable upsurge in confirmed cases, and India, where government has been proactive in ensuring optimum hygienic surroundings. As such, antimicrobial car care product manufacturers are viewing APAC for material revenue growth.
Online Sales Channel - An Immediate Imperative
Online sales channels provide umpteen benefits such as easy selection from a wide array of products with price comparison option. As the COVID-19 spread has nearly paralyzed physical distribution of antimicrobial car care products, market players are aggressively moving toward online sales platforms to sustain their business footprint. While offline channels would remain conventional sales medium, short-term impact due to the pandemic is paving way for online sales channels. Further, players are offering antimicrobial car care products at discounted prices to enhance their customer base.

How Growth will Unfold
Manufacturers continue to allocate their capitals to passenger cars, given rising trend of private vehicle ownership and growing car-pooling and rental car services. About 7 out of 10 antimicrobial car care products would be used in passenger cars, and the trend will trace a positive trajectory over the projection period.
Application of antimicrobial car care products in commercial cars, on the other hand, is poised to slide in the years ahead. This study further underscores that, value creation from passenger cars would be over thrice that from commercial cars.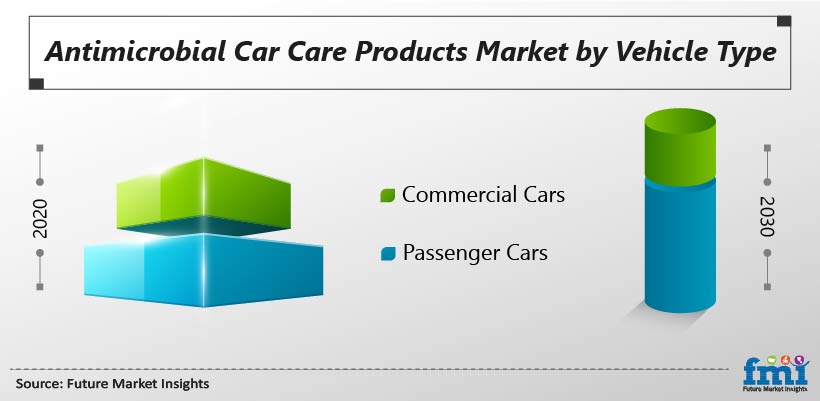 World's Most Profilic Intelligence Engine
Get Access To The World's Largest Market Research Database.
Sign Up Now
ANTIMICROBIAL CAR CARE PRODUCTS MARKET TAXONOMY
Type
Fabric & Surface Cleaners
Foam Cleaners
Coating Shield
Vehicle Type
Passenger Cars
Commercial Cars
Sales Channel
Region
North America
Latin America
Europe
East Asia
South Asia & Pacific
MEA
Need specific information?
Our Clients