Lentil Protein Market Outlook & Key Findings
Future Market Insights (FMI) forecasts the global lentil protein market to expand at a CAGR of 4.9% over the forecast period (2020-2030)
Application of lentil protein is rising among food, sports nutrition, nutraceutical, and infant formula products
Dry processing accounts for more than 65% of the market in 2020, owing to its myriad applications over wet processing
As of 2020, lentil protein isolates hold over 45% volume share against other product types
Increasing Demand for Allergen-Free Natural Products
New opportunities for lentil protein-based food products have arisen due to an increase in demand for allergen-free ingredients, supported by both environmental and nutritional concerns.
The global demand for plant-based protein in formulated foods is growing significantly and the trend is unlikely to settle down in the near future. Therefore, as a result of changing consumer preference the sales of allergen-free nutrition products will continue increasing across the globe.
According to the Food and Drug Administration (FDA) and the Centers for Disease Control & Prevention, around 10% population of the U.S i.e. 32 million people in the country suffer from some form of food allergy.
More than 170 food products have been reported to cause allergic reactions. These reactions are majorly caused by peanut, egg, soy, shellfish, milk, tree nuts, and fish. Lentil protein on the flip side offers elevated nutrient profile and better resistance to allergy causing triggers.
Lentil Protein Sees Lucrative Prospects as Emerging Nutraceutical Supplement in Sports Nutrition
Lentil protein powder is very nutritious and is considered for its many benefits to human health. This powder also can help build muscles thus complement resistance training.
Having an impressive muscle mass is a common trend among modern consumers. The highly popular body-building culture has created market for various supplements, which is invariably spurring growth prospects for the market.
Lentil protein is a non-GMO vegetable protein and an ideal source of post-workout nutrition for athletes who may face difficulty in gulping down other types of protein.
Manufacturers of lentil protein are aiming at lucrative opportunities in the sports nutrition segment. Driven by the rising focus on health and fitness, lentil protein has found way into sports nutrition and supplement market.
Demand for Quality Livestock Feed Creates Lucrative Growth Opportunities
Quality has become an important factor in the global animal feed industry. Until a few years back, the industry focused little on the feed quality, however, tables have now turned for the better.
Awareness pertaining to the importance of maintaining livestock health and evolving consumer perception regarding quality of food derived from livestock have compelled the industry to invest in better quality feed.
The demand for high quality and nutritious protein ingredients is therefore rising. Lentils are considered an incredible source of high amount of proteins for livestock, which help in their proper development and better yield. As a result, the demand for lentil protein for livestock consumption is forecast to
Alternative Proteins to Emerge as Strong Competitors for Meat-based Products
Plant-based protein is gaining popularity and is expected to enjoy the spotlight in the near future. The consumption of traditional meat products is still high but concerns about sustainability and animal well-being are increasing.
Awareness regarding potential health benefits of alternative protein will result in lentil protein sales uptick. Research and development initiatives undertaken by leading companies to explore potential application of lentil protein will further boost the market in the coming years.
Strategies adopted by start-ups such as Beyond Meat and Impossible Foods have been crucial to the change witnessed in the meat industry. Changing consumer preference also has compelled behemoths such as Tyson Foods and Nestlé to enter this segment of alternative proteins.
Rising Adoption of Veganism and Vegetarianism Lifestyle to Boost Botanicals Trend
Increasing incidence of obesity, diabetes, and heart diseases has created awareness among consumers who are now looking for healthy food with reduced amount of sugar, salt, fats, and calories. Ethical and religious reasons have created a demography of vegans looking for plant-based protein.
Aiding the expansion of the market are scientific studies presenting related observations. These studies suggest that excessive consumption of meat, especially red meat can increase the chances of cardiovascular diseases.
These factors are encouraging the adoption of veganism and vegetarian habits. Health-conscious consumers are in search of botanical ingredients offering various health benefits.
This shift in preference and conscious decisions of moving away from food containing synthetic ingredients will create lucrative growth prospects for lentil protein market.
Regional Analysis
Europe and North America remain the most lucrative markets for lentil protein companies globally. However, East Asia and South Asia are expected to higher and more lucrative growth opportunities in lentil market during the forecast period.
According to a vegan society, in the U.K, the demand for meat-free products grew by 987% in 2017. The number of vegans quadrupled between 2014 and 2019. In 2019, around 1.16% population of the U.K. were vegan and their number is expected to increase rapidly in the near future. These statistics give a clear indication of impressive growth on card for market participants.
According to FMI, over the last three years, the sale of vegan products has increased widely in the U.S. This has created ample opportunities for the expansion of lentil protein market in North America.
In Asia Pacific, consumer preference for plant-based products is rising due to which the market is expected to witness significant growth in the near future.
In Latin America and the Middle East, awareness regarding benefits of a healthy lifestyle and nutritious food is rising which expected to drive the market.
Globally, the use of lentil flour is expected to increase across bakeries and confectioneries. Their use for the production of snack products will increase as well because the increasing demand for gluten-free, organic, and vegan food products.
However, the price of lentil flour is on the higher side as compared to protein isolates and concentrates, which may restrict expansion of the market to an extent.
The price of lentil protein is high in North America and Europe as compared to other regions. Food manufacturers in North America and Europe are focusing on launching innovative vegan bakery, snacks, confectionery, and breakfast cereals products due to which use of lentil protein is increasing in these regions.
The graph below demonstrates that despite pricing difference, key regions show a certain degree of similarity between the variance of price of various products.
For instance, the price of flour is higher than protein isolates across every regional segment. Meanwhile, protein concentrates are lower in price than other products in every regional segment.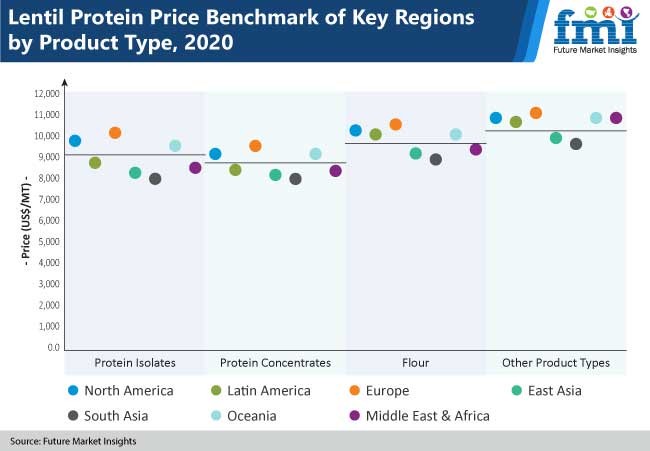 Leading Players in Lentil Protein Market
With an estimated 50+ lentil protein players with environment friendly packaging, and variety of claims such as organic, non-GMO, gluten-free and allergen-free etc., below are some of the key players in the lentil protein market.
Americas
Archer Daniels Midland Company
Cargill Inc.
Parabel USA Inc.
Henry Broch Foods.
Ingredion Inc.
BI Nutraceuticals, Inc.
Europe
Biorefinery Solutions
GEMEF Industries
Vestkorn Milling AS
Asia Pacific
Snacking and On-the-go Trend is New Normal for Consumers
Due to a busy and fast-paced lifestyle, eating habits of consumers are changing. Consumers are not following conventional three times meal, instead they are inclined towards snacking whenever hunger strikes.
However, consumers are becoming attentive about their snacking choices. They prefer healthy snacks with natural, organic, nutritious ingredients, free-from claims, and labels that are necessary for maintaining a healthy lifestyle.
Consumers are more interested in snack products that offer clean and clear labels. Plant-based snacks fulfill all the aforementioned requirements. Lentil protein is used in plant-based snack products to improve its nutritional content and shelf life. The rising consumption of plant-based snack products is therefore driving the lentil protein market.
Key Segment
By Product Type
Protein Isolates
Protein Concentrates
Flour
Other Product Types
By Nature?
By End Use
Food Processing

Bakery & Confectionery
Meat Alternatives
Functional Foods
Dairy Replacements
Infant Foods
Other Food Applications

Animal Feed

Livestock
Pet Food
Aquafeed

Nutraceuticals
Sports Nutrition
Infant Nutrition
By Processing Type
Dry Processing
Wet Processing
By Region
North America
Latin America
Europe
East Asia
South Asia
Oceania
MEA
Need specific information?