About the Report
Light therapy devices are acquiring center stage in the global healthcare domain. Over the years, high incidence of individual depression and the subsequent rise in insomnia and disrupted sleep cycles have generated a wide platform for enhanced sales of advanced treatment devices deploying high quality ultraviolet light to treat these disorders.
Opportunities are expected to be lucrative with respect to red light therapy treatment amid its perceived enhanced efficacy levels as it penetrates deep into the cell to yield more effective results. Furthermore, healthcare settings are more inclined towards portable, lightweight and handheld light therapy devices amid demand for enhanced comfort and precision whilst performing the therapeutic procedure.
In its new study, ESOMAR-certified market research and consulting firm Future Market Insights (FMI) offers insights about key factors driving demand for light therapy equipment. The report tracks the global sales of light therapy equipment in 20+ high-growth markets, along with analyzing the impact COVID-19 has had on the healthcare industry in general, and light therapy equipment in particular.
How Historical & Future Outlook for Light Therapy Market Compare?
The global light therapy market has posted substantial gains in the past, majorly underpinned by increasing applications across a broad spectrum of healthcare applications. These typically range from treating a multitude of skin disorders to ensuring good psychological well-being of patients. Light therapy is widely popular for proving effective in addressing seasonal affective disorders, especially in the developed world.
Significant opportunities were discovered amidst the peak of the COVID-19 pandemic crisis. A recent study conducted by a team of scientists from the United States determined the efficacy and safety profiles of ultraviolet-A (UVA) light applied via an endotracheal tube to critically ill patients, with highly positive results. Hence, clinicians are hopeful of discovering a potential breakthrough in terms of eradicating this deadly infection.
According to FMI's estimates, the market is expected to perform significantly well in the short-run forecast period, surpassing US$ 1 billion by the first half of this decade. It is apprehended that the global burden of depression is expected to double by 2030. Hence, immense growth opportunities are in store for prominent light therapy providers.
How are Rising Depression Cases Pivoting Light Therapy Market Growth?
Depression is a common illness worldwide, impacting more than 264 million people as of 2020, according to a report published by the World Health Organization. Since 2016, mental and addictive disorders impacted over a billion people, comprising 7% of all global burden of disease as measured in disability adjusted life years (DALYs).
Also, according to the US National Institute of Mental Health (NIMH), around 52 million adults, or one in five of all people, suffered from mental illnesses as of 2019. The prevalence was higher among females (24.5%) than males (16.3%), with young adults aged 18-25 years having the highest prevalence at nearly 30%.
If untreated, mental disorders and depression are estimated to contribute to economic losses of US$ 2.5-8.5 trillion globally, a figure likely to double by 2030, according to World Bank estimates. Hence, the popularity of light therapy is expected to incline massively in the future. Light therapy products are known to alleviate seasonal affective disorders (SADs) in particular, by enhancing serotonin levels.
Will Surging Insomnia Cases act as a Growth Catalyst?
As people increasingly lead sedentary lifestyles, sleep disorder incidences are experiencing a significant incline. The American Sleep Association forecasts that 50-70 million US adults have a sleep disorder, with chronic insomnia accounting for a tenth of overall sleep disorders. Furthermore, 37% of 20-39 year olds report short sleep duration, while 40% of them belong to the 40-59 year old category.
Globally, insomnia incidences amount to 10-30% of the global population, sometimes reaching as high as 50-60%. The consequences of insomnia are significant, such as depression, impaired work performance, work related or motor vehicle accidents, and overall poor quality of life. Fortunately, this condition is preventable with a variety of treatment alternatives available.
Light therapy is one such approach, as it is known to correct an individual's circadian rhythm, which is a part of the body's internal clock that causes one to feel alert and awake during the daytime and sleepy at night. When used correctly, light therapy can encourage a circadian rhythm reset which may help improve sleep outcomes. Numerous players have emerged at the forefront of insomnia addressing light therapy, with players such as Re-Timer offering a sleep inducing devices for insomniacs and night shift workers.
What is the Scope of Light Therapy in Addressing Dermatological Ailments?
According to a study published by the National Center for Biotechnology Information in 2013, skin conditions contributed to nearly 2% of the total global burden of disease as measured in disability adjusted life years (DALYs). Skin and subcutaneous disorders were the 4th leading cause of non-fatal disease burden. Dermatitis resulted in the greatest burden, costing 9.3 million DALYs.
The World Health Organization noted in 2016 that the reported prevalence of psoriasis worldwide ranged between 0.09% and 11.43%, making it a serious problem. In the United States, it affects about 7.4 million people. Also, 30-33% of people with psoriasis go on to develop psoriatic arthritis, while guttate psoriasis affects 8% of the people with this condition, while plaque psoriasis comprises constitutes 80-90% of the cases.
Consequently, numerous therapeutic approaches, including light therapy, has emerged as an effective way of treating skin disorders. Prominent players engaged in offering phototherapy for skin ailments include Cigna Corporation, Manhattan Dermatology, USF Health, Philips Lighting, Lucimed, and Sphere Gadget Technologies among others.
Possible Skin Damage due to Exposure to UV-Light to Hinder Expansion Prospects
Light therapy has indeed made significant strides when it comes to skin treatment and depression. Even though this type of treatment is generally very safe, negative effects may occur. As a consequence light therapy, patients can complain of irritability, headaches, eye strain, sleep disturbances and insomnia.
A major concern highlighted by clinicians and practitioners alike apprehend that undergoing light therapy heightens the risk of UV light exposure, which may lead to undesired patient outcomes. For instance, the radiation can dry on the skin and cause itching. Moreover, prolonged exposure can increase the risk of developing skin cancers. All these aforementioned factors are likely to present significant challenged to future light therapy market expansion.
Country-wise Analysis
How is Seasonal Affective Disorder Prevalence Driving Sales across the US?
According to the American Psychiatric Association, seasonal affective disorder (SAD) affects 5% of all adults which typically lasts for 40% of the year. SAD has been linked to a biochemical imbalance in the brain prompted by shorter daylight hours and less sunlight in winter. While it may begin at any age, the most frequently occurring range is between ages 18 and 30.
Additionally, around 10 to 20% of the population suffers from a milder form of this depression, with a tenth of them beginning to experience symptoms since the beginning of summer. It is especially concerning as sleep patterns have been widely disturbed. Studies have shown that 16% of patients suffer from frequent nightmares, while a quarter of them suffer from insomnia.
Consequently, various therapeutic approaches have been investigated, including increasing intake of Vitamin D. Medical practitioners advocate that day light therapy can improve mood in 60 to 80% of SAD patients. Attributed to such a rise in depression cases, the scope for light therapy is increasing with each passing day, attracting prominent solutions providers. Daavlin is a prominent SAD light therapy solutions provider, offering the M-Series, 7-Series and UV-Series equipment among others.
Why are Service Providers Likely to Gain Ground in the UK?
The UK market is likely to present credible growth opportunities for prominent light therapy solutions providers. Key players are especially finding revenue streams in the SAD domain. According to the National Health Service, 1 in 15 people suffer from SAD between September and April, according to a survey conducted by them.
Only 5% of the study's respondents claimed that they felt happiest in winter- compared to 46% who said that their mood was the best in summer. Moreover, over half of the respondents said they felt unhappier between November and February, with nearly 3 out of 5 claiming it was due to inadequate sunlight. Also, nearly 30% of them said that their SAD levels arose due to insufficient sleep during winters.
Attributed to these statistics, numerous manufacturers have penetrated the UK landscape in recent years. Some prominent products launched include Philips' EnergyUp light, Lumie Bodyclock Shine 300, Beurer TL100 light, Lumie Brazil SAD light, Diamond 5 SAD lightbox, Lumie Desklamp, and Lumie Vitamin L SAD light to name a few.
Germany to Open New Frontiers in Photodynamic Therapy?
German clinics and hospitals are increasingly relying on photodynamic therapy (PDT), a highly promising alternative cancer therapy which is gaining significant momentum. This is in addition to chemotherapy, radiation and surgery to remove malignant tumors. This approach is also being expedited to non-cancer therapies as well.
For instance, German Medical Engineering (GME) offer the MultiLite®: Indoor Daylight PDT which offers an almost painless and controlled approach to address multiple dermatological problems. The MultiLite emits only the spectrum of the natural daylight, starting with blue (415 nm, low penetration depth), transitioning to yellow (585 nm, middle penetration length), ending with red light at 635 nm high penetration depth, and is suited for treating eczema (yellow light) and acne (blue light).
Similarly, Dr. med. Reinhard Petkar offers PDT for the treatment of skin cancer precursors. Additionally, it offers laser therapy for rosacea/couperose. It deploys a modern diode laser which makes it possible to treat enlarged blood vessels gently. The company also offers fractional laser therapy for skin rejuvenation by effectively treating wrinkles and visible skin.
How is High Prevalence of Sensitive Skin driving Uptake across India?
Sensitive skin is a frequent condition, affecting several people throughout the world. According to a study published in 2019, nearly 28% of men and 37% of women declared having sensitive or very sensitive skin. The latter category is more susceptible to conditions such as atopic dermatitis, acne, psoriasis and vitiligo. Moreover, they are 2 to 3 times more reactive to climatic and environmental factors, cosmetics and food intake.
Overall, the study concluded that over a third of the Indian population suffers from various forms of dermatological disorders. Attributed to these trends, the scope for light therapy to treat dermatological problems in India is immense. Recently, in February 2021, Dr. Batra's introduced Derma Heal, a first-of-its-kind, easy and pain free skincare solution to its patients.
This treatment approach combines the positive impacts of UVB light rays and homeopathy to treat skin diseases naturally and safely, deploying UV radiation of bandwidth ranging from 311 to 312 nm. The clinic aims to achieve an over 90% success rate with this approach, as opposed to 60% while relying on conventional methods.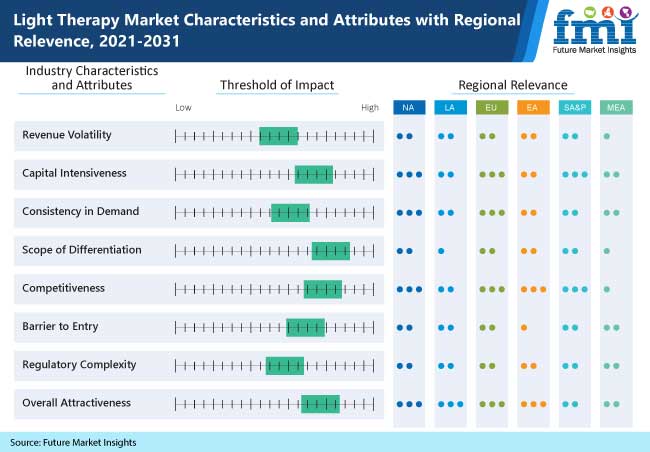 Category-wise Insights
Why are Handheld Devices for Skin Treatment Highly Popular?
Based on product, demand for handheld devices for skin treatment is expected register a considerable incline, attributed to the growing need for portable and precision based devices to treat various dermatological ailments. These devices deploy LEDs to manage such problems as acne and prevention of fine lines or ageing.
The popularity of handheld devices is likely to augment through 2021, given a series of product launches expected to take place throughout the year. Prominent light therapy devices likely to be launched include Aphrona's LED therapy device Facial Skin Care Mask, Skin Clinical's LED Light Therapy Device for Face, Project-E's Beauty RED Light Therapy Machine and RedTronic's Red Light Device among others.
How is Red Light expected to Enhance Light Therapy Prospects?
By light type, red light therapy is likely to experience rapid uptake in forthcoming years, attributed to its ability to strengthen mitochondria by inducing a biochemical effect within cells. It is concluded that red light therapy can lead to enhance production of adenosine triphosphate (ATP). It is thought to promote wound healing and tissue repair, improves hair growth and correct sun damage.
Notable developments have occurred with respect to red light therapy deployment. For instance, in 2019, PhotonMD Inc., an innovative photomedicine device company, announced the launch of its REVIAN RED system, an FDA approved OTC light therapy system for treating androgenetic alopecia both among men and women.
Will Dermatology Clinics Emerge as the Primary End-Users?
Increasing incidences of dermatological disorders worldwide is generating significant demand for highly effective light therapeutic treatment approaches. A 2013 study on the global skin disease morbidity and mortality revealed a prevalence rate of nearly 2%. Hence, the number of dermatology clinics have compounded, rendering them one of the most extensive users of light therapy.
Daavlin Solutions, a prominent phototherapy solutions provider for psoriasis & vitiligo, offers the DermaPal UV Phototherapy which is extensively chosen by dermatologists and their patients to alleviate or eliminate common symptoms of psoriasis, vitiligo, eczema, atopic dermatitis and other photo responsive dermatoses. The contraption is small enough to discreetly carry anywhere and plugs into any standard electrical outlet, ensuring that not a single treatment is missed.
Competitive Landscape
Market players rely on a slew of expansion strategies including mergers & acquisitions, partnerships, innovations translating into new product launches and capacity expansion initiatives among others. Koninklijke Philips N.V., for instance, offers the Philips BlueControl wearable blue LED light therapy device to treat psoriasis vulgaris which helps reduce acceleration of keratinocytes, thereby decreasing inflammatory response.
Likewise, Verilux Inc. offers a series of light boxes which mimic daylight by providing full spectrum light without emitting ultraviolet radiation. This full spectrum, or natural light, provides important signals to the body to help relax, focus and revitalize. The product offering is commercially known as HappyLight®.
PhotoMedex Inc. is another prominent player, largely specializing in dermatology disorders treatment through light therapy. Its XTRAC Lasers have come to be recognized by dermatologists worldwide as the market leader in the treatment of psoriasis and vitiligo. These lasers offer a safe and painless therapy by deploying a targeted, super-narrow UVB band to affected areas.
According to FMI's analysis, the following companies are operating in the global light therapy market*:
Koninklijke Philips N.V.
Verilux Inc.
Northern Light Technology
Sphere Gadget Technologies
Zepter International
PhotoMedex Inc.
Luminette,
Klarstein,
Lumie
Aura Daylight
*This list is indicative - full details about prominent light therapy market players is available upon request
Light Therapy Market - Report Scope
Attribute

Details

Forecast Period

2021-2031

Historical Data Available for

2016-2020

Market Analysis

US$ Mn for Value & '000 Units for Volume

Key Regions Covered

North America, Latin America, Western Europe, Eastern Europe, Middle East & Africa, APEJ and Japan

Key Countries Covered

US, Canada, Brazil, Mexico, Germany, Italy, France, UK, Spain, Nordics, BENLUX, Russia, Poland, China, India, ASEAN, Australia & New Zealand, Japan, GCC, Northern Africa and South Africa

Key Segments Covered

Product, Light Type and End-User

Key Companies Profiled

Koninklijke Philips N.V.
Verilux Inc.
Northern Light Technology
Sphere Gadget Technologies
Zepter International
PhotoMedex Inc.
Luminette
Klarstein
Lumie
Aura Daylight

Report Coverage

Market Overview, Segmental Analysis, Regional Profiling and Competition Analysis

Customization & Pricing
Key questions answered in the report
How will the light therapy market expand in 2021 and beyond?

The global light therapy market is anticipated to experience credible gains through 2021 amid increasing applications across dermatological treatment and mental health domains respectively. Growth prospects are further fueled amid a series of studies establishing light therapy's effectiveness in easing the inflammation caused by COVID-19

Which key factors shall drive the light therapy market growth?

According to FMI's analysis, the global light therapy devices market growth is largely reliant on its extensive applications in treating patients suffering from acute depression and disrupted sleep patterns. Moreover, red light therapy is expected to be the most preferred approach, attributed to its effectiveness in addressing potential skin ailments

Which is the most likely light therapy devices manufacturing hub through 2021?

The US is anticipated to experience high growth, owing to the high prevalence rate of seasonal affective disorders (SADs) which is leading to increased visits to diagnostic centers and hospitals, thereby inducing demand for light treatment

Which prominent players operate within the global light therapy market?

Koninklijke Philips N.V., Verilux Inc., Northern Light Technology, Sphere Gadget Technologies, Zepter International, PhotoMedex Inc., Luminette, Klarstein, Lumie and Aura Daylight are some leading light therapy market players
Light Therapy Market by Category
By Product
Light Box
Floor and Desk Lamps
Light Visor
Dawn Simulator
Light Therapy Bulbs
By Light Type
White Light
Blue Light
Red Light
By End User
Dermatology Clinics
Homecare Settings
Others (Workplace, Salons)
By Region
North America
Latin America
APEJ
Western Europe
Eastern Europe
Middle East & Africa
Japan
Need specific information?
Talk Show:
The Rise of Intelligent Packaging
Personalized, Connected and Sustainable
November 18, 2021
11:00-11:45 AM PST (USA & Canada)
This is a LIVE session