Lightweight Compact Wheel Loader Market By Product (Compact Track loaders, Skid Steer Loaders, Backhoe Loaders, Wheeled Loaders), Application (Construction, Agriculture & Forestry, Industrial, Utilities) & Region - Forecast to 2020 – 2030
Lightweight Compact Wheel Loader Market - Analysis, Outlook, Growth, Trends, Forecasts
April 2020

REP-GB-11429

200 pages
LIGHTWEIGHT COMPACT WHEEL LOADER MARKET - KEY FACTORS
A Shift from Manual to Electric Compact Wheel Loaders
[200 Pages Report] Lightweight compact wheel loaders are majorly allied with increasing construction industry and construction spending in different regions. Developing countries, such as China, India, and Brazil, are expected to be noticeable contributors to the growth of the global lightweight compact wheel loader market in the coming years.
The compact construction equipment industry contains products that are robust, small, can fit into smaller places, versatile, and cost effective, increasing adoption of lightweight compact wheel loaders.
With the increasing construction of new buildings and Infrastructure development projects in different regions, there is an increase in demand for lightweight compact wheel loaders. Electric compact wheel loaders improve productivity and efficiency of construction and provide better working capacity, which enhances the sales of lightweight compact wheel loaders.
Large-scale Infrastructure Projects to Create Noteworthy Demand
Several large-scale infrastructural projects, development programs & infrastructural projects by governments, as well as key events such as Expo 2020 in the United Arab Emirates and Al Qiddiya, Sound Transit 3 (ST3) Construction Project, Neom project in Saudi Arabia, and many other, are expected to majorly contribute to the rise in demand for lightweight compact wheel loaders in the coming years.
Lightweight compact wheel loaders are estimated to witness noteworthy demand in GCC countries, particularly motivated by increase in capital expenditure for construction activities and mega infrastructure projects scheduled in different regions. Moreover, widespread investments in the core industrial sector and ongoing investments in large-scale infrastructure projects are expected to drive demand for lightweight compact wheel loaders in the foreseeable future.
Adverse Impacts of COVID-19 Pandemic
The COVID-19 or coronavirus pandemic has affected majority of the countries in Europe and Asia, with North America expected to follow soon. The pandemic resulted in drastically hampering the global economy and shutdown of industrial and commercial activities. COVID-19 is negatively impacting the long term supply contracts of the lightweight compact wheel loaders. The market is estimated to recover slowly within one to two years.
Moreover, lightweight compact wheel loader rental businesses also face losses in income. For instance, according to the survey of The American Rental Association (ARA), rental revenues are deteriorating and are estimated to significantly worsen in the coming months.
LIGHTWEIGHT COMPACT WHEEL LOADER MARKET STRUCTURE ANALYSIS
The global lightweight compact wheel loaders market is highly competitive due to presence of large number of players. Doosan Corporation, Wacker Neuson SE, Hitachi Construction Machinery Co. Ltd, CNH Industrial N.V., are Tier-I players involved the global lightweight compact wheel loader market.
The market participants in the lightweight compact wheel loader market are aiming to their focus on technological development, product development, and acquisition in order create dominance in the market
Compact Track Loaders to Remain Top Selling Category
Compact track loaders will continue to take their rightful place on construction sites and landscaping projects, owing to tight turning radiuses and enhanced maneuverability. Accounting for nearly 2/5th of the total sales, manufacturers have specifically focused on this category.
Another factor responsible for compact track loaders' popularity is the electro-mobility. Lightweight nature of the product has accelerated manufacturers' move from diesel to electric solutions. However, COVID-19 - a global crisis evolving at unprecedented speed and scale - is set to cause disruptions to demand for lightweight compact track loaders as well as backhoe loaders.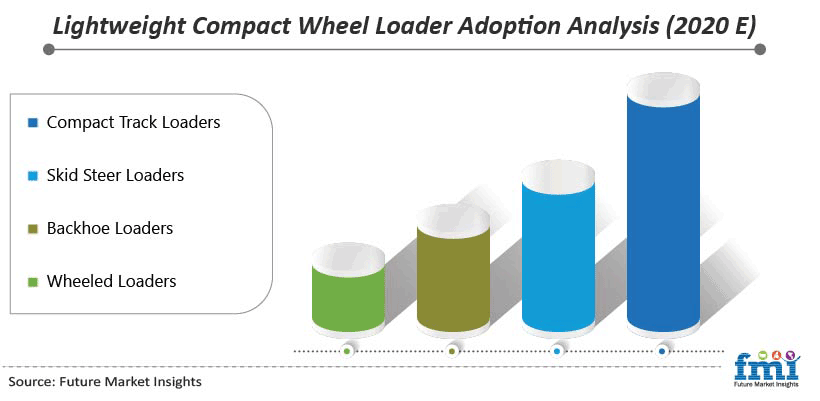 Leading Europe's Market to Witness Significant Decline in Sales
Europe has long been a dominant market for a wide variety of industrial equipment, contributing significantly to the global economy. However, the regional market is seeing sustained standstill in 2020, as the COVID-19 crisis adds layers of complexity to manufacturing and supply chain operations with customers facing similar challenges.
The impact is also noticeable on the lightweight compact wheel loaders market, and it is expanding as the virus spreads and EU5 emerges among the worst-hit countries. North America is also likely to remain one of the most affected regional markets, while signs of recovery are expected to appear in Asia Pacific with reopening of factories in China.
Sustainability vs. Pandemic Crisis - A Challenging Area of Manufacturers
Intense global focus on sustainability, due to rapidly rising carbon emissions and environmental issues, has been favoring the demand for lightweight compact wheel loaders with reduced fuel consumption. Manufactures continue to add new capabilities to set their products apart from the competition and innovations had been forthcoming for methane-powered and battery-driven compact wheel loader concept.
However, the COVID-19 pandemic's effect on these manufacturers has been massive, and sales of these products are vulnerable in the current crisis, due to higher price tag and expansive shutdowns of both manufacturing operations and end-use industries. Manufacturers are thus hard-pressed to take immediate measures to preserve the integrity of their operations and prepare for the future post COVID-19.

How Growth will Unfold
Highly influenced by the 'versatility' and 'sustainability' quotient, lightweight compact wheel loaders have been garnering significant traction as the most preferred among construction workers. While the construction industry continues to influence growth strategies, accounting for 41% of the total demand, manufacturers are eyeing lucrative opportunities in other application areas such as utilities and agriculture & forestry.
Moreover, these manufacturers are targeted towards offering tailor made products to meet the needs of specific operating conditions. However, the current crisis is highly likely to cause market stakeholders to revisit their growth strategies, take a longer-term view, and think through the post COVID-19 implications for business continuity.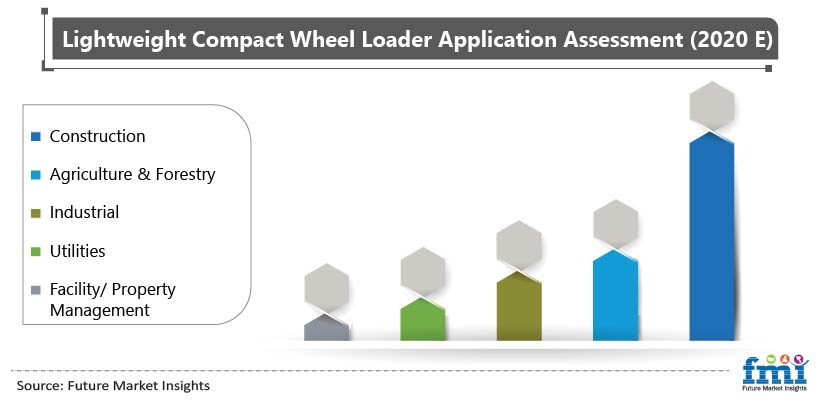 World's Most Profilic Intelligence Engine
Get Access To The World's Largest Market Research Database.
Sign Up Now
LIGHTWEIGHT COMPACT WHEEL LOADER MARKET TAXONOMY
Product
Compact Track loaders
Skid Steer Loaders
Backhoe Loaders
Wheeled Loaders
Application
Construction
Agriculture & Forestry
Industrial
Utilities
Facility/ Property management
Region
North America
Latin America
Europe
East Asia
South Asia & Pacific
MEA
Need specific information?
Our Clients