Introduction
Linings are insulating and protective layers applied inside a tank, pipeline and/or furnace. Tank linings provide corrosion control for the substrate and maintain the purity of the stored product. The linings increase the service life of the substrate while also guaranteeing optimum product storage quality. Forming an impermeable barrier between the substrate and stored liquid, the linings provide corrosion resistance and help in maintaining the toughness of the substrate. Linings are used in several applications, such as marine, oil & gas, power generation, chemical industry, automotive, construction and mining and metal processing, among others.
The global linings market is estimated to be valued at US$ 3,958.7 Mn by 2018 end and is expected to reach US$ 5,820.8 Mn by 2028 end while expanding at a CAGR of 3.9% over the forecast period. The global linings market is anticipated to represent incremental opportunity of US$ 1,862.1 Mn between 2018 and 2028.
Marine and Chemical Industry Segments to Register Significant Value and Volume CAGR Among All End Use Segments
Linings market is mainly being driven by fast paced industrialization and growing marine trade. Though growing at a sluggish rate, seaborne trade still makes up around 80% to the total international trade volume and over 70% to the total international trade value. Marine trade is the most cost effective way of transporting heavy and bulk goods, especially liquid cargo, around the world. The global shipbuilding industry is also experiencing an upward surge. The Shipbuilding industry is involved in the designing and manufacturing of new vessels and maintenance, repair and overhaul (MRO) services of existing ones.
Since both newer and older marine vessels are due for maintenance, the demand in the linings market is estimated to grow at a fast pace. Further, the chemical industry generated a revenue of over US $3.5 trillion and is estimated to grow at a CAGR of 3% and reach a value of over US$ 5.05 trillion by the end of 2028. Setting up new facilities and increasing the volumetric production capacity of existing plants, especially in Asia Pacific countries, such as China, India and ASEAN countries, will be a contributing factor to this growth and eventually help drive the linings market over the forecast period. Thus, increasing industrialization will help drive the linings market over the forecast period.
Apart from this, the linings market is experiencing volatile alterations in raw material prices, especially for epoxy and polyurethane, which sets an auxiliary pressure on the manufacturers and suppliers to increase the prices of finished linings goods. Also, environmental regulations across the world over VOC content of linings may potentially hinder the growth of linings market throughout the forecast period.
Waterborne Segment Is Expected to Grow at a Decent pace over the Forecast Period
On the basis of chemistry, the solventborne segment accounted for 58.6% of volume share in 2017 whereas waterborne and powder based linings accounted for the remaining share. Growing demand for waterborne linings due to growing environmental regulations and consumer awareness will drive the linings market globally. As a result, a shift from solventborne linings to waterborne linings will be witnessed during the forecast period.
By Product Type, Epoxy Linings Market Is Expected to Register High Value –Volume Growth over the Forecast Period
Due to its excellent resistance to various chemicals, epoxy linings have always witnessed greater demand among all product types. Currently, epoxy linings hold a major market share in the global linings market. With technological advancements and the shift from solventborne to waterborne linings, epoxy linings have been well developed and are estimated to grow at a CAGR of 3.9% in the global linings market in terms of volume throughout 2028 – 2028.
China Dominates Market; Western European and Eastern European Countries Tipped to Be High Growth Markets by the End of Forecast Period
The China linings market accounted for a value share of 35.3% in 2018 and is forecast to maintain its dominance in the global linings market over the forecast period. The Europe and India linings markets are projected to represent steady incremental opportunity between 2018 and 2028, while the North America linings market is estimated to expand at significant CAGR in terms of value – volume over the forecast period.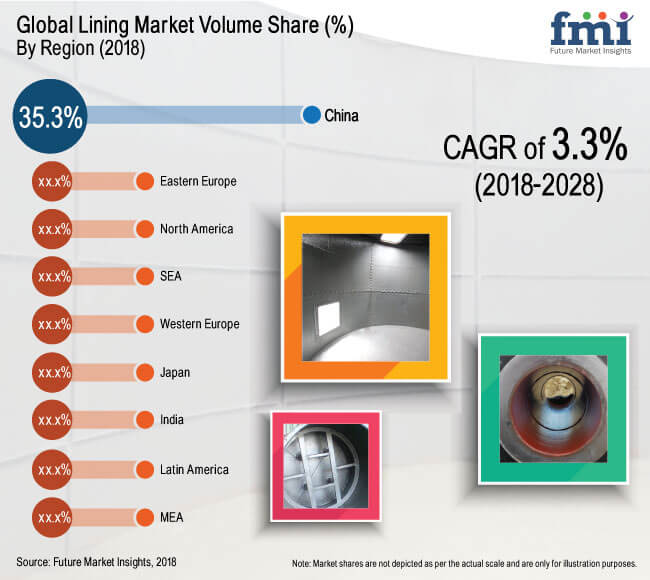 Key Players
Some of the players reported in this study on the Global Linings market include The Jotun Group, The Sherwin Williams Company, Hempel A/S, Akzo Nobel N.V., Polycorp Ltd., Teknos Group, GBT-BÜCOLIT GmbH, STEULER-KCH GmBH, Ultimate Linings, Ltd., Sauereisen, Inc., Solvay SA, and PPG Industries, Inc.
Key Segments Covered
The linings market is segmented as given below:
By Product Type:
Polymer

Epoxy
Polyurethane
Acrylic
Alkyd
Fluoropolymer
Vinyl Ester & Flake-Filled Ester

Rubber
Ceramic & Carbon Brick Line
Tile Lining
By Chemistry:
Solvent borne
Waterborne
Powder
By End Use:
Marine
Oil & Gas
Construction
Power Generation
Chemical Industry
Automotive
Mining and Metal Processing
Others
By Region:
North America
Latin America
Western Europe
Eastern Europe
SEA
MEA
China
Japan
India
Need specific information?