An Incisive, In-depth Analysis on the Acid Proof Lining Market
This study offers a comprehensive, 360 degree analysis on the Acid Proof Lining market, bringing to fore insights that can help stakeholders identify the opportunities as well as challenges. It tracks the global Acid Proof Lining market across key regions, and offers in-depth commentary and accurate quantitative insights. The study also includes incisive competitive landscape analysis, and provides key recommendations to market players on winning imperatives and successful strategies.
Future Market Insights offers an in-depth forecast on the global market for acid proof linings for the assessment period, 2017-2022. According to the report, the global acid proof lining market is poised to reach a value of US$ 5,580 Mn by the end of 2022, registering expansion at a steady CAGR. Over the next five years, a wide range of factors are anticipated to influence the dynamics of acid proof lining market, and manufacturers are also expected to introduce new offerings by incorporating new lining materials in production.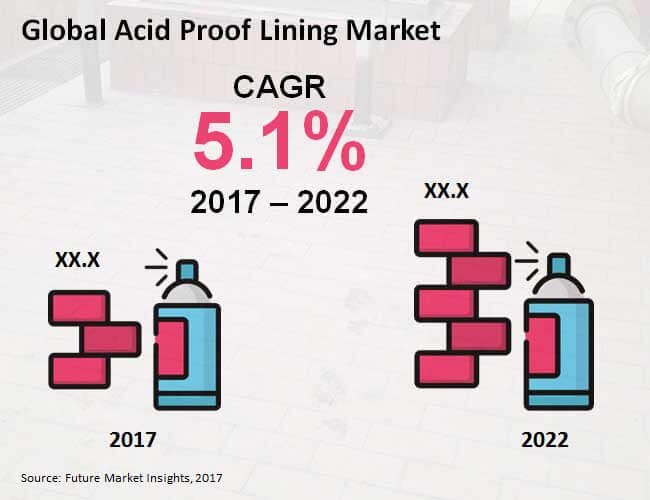 Thermoplastic Linings to Register High Upturns
Resistance to thermal shock resistance is a key criteria for selection of acid proof linings. During transportation of abrasive materials, the inner surfaces of pipes or other conveyor utilities get damaged. In such cases, sudden temperature fluctuations can further complicate things by causing undue mechanical stress on the objects being transported. Lining materials that prevent these objects from experiencing excessive strains, which may even cause cracks in their form, are adopted for making these pipes shock-proof. Thermoplastic linings hold a competitive advantage in offering resistance against all key strictures – chemical, heat, mechanical stress, and thermal shocks.
In 2017, over three-fifth share of revenues procured in the global acid proof lining market will be accounted by sales of thermoplastic linings. The report projects that thermoplastic linings will not only hold the largest contribution to global revenues, but will also record fastest sales growth over the forecast period. Contrastingly, limited resistance abilities of ceramic & carbon brick linings will factor their declining sales in 2017 and beyond.
Paramount Importance of Acid Proof Linings in Oilfield Pipelines
Transportation of petroleum and other volatile substances in the oil & gas industry needs proper piping mechanism, with a specific attention to inner coatings of pipelines. To provide corrosion protection from the beginning, oilfield companies are installing acid-resistant liners in new pipelines. Existing pipelines are also being lined with acid proof coatings to rehabilitate the rusted pipeline and prevent further damage. In the view of such factors, adoption of acid proof liners continues to be steadfast in the global oil & gas sector. By the end of 2022, close to US$ 800 Mn worth of acid proof liners will be installed in oilfield pipelines across the globe. The demand for acid proof linings in the oil & gas end-use is expected to soar at a robust CAGR during the forecast period. Power generation end-use of acid proof linings, on the other hand, is anticipated to incur decline in the foreseeable future.
Solvent-Borne Linings to Lose Traction
On the basis of form, solvent-borne linings are expected to witness a declining demand towards the end of forecast period. Higher emissions of volatile organic compounds in production and application of solvent-borne acid proof linings continues to restrain manufacturers from boosting their capacity to produce such environmentally-damaging products. Concurrently, waterborne linings will pick up traction because of their eco-friendly nature. Between 2017 and 2022, waterborne acid proof linings are pegged to create an incremental opportunity of nearly US$ 590 Mn.
Acid Proof Linings Market: Manufacturing Prospects
The report has also profiled key players partaking in the expansion of global market for acid proof linings during the forecast period. Stringent nature of international standards on acid proof lining manufacturing is observed to be key entry barrier for the market. Koch Knight LLC, Polycorp Ltd., Steuler-KCH GmbH, Jotun A/S, Hempel A/S, Axalta Coating Systems Ltd., Ashland Global Holdings Inc., The Sherwin-Williams Company, PPG Industries, Inc., and BASF Coatings GmbH are profiled as prominent manufacturers of acid proof linings in the global market. These companies, as well as new entrants, will be closely monitored by authoritative agencies controlling the input of acid proof lining manufacturing on global industrial waste.
Future Market Insights' report, titled "Acid Proof Lining Market: Global Industry Analysis (2012-2016) & Opportunity Assessment, (2017-2022)," offers a prognostic analysis on the global market for acid proof linings. Through assessment of long-term strategies and key developments adopted by manufacturers of acid proof linings, the report offers a comprehensive outlook on future market direction. Revenues procured by key players in the global acid proof lining market have been aggregated to derive market size valuations for a five-year historical period. Serving as a baseline for forecasting market growth over the next five years, the collected quantitative data has been infused with qualitative insights developed from trends analysis. Market size estimations delivered in the report offer a perceptive forecast on how the global market for acid proof linings will soar in the next five years.
Report Outline
To start with, the report offers an executive summary wherein key research findings across regional markets are highlighted. The report offers an overview of the global acid proof lining market, which sets the tone for the rest of the report. In this section, a formal and unbiased introduction to the global acid proof lining market is provided, followed by a standard definition to - acid proof lining. The overview also reveals overall market size valuations and forecast estimations across metrics such as CAGRs, Y-o-Y growth rates, and revenue share analysis.
The overview further offers an analysis on industry trends, untapped opportunities, and macroeconomic factors influencing the dynamics of acid proof lining market. In addition, an analysis of pricing, supply chain, cost structure, raw material sourcing strategies, and distribution portfolio is also provided in distinctive sub-sections. The report also provides an intensity map, illustrating the presence of market participants in the overall acid proof lining market.
The report delivers a segmented analysis & forecast on the global acid proof lining market. Each segment has been analysed discretely, wherein cross-sectional data and country-wise forecast has also been offered. The report concludes by profiling key market players on the basis of their revenues, product developments, mergers & acquisitions, and other strategic undertakings. This section offers an elaborate synopsis of the competitive landscape of acid proof lining market, with respect to current market standings of the players.
Market Taxonomy
Segmentation of the global acid proof lining market on the basis of region, product-type, end-use and form-type has been illustrated in the market taxonomy table below.
| | | | |
| --- | --- | --- | --- |
| Region | Product Type | End Use | Form Type |
| | Ceramic & Carbon Brick Lining | | |
| | | | |
| | | | |
| | | | |
| | | | |
| | | | |
| | | | |
| | | | |
| | | | |
Scope of the Report
For understanding the wide purview of acid proof lining markets, the report is developed on a fragmented structure model. A robust research methodology has been employed to derive market size valuations and forecasts. Primary and secondary research conducted by Future Market Insights' analysts have been effective in gauging the future prospects of acid proof linings. For a broader understanding, the entire report has been quantified into US dollars (US$) and regional market valuations have been converted by using the present currency exchange rates. The report has used metrics such as Basis Points Share (BPS) and absolute dollar opportunities to analyse the market in detail.
The scope of the report is to enable market participants is formulating long-term, premeditated strategies towards business development. By availing this report, players in the global acid proof lining market can understand the market's subjective undercurrents and infer to the forecasted market size estimations for planning and organising their next steps towards enduring business growth.
COVID -19 : Impact Analysis
Request the coronavirus impact analysis across industries and markets
Request Covid -19 Impact
Harish Tiwari
Global Head - Business Development
Akshay Godge
Client Partner - Global Business Development
CASE STUDIES
See how our work makes an impact.
At FMI, we design strategies that are adaptive, impactful, and implementable.