Lead Acid Battery Market Outlook & Key Findings
The lead acid battery market is expected to grow at a CAGR of 5.4% through the forecast period (2020-2030)
Focus of regulatory agencies for enhancing EV penetration will enable demand for lead acid batteries through 2030 with a bullish growth trend
Furthermore, Lead acid batteries are prime candidates for energy storage solutions using renewable energy on back of 99% recyclability and low production costs
The top 3 countries accounted for 43% of the overall market in 2019
Lead acid batteries will be integral to 5G telecom infrastructure in countries such as Vietnam, China, Africa and India
Lead Acid Battery Market Analysis
Slated to surpass a value pool of US$111.6Bn by the end of the year 2030, the lead acid battery market is rapidly gaining traction. With a high sustainability index, lead acid batteries require 3 times less energy per kWh to produce which makes them technologically superior to li-ion batteries that are more energy dense.
Lead acid batteries are also slated to score big in paving the way for the electric vehicle revolution with a large chunk of these vehicles equipped with lead acid batteries. They will be extensively used in all ignition, lighting and safety functions on EVs. The start-stop technology which uses lead acid batteries is said to remove 4.5 million tons of GHG emissions in the US each year.
Aggressive growth of OEMs in the aftermarket is further set to boost market prospects. Frequent replacement of battery units, low costs and established distribution channels are some of the primal factors for high growth of the aftermarket segment.
Absorbed Glass Mat (AGM) Batteries Set to Gain Traction
AGM lead acid batteries are witnessing high demand growth as compared to their flooded variants as they do not degrade and are more effective in containing spills. Within these batteries the electrolyte is kept suspended while remaining in contact with the lead.
AGM batteries are proven to be more efficient at the time of recharging and discharging and the greater surface area provided by the plates gives a boost to the starting power of these batteries.
Poised to grow at a CAGR of ~7% AGM batteries offer some key benefits as below:
Per pound of battery, they offer greater power vis-à-vis flooded batteries
AGM batteries are leak-proof
They have a compact and sealed structure which reduces overall maintenance
Longer life-cycle
AGM batteries are shock resistant
Having a charge that is 5X faster than flooded variants, AGM batteries are prolific on deep cycling with the ability to offer an 80% depth of discharge. Despite being more costly in terms of manufacturing they outperform other variants on their performance characteristics.
Lead Acid Batteries to Benefit from Renewable Energy Storage
Renewable energy such as solar power systems are showcasing newer opportunities for the stationary lead acid battery segment. It is estimated that in countries such as Germany, Australia, prices are likely to remain the same for both residential solar systems and grid supplied energy.
In China approximately 80% of solar powered systems use lead-acid batteries. However competition in this region is very high with the emergence of other forms of renewables, newer utility storage systems and advent of electric vehicles. Despite having a smaller share lead acid batteries will make up the market for very large scale battery energy storage systems using renewable energy.
For successful integration of renewable energy into the electricity grid, newer battery technologies seem to be the ideal candidates especially with many reaching price parity. However, in order to increase the intensity and duration of electricity generation from renewable sources, will also need the utilization of options such as sensors, advanced analytics. For electricity generation at a building scale or locally entails lesser capital and also the need for commercial net metering.
Renewable sources power generation can be inconsistent especially in terms of quality and this becomes a cause of concern in commercial establishments which use data servers or larger scale health facilities like big hospitals. Here the use of flywheels can to some extent sort of power variations.
Lead Acid Batteries- Regional Analysis
Regionally, Asia Pacific appears to be a bright spot for the growth of the lead acid battery market and is expected to account for ~ 49% of the overall market share during the forecast period. The high growth within the automotive sector in countries such as Indonesia, Vietnam and Thailand is set to fuel the lead acid battery market. On back of their high reliability, they are also increasingly being preferred by OEMs. High emphasis on grid storage solutions is also fuelling growth in this region.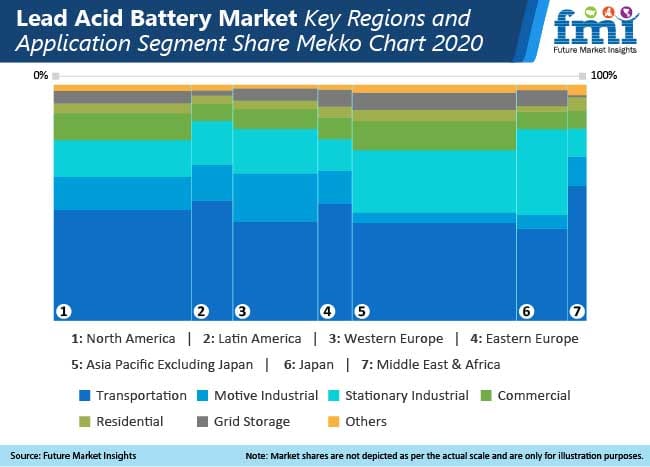 Following close behind is Europe, in which the market will experience a steady rate of growth on back of high penetration of lead acid batteries in electric vehicles. The region is slated for ~6% growth through 2030.
The proliferation of data centers are some of the prodigious factors behind the region's growth. A high uptake of lead acid batteries in UPS to cater for power back up requirements is another factor at play for the market's growth.
Lead Acid Battery Market Manufacturers –
The lead acid battery market is moderately fragmented in nature in which leading stakeholders such as Johnson Controls International Plc, Hitachi Chemical Company, EnerSys and GS Yuasa Corporation account for 15%-20% of the overall market. Both leading and emerging players are extensively innovating to provide batteries that are not only technologically savvier but also low cost and recyclable.
For instance, Gridtential a US based pioneer in battery technology came out with Silicon Joule, a unique battery architecture that helps to combine safety and recyclability with a battery structure that is bipolar. This technology helps deliver high performance through high Dynamic Charge Acceptance (DCA)
GNB Industrial Power, another US based company and an offshoot of Exide Technologies has come out with TENSOR a battery that is fairly low on maintenance and high on performance. This battery is one among the company's exhaustive portfolios of flooded and gel based lead acid batteries ideal for industrial settings.
UNISEG products has come out with the evolution of Battery Transport and Storage (BTS) container that can be used to safely transport used lead acid batteries for recycling. These storage solutions are ideal for addressing the myriad shortcomings that are found in wooden pallets.
Lead Acid Battery Market – Environmental Contamination While Recycling to be Key Challenge
85% of lead consumption is towards lead acid batteries. The growth in various renewable energy sectors and the high need for astute energy storage solutions will directly impact demand for lead acid batteries well into the foreseeable future.
Globally lead manufacturing and recycling is practiced in highly regulated regions as well as regions where stringency is not all-pervasive. In regions where technologies and processes for lead recycling are not stringently regulated and controlled, the recycling of lead is often a source of high contamination of the environment and a detriment to human health.
Even regions such as Europe and North America which are tightly regulated do see instances of lackadaisical regulatory control at industry- level recycling facilities.
High rates of uncontrolled emissions from lead recycling continues to be a key challenge plaguing the lead acid battery market.
Lead Acid Batteries – Technology to Brighten Future Outlook
A slew of technologies are set to brighten the future outlook for lead acid batteries. Till now grid operators were relying on conventional coal and gas to match demand from grid systems. Similarly renewable sources of energy like wind and solar give power on an intermittent basis. However energy storage solutions using batteries collect power and distribute it 24 hours a day.
Redox flow batteries offer an alternative solution to provide large scale batteries that are more cost-effective for grid energy storage. These are like large containers which store an electrolyte solution unlike li-ion batteries that use solid materials to store charge. The liquid solutions allows free movement of electrons. On a large scale, these batteries deliver units of energy at a much lower cost
Water based batteries hold terrific promise as they are cheaper as a raw material and safer environmentally. Recent research points to the development of batteries developed from manganese and hydrogen with charge cycles up to 10,000. The technology is such that it can power a bub of 100 watts for 12 hours at a stretch at a throwaway cost of just one cent
Biodegradable batteries made of polypeptides in lieu of conventional metals hold promise for wearable sensors and other applications where battery life is not that much of an issue and hence will not
Lead Acid Battery Market: Segmentation
By Type
Flooded Battery
AGM Battery
Gel Battery
By Application
Transportation

OEM Transportation

LCV
PC
HCV
Two Wheelers
Others

OEM Aftermarket

PC
LCV
HCV
Two Wheelers
Others

Motive Industrial
Stationary Industrial
Commercial
Residential
Grid Storage
Others
By Region
North America
Latin America
Eastern Europe
Western Europe
APEJ
Japan
Middle East and Africa
Need specific information?