Automotive Lead Acid Battery Market By Battery Type (Flooded, Enhanced Flooded, AGM), Technology (ICE, Hybrid, Electric), Vehicle Type (Passenger Car, LCV), Sales Channel (OEM, Aftermarket) & Region - Forecast to 2021 - 2031
Automotive Lead Acid Battery Market - Analysis, Outlook, Growth, Trends, Forecasts
April 2021

REP-GB-1482

282 pages
Automotive Lead Acid Battery Market - About the Report
[282 pages Report] The demand for automotive lead acid battery market is rising steadily over the last few years. This growth is projected to continue over the coming years as well due to their continued use in the automotive sector. These batteries are preferred for starting, lighting, and ignition (SLI) in an automobile. The increasing passenger car and light commercial vehicle production and vehicle parc (fleet on road) is projected to aid the market growth over the coming years.
In its new study, Future Market Insights offers insights about key factors fueling the demand for automotive lead acid battery market. The report tracks global sales of automotive lead acid batteries in 20+ high growth market, where East Asia, Europe, and North America lead the way, along with analyzing the impact COVID-19 has had on the automotive industry in general, and demand for automotive lead acid batteries in particular.
How Historical and Future Outlook For Automotive Lead Acid Battery Market Compare?
The automotive lead acid battery market had faced various challenges from concerns pertaining to gassing of the battery leads to safety problems and water loss from electrolyte. Manufacturers have either upgraded or are in process of upgrading their products to enhance the efficiency of lead acid batteries. This will not only help mitigating key concerns among consumers but will also offer improved corrosion-resistance, and extended battery life. Some of the leading manufacturers have already launched corrosion-free lead acid batteries and several others are likely to follow suit to keep pace with the dynamic market environment.
According to the study, automotive lead acid battery sales increased at 1.0% CAGR from 2016 to 2020. The market witnessed remained steady between 2016 and 2019, however, due to COVID-19 pandemic the growth slumped in 2020. The COVID-19 had a severe impact on the global economy and like other industries it also affected the automotive industry.
The automotive production, sales, and supply chain of the industry were severely affected, which lead to a declining growth in 2020. In 2021, the market moved to a recovery path and with gradual rise in the economic activities the market is estimated to show positive growth in 2021. Future Market Insights has projected the market to expand at over 3.3% CAGR through 2031.
What are the Factors Driving Sales of Lead Acid Batteries?
Lead acid batteries are predominantly used as a SLI battery in automobiles. The growing automotive production and sales and increasing vehicle parc are directly impacting the market. Lead acid batteries are economical as compared to other batteries and provide optimal solution to end users.
Advancements in the battery technology have bode well for the market. Customers have option such as flooded, enhanced flooded, and AGM batteries to opt from. The demand for lead acid battery is increasing and the trend will continue thanks to the growing fleet on road and the need for change of battery at regular intervals.
Why is R&D Key to Market Consolidation?
Battery manufacturers are investing more in research & development (R&D) activities to produce advanced, high performance, and corrosion free automotive lead acid batteries. Competitive price offerings, increase in user satisfaction regarding performance, and use of advanced technologies are the end results of R&D activities. Increasing research & development through collaborations or partnership have been helping companies to launch new and innovative products in the market.
Country-wise Insights
Why is the U.S. Considered Leading Automotive Lead Acid Batteries Market?
The report has projected the U.S. to remain one of the most lucrative markets for lead acid batteries throughout the course of the forecast period. One of the key factors supporting this is the increasing production of automobile and increasing vehicle fleet.
Driven by these factors, the U.S. will remain one of the largest markets for automotive lead acid batteries. According to Trading Economic, the overall vehicle sales in the country surpassed 16 million units in January 2021. Despite disruptions caused due to the pandemic outbreak, vehicle sales are expected to recover. This will increase prospects for sales of automotive lead acid batteries in the country.
Why is Demand for Automotive Lead Acid Batteries High in Germany?
Besides accounting for the leading share in Europe, the market in Germany is pegged to expand at around 3% during 2021-2031. In recent years, manufacturers have been gradually developing a new customer base in the country.
As the German automotive sector is rising very well, demand is expected to surge. Rising demand for high-performance batteries in response to the launch of electric vehicles will create growth opportunities in Germany.
How Lucrative is Automotive Lead Acid Battery Landscape in India?
India is the largest market in the South Asia & Pacific for automotive lead acid batteries. Increase in the production of passenger and commercial vehicles will continue supporting expansion in India. According to the Society of Indian Automobile Manufacturers (SIAM), sales of passenger vehicles increased by above 11% in January 2020. With vehicle production and sales forecast to rise, India will remain a leading market for sales of automotive lead acid batteries.
Why are Automotive Lead Acid Battery Manufacturers Eyeing China?
China's economy is expected to grow at a rate of around 5% between 2021 and 2031 owing to its role as East Asia's largest shareholder. Manufacturers have been steadily building a new consumer base in the country in recent years.
The China automotive lead acid battery market is expected to be amongst the most opportunistic after the U.S. and Germany, owing to increase automotive production in the country.
Along with the presence of more number of automobile manufacturers in China, the battery industry also has grown due to surging number of passenger vehicle and commercial vehicle across the country.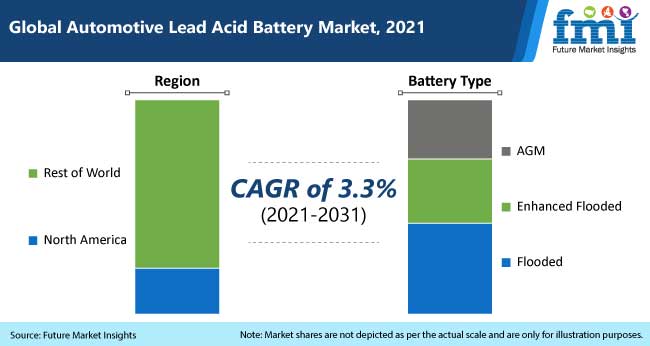 Category-wise Insights
Which is the Preferred Automotive Lead Acid Battery Type?
Globally, flooded lead acid batteries are the most sought-after. The segment is expected to expand at CAGR of more than 3% across 2021-2031. More number of product variants and specifications in the range of flooded lead acid batteries, gives more flexibility for customer to choose the appropriate engine for specific applications.
Why is ICE Battery Technology More Popular?
Over the forecast period, the ICE technology batteries will continue to account for almost 97% of the global market share by technology. According to FMI, by the end of 2031 the segment is projected to hold almost 100% of the market. The technology offers clean, reliable, and low-cost distributed storage solution and improves the efficiency and reduce the amount of scrap in the environment.
Which Vehicle Type Exhibits Higher Demand?
According to FMI, the demand for automotive lead acid batteries in the passenger and light commercial vehicle will continue increasing in the coming years. Of these, passenger vehicles account for maximum share in automotive lead batteries sold in a given year. In addition, the demand for automotive lead acid batteries with new and advanced technology is expected to increase in the coming years.
Competitive Landscape
The global automotive lead acid batteries market is dominated by a few, large-, medium, and small-scale companies operating around the world. Top players cumulatively account for around 38% share in the global market. Most prominent players are primarily located in Europe, East Asia, and North America as their regional policies favor private sector involvement in automotive battery technology development. Also, these players have large R&D facilities, which gives them an edge over small players and startups.
Companies operating in the market plan to acquire and collaborate strategically with regional distributors to meet the needs of an expanding consumer base. Suppliers of crate engines adopt acquisition and regional expansion strategies to establish a foothold in new and fast-growing markets.
Some of the leading companies operating in this space are:
Leoch International Technology Limited
EnerSys Inc.
East Penn Manufacturing Company
Exide Technologies Inc.
*The list is not exhaustive, and only for representational purposes. Full competitive intelligence with SWOT analysis available in the report.
Scope of Report
Attribute

Details

Forecast Period

2021-2031

Historical Data Available for

2016-2020

Market Analysis

USD Million for Value and Tons for Volume

Key Regions Covered

North America, Latin America, Europe, South Asia & Pacific, East Asia, and the Middle East & Africa,

Key Countries Covered

US, Canada, Germany, U.K., France, Italy, Spain, Russia, BENELUX, China, Japan, South Korea, India, Thailand, Malaysia, Vietnam, Indonesia, Australia, New Zealand, Turkey, Iran, and South Africa

Key Segments Covered

Battery Type, Technology, Vehicle, Sales Channel, Region

Key Companies Profiled

Clarios
GS Yuasa Corporation
Panasonic Corporation
Leoch International Technology Limited
Exide Industries Ltd.
EnerSys Inc.
East Penn Manufacturing Company
Exide Technologies Inc.
CSB Battery Company Limited

Report Coverage

Market Forecasts, Brand Share Analysis, Competition Intelligence, DROT Analysis, Market Dynamics and Challenges, and Strategic Growth Initiatives

Customization & Pricing
World's Most Profilic Intelligence Engine
Get Access To The World's Largest Market Research Database.
Sign Up Now
Market Segmentation by Category
By Battery Type
Flooded
Enhanced Flooded
AGM
By Technology
By Vehicle Type
By Sales Channel
By Region
North America
Latin America
Europe
South Asia
East Asia
Middle East & Africa
Key Questions Answered in the Report
Which is the most lucrative market for automotive lead acid batteries?
The U.S. currently leads the global market for automotive lead acid battery. The share of the U.S. market will be over 25% over the forecast period.
Which is the top-selling type of automotive lead acid batteries?
Flooded lead acid batteries are preferred for many applications. Demand for flooded lead acid batteries is expected to be high in the near future, especially for their low-maintenance cost.
Which is the most lucrative application for automotive lead acid batteries?
Automotive lead acid batteries are widely used in automotive industry related applications. Usage in starting, lighting and ignition (SLI) and electric vehicle applications is rising day by day.
Which are some of the leading companies providing automotive lead acid batteries?
Some of the leading companies manufacturing automotive lead acid batteries are Clarios, GS Yuasa Corporation, Panasonic Corporation, Leoch International Technology Limited, Exide Industries Ltd., EnerSys Inc., etc.
Need specific information?
Our Clients