Metalworking Fluids Market Outlook & Key Findings
The metalworking fluids market is expected to grow at a CAGR of 3.9% during the forecast period (2020-2030)
By region, North America is set to remain at the forefront with the US accounting for one-third of the market share in 2019
By mid-term, transportation equipment using metalworking fluids will gain 170 BPS
Removal fluids are slated to account for the largest market share through 2030 and will hold a market attractiveness index of 8 on a scale of 10
Metalworking Fluids Market Analysis - Pushing Machining Capabilities
Metalworking fluids are being increasingly used in the manufacture of metallic products ranging from small coins to complex machinery in aerospace. Running machining processes with these fluids has proven to be more cost-effective than without them.
The end result is metals with less wear and tear, less downtime and better finish. The fluids help to achieve a constant working temperature by reducing friction.
Costs incurred with the use of metalworking fluids range between 1%- 3% of the total manufacturing costs. However, using them correctly improves not only metalworking operation through lubrication but also allows operators extend tool life, incur savings and reduce machine downtime.
Minimum Quantity Lubrication and Dry Machining to Usurp Metalworking Fluids in Foreseeable Future
A significant shift is being observed towards the trend of Minimum Quantity Lubrication (MQL) and dry machining within the metalworking fluids market landscape.
This has been fuelled by concerns rising from the impact of metalworking fluids on the environment. Successful dry machining at very high temperatures is giving traction to this trend. Ceramic and diamond tooling has paved way for dry machining with negligible use of metalworking fluids.
The use of dry machining is relatively hassle free with little coolant mist or residue to dispose of. Mostly vacuums are being used to remove fines and chips.
On the other hand, the use of MQL can still incur significant costs on equipment maintenance. Fluid makers are seeing the advantages of MQL and predict that in future fluids will be used at a mere 5%-10% only.
The Shift is Visible towards Boron-Free and Chlorine-Free Metalworking Fluids
Metalworking fluids are moving away from Boron as it tends to add to residue. Its prolonged presence also adds to the wear and tear of spindles, cutting tools and conveyors which can have an adversarial effect on spindles and machine parts. At very high levels, boron has proven to be dangerous not only for the environment but also for worker health.
While boron has exemplary anti-corrosive properties, even at low levels, the concentration levels increase with increased residue in sumps. Chlorine too is deemed unnecessary as it is not good for lung and skin health. Chlorine, along with other amines are being eliminated from coolant formulas completely.
Metalworking Fluids Market Regional Analysis - Regulatory Hurdles no Longer an Impediment to Regional Growth
Semi-synthetic, synthetic and water-based fluids will witness high uptake in regions such as Asia-Pacific (China, India, Indonesia, Thailand and Japan) which are expected to be growth engines for the metalworking fluid market in the foreseeable future.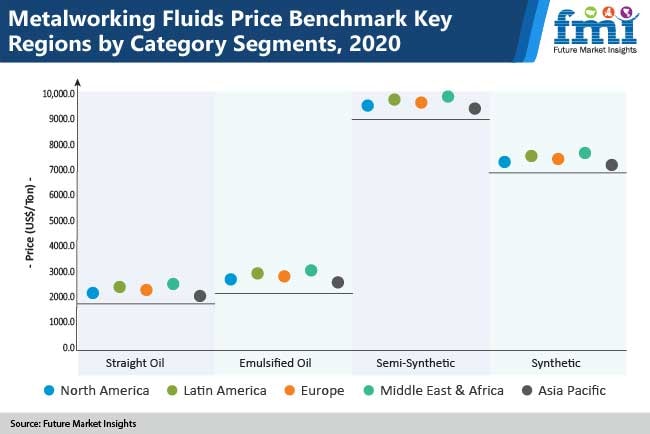 Asia Pacific holds the largest market size for metalworking fluids owing to the region having a stronghold in terms of manufacturing for fluids. The present pandemic has brought out volatility in the price of crude oil. Low prices and a supply glut has proven advantageous for manufacturers of metalworking fluids.
After the sub-prime crisis of 2008-2009 and the recovery of the automobile sector in North America, there has been a strong growth of the metalworking fluids market in US. Thus the region has seen a robust value and volume growth in the historical past. China and North America are slated to hold ~50% of the market share in terms of volume through 2030.
Collectively, both Western and Eastern Europe are estimated to account for 26% of the overall market share. This can be attributed to the prolific growth of the market in Germany where nearly 200,000 metalworking companies are using metalworking fluids.
Metalworking Fluids Market Manufacturers - 'Unwavering and Resilient'
The metalworking fluids market is highly competitive with leading players accounting for 47%-56% of the total market share. The competition is further expected to intensify with industry leaders collaborating with OEMs.
Some of the key players in the market are ExxonMobil Corporation, Fuchs Petrolub SE, Quaker Chemical Corporation, and Yushiro Chemical Industry.
ExxonMobil, headquartered in the US, offers a range of metalworking fluids under the brand name Mobil. The company has a strong presence globally and has local production hubs that maximize supply at affordable costs.
The company witnessed a 130% increase in synthetic lubricants sales in the last one decade after it expanded into relatively untapped regions such as Mexico and Indonesia. The company also acquired PT Federal Karyatama, an Indonesian company which has also enabled the company to expand its hegemony in Asia Pacific.
Angus a global specialty Chemicals Company specializing in metalworking fluids has an exhaustive product portfolio which consists of CORRGUARD, a category of water-based fluids that help to improve machine performance and extend fluid life. The company's latest addition is the CORRGUARD FLEX which meets all regulatory standards and has superb corrosion control, formulation compatibility and ease of use.
Metalworking Fluids Market Trends – Recyclability to Expand Profit Pools
Coolant technology has advanced significantly from what it was 15 to 16 years ago. When used for machining, they last longer but are more exorbitant. With costs nearing $50 a gallon, and disposal costs going up to $6 per gallon.
Metalworking units are accountable for proper fluid/coolant disposal even if they outsource this to another service provider. Improper disposal can cost a company several thousand dollars in fines.
With recyclability the scenario changes considerably. Metalworking companies can save up to 60% of the fluid concentrate by getting rid of tramp oils. The tramp oil is nothing but the sump oil that gets mixed with the metalworking fluid. It tends to seep out during machining processes and gets mixed with the coolant as a hydraulic leak.
Machine tool performance is greatly increased when the sump oil is removed from the metalworking fluid as it helps to improve fluid performance, efficiency and longevity
Frequent recycling of metalworking fluid and removal of oil can make the work place safe for workers. Airborne oil mist tends to pollute the working environment thus affecting the overall air quality
Stringently following fluid recycling programs can help metalworking companies attain ISO 14000 status
Even though machines have an in-built process to remove chips, some fines get left behind and settle down at the bottom of the tank. These harbour bacteria and can soon develop into a greasy, smelly sludge. However a machine tool sump can be cleaned using a sump cleaner. Approximately 20 pounds of sludge can be cleaned from 40-50 gallons of coolant. The filtered fluid can then be re-used by sending it back to the sump
This reduces purchase of coolant concentrate and disposal costs. Customers using a sump cleaner see extensive ROIs in just a few months
Fluid recycling equipment are gaining rapid traction for the above reasons and come in different formats such as sump cleaners, oil skimmers, chip conveyors, high speed centrifuges and coalescers
Metalworking Fluids – What Does the Future Hold?
Metalworking fluids have given rise to safety concerns over the last few years. Thus manufacturers are now moving towards a product portfolio with a negative carbon footprint and that which reduces waste.
Congruent chemistry is heralding an era of water-based fluids that are two-pronged in their approach – one, the fluids act as cleaners and second by making all the elements compatible with the coolant. This obviates the need to skim oil. Some manufacturers opine that there has been a 40% reduction in the usage of conventional variants from older technologies.
Another area which is making waves in the field of metalworking fluids is that of nanotechnology in which micro-particles are used to lubricate machinery parts instead of water-based fluids.
Research is also being pioneered to improve the lubrication properties of water-based metalworking fluids so that it leaves less mould and residue behind.
Major fluid makers are working vigorously to streamline and stabilize metalworking fluids so that they can be used worldwide. Towards this, a vast array of coolants are being tested and optimized to ensure that they meet local and regional regulations and also the water quality conditions.
Thus fluid players are working round the clock in various labs and material testing centers to innovate on coolant technology that mimics real-world conditions as much as possible.
For instance, Castrol Industrial collaborates closely with GE, US to develop new aerospace fluid materials that are pending patent approval. Castrol has also partnered up with Ford, GM and Toyota on novel fluid applications.
Metalworking Fluids Market Segmentation
The global Metalworking Fluids market is segmented in detail to cover every aspect of the market and present complete market intelligence to the reader.
Category
Straight Oil
Emulsified Oil
Semi Synthetic
Synthetic
Product Type
Removal Fluids
Protection Fluids
Forming Fluids
Treating Fluids
End Use
Removal Fluids
Protection Fluids
Forming Fluids
Treating Fluids
Region
North America
Latin America
Western Europe
Eastern Europe
China
India
Japan
SEAP
Middle East & Africa
Need specific information?