Micellar Casein Market - Key Research Findings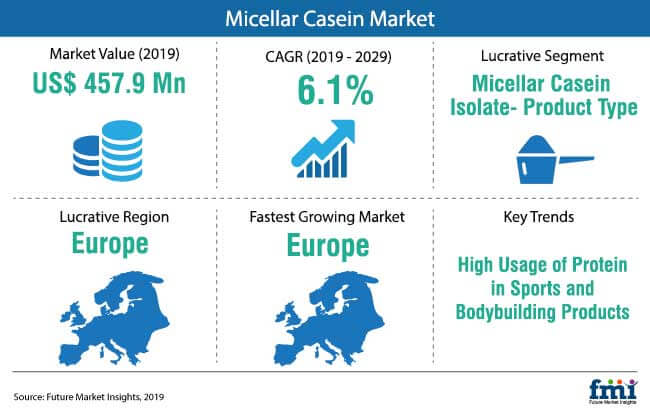 Estimated market size for micellar casein in 2019 – Nearly US$ 458 Mn
The micellar casein market will observe just-above 6% CAGR over 2019-2029.
According to the data published by the US Department of Agriculture (USDA) in 2016/p>

The annual production for milk protein concentrate (MPC) stood at around 220 thousand MT.

North America and Europe will remain prominent regional markets for micellar casein.

The presence of large, ever-expanding consumer demo graph demanding natural ingredients for food fortification is driving the micellar casein market growth.

East Asia holds high growth potential for the micellar casein market.

Micellar casein is considered a complete or whole protein, i.e. a protein that contains all the nine essential amino acids. This unique characteristic has enabled it to find an entry in fortified foods.

B2B/direct sales will remain the preferred sales channel for micellar casein market players.

Characteristics such as protein fortification and ability to impart better texture and consistency to beverages as compared to other protein ingredients, emerges as a winning imperative for micellar casein.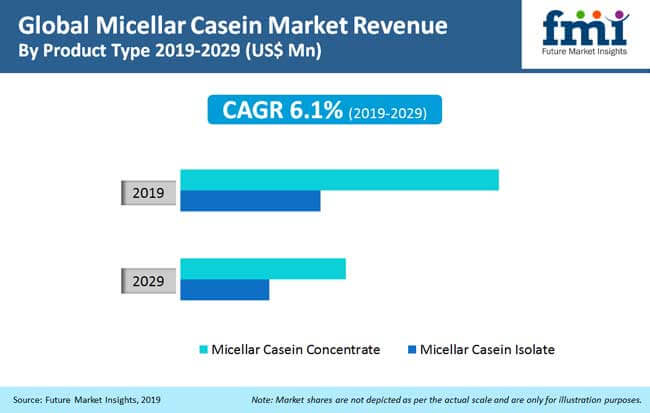 Top 3 Factors Shaping the Micellar Casein Market
Increasing Demand for Fortified Foods and Beverages
Protein fortification is the enrichment of everyday foods with protein ingredients, essentially giving the product a 'high-protein' label. Consumer preference for such foods is a result of various factors such as the rising incidences of lifestyle-related diseases. Emphasis on weight management is significantly driving the micellar casein market growth.

High protein foods symbolize energy and satiety; two factors that are crucial in any healthy food. Bakery products and snacks comprise high-protein ingredients and are gaining prominence among consumers, which is likely to propel the growth of the micellar casein market.
Increasing Demand for Products with Rich Nutritional Profile
The clinical nutrition segment comprises nutritional products prescribed for hospitalized patients or people suffering from serious age-related ailments. Micellar casein is particularly helpful for patients in this demo graph, especially for muscular disorders. Due to such requirements for nutrition products in this space, micellar casein has found expanded applications in the food and nutrition industry.

Chewing and swallowing any food is the major issue for the paediatric and geriatric demo graph, and the light and non-viscous nature of micellar casein is helpful in this regard.
Direct Impact of Milk Prices
The raw material used for micellar casein is milk. Hence, milk prices are crucial in determining the micellar casein price and supply. Milk is increasingly being recognized as a volatile agricultural commodity due to several factors that are rooted in the globalized nature of the dairy market.

Currently, minute changes in global milk prices in any region are leading to a considerable change in the prices of milk ingredients and causing a strain on supply chains. The impact of this factor is more severe in case of small-scale micellar casein producers that are not linked to a dairy cooperative.
Micellar Casein Market Structure Analysis
The global micellar casein market represents a consolidated competition landscape wherein Tier 1 companies hold more than 85% revenue share.
Top companies in the micellar casein market include ProteinCo, Idaho Milk Products, Milk Specialties Global, Leprino Foods Company, Inc., and AMCO Proteins amongst others.
While most of the key players in the micellar casein market maintain a strategic focus on mature markets such as North America and Western Europe, the report also highlights new product launches in the micellar casein market.
Leading players in the micellar casein market are also concentrating on expanding production capacity in a bid to cater to the growing demand for milk proteins.
Important entrants in the micellar casein market such as Milk Specialties Global and AMCO Proteins are also focusing on launching new products. In 2016, Milk Specialties Global acquired Saputo Inc.'s facility in Monroe, Wisconsin.
Dairy co-operatives across the globe are also playing a pivotal role in supplying raw materials for the production of micellar casein.
The Rise of the Active Nutrition Consumer Drives Innovations in Micellar Casein
Active nutrition, which is also known as sports nutrition, is no longer limited to athletics and professional bodybuilders; the wave of health & wellness is triggering consumer interest in micellar casein. Manufacturers are targeting health-conscious and nutritionally-aware consumers by aggressively marketing its unique nutritional profile on the product packaging. Market players are also capitalizing on increasing popularity of organic ingredients by introducing innovative technical and nutritional functionalities of micellar protein manufactured using organic milk.
Premium Micellar Casein Supplements to Feature the Future Trends through 2029
The micellar casein market is expected to witness healthy growth with manufacturers launching new nutritional supplement solutions, mainly by virtue of innovations in membrane technology in the dairy industry. Tech-driven manufacturing practices and sports nutrition becoming a preferred choice for a diverse group of consumers will amplify the sales of high-end nutritional supplements. Premium applications of micellar casein will reach new heights, necessitating the adoption of next-gen technologies among micellar casein manufacturers in the foreseeable future.
Health-driven Purchasing Decisions Improve the Sales Potential in Europe
Growing consumer preference for nutrition-rich food products is boosting the purchases of high-protein food products in European markets. The recent dietary trends popular among European consumers, both millennials and baby boomers, are primarily driven by the health & wellness trend. Consequently, despite the imposition of strict regulatory rules and standards, the market for micellar casein in Europe will prove highly lucrative for stakeholders.
The Broader Perspective
The rampant rise in child obesity and the widening consumer base inclined towards adopting healthier dietary habits will influence marketing strategies of stakeholders. Manufacturers are launching new protein supplements and nutritional powders to tap the potential of micellar casein supplements becoming a popular option for meal replacement. The continual efforts to improve texture, taste, and nutritional functionality of micellar casein will help manufacturers to maintain the lead in the coming years.
How Growth will Unfold
The soaring demand for healthy food products with protein-rich ingredients is boosting adoption of micellar casein among stakeholders in the food & beverage landscape. Increased adoption of slow-release micellar casein in product products signifies its higher sales potential in the B2B segment than that in the B2C segment. Leading manufacturers of dairy products, such as cheese and other dairy beverages, will remain the target customers for micellar casein market players in the coming years.
Need specific information?