Sodium Caseinate Market - Key Research Findings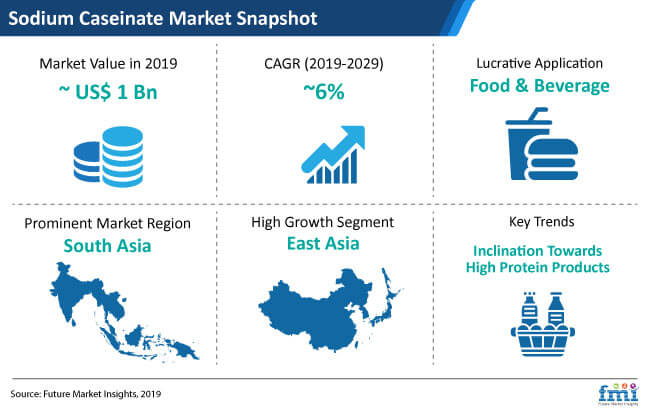 The global sodium caseinate market size in 2018 was ~US$ 900 Mn.
The sodium caseinate market is estimated to grow at a CAGR of ~6% in the period 2019 – 2029.
Manufacturers are focusing on better quality ingredients to cater to and comply with consumer requirements. The growing preference for grab-and-go food products and changing eating habits have led to huge demand for sodium caseinate. This is expected to drive the global sodium caseinate market growth.
Cumulatively, South Asia and East Asia are expected to capture one-fourth market volume share by the end of the forecast period.

China and India have the largest number of food processing companies, with some established organizations such as PepsiCo Inc., Nestlé, General Mills Inc., Coca-Cola, etc. Moreover, the rising population across these countries is estimated to propel the demand for sodium caseinate.

Sodium caseinate has a wide range of applications in several sectors, which are triggering the demand for the product at a fast rate. Owing to this factor, manufacturers should focus on various pricing strategies (i.e. offer high quality products at competitive prices) to increase their customer base.
Key Insights: Sodium Caseinate Market
Increasing Demand from End-use Applications Boosting the Market Growth
Sodium caseinate has better functionality and nutritional value as compared to calcium caseinate. Owing to its superior properties, the usage of sodium caseinate is rapidly rising in meat products, ice cream, bakery, functional foods, sports supplements, supplement products, animal feed, pharmaceuticals, emulsified foods, etc. Attributing to the increased demand from end-use industries, the demand for sodium caseinate is expected to grow at a significant growth rate by the end of the forecast period i.e., 2029.
This rising demand for milk proteins from several end-use industries is anticipated to boost the global sodium caseinate market growth.
Animal-free Emulsifiers Act as Substitutes for Sodium Caseinate
National Starch organization has launched a new animal-free emulsifier, which can act as a fat encapsulation system for the food & beverages industry, and replace animal-derived ingredients such as sodium caseinate.
Capsul FP is a starch-based encapsulation product, which acts as an alternative to sodium caseinate. Also, it is not derived from animals and is a better protein source. In addition, Capsul FP is free from price fluctuation problems that have plagued sodium caseinate. Thus, high threat from substitutes is expected to hamper the sodium caseinate market growth over the forecast period.
Increasing Demand for Dairy Products
The dairy industry is at a turning point with growing economies, increasing disposable incomes, and growing middle class population. Due to these factors, people are moving towards a modern lifestyle and consequently, the demand for nutritional dairy products is steadily increasing.
To fulfil the growing demand for dairy products worldwide, FrieslandCampina opened a new sales office in São Paulo, Brazil, to sell milk ingredients and a wide range of infant and toddler nutrition products to consumers around the world, especially in South America.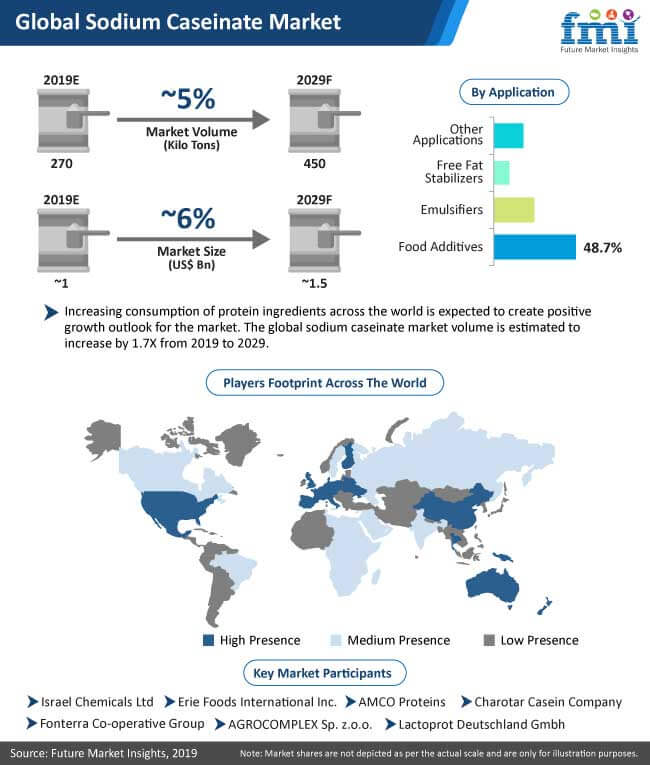 Sodium Caseinate Market Structure Analysis
The global sodium caseinate market is a highly fragmented market due to the high presence of small-scale and international manufacturers at the regional level. Tier – I players are expected to hold one-fourth market share in the global sodium caseinate market by the end of 2019.
The global sodium caseinate market has been relatively large in size, which remains an influencing factor for its dynamic competitive nature.
End users of sodium caseinate are emphasizing on highly nutritional and protein-based products. Thereby, this inclination is estimated to give push to the consumption of sodium caseinate.
A shift of end-user facilities towards emerging markets i.e., South Asia and East Asia, is likely to create opportunities for sodium caseinate manufacturers.
Due to the increasing consumption trend of bakery and confectionary products in daily diets and consumption of processed food, the demand for sodium caseinate is estimated to gain high traction over the forecast period.
Sodium Caseinate – More than a Healthful Dairy Nutrient
Curing milk proteins apart has gained immense momentum over the years, while dairy companies have created an entire industry by deconstructing milk. Today, the dairy industry continues to go through dramatic changes to sustain needs of growing populace and consumption per person.
Increasing concerns for the effect of food on health and rising importance of nutrigenomics and personalized nutrition have also brought a range of technologies that could lead to new processing techniques to produce novel milk materials and products containing them. In addition, new analytical techniques are likely to improve processing as well as fulfil ever-stringent requirements placed on product quality.
A large and growing body of published nutrition research studies have affirmed dairy protein's popularity and proven benefits in weight management, post-exercise recovery, and muscle health maintenance. In recent years, increasing awareness of these benefits has potentially raised the demand for high-quality protein such as sodium caseinate – obtained from acid casein dissolved in sodium hydroxide - in each meal and snack.
As protein holds an important place in the minds of today's consumers, merging with every new trend appearing in the F&B industry, the sodium caseinate market is likely to exhibit a promising growth in the years ahead.
Sales to Gather Pace, as End-use Industries Keep up With Changing Consumer Trends
With a growing number of end-use industries beginning to find new ways to incorporate high-quality ingredients into their products, the sodium caseinate has been witnessing a spike in its demand in recent years. In the era of increased focus on protein, more fortified food options exist than ever before, and sodium caseinate finds special applications where emulsifications and binding properties are majorly considered.
As food manufacturers endeavor to keep up with ever-evolving consumer preferences and relieve concerns about 'what is in my food?' –sodium caseinate has successfully engraved its footprint as an ideal food additive (announced by FAO and WHO as unrestricted food additive) in the global F&B space.
The quest to deliver better quality products has been intensifying across several end-use industries such as cosmetics, pharmaceuticals, and chemical. Manufactures of sodium caseinate are thus focused on finding and leveraging the white spaces in its applications. Capabilities of sodium caseinate as an intermediate in pharmaceutical and as a conditioning agent in cosmetics and personal care products are increasingly being explored.
However, it is pertinent to note that, increasing consumption of dairy ingredients as well as products in large-producing countries, in the view of rising health consciousness among consumers, has created a fluctuation in the global supply of sodium caseinate.
Why East Asia Will Outdo the Europe Market for Sodium Caesinate?
Despite strong dairy culture and high per capita consumption, the European market for sodium caseinate is envisaged to lose its leading position to East Asian market in coming years. Although the current level of consumption of newer food ingredients are still below Western Standards in East Asia, rising demand for products that offer nutritional benefits signifies ample growth opportunities to be exploited.
Emerging consumer trends in the region are further likely to underpin the market growth. For example, mass urbanization and rise in modern trade have benefited the sales of pre-cooked, packed, and convenience foods, thereby potentially raising the demand for food additives and emulsifier such as sodium caseinate.
Broader Trends Influencing the Growth of Sodium Caseinate Market
Changing socio-demographics combined with factors such as increased incomes and greater awareness about health and wellness has resulted in changes in consumption patterns. Increased demand for sodium caseinate globally is driven by recognition of the role of protein in healthy diet along with significant emphasis on snacking or snack-packed products that form a greater part of people's diet in recent times.
However, the production of animal-based protein has raised significant environmental concerns, as it generates greenhouse gas emissions and requires more water and land. To that end, a large number of dairy farmers are continually updating their practices to improve efficiency and sustainability in the farm, which is highly likely to become key growth influencer of the market.
However, the rise of alternatives is just the latest twist in human's demand for animal's milk and its products. The wave of veganism has inundated the F&B industry with products focused in plant-based ingredients which could negatively impact the demand for sodium caseinate. Growing popularity of alternative milks made from soy or almonds that are not only vegan-friendly but also suitable for consumers who are allergic to or intolerant of animal's milk continues to challenge the sodium caseinate manufacturers.
Mapping the Future Growth
As the demand for functional foods, new types of beverages, and cheese has been on the rise in both developed and developing markets, sodium caseinate manufacturers are primarily centering their focus on expansion of product portfolio. An embrace of R&D is underway in the sodium caseinate market, to increase the production of highly purified products and capitalize on ever-expanding bakery & confectionery industry.
Further, the advent of technological breakthroughs is likely to facilitate tectonic shifts in sodium caseinate production which were previously unfeasible due to production constraints. On the account of consumers increasingly using their voices to provoke change, the emergence of e-commerce, innovations, and sustainability trends is likely to present unique opportunities for vendors in sodium caseinate market.
Key Segment
By Product Grade
Food Grade
Industrial Grade
By Application
Food Additives
Emulsifiers
Free Fat Stabilizers
Others
By End Use
Food & Beverages

Dairy Products
Bakery & Confectionery Products
Ready-to-Eat food Products
Frozen Food Products
Others

Pharmaceuticals
Cosmetics
Chemicals
Other Industrial
By Region
North America
Latin America
Europe
South Asia
East Asia
Oceania
Middle East and Africa
Need specific information?