Sodium Malate Market – Key Research Findings
Global sodium malate market size estimated in 2019 - ~US$ 523 Mn
Sodium malate market value is likely to expand at 4% CAGR during 2019-2027.
Asia Pacific excluding Japan (APEJ) has been slated to remain the most lucrative regional market for participants in the sodium malate industry.
The growth of food & beverages industry, the subsequent demand for food additives, and a rising trend of natural, plant-based ingredients, will collectively continue to push the attractiveness of APEJ's fructose market.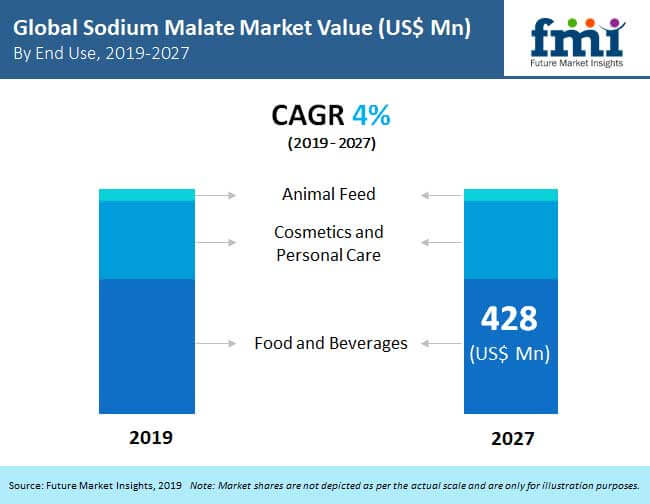 Top 3 Factors Shaping the Sodium Malate Market
Increasing Demand for Food Additives in the Food Processing Industry Driving the Global Sodium Malate Market Growth
Sodium malate is dominantly used as a food additive in the food and beverages industry, functioning as an acidity regulator, flavour enhancer, and buffering agent. It is widely used in confectioneries, chewing gums, beverages, meat products, soft drinks, etc.
The food and beverage industry is flourishing, owing to the increased consumption of confectioneries and similar processed food products. With the advent of industrialization and increasing population, significantly in Asian countries, the bakery and confectionery industry is rapidly expanding in the region. This is increasing the demand for food additives and thus, driving the global market of sodium malate.
Increased Spending on Research and Development Activities Driving the Demand for Sodium Malate in the Global Market
The global sodium malate market is driven by new and innovative product launches in food and beverages, cosmetics and personal care, and animal feed industries. Increasing expenditure by government and non-government organizations on research and development activities is resulting in the introduction of new and innovative products in the global market that are increasing the demand for food additives and cosmetic ingredients.
This is resulting in new opportunities for sodium malate and driving the global sodium malate market.
Restrictions on the Consumption of Sodium Malate on Pregnant Women and Infants
Sodium malate's use as a food additive is regarded safe and it has been granted GRAS status from FDA to be used in food and cosmetic products. However, its use in infant and kid food products is restricted. Infants and kids lack the enzymes that are essential for metabolism of sodium malate.
Also, pregnant women are not allowed to consume sodium malate containing food products. These factors are impacting the demand for sodium malate negatively and restraining the global market.
Clean-Labelled Products are Trending in the Global Market
Clean label is a rising trend in food and beverages, as well as cosmetics and personal care industries. It is a consumer-driven trend, as consumers are getting more and more worried about the effects of ingredients present in food and cosmetic products.
The increasing use of internet, blogs, and social media access has led to easy availability of information about various chemicals and ingredients. This factor is driving the clean-label trend in the global food and beverages and cosmetics and personal care industries.
Products Free from Animal Origin are Trending in the Global Market
In the last few years, the increased use of internet and social media has created immense awareness about animal welfare and animal rights. This has led to a rising trend in food and beverages and cosmetic industries to opt for plant-based products that are free from animal-derived ingredients.
Sodium Malate Market Structure Analysis
Many small- and medium-sized manufacturing companies are predominantly occupying the global sodium malate market in terms of volume. The production of sodium malate is mostly for human consumption through processed food products and cosmetic products. New entrants in the sodium malate market are constantly focusing on product development and the expansion of production capacity of their facilities.
Very small portion of the global sodium malate is destined for animal consumption through animal feed, where sodium malate is used as a feed ingredient. As the animal feed ingredients industry is rapidly developing, manufacturers are keen on selecting and blending feed material for utmost quality meat production. Studies and research activities are being conducted to enhance the quality of animal feed by supplementing it with sodium malate.
Key Segment
Based on product type
monosodium malate
disodium malate
Based on End Use
food and beverages
cosmetics and personal care
animal feed
Based on End Use
North America
Latin America
Europe
Asia Pacific Excluding Japan
Middle East & Africa (MEA)
Oceania
Japan
Need specific information?
Talk Show:
The Rise of Intelligent Packaging
Personalized, Connected and Sustainable
November 18, 2021
11:00-11:45 AM PST (USA & Canada)
This is a LIVE session