Sodium Lactate Market Snapshot
Sodium lactate market revenue totalled US$ 158.7 Mn for 2021, according to a study by Future Market Insights (FMI). The overall sodium lactate sales are expected to reach US$ 368.3 Mn by 2031, growing at a CAGR of 8.8% for 2021 - 2031.
The demand for liquid form of sodium lactate will accelerate in the coming years, as competition continues to soar. FMI also has forecast the key players to hold 54.3% of the share in 2021.
Key Points Covered in Sodium Lactate Market Study
Market estimates and forecast 2016-2031
Key drivers and restraints impacting market growt
Segment-wise, Country-wise, and Region-wise Analysis
Competition Mapping and Benchmarking
Key Product Innovations and Regulatory Climate
COVID-19 Impact on Sodium Lactate Market and How to Navigate
Recommendation on Key Winning Strategies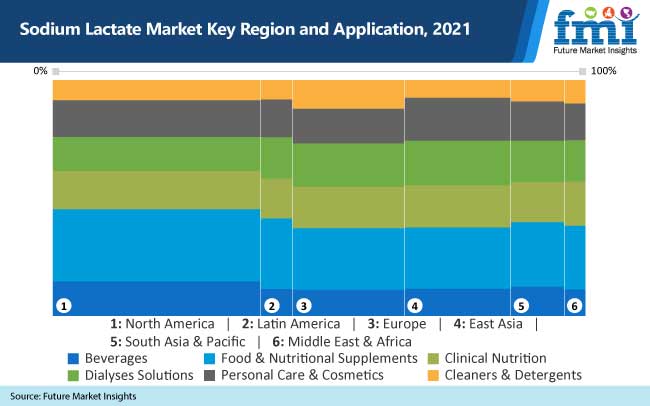 2016-2020 Sodium lactate Demand Outlook Compared to 2021-2031 Forecast
According to Future Market Insights (FMI), the sales of sodium lactate have grown at a 5.6% CAGR between 2016 and 2020. Increasing safety concerns have encouraged several governments to implement stringent regulations to maintain and enhance the quality of food, cosmetic and chemical products, which is promoting sales of sodium lactate ingredient.
Manufacturers are increasingly focusing on expanding distribution channels in emerging markets. Some them also are increasing the sales force and entering into strategic partnerships with local suppliers and distributors to expand their product distribution. Strategic expansion can help to introduce the company's products into emerging economies. For instance, Latin America is dependent on imports for the supply of sodium lactate in the region.
Countries such as Thailand, India, China, Japan, the U.K, and Brazil, hold immense potential for the sodium lactate market. Due to growth in the pharmaceutical and food industries, these countries are expected to be the potential markets for sodium lactate over forecast period.
Future Market Insights has forecast the global market to grow at a CAGR of 8.8% over the forecast period by 2031-end. Growth registered by the market can be attributed to strategies adopted by the leading companies. These include their participation distribution partnerships to expand their product portfolio
For instance, in September 2019, Corbion and Brenntag leaders in chemical and ingredients distribution strengthens their long-term partnership in EMEA by signing an enhanced framework agreement.
How is Growth in Food & Beverage and Personal Care Industry Affecting the Market?
Sodium lactate finds extensive applications in the food & beverage industry. It is especially used in meat products to increase shelf life and maintain meat color. Sodium lactate is also used as an emulsifier, a flavor enhancer, and a flavouring agent. Furthermore, it finds application in the beverage industry to enhance flavour in sour drinks. It is also used as a pH regulator and acidity regulator.
The growing demand for cosmetic products across the globe is creating opportunities for sodium lactate sales. It is used as a primary ingredient for the formulation of cleansing products, moisturizers and numerous other skincare and healthcare products.
Higher inclination towards skin care has been therefore helping the overall expansion of the market. Expansion of the male grooming sector also will impel growth. Some of the leading personal care product companies have already launched dedicated brands for male grooming products which includes formulations made from sodium lactate.
In the beauty and personal care industry, skincare, hair care and cosmetics account for nearly 62% on a global level. For instance, The UAE ranks seventh in the world with a per capita expense of US$ 239 on beauty products. In Europe, the average EU27 per capita cosmetics spending is USD 135 per year.
What Are Key Opportunities For The Market To Growth In Future?
In developed economies, customers are progressively transitioning to products that confirm to stricter requirements for safety. This will create opportunities for research and development activities and product innovation to launch lactates-based products.
Development of custom formulation and products as per end-user requirements is expected to gain impetus across the world. Some of the leading companies are therefore focusing on produyct launches.
A majority of manufacturers in the MEA region are based out of South Africa, Turkey and GCC. They are primarily focusing on manufacturing international quality products to garner significant attention from end-users in the region. Sodium lactate also is used in food products that need to be Kosher & Halal certified.
Expansion in APAC and ban on VOC-based solvent in Europe and North America will create growth opportunities for sodium lactates manufacturers.
What are the Factors Restraining Demand for Products in the Market?
High dependency on imports is a major factor restraining the market. Developing economies such as Vietnam, Indonesia, Brazil, Argentina, Mexico and Columbia are heavily dependent on the import trade. The demand for sodium lactate is driven by heavy imports from outside the region.
Despite high production capacity of chemical commodities of some of the leading manufacturers in countries such as the U.S, India Argentina, Brazil and Mexico, there is still a heavy gap between the overall demand and production. Therefore, to fill gap, countries are heavily dependent on imports. Any imbalance in the imports can hamper the sodium lactate market over the forecast period.
Country-wise Insights
How Lucrative is the Opportunity in the U.S?
The U.S. holds over 90.8% share in North America. The dominance of the U.S. can be attributed to the presence of well-established pharma, food & beverage, and personal care industries. Focus on technological advancements is creating opportunities for manufacturers to deliver novel consumer products.
There has been increase in the consumption of sodium lactate products in the U.S pharmaceutical Industry. Moreover, the U.S. offers reduction of the corporate tax rate, which has encouraged various large chemical manufacturing companies to invest prominently in production facilities.
What are the Factors Driving Revenue Generation in Germany?
In 2021, the Germany market is estimated to account for over 28.8% in Europe. Sodium lactate consumption in Germany is expected to grow at an accelerated pace. Moreover, some of the prominent players such as Caesar & Loretz GmbH, abcr GmbH, Merck KGaA, Dr Paul Lohmann Gmbh KG are present in Germany which will aid the overall expansion of the market.
What are the Key Factors Enabling Growth in Japan?
The Japan market will exhibit a 6.6% CAGR through the forecast period. Japan continues to be a leading pharmaceutical market in the world, regardless of the challenging business landscape due to demographics. With new regulations & drug approvals, manufacturers in Japan are encouraged to innovate novel drug formulations based on a solution made up of sodium lactate. The government of Japan has forecast that the pharmaceutical industry will grow by 3-5%, which will fuel the sodium lactate demand in the country.
What are the Favorable Government Policies Driving the Market in India?
The India market for sodium lactate is estimated to account for more than 58.6% of the sales registered in the South Asia in 2021. Increasing pharmaceutical spending and government initiatives undertaken to increase pharma and food industrialization will create attractive growth opportunities.
For instance, in India, the government unveiled the Pharma Vision 2020, which emphasized making India a global leader in the pharmaceutical industry. This initiative was aimed to help the Indian pharmaceutical market to grow with a CAGR of 11% in the year.
The Indian Government is supporting pharmaceutical and taking the initiative to increase foreign investment in R&D. The production of sodium lactate continues to grow with an increasing number of domestic companies in India to meet their sodium lactate supply needs.
What is the Scope of Growth of Market in China?
The market for sodium lactate in China will exhibit 12.7% CAGR and is expected to account for more than 60.1% of the East Asia market in 2021. China is the key supplier of sodium lactate for the food and pharmaceutical industry. A large number of domestic players are also available in China which will bolster sodium lactate production in China. The Chinese chemical manufacturers have until recently concentrated on the production of basic chemicals, mineral salts and solvents. They are focusing on R&D, production and sales of lactic acid and its derivative products. Thus in a short period, China has become the leading global supplier of sodium lactate in terms of volume.
Category-wise Insights
What is Liquid form Revenue by Product form?
The liquid form of sodium lactate was in high demand in historic period and the demand with continue increasing through 2031. As per FMI, demand in the segment will increase by a CAGR of 7.9% over the forecast period. The adaption of liquid sodium lactate in dialysis solutions for continuous ambulatory peritoneal dialysis (CAPD) solution will create opportunities for growth of the market. Liquid sodium lactate also used in intravenous fluid and electrolyte replacement
Why will Food & Nutritional Supplements Hold 60% Share?
Food & nutritional supplements by allocation holds more than 25% of the overall share in 2021. Food & nutritional supplements will continue to exhibiting high demand. Application in food and nutritional supplements is expected to increase at 9.5% CAGR during the forecast period.
Competitive Landscape
Manufacturers are focusing on the development of intermediates. Moreover, they are focusing on expanding their regional presence through acquisition and expansion.
For Instance, In September 2020, Biosynth Carbosynth expanded with new laboratories in the United Kingdom. These state-of-the-art chemical laboratories were an addition to synthetic labs in the UK, Switzerland, Slovakia and China, and were expected to increase capacity to synthesize complex molecules including carbohydrates, nucleosides and other specialist fine chemicals
In May 2020, Biosynth Carbosynth started a new sales office in South Korea. In September 2020, Glentham Life Sciences acquired a 22,000 square foot facility in Corsham, Wiltshire, UK
Some of the leading companies of this market include:
Jungbunzlauer Suisse AG
Biosynth Carbosynth
Corbion N.V.
Prathista Industries Limited
Dr. Paul Lohmann GmbH KG
Merck KGaA
Advance Inorganics
Hexon Laboratories Private Limited
Galactic S.A.
abcr GmbH
*The list is not exhaustive, and only for representational purposes. Full competitive intelligence available in the report.
Scope of the Report
Attribute

Details

Forecast Period

2021-2031

Historical Data Available for

2016-2020

Market Analysis

USD Million for Value/ Volume (MT) for Volume

Key Regions Covered

North America, Latin America, Europe, East Asia, South Asia & Pacific Middle East & Africa

Key Countries Covered

US, Canada, Brazil, Mexico, Germany, U.K., France, Italy, Spain, Russia,BENELUX, NORDICS, China, Japan, Taiwan, South Korea, India, Thailand, Malaysia, Indonesia, Australia and New Zealand, GCC Countries, Turkey, North Africa, South Africa

Key Segments Covered

Product Form, Application, End User and Region

Key Companies Profiled

Jungbunzlauer Suisse AG
Galactic
Finetech Industry Limited
Biosynth Carbosynth
Finoric LLC
abcr GmbH
Glentham Life Sciences Ltd.
TNJ Chemical Industry Co., Ltd.
Foodchem International Corporation
Luoyang Longmen Pharmaceutical Co., Ltd.
BBCA Biochemical Co., Ltd.
Prathista Industries Limited
Henan Jindan Lactic Acid Technology Co., Ltd
Corbion N.V.
Merck KGaA
Lobachemie pvt.ltd
Fisher Chemical
Dr. Paul Lohmann Gmbh KG
Advance Inorganics

Report Coverage

Market Forecast, Competition Intelligence, DROT Analysis, Market Dynamics and Challenges, Strategic Growth Initiatives

Customization & Pricing

Available upon Request
Key Questions Answered in Sodium Lactate Market Study
At what rate will the demand for sodium lactate rise through 2031?

As per FMI, the sodium lactate demand will increase at 8.8% CAGR between 2021 and 2031.

At what rate did the sodium lactate market grow in the last five years?

The sodium lactate market registered growth at 5.6% CAGR between 2016 and 2020

Which is the most lucrative market for Sodium Lactate?

The U.S. is the most lucrative market for sodium lactate. Sales in the U.S. will account for over 91.2%% of the North America market throughout the forecast period.

Which is the preferred sodium lactate form?

The powder segment by product form will be exhibiting the astest growth at a CAGR of 9.8% through the forecast period.

Who is the leading end user of sodium lactate?

The food & beverages Industry remains the leading in the end-user and is expected to hold a share of 45.0% forecast period 2031 owing to the higher adaption of sodium lactate as a food additive.

What is the North America sodium lactate market outlook?

The sodium lactate market in North America is expected to expand at 8.6% CAGR through the assessment period.

At what rate will the demand for sodium lactate rise in Europe?

The demand for sodium lactate in Europe will increase by 7.9% annually, through 2031.

What are the key factors driving sodium lactate demand?

Increasing application in food and beverage, cosmetics, and pharmaceutical sectors will continue driving sales in the sodium lactate market.

What is the key trend shaping sodium lactate demand?

There is increasing focus on developing novel intermediaries in the sodium lactate market, to cater to specific industry requirements. This is a key trend that will shape growth in the upcoming years.

What is the Japan and South Korea market outlook for sodium lactate?

The sodium laclate market in Japan and South Korea are expected to rise at a CAGR of 7.5% and 5.4%, respectively through 2031.
Sodium lactate Market by Category
Product Form:
Application:
Beverages
Food & Nutritional Supplements
Clinical Nutrition
Dialyses Solutions
Personal Care & Cosmetics
Cleaners & Detergents
End-User:
Food & Beverages Industry
Cosmetic Industry
Pharmaceuticals Manufacturers
Medical Devices Manufacturers
Others
Region:
North America
Latin America
Europe
East Asia
South Asia & Pacific
The Middle East and Africa (MEA)
Need specific information?
Talk Show:
The Rise of Intelligent Packaging
Personalized, Connected and Sustainable
November 18, 2021
11:00-11:45 AM PST (USA & Canada)
This is a LIVE session