Introduction
The sodium bicarbonate report covers comprehensive information about value (US$ Mn) and volume (KT) of the concerned market. In addition, the report covers trends and market dynamics which include drivers, challenges and opportunities, competition landscape and recent developments in the global sodium bicarbonate market for the period between 2018 and 2028.
The global sodium bicarbonate market is estimated to reach US$ 2,443.1 Mn by the end of the forecast period and is expected to expand at a CAGR of 3.7% for the period 2018–2028. The factors responsible for this positive growth of sodium bicarbonate market are increasing demand from industrial and pharmaceutical sectors, growing disposable income and favorable socioeconomic trends.
Demographic Changes and Pharmaceuticals Industry Growth
Increasing growth in industrial sector and population and demographic changes are the prime factors responsible for the positive growth of the sodium bicarbonate market across the globe. The extension of government health programs in developing countries is also expected to have a positive impact on the growth of the sodium bicarbonate market during the forecast period.
In terms of industrial growth, the flue gas desulphurization industry is experiencing positive growth and is expected to continue to experience the same in the coming years as well.
Growing Demand from Hemodialysis Segment
In the recent past, changing lifestyle and food habits in developing as well as developed regions have resulted in several life style diseases, such as cardiovascular dieses, chronic kidney diseases and diarrhoea, among others. In developed countries, such as U.S. and EU-5, exposure to these diseases is high, which, in turn, is leading to increase in healthcare expenditure.
In case of chronic kidney diseases, kidney functions improperly and its ability to filter blood decreases significantly, which over the period of time leads to end-stage renal diseases (ESRD).
According to the Global Burden of Disease Study/National Kidney Foundation, kidney diseases ranked 18th in 2010 in the list of causes of death worldwide and rose to the 12th position in 2015 and accounted for around 1.1 million deaths in 2015.
According to the National Kidney Foundation, ~10-12 % of the population suffers from chronic kidney diseases and only 2 Mn are being treated at the moment. This number is projected to increase significantly over the coming years
Treatment of ESRD patients can be done either through kidney transplantation or dialysis. However, across the globe, due to shortage of kidney donors and medicinal constraints, i.e. proper matching of donor and patient's medicinal aspects, the rate of kidney transplantation is very less as compared to dialysis. Thus, most of ESRD patients are treated through dialysis. Among dialysis types, around 90% of the patients prefer Hemodialysis, while the rest of the share goes for peritoneal dialysis
In 2014, over 1 lac ESRD patients registered for transplantation, among which only 17,105 kidneys donor were available in the U.S.
In Hemodialysis, sodium bicarbonate is an important raw material. This will lead to increased utilization of pharmaceutical grade sodium bicarbonate over the coming years.
Growing Demand for Antacids Medicines Is Likely to Be a Key Factor Affecting End-Product Sales Pattern and Market Growth
Antacids are popular over-the-counter medicines. As pharma grade sodium bicarbonate is an active ingredient in some antacids and tablets, the market is anticipated to see growth during the forecast period and awareness pertaining to the preventive medicine care and product availability is also expected to play a crucial role.
Increasing Number of Desulphurization Projects in the Near Future
Growth in the number of desulphurization projects across the world is expected to create immense opportunities for sodium bicarbonate manufacturers. For instance, North America is planning an additional desulphurization project in the coming future. Thus, the demand for sodium bicarbonate will increase due to such projects.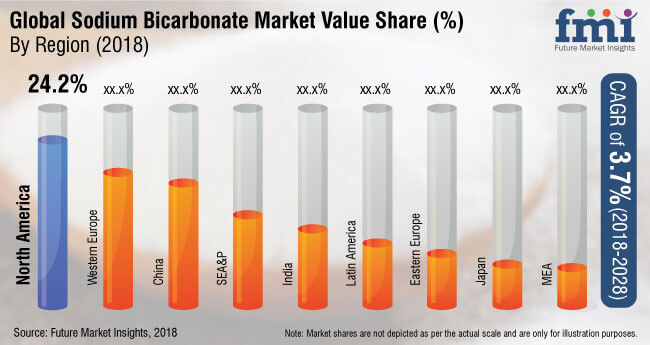 Sodium Bicarbonate Market – Competitive Dashboard
The global sodium bicarbonate market is highly consolidated. Tier 1 players in the sodium bicarbonate market are estimated to hold more than fifty percent of market value share by 2018 end.
Since the last couple of years, the sodium bicarbonate market has witnessed significant developments from a competition perspective. Key players are actively planning to introduce new grades in the food category segment. On the basis of strategies, key players are actively participating in capacity expansions, acquisitions and collaborations to expand and sustain in the global sodium bicarbonate market.
Key players from Tier 1 category of sodium bicarbonate market are focusing on increasing their market value share by entering into numerous strategic partnerships and joint ventures with regional key players. However, some of the regional key players in the sodium bicarbonate market are focusing on entering into long-term associations with end-users to ensure continuous revenue flow
Some of key players are focusing on product innovations and developments in the sodium bicarbonate market and plan to introduce new grades to gain maximum regional share
The Online distribution channel is an alternative strategy adopted by key players to strengthen market presence in global as well as regional markets
Some of the prominent players covered in this study on the sodium bicarbonate market are Tata Chemicals, Solvay SA, CIECH S.A., Novacarb (Novacap Group), GHCL Limited, Dr. Paul Lohmann GmbH KG, Jost Chemical Co., Natural Soda LLC and Tornox Alkali Corporation, among others.
Sodium Bicarbonate Market: Segmentation
Grade
Food & Feed
Pharmaceutical
Technical/ Industrial
Form
Pellets/ Crystals
Slurry
Liquid
Application
Food & Feed
Pharmaceutical & Personal Care
Chemicals
Flue Gas
Detergent
Fire Extinguisher
Others
Regions
North America
Latin America
Western Europe
Eastern Europe
South East Asia & Pacific
China
India
Japan
MEA
Need specific information?