About the Report
Global market for sodium chloride due to various applications in medical, injections, peritoneal dialysis, as an osmotic agent, as a cleaning agent is highly lucarative. As the demand of sodium chloride in pharmaceutical grade increases with presence of large number of pharmaceutical companies and due to its ease of availability, the growth of sodium chloride remains high. Furthermore, research and development sector is focussing on various innovations for health conscious people which also supports the sodium chloride market.
Phyto Corporation, A Korean Plant based product firm in May 2020 has launched a plant based salt in the country. PhytoSalt is a salt product made for consumers who are health conscious. It enables 20% less sodium content in food and is proven by scientists for its effectiveness in reducing blood pressure. The PhytoSalt is 100% microplastics free and contains sodium chloride, potassium chloride, magnesium chloride and calcium chloride contributing to taste and glutamic acid acting as a natural enhancer.
Latest innovation of Cargill Salt have created sea salt which is a unique type of sodium chloride filtered to the smallest and finest granulations of seal salt crystals. Their Sea salt has adherence that sticks better to food resulting in less fall off and thus, less wastage of salt. It blends effectively in foods creating a more consistent distribution. The product is harvested authentically in sun, and wind. Also, it is extremely pure having 99% NaCl.
Utilisation of Sodium Chloride is in medical sector too. For instance, Plasma Lyte A, a source of fluid in case of burns, fractures, infection, etc. is a solution of water mixed with sodium chloride, potassium chloride, magnesium hexahydrate, sodium acetate trihydrate and sodium gluconate. The solution is free from visible particles. It is supplied in polyamide plastic bags during the surgical operation for treating shock due to blood loss and for other conditions where blood is the requirement.
SODIUM CHLORIDE MARKET: KEY RESEARCH FINDINGS
The global sodium chloride market size would expand nearly 1.5X over the forecast period of 2020-2030.
Inexpensive nature and abundance of sodium chloride have enabled its broader adoption in several end-use industries.
Food and industrial grade sodium chloride remain in-demand; pharmaceutical grade to pick pace.
Manufacturers would target the chemical industry for bigger margins; pharmaceutical industry to reflect potential avenues.
Asia Pacific (APAC) continues to shape the revenue pool of sodium chloride prominent players.
KEY FACTORS SHAPING SODIUM CHLORIDE MARKET
Chemical Processing Industry to Drive Sodium Chloride Market
Sodium chloride is used as a raw material for multiple chemical processes, such as chlor-alkali, sodium hydroxide, and soda ash production. Sodium chloride is used extensively for the production of chlorine gas, rubber, and paper & pulp production, among others. It is extensively available and inexpensive, and is a prime source to produce sodium hydroxide and chlorine gas, which is used by numerous industries such as textiles, plastics, chemicals, and agrochemicals, among others, to manufacture consumer products such as paints & coatings, PVC, polymers, and animal feed products.
Emerging economies in South Asia such as China and India are the primary producers and consumers of sodium chloride for chlor-alkali products. Salt suppliers in regions such as North America and the Middle East & Africa are also projected to benefit from increase in chlor-alkali output, owing to low natural gas prices in the region. Growth in the commodity chemicals is expected to drive chlor-alkali consumption, which, in turn, is expected to boost the demand for sodium chloride over the coming years.
Rise in Demand for Processed & Packaged Food Surging Demand
The food industry consumes sodium chloride for multiple applications; sodium chloride is used as a flavoring agent and preservative. The food industry accounts for a major share of the sodium chloride industry; multiple purity grade of sodium chloride is used in the food industry, varying from 98% to 99.9%.
Salt is extensively employed as a preservative in pickles and processed meats. It inhibits the growth of fungi, and thus, food articles can be preserved for a longer time period. Food grade sodium chloride also varies vastly in prices, as it is used for multiple applications, from table salt to specialty salts. Moreover, changing lifestyles, rise in disposable income, and convenience of consumption are key factors increasing the demand for packaged food, which, in turn, increases the consumption of sodium chloride.
Increasing Demand for Food & Pharmaceuticals Grade Sodium Chloride
Booming population, economic development, and increasing disposable income have surged the demand for food additives in the food industry, which has witnessed steady growth over the recent years, Application in animal feed and agrochemicals is also propelling the demand for sodium chloride.
The pharmaceutical sector has seen immense advancements in recent years, and oral drug delivery has yielded superior results as a route of drug administration for manufacturers and end users. Matrix tablets are important for controlled and sustained release dosage forms in the pharmaceutical world, and pharmaceutical grade sodium chloride is used to synthesize such matrix tablets.
Manufactures in regions such as North America and Europe are expected to be front runners in the production of pharmaceutical grade sodium chloride, owing to better healthcare infrastructure and investments in R&D for product growth.
Demand Increase from Other End Users
Industrialization is driving the demand for sodium chloride, owing to its wide range of industrial application. Industrial salts are more economically viable than natural salts, which is further catalysing the growth of the sodium chloride market, or industrial salt growth.
There is also increasing usage of sodium chloride in end-use sectors such as oil & gas as drilling fluids, and as a water softener in water treatment plants.
Food & beverage and chemical industries are the key end users of sodium chloride. The coronavirus (COVID-19) pandemic has compelled governments in several countries to impose nationwide lockdowns and social distancing regulations.
While the chemical industry is suffering due to downtimes of various production facilities, the closure of restaurants and bars has adversely affected the food & beverage sector. These factors are likely to have a negative impact on the sodium chloride market during 2020-21. However, FMI reveals that, the market is poised for a snapback over the next fiscal year.
SODIUM CHLORIDE MARKET: STRUCTURE ANALYSIS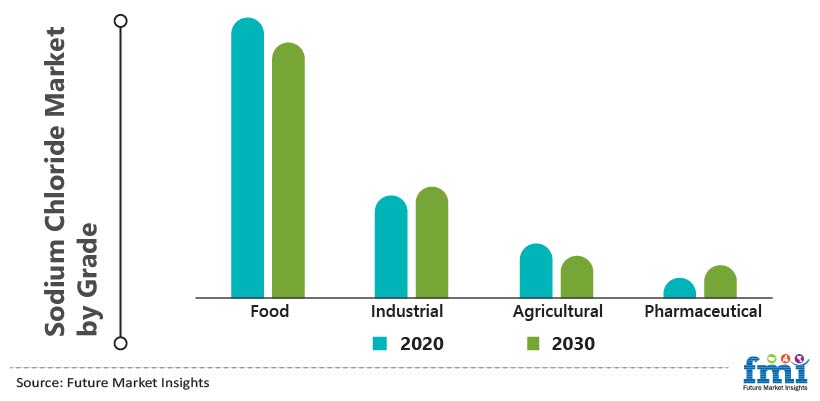 The global sodium chloride market is fragmented, with leading players holding 25-30% of the share. The presence of tier-2 and tier-3 manufactures spread across the world make the domestic market highly competitive.
Tier-I players in the sector are focusing on enhancing R&D capabilities and the acquisition of smaller players to strengthen their positioning across the world, along with product development.
Base year considered - 2019
Actual estimates/Historical data - 2015 - 2019
Forecast period - 2020 - 2030
Forecast units - Value (USD) Bn
Segments covered - Grade, Application, Crop, and Region.
Regions covered - Americas (The US, Canada, Brazil, Mexico, and Rest of Americas), Europe (UK, Germany, France, Spain, Italy, Russia, and Rest of Europe), Asia Pacific (China, Japan, India, ASEAN, and Rest of APAC), and MEA (GCC Countries, South Africa, Turkey, Northern Africa, and Rest of MEA).
Key Players - Nutrien Ltd., The Mosiac Company, K+S Kali GmbH, Israel Chemicals Ltd., Intrepid Potash, Inc., Uralkali, JSC Belaruskali, EuroChem, Arab Potash Company, and SQM S.A.
Report coverage - Revenue forecasts, COVID-19 impact, company share, competitive landscape, growth factors, and trends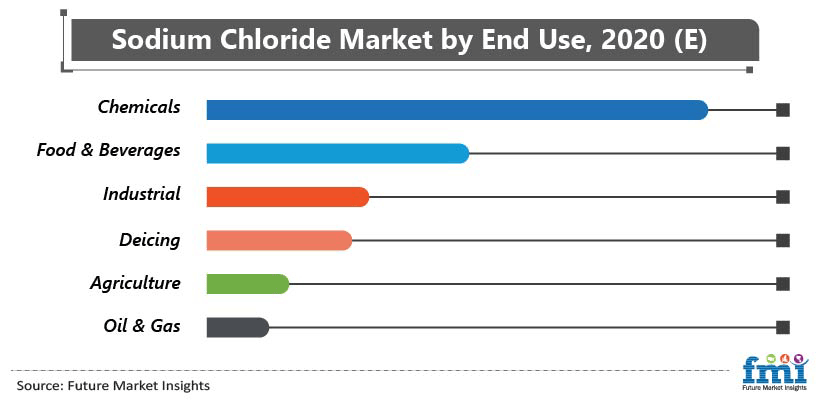 SODIUM CHLORIDE MARKET TAXONOMY
Grade
Industrial
Agricultural
Pharmaceutical
Food
Product Type
Source
End Use
Food & Beverages
Chemicals
Oil & Gas
Industrial
Deicing
Pharmaceuticals
Water Treatment
Agriculture
Leather Industry
Region
North America
Latin America
Europe
South Asia
East Asia
Oceania
Middle East & Africa
Need specific information?