Pharmaceutical Grade Sodium Chloride Market By Type (API-NaCl, HD-NaCl), Application (Injections, Hemodialysis, Oral Rehydrations Salts, Osmotic Agents) & Region - Forecast 2019 - 2029
Pharmaceutical Grade Sodium Chloride Market - Analysis, Outlook, Growth, Trends, Forecasts
November 2019

REP-GB-6464

280 pages
Pharmaceutical Grade Sodium Chloride Market - Key Growth Influencers
Extensive Usage of Sodium Chloride as Prime Solution in Hemodialysis
Over the last few years, changing lifestyles and food habits in developing as well as developed regions have resulted in several lifestyle diseases such as cardiovascular diseases, chronic or late stage chronic kidney diseases, and diarrhoea, among others. In developed countries such as the U.S. and EU-5, exposure to these diseases is high and leads to increase in healthcare expenditure.
End-stage renal disease (ESRD) patients are treated through kidney transplantation or using the method of dialysis. However, due to the unavailability of kidney donors and multiple other medical shortcomings, the rate of kidney transplants is quite low in comparison to the widely practised method of dialysis. Thus, most of the ESRD patients are treated through dialysis. Among dialysis types, around 90% of the patients preferred hemodialysis, while the rest preferred peritoneal dialysis.
According to The National Kidney Foundation, in 2014, over 1 lac ESRD patients registered for transplantation for which, only 17,105 kidneys donors were available in the U.S.
Diversifying Applications of Pharmaceutical Grade Sodium Chloride
Sodium chloride or Industrial Sodium Chloride is a basic chemical with applications ranging among end-use industries such as medication, cosmetics, dietetic food, and cosmetic products. In the pharmaceutical industry, sodium chloride is used in the manufacturing of several products such as dialysis & infusion solutions, oral rehydration salts, and injection and saline drips.
Increasing healthcare expenditure and significant growth of the pharmaceutical industry, primarily in developed regions, are expected to collectively drive the demand for pharmaceutical grade sodium chloride over the forecast period.
Advancements in Matrix Tablets Propel Demand
Oral drug delivery has yielded superior results for manufacturers and end-users as a route of drug administration, due to high patient compliance, cost-effectiveness, lower sterility, constraints, flexibility in the design of dosage form, and ease of production.
Demand for matrix tablets is an important aspect for controlled and sustained release excipient and dosage forms. Pharmaceutical grade sodium chloride is used extensively for manufacturing such matrix tablets.
Constant rise in stress and lifestyle-related diseases will drive the need for innovation and research, bringing novel drug delivery systems to the pharmaceutical grade sodium chloride market. This will, in turn, drive the need for innovative drug formulations. With increasing awareness of health insurance and better availability and affordability of drugs, the pharma industry is en-route exponential growth owing to which, pharmaceutical grade sodium chloride demand is anticipated to increase over the coming years.
Regions such as North America and Asia are expected to be front runners in the pharmaceutical grade sodium chloride market. North America has better healthcare infrastructure and invests heavily in research and development. On the other hand, countries in Asia Pacific have high production rate for OTC drugs in the pharmaceutical market.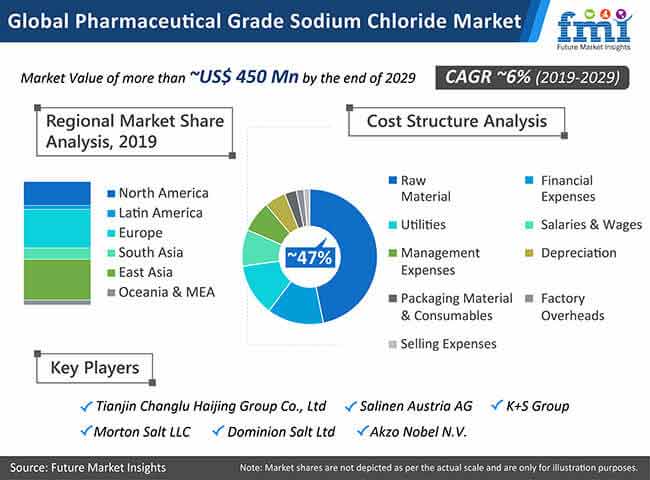 Pharmaceutical Grade Sodium Chloride Market Structure Analysis
The global market of pharmaceutical grade sodium chloride is expected to be very competitive in nature as new players are emerging every few years.
Leading manufacturers of pharmaceutical grade sodium chloride are favouring research and development as well as capacity expansions to resonate with the increasing end-use activities.
Product exploration as well as improvements along with application expansion are identified to remain as key strategies for development adopted by major manufacturers.
Government and non-profit organization involvement in the supply of pharma grade solutions is expected to be a driving force in low-income economies.
Organic strategies such as mergers, acquisitions, and collaborations are reliable inorganic strategies to build a stronger foothold in the pharmaceutical grade sodium chloride market.
Understanding the changing pharmaceutical grade sodium chloride market trends of end-use segments across various regions is expected to benefit prominent players.
World's Most Profilic Intelligence Engine
Get Access To The World's Largest Market Research Database.
Sign Up Now
Pharmaceutical Grade Sodium Chloride Market: Segmentation
By Type
By Application
Injections
Hemodialysis
Oral Rehydrations Salts
Osmotic Agents
Others
By Region
North America
Latin America
Europe
South Asia
East Asia
Oceania
Middle East & Africa
Need specific information?
Our Clients