About the Report
Pharmaceutical intermediates are used as raw materials during the manufacture of bulk drugs. Leading biopharmaceutical and pharmaceutical manufacturing companies are focusing on improving their product footprint globally. These companies are focusing on strengthening their product reach in different countries across the world through various distribution channels. Growth outlook therefore remains positive for pharmaceutical intermediates market as companies continue focusing on enhancing the capacities of their manufacturing plants in various countries of the world.
In its new study, ESOMAR-certified market research and consulting firm Future Market Insights (FMI) offers insights about key factors fuelling demand for pharmaceutical intermediates. The report tracks the global sales of pharmaceutical intermediates in 20+ high-growth markets, along with analyzing the impact COVID-19 has on the pharmaceutical industry in general and the market in particular.
Historical and Future Outlook
The rapidly increasing prevalence of chronic diseases and growth of the aging population across the world are among factors that are expected to increase the need for drug formulations for the prevention of chronic diseases. For instance, as per the International Diabetes Federation Diabetes, The global diabetes prevalence in 2019 is estimated to be 9.3% (463 million people), rising to 10.2% (578 million) by 2030, and the number is rising rapidly. Pharmaceutical drugs have remained key to management of chronic diseases and other diseases.
For instance, according to the World Health Organization (WHO), the prevalence of chronic diseases is expected to increase by 57.0% by 2020, which indicates that a significant percentage of population is suffering from chronic diseases. According to FMI's analysis, pharmaceutical intermediates sales have grown at 3.7% CAGR between 2015 and 2019.
Various small- and medium-scale companies are also focusing on enhancing their production capacity, which is another factor that is expected to fuel growth of the pharmaceutical intermediates demand. Hence demand for pharmaceutical intermediate is increasing and sales are set to grow significantly through 2030.
Moreover, major pharma companies are increasingly relying on contract manufacturing organizations for the manufacturing of pharmaceutical intermediates and final formulations. These companies are focusing on enhancing the capacities of their manufacturing plants in various countries of the world, such as India and China, where the cost of production is comparatively lower. These developments present a positive outlook for growth. FMI expects global pharmaceutical intermediates market to grow at 4.3% CAGR through 2030.
How is Prevalence of Chronic Ailments Aiding Growth?
The rapidly increasing prevalence of chronic diseases and rising the aging population across the world are among chief factors that are expected to increase the need for drug formulations for the prevention of various diseases. According to the World Health Organization (WHO), population comprising of people aged 60 years and above is expected to total 2 billion by 2050. Also, according to the WHO, diabetes continues to be a major cause of kidney failure, stroke, heart attacks, and other chronic ailments.
Moreover, the global increase in aging population is expected to increase the demand for drugs for the management of age-related chronic conditions, which is also expected to boost the pharmaceutical intermediates market. Outbreak of pandemics such as COVID-19, H1N1, Ebola, and others are increasing the requirement of different pharmaceutical intermediates as well as APIs, which signifies the growth potential for the pharmaceutical intermediates.
As a matter of fact the demand for generic and branded products is on rise due to the prevalence of various chronic diseases and increasing aging population, which in turn, is expected to create significant revenue generation opportunities for the pharmaceutical intermediates market. Manufacturers of API are also trying to enhance their production due to the high global demand owing to a shortage of various generic drugs. Increasing reach of various pharma players in the developing countries is also expected to boost the demand for pharmaceutical intermediates.
The WHO has launched Integrated Chronic Disease Prevention and Control Programme (ICP), which is one of the leading technical programme within the Department of Chronic Diseases and Health Promotion (CHP). Such initiatives are expected to support overall expansion of the market.
How is Drug Development Aiding Growth?
Due to rapid development happening in the biotechnology and life science field, demand registered in the market has been significantly rising. Moreover, a wide array of application and increasing adoption of pharmaceutical intermediates in the field of clinical research are creating lucrative prospects for growth. Manufacturers in the biotechnology and pharmaceutical sectors are focusing on drug development activities along with research institutes, especially in the wake of COVID-19.
In fact the ongoing pandemic has been reshaping the pharmaceutical supply chain. Chemical and Engineering news had reported in April 2020, that Director of the U.S. Food and Drug Administration's Center for Drug Evaluation and Research, Janet Woodcock, has shared with a House of Representatives subcommittee that the number of facilities in China supplies active pharmaceutical ingredients has more than doubled itself since 2010. This is presents positive outlook for the market.
Country-wise Insights
How is China Contributing as Key Supplier of Pharmaceutical Intermediates?
FMI has projected East Asia hold more than thirty percent markets share through the course of the forecast period. Growth within the region is likely to be spearheaded by China. As per FMI, the China pharmaceutical intermediates market is estimated to surpass US$ 7 Bn in 2021, exhibiting a CAGR of 6% through 2030.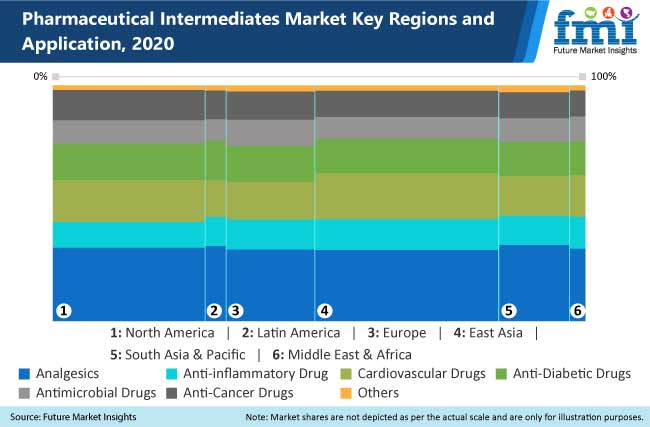 China remains one of the largest markets for pharmaceutical industries in the world. The China Government has been supporting research and development initiatives by various pharmaceutical companies with special attention to the biotechnology sector. Moreover, government taking initiative to support for foreign investment in R&D. providing better access of medicine to people is the prime concern for the Chinese Government.
Pharmaceuticals account for a substantial part of the current China health care budget. According to China.org.cn, China's pharmaceutical market is expected to reach US$161.8 bn by 2023. Also as per, the Information Technology and Innovation Foundation, the 2017 Biopharmaceutical Competitiveness and Investment Survey has ranked China 20th among 27 nations on a variety of measures undertaken for biopharma innovation.
Chinese pharmaceutical manufacturers have until recently concentrated on the production of basic chemicals, intermediates and APIs. In short period of time, China has become the leading global supplier of APIs in terms of volume. As per the WHO report, in 2017 "Total revenues from sales of pharmaceuticals in China are substantially in excess of 100 billion US$, making China the second-largest pharmaceutical market in the world"
Heavy Investment by Manufacture Strengthening U.S. Market
Leading pharmaceutical companies have announced their intentions to invest in manufacturing facilities due to various reasons such as enhancing the production capacity, reducing corporate tax rate in the U.S., among others. The recent tax reforms in the country which include reduction of the corporate tax rate, have encouraged various large biopharmaceutical and pharmaceutical companies to invest in production facilities.
For example, in July 2018, Pfizer announced its plan to invest around US$ 465.0 million to build a sterile injectable plant in Portage, Michigan. This step is a part of its announcement that it had made earlier in 2018 about its plans to invest around US$ 5.0 billion in a U.S.-based capital project due to the recent corporate tax reforms in the country. Similarly, Amgen announced a 5-year capital investment of approximately US$ 3.5 billion in the U.S. and later in July 2018, it announced a new US$ 300 million plant in Greenwich, Rhode Island campus. Eli Lilly announced an investment of US$ 72.0 million for an insulin manufacturing project in 2018.
What is the Regulatory Impact on India market?
Currently, India is one of the top five global manufacturers of pharmaceutical intermediates. The production of pharmaceutical intermediates has continued to grow with an increasing number of multinational companies in India to meet their pharmaceutical intermediates supply needs. In addition, India has the largest number of United States Food & Drug Administration -approved production companies outside the USA.
Every year Indian companies file significant number of drug master filings (DMF). Moreover, increasing production of APIs has led to increase demand for pharmaceutical intermediates. In India chemical manufacturers have the R&D capabilities and technical expertise to produce high-quality, complex, and niche intermediates. The key drugs driving sales and hence, the production of pharmaceutical intermediates, have been anti-infective and antibiotics, anti-inflammatory drugs, central nervous system drugs, cardiovascular system drugs, anti-diabetics
How is Japan Gaining from Pharma Sector Growth?
Japan is the 3rd largest pharma industry in the world. The Japanese government has gone as far as to increase investment in the generic drug market. According to the International Society for Pharmaceutical Engineering, the use of generic drugs increased to 65.8% in 2017 from 39.9% in 2011.
The total annual pharmaceutical spending accounted for 18.3% of health spending in 2017, as per the Organization for Economic Co-operation and Development (OCED). Moreover, Government of Japan's national insurance scheme has been favoring growth of the overall pharmaceutical sector. Increase burden of aging population and wide access to healthcare are the chief driving factors of pharmaceutical intermediates market.
How Presence Of Renowned Companies Causing Germany To Surge?
While China and the U.S. will continue leading, growth in Germany is expected to happen at an accelerated pace. As per FMI, presence of pharmaceutical intermediate companies in Germany is more. Some prominent players in pharmaceutical intermediate such as Chiracon GmbH, Midas Pharma GmbH, BASF SE are present in Germany which creates significant revenue. Moreover, large number of domestic players also available in Germany which create surge in pharmaceutical intermediate production in Germany.
What is the Market Share of Bulk Drug Intermediates?
The bulk drug intermediates segment will continue accounting for over 60% the global share among products through the forecast period. According to FMI, the segment is expected to hold a more than 60% of the market, in terms of product type, by the end of 2030. Bulk drug intermediates segment going to show significant growth in India. For promotion of Bulk Drug Parks, PM Narendra Modi has approved schemes to promote Bulk Drug Parks. Government provide financial implication of US$ 409 Mn for next five years For 3 Bulk Drug Parks. Moreover, Bulk drug intermediates are mostly used in drug development process.
Generic Drug Intermediates to Remain Dominant
Generic drug intermediates by category type holds more than 60% of the overall share through the forecast period, generic drug intermediates continue to account for increasing demand. Rising growth of generic drug intermediates in countries such as Japan, China, and India will continue aiding expansion in the segment. In Japan, government is targeting 80% generic penetration by 2020 and start gradual reduction in use of branded products.
Moreover, generic drug manufacturers in India are integral to the expansion of the pharmaceutical industry and hold strong supply chain globally. In addition to this India is the source of sixty thousand generic brands across sixty therapeutic categories and manufactures more than five hundred APIs.
Analgesics to Account for Maximum Application
Accounting for over 30% of the global market, analgesics will account for maximum application of pharmaceutical intermediates through the course of the forecast period. Analgesics are increasingly used for providing short-term or long-term relief for severe pain. Expansion within this category will be driven by the rising incidence of chronic ailments such as cancer, arthritis, cardiovascular diseases, and others.
According to the arthritis.org, arthritis affects at least one in four adults in the U.S. Meanwhile, the WHO says that the prevalence of arthritis varies between 0.3% and 1% in developed countries. With incidence of chronic ailments forecast to rise further, the demand for analgesics is expected to get stronger in the coming years.
CMOs/CROs to Exhibit High Demand
FMI has forecast CMOs/ CROs to account for the leading market share through the course of the forecast period. Growth witnessed in CMOs/ CROs industries in the last few years has been resulting in high demand for pharmaceutical intermediates. Contract research organizations (CROs) are more popular because they offer cost-effective solutions to firms seeking to produce medicines and large markets, alike.
Contract manufacturing organizations (CMOs) serve various organizations within the pharmaceutical industry with contractual services. Rise in automation in the CMO industry to offer more personalized experience has been enabling growth in the segment. For instance,
Competitive Landscape
Some of the leading companies operating in the market are Cambrex Corporation, BASF SE, Aceto Crporation, Interchem, Cambrex Corporation, Arkema Inc. Major Manufacturers are focusing on development of intermediates by offering wide range of pharmaceutical intermediates. Moreover, major players in pharmaceutical intermediates market are focus on enhancing their global and regional presence through acquisition and expansion. For instance, On February 2019, ACETO announced sale of its chemicals business assets to New Mountain Capital for $338 million. On July 2017, Lianhetech announced the acquisition of Fine Industries Limited including its subsidiaries Fine Organics Ltd. and Fine Environmental Services Ltd.
Some of the leading companies operating in the market are:
Cambrex Corporation
BASF SE.
Aceto Crporation
Interchem.
Arkema Inc.
Chiracon GmbH.
Midas Pharma GmbH.
Chemcon Specialty Chemical Pvt. Ltd..
Dextra Laboratories Limited
Pfizer
Codexis, Inc
Sanofi
Dishman Group
Dextra Laboratories Limited
*The list is not exhaustive, and only for representational purposes. Full competitive intelligence with SWOT analysis available in the report.
Scope of the Report
Attribute

Details

Forecast Period

2020-2030

Historical Data Available for

2016-2019

Market Analysis

USD Million for value and Units for Volume

Key Regions Covered

North America, Latin America, Europe, East Asia, South Asia, Oceania Middle East & Africa

Key Countries Covered

US, Canada, Germany, U.K., France, Italy, Spain, BENELUX, Russia, China, Japan, South Korea, India, Thailand, Malaysia, Indonesia, Australia, New Zealand, GCC Countries, Turkey, Northern Africa, South Africa

Key Segments Covered

Product Type, Category, Application, End User and Region

Key Companies Profiled

Cambrex Corporation
BASF SE.
Aceto Crporation
Interchem.
Arkema Inc.
Chiracon GmbH.
Midas Pharma GmbH.
Chemcon Specialty Chemical Pvt. Ltd..
Dextra Laboratories Limited
Pfizer
Codexis, Inc
Sanofi
Dishman Group
Dextra Laboratories Limited.

Report Coverage

Market Forecast, company share analysis, competition intelligence, DROT analysis, Market Dynamics and Challenges, Strategic Growth Initiatives

Customization & Pricing
Key Questions Answered in the Report
Q1. Which is the most lucrative market for pharmaceutical intermediates?
China currently leads the global market for pharmaceutical intermediates. Sales in China will be over 40% of total demand throughout the forecast period.
Q2. Which is the top-selling Pharmaceutical Intermediate?
Bulk drug intermediates are highly sought-after in every market. The demand for bulk drug intermediates are expected to remain high in the near future, especially due to growing usage in drug development.
Q3. In which drug development, pharmaceutical intermediates are mostly used?
Pharmaceutical intermediates are mostly used in analgesics drug development.
Q4. Which are some of the leading companies offering pharmaceutical intermediates?
Some of the leading companies offering pharmaceutical intermediates are Cambrex Corporation, BASF SE, Aceto Crporation, Interchem, Arkema Inc., among others.
Q5. Which indication is driving sales of pharmaceutical intermediates?
The World Health Organization has identified chronic disease as one of the major death causing factor around the world. It also estimated that more than 35 million people had died due to chronic disease globally.
Key Segments
Product
Chemical Intermediates
Bulk Drug Intermediates

Chiral Intermediates
Achiral Intermediates

Custom Intermediates
Category
Branded Drug Intermediates
Generic Drug Intermediates
Application
Analgesics
Anti-inflammatory Drug
Cardiovascular Drugs
Anti-diabetic Drugs
Antimicrobial Drugs
Anti-cancer Drugs
Others
End User
Biotech and Pharma Companies
Research Laboratory
CMOs/CROs
Region
North America
Latin America
Europe
East Asia
South Asia
Middle East and Africa (MEA)
Oceania
Need specific information?