About the Report
Pharmaceutical packaging is a key sector within the global packaging industry which is primarily used to protect, preserve, and store various pharmaceutical products including drugs, medications, and others. Pharmaceutical packaging formats are made from a wide range of materials including plastic, glass, metal, and paper.
Pharmaceutical packaging not only aids in protecting products, but also works as a tool of information dissemination and advertisement. It includes various product such as bottles, vials, ampoules, blister, bags & pouches, refillable syringes, containers, jars, and others.
The rapid expansion of the pharmaceutical industry amid the COVID-19 crisis has been a major factor supporting the sales of pharmaceutical packaging. Also, the development of new drugs or medications to treat varied ailments has generated growth opportunities for players in the pharmaceutical packaging market.
In its new study, ESOMAR-certified market research and consulting firm Future Market Insights (FMI) offers insights about key factors driving demand for pharmaceutical packaging. The report tracks the global sales of pharmaceutical packaging in 20+ high-growth markets, along with analysing the impact of COVID-19 on the pharmaceutical packaging industry.
How Historical and Future Outlook for Pharmaceutical Packaging Market Compare?
Modern-day healthcare professionals and consumers are demanding convenient packaging solutions that are easy to use and dispose. This requirement in turn has driven manufacturers towards the development of novel and innovative packaging options.
Consumers and drug manufacturers are displaying increasing interest towards sanitized and hygienic packaging environments to minimize the risk of contamination and degrading quality of drugs. Therefore, most players are focused on fulfilling the norms of ISO 14644-1 certifications to ensure cleanliness while packaging drugs and medicines.
The major trend that drives the market of pharmaceutical packaging is the preference for single dose packaging formats, which ensures the consumption of prescribed dosages and safety of the medicine formulations. Moreover, the growing concern towards sustainability has increased investments in R&D to develop packaging which can be recycled or recovered. The future of pharmaceutical packaging is increasingly reliant not only on the pharmaceutical sector, but also the manufacturers who are trying to fill the gaps between distribution and supply chain which is a positive signal for the market. According to FMI's analysis, pharmaceutical packaging expanded at 5.1% CAGR Between 2016 and 2020.
The pharmaceutical industry during this pandemic has displayed strong growth with the development of various drugs and medications, which in turn has driven the demand for requisite packaging products. Also, the increase in consumption of dietary supplements to increase immunity, supports sales.
The rapid growth of e-commerce adds to the growth prospects of the market. Manufacturers are investing in the production of delivery-friendly packaging, which is key to handling the market through e-commerce. The development of various biological drugs witnesses constant investments, which will continue to propel demand for pharmaceutical packaging.
The efforts by manufacturers to develop recyclable and recoverable packaging is also boosting market growth. Besides this, the consumption of vials and ampoules has significantly increased in 2020 and is estimated to continue increasing even in the post COVID-19 era. Manufacturers are gradually transitioning to mono-dose packaging solutions. Therefore, the sales of blisters, prefilled syringes, sachets, and more is expected to increase during the forecast period. On the back of these parameters, FMI predicts that the global pharmaceutical packaging market to rise at a growth rate of 7%, during the forecast period.
How are Sustainability Efforts Impacting Sales of Pharmaceutical Packaging?
Pharmaceutical packaging manufacturers are investing in research and development processes to address the challenges related to environmental and sustainable packaging offerings. Modern healthcare professionals and individual customers are displaying strong preference for sustainable products and packaging.
Also, manufacturers are trying to develop sustainable pharmaceutical packaging solutions by lowering the impact of packaging on the environment, while also increasing the rate of recyclability. Market players are using glass or recycled plastic to address challenges associated to sustainability. Also, pharmaceutical packaging manufacturers are investing in the development of recycling and recovery facilities to support the widening ecosystem for sustainable packaging solutions.
Apart, from glass and recycled plastic manufacturers are focusing on thermoformed packaging, which can be recycled and also is suitable for pharmaceutical products.
How is User Convenience Important to Market Development?
Individual consumers are exhibiting high demand for convenient and consumable packaging types which are easy to carry and store. This has encouraged manufacturers to experiment with various materials other than glass and recycled plastic for production, especially those that are easy to use and easy to dispose.
The emergence of thermoformable material, for instance, has enabled the development of new packaging solutions. It has allowed manufacturers to produce thermoformable trays, blister packaging, and other solutions as per consumer requirement.
Also, to fulfil the demand for lidding materials, manufacturers are incorporating improved film lamination, which has been made possible owing to the emergence of thermoplastic polymers and the increasing quality of healthcare across the world.
Why is Child-Resistant Packaging Gaining Consumer Interest?
According to European Child Safety Alliance, every year 3,000 children below the age of 14 years in Europe die from acute poisoning from pharmaceutical products. This has pushed pharmaceutical packaging manufacturers to focus on the development of packaging options that are childproof.
Innovations in child resistant packaging has boosted market growth for pharmaceutical packaging. This is an important safety measure to prevent the harmful and unintended intake of medical products by children. Also, design improvements including safety caps or closures, single-dose blister packaging, and others will continue to gain popularity through the assessment period.
What are the Opportunities Derived from Demand for Flexible Packaging Products?
Traditional pharmaceutical packaging which includes rigid packaging formats are gradually being replaced by flexible packaging alternatives. The preference towards flexible packaging will create market opportunities for blister films packaging owing to high-performance applications.
Also, blister films are light-weight, flexible, and are fairly durable. The rigid packaging formats are limited in application owing to breakage and corrosion issues, which are prevented by flexible packaging options. Also, benefits such as longer shelf life and convenient user experience can be gained. Consequently, flexible packaging products are made of plastics that can be customized as per end user requirements, allowing manufacturers to bolster sales prospects through innovative packaging designs.
How are Counterfeit Products Limiting Market Growth?
The market value of pharmaceutical packaging has been notably impacted by the supply of counterfeit products. The prevalence of counterfeit manufacturers has generated significant losses in terms of trademarks, packaging designs, intellectual property rights, and more.
Prominently, counterfeiters imitate authentic products through similar packaging materials and designs. The counterfeiting is targeted through secondary packaging options including cartons, boxes, and pouches.
As a result, counterfeit products in the pharmaceutical market especially of developed regions have prominently impacted market value and stricter law enforcement and anti-counterfeiting measures are expected to gain importance in years to come.
Country-wise Insights
How is the U.S. Contributing to Pharmaceutical Packaging Sales?
According to FMI analysis, the U.S. exhibits high demand for pharmaceutical packaging products. The reason for the high market growth is the presence of key players in pharmaceutical packaging market in the country
Expansion of the pharmaceutical sector in the U.S. and focus on novel packaging solutions will continue driving sales. Also willingness to spend on innovative solutions will prove to be a boon for the market.
The pharmaceutical sector in the U.S. is considered to be the largest around the world. The U.S. pharmaceutical market is on the path of solid incline. According to the Organization for Economic Co-operation and Development (OECD) in the U.S. accounted for 11.6% of health spending in 2018.
With the number forecast to rise further, the U.S. will present lucrative opportunities for growth of the market.
How is the Indian Pharmaceutical Sector Contributing to Market Growth?
According to India Brand Equity Foundation (IBEF), India is the largest provider of generic drugs globally. Indian pharmaceutical exports till January 2021 stood at around US$ 20.14 Bn. Also, the Indian pharmaceutical market value in 2020 accounted for approximately US$ 130 Bn.
The government is spending substantially on the healthcare sector. In 2020, government expenditure on healthcare was around US$ 46 Bn. This showcases that the pharmaceutical industry in India is growing at a fast pace which will propel demand. Also, pharmaceutical manufacturers are attracted by the low cost of production in the Indian market which will lead towards the expansion of the industry here.
China Market to Remain Attractive for Pharmaceutical Packaging
The pharmaceutical market in China has grown rapidly in recent years. China is the leading provider of drug development API's, which has attracted international pharmaceutical manufacturers. As one of the leading producers of pharmaceutical ingredients, China offers impressive growth opportunities.
Low cost of production backed by impressive availability of resources has made China a key market for pharma producers, hence pharmaceutical packaging. The vast population of the country and high number of geriatrics also contribute to the consumption of pharmaceuticals, which in turn drives the demand for packaging.
How is the German for Pharmaceutical Packaging Faring?
Pharmaceutical production is high in European countries, especially in Italy, Switzerland, Germany, and United Kingdom. According to European Federation of Pharmaceutical Industries and Association (EFPIA), Germany spends around US$ 8.3 Bn in research and development for pharmaceutical products, whereas the production of pharmaceuticals was valued at around US$ 36.9 Bn in 2017.
This creates demand for pharmaceutical packaging while protecting, preserving, and store pharmaceutical products. Also, the German pharmaceutical export value stood around US$ 90.9 Bn in 2017. These factors have aided in the generation of sales for pharmaceutical packaging. On the back of these factors, it is estimated that the pharmaceutical packaging industry has a flourishing market economy in Germany.
Category-wise Insights
Why are Bottles Dominant in Pharmaceutical Packaging?
By product type, the bottle segment is the most preferred type of packaging products in the pharmaceutical sector. Bottles are primarily used for liquid, powder, and capsule drug offerings.
Bottles are easy to use, convenient for the end-user, durable, and child resistant. On the back of these factors, the pharmaceutical industry relies on bottles for protecting, preserving, and storing their products. Bottles are expected to hold more than 30 per cent of the market through the end of 2031.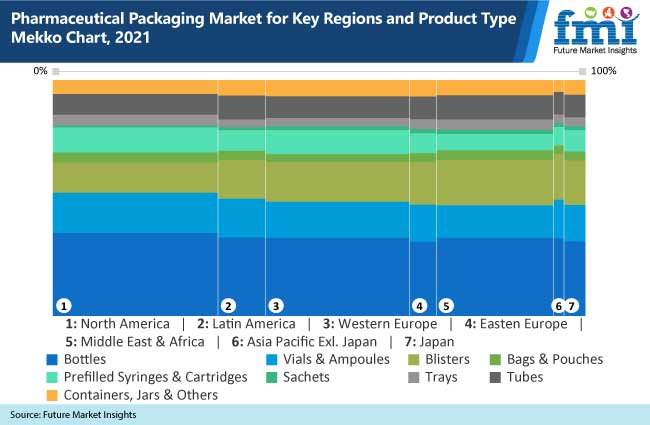 Why is Plastic a Preferred Packaging Material for Pharmaceuticals?
Plastics are known for a number of benefits including flexibility, durability, recyclability, leakage resistance, and low weight. Also, plastics meet safety standards required for storing pharmaceutical products.
These factors make plastic an attractive option for the pharmaceutical industry. Therefore, plastics are anticipated to offer an incremental opportunity of US$ 58.41 Bn in the coming decade.
Competitive Landscape
Companies operating in the market are pushing for customization as per end user requirements. Different drugs or medications have different properties that need to be considered while manufacturing pharmaceutical packaging to preserve the product.
Pharmaceutical packaging manufacturers are increasingly focusing on sustainable packaging options to minimize the impact on the environment while increasing the rates of recycling. They are introducing innovative packaging solutions to meet new drug requirements..
In April 2021, Airnov Healthcare Packaging announced the optimization of product development cycles with simulation and oxygen solutions for the release of Pharmakeep and Oxynov Barrier Bottle Products.
In May 2021, Japan based Nipro announced its strategic acquisition of Piramida, a Coratia based glass pharmaceutical packaging manufacturer, with the aim of leveraging demand in Eastern Europe.
Sepro announced the unveiling of new robotic production lines for pharmaceutical packaging under its Med Series range in 3- 5- and 6- axis configurations, aimed towards multi format production applications.
Some of the leading companies operating in the market are:
Amcor Plc
Ardagh Group S.A.
Becton, Dickinson and Company
UDG Healthcare plc
Berry Global, Inc.
Bilcare Limited
Catalent, Inc.
Clondalkin Group Holdings B.V.
Constantia Flexibles Group GmbH
Gerresheimer AG
Klockner Pentaplast Group
Mondi Group
Nipro Corporation
Schott AG
*The list is not exhaustive, and only for representational purposes. Full competitive intelligence with SWOT analysis available in the report.
Scope of the Report
Attribute

Details

Forecast Period

2021-2031

Historical Data Available for

2014-2020

Market Analysis

USD Million for value and Mn Tonnes for Volume

Key Regions Covered

North America, Latin America, Western Europe, Eastern Europe, MEA, APEJ, and Japan

Key Countries Covered

US, Canada, Brazil, Mexico, Argentina, Spain, Italy, Germany, U.K., Benelux, Nordic, France, Russia, Poland, GCC countries, Northern Africa, South Africa, India, Australia & New Zealand , and China,

Key Segments Covered

Product Type, Material Type, and Region

Key Companies Profiled

Amcor Plc
Ardagh Group S.A.
Becton, Dickinson and Company
UDG Healthcare plc
Berry Global, Inc.
Bilcare Limited
Catalent, Inc.
Clondalkin Group Holdings B.V.
Constantia Flexibles Group GmbH
Gerresheimer AG
Klockner Pentaplast Group
Mondi Group
Nipro Corporation
Piramal Glass Limited
Schott AG

Report Coverage

Market Forecast, Brand share analysis, Competition intelligence, DROT analysis, Market Dynamics and Challenges, Strategic Growth Initiatives

Customization & Pricing
Key Questions Answered in the Report
Which is the Most Lucrative Market for Pharmaceutical Packaging?

North America has emerged as the most lucrative market for pharmaceutical packaging. Within North America, the U.S. will emerge as a key market, backed by presence of some of the leading pharmaceutical producers.

Which is the Top-Preferred Pharmaceutical Packaging Type?

Bottles are the most preferred pharmaceutical packaging type in the market. The sales for pharmaceutical packaging bottle is estimated to increase during the foreseeable period due to their diverse uses in the pharmaceutical industry.

Which Materials are Preferred by Pharmaceutical Packaging Manufacturers?

Plastic as a material is preferred by pharmaceutical packaging manufacturers. The segment will hold more than half portion of the market by the end of 2031.

Which are some of the Leading Companies Offering Pharmaceutical Packaging?

The leading companies offering pharmaceutical packaging are Westrock Company., Becton, Dickinson and Company, Amcor plc, Berry Global Group, Inc., Mondi group, Ardagh Group S.A., Gerresheimer AG, Klockner Pentaplast Group, Sealed Air Corporation, Uflex Ltd., UDG Healthcare plc and others.
Pharmaceutical Packaging Market by Category
Product Type
Bottles

Packer Bottles
Liquid Bottles

Vials & Ampoules
Blisters
Bags & Pouches
Prefilled Syringes & Cartridges
Sachets
Trays
Tubes
Containers, Jars, & others
Material Type
Plastics

Polyethylene
Polyvinyl Chloride
Polypropylene
Polyethyene Terephthalate
Others (Polycarbonate)

Glass
Metals
Paper
Region
North America
Latin America
Western Europe
Eastern Europe
Middle East and Africa (MEA)
Asia Pacific Excluding Japan(APEJ)
Japan
Need specific information?