About the Report
Lipids are natural compounds that are included under the types of fatty acid derivatives or other related compounds. Lipids are for the most part insoluble in water yet show significant level of solubility in natural alcohols and solvents. One of the major factors behind the growth of this market is rising incidence of various medical concerns including cardiovascular diseases, neurological diseases, cancer, and other chronic diseases worldwide.
Also, increasing interest for the effective and fast-acting drugs, combined with improvement of advanced drug producing facilities, is driving the pharmaceutical lipids market. Pharmaceutical organizations are expected to focus on emerging nations such as India, China and Brazil for outsourcing of pharmaceutical lipids, in turn creating growth opportunities in the APAC pharmaceutical lipids market.
Leading pharmaceutical companies are focusing on expanding their product scope across various distribution channels in various countries around the world. To improve their industrial research activities, some companies are concentrating on collaborating directly with academic institutions. Few players, on the other hand, are concentrating on changing and building an extended product portfolio by bringing new innovative products into the global market.
In its new study, ESOMAR-certified market research and consulting firm Future Market Insights (FMI) offers insights about key factors driving demand for pharmaceutical lipids. The report tracks the global sales of pharmaceutical lipids in 20+ high-growth markets, along with analyzing the impact COVID-19 had on the pharmaceuticals industry in general, and pharmaceutical lipids in particular.
Historical Trends Positive, But Future Outlook Even Brighter for Pharmaceutical Lipids Market
The increase in research and development (R&D) expenses by various manufacturing organizations are expected to deliver pharmaceutical lipids for the treatment of inflammatory diseases and cardiovascular diseases. Additionally, the increase in utilization of specialty medicine to cure infections and rising healthcare spending are expected to result in the expansion of the pharmaceutical lipids market.
The U.S. has been exhibiting considerably high demand for pharmaceutical lipids. This can be attributed to an increase in the number of patients suffering from various diseases and increasing investment in R&D. FMI expects global pharmaceutical lipids demand to grow at 10.7% CAGR through 2021.
What is the Impact of Increasing Demand for Oral Solid Drug Formulation?
Oral solid dosage forms are predominant method of drug delivery and are the favored choice for many pharmaceutical products because of their patient compliance and inexpensiveness. Besides this, the utilization of tablets or capsules for a pharmaceutical product can give numerous different advantages such as increased chemical and physical stability, controlled-release options, special brand identification by shape and color, and convenience of handling.
Because of their widespread use and popularity, the interest for solid forms contract manufacturing is increasing. A larger part of liposomal drugs depends on oral solid drug formulations. The market is showing rising interest for solid drug due to simplicity in utilization by patients, along with children. Oral dosage forms typically require more quantity of excipients than other forms in the course of drug manufacturing process.
For instance, around half of patients think that it's hard to swallow regular hard solid tablets. This has encouraged drug manufacturers to grow more advanced and solid oral product forms, like orally disintegrating granules (ODGs), effervescent tablets, instant drinks, chewable tablets, and lozenges. This is fuelling the demand for pharmaceutical lipids.
How is Increasing Research on Liposomal Formulations Boosting Growth?
Liposomes are popular drug delivery system of nano-size with numerous valuable features. It is a simple to-get ready, high bio-compatibility, and bilayer structure gathering the cellular membrane. There has been considerable efforts devoted to the improvement of liposome-based formulations during the previous years.
There has been significant change in focus towards advancement of excipients dependent on lipids, which are multi-functional, flexible, and dispersible. Moreover, consistent prioritization of neglected medical requirements in lipid based medications is expected to drive interest for these excipients and oral formulations in the approaching years. The rising number of FDA-approvals for liposomal-based therapeutics alongside persistent clinical trials on uses in antiviral, anticancer, and antibacterial therapies is driving the market.
What Is the Impact Of COVID-19 Crisis On Global Pharmaceutical Lipids Market?
There has been country-wide lockdown across big economies which is expected to adversely impact the pharmaceutical Lipids market. This negative impact is due to limited production, transportation-related delays owing to travel restriction, and other factors. COVID-19 pandemic has changed the national healthcare priorities and spending but this is considered to be short-term impact.
Pharmaceutical lipids market is expected to experience short-term negative growth owing to sharp reduction in adoption rate in developed and emerging countries. There is expected to show timely development and implementation of contingency plans especially for key imported raw materials. Moreover, E-commerce launching or strengthening is also supporting the faster recovery.
Country-wise Insights
How big is the Opportunity for Pharmaceutical Lipids Market in the U.S.?
North America is predicted to remain one of the most attractive markets during the forecast period. The United States' high healthcare spending is one of the main factors supporting the market growth. Overall healthcare spending grew at a faster rate of about 4.6 percent in 2019 than overall economic growth of 4.0 percent in the United States, calculated by Gross Domestic Product (GDP), according to CMS' Office of the Actuary estimates.
One of the major factors behind this exceptional development is the presence of significant number of API manufacturers in the country. Apart from this, rising cases of chronic diseases, growing overall population, and improving medical care awareness among are among key reasons driving the U.S. pharmaceutical lipids market.
How is rise in prevalence of infectious diseases driving Pharmaceutical Lipids market in U.K?
The market in the U.K. is likely to grow at a rapid pace during the forecast period. Over the next few years, the Pharmaceutical Lipids market in the country is expected to be driven by the production of Pharmaceutical Lipids for neurological disorders, as well as an increase in the prevalence of infectious and other diseases.
During the forecast period, investments in cancer, liver diseases, gastrointestinal diseases for organ regeneration, and stem cell research are expected to fuel the Pharmaceutical Lipids market in U.K.
Why is China Exhibiting High Demand for Pharmaceutical Lipids?
China holds maximum share in the pharmaceutical lipids market in East Asia. The dominance of China is attributable to the rise in demand in the personal cosmetics & skincare and food and beverages industries in the country. China is expected to register increasing growth, principally driven by the rising per capita spending of consumers.
The expanding food and beverages industry in China is anticipated to boost the sales of pharmaceutical lipids over the coming years. Moreover, the rising geriatric populace is will aid expansion in the country. Aged people are more vulnerable to chronic ailments which make them a key demographic in the market.
How are Government Initiatives boosting Pharmaceutical Lipids Market in India?
Increasing government programs are expected to provide affordable and quality healthcare. Moreover, rising cases of chronic ailments will continue fuelling the demand for pharmaceutical lipids in India. Increasing patient pool due to rise in population, emergence of new diseases, and lifestyle changes are fuelling the demand for biopharmaceuticals, which is expected to create impressive growth opportunities.
Category-wise Insights
What's the Market Share of Triglycerides?
The triglycerides will continue accounting for maximum of the global market share among products through the forecast period. According to Future Market Insights, the segment held slightly more than a third (1/3rd) of the market, in terms of product, in the year 2020.
Lipids are essential biomolecules. For example, cholesterol is an important part of the human cell membrane just as a precursor of steroid hormones and bile acids. Triglycerides additionally assume a basic part in the exchange of energy from food to body cells. Yet, any biomolecule in plenty amount is harmful to human wellbeing.
Likewise, an increase in different types of lipids in the circulation system, called as hyperlipidemia, is a consistent medical condition. As, lipids are held in the circulation system, hyperlipidemia is frequently a threat to coronary arteries and the main danger factor for coronary heart disease. This increases the demand for triglycerides for the disease treatment.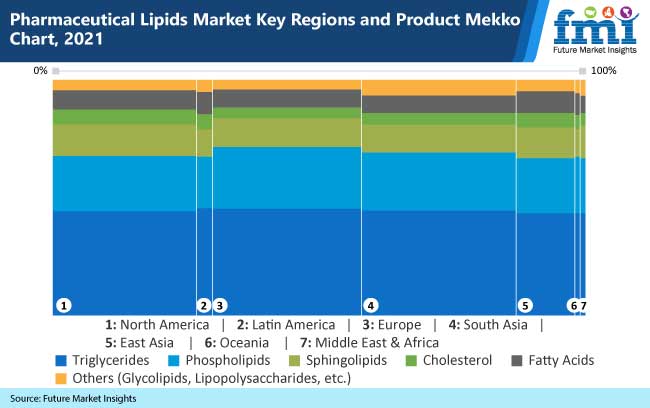 What form of pharmaceutical lipids is most used?
Holding more than a third (1/3rd) of overall market share in 2020, semi-solid accounted for the bulk use of lipids. Semi-solids account for the largest share due to the rising need for improved drug content for faster delivery. Also, these lipids offer controlled and targeted delivery. Moreover, there are much easier to manufacture than biopolymeric nanoparticles. These increases the demand for semi-solid pharmaceutical lipids.
Which application of pharmaceutical lipids is highly sought-after?
The conventional lipid based drug delivery system segment is estimated to hold for the largest revenue share of 64.4% in 2021 owing to increasing bioavailability of drugs. The conventional lipid based drug delivery system is the most important application as it provides enhanced bioavailability and solubility of poor water soluble drugs. Moreover, it provides effective and safe means of delivering the drug at the intended site.
Competitive Landscape
Companies operating in pharmaceutical lipids market are aiming at strategic collaborations with other manufacturers to expand their footprint.
For instance, In, February 2019, ABITEC Corporation and Indchem International (Mumbai, India) entered into a multi-year distribution and collaboration agreement. Under the terms of the agreement, Indchem will distribute ABITEC's expansive functional lipid excipient product line into these markets in addition to developing its own proprietary product lines of exceptional healthcare products for commercialization into both domestic and international markets.
In, August, 2020, Cayman and GenScript came together to create a complete package of neoantigen discovery services. Through combined efforts, MHC-associated peptides are identified and verified as immunogenic to guide peptide synthesis for vaccine development.
Manufacturers are also focusing on the expansion of their product portfolios by launching new technologically advanced products.
For instance, In February, 2019, Gattefossé announces the launch of Emulium® Illustro, a natural water-in-oil (W/O) emulsifier, at in-cosmetics global taking place April 2-4 in Paris, France.
Some of the leading companies operating in the market are:
ABITEC Corporation (ABF Ingredients)
NOF (Nippon Oil & Fats) Corporation
Lipoid GmbH
Nippon Fine Chemical Co. Ltd.
BASF SE
Dishman Group
Cayman Chemical Company
CordenPharma
Croda International Plc
Gattefossé
IOI Oleo GmbH
Merck KGaA
Stepan Company
Evonik Industries AG
*The list is not exhaustive, and only for representational purposes. Full competitive intelligence with SWOT analysis available in the report.
Scope of Report
Attribute

Details

Forecast Period

2021-2031

Historical Data Available for

2016-2020

Market Analysis

USD Million for Value

Key Regions Covered

North America, Latin America, Europe, East Asia, South Asia, Oceania, and the Middle East & Africa

Key Countries Covered

US, Canada, Germany, U.K., France, Italy, Spain, Russia, China, Japan, South Korea, India, Thailand, Malaysia, Indonesia, Australia, New Zealand, GCC Countries, Turkey, Northern Africa, and South Africa

Key Segments Covered

Product, Form, Source, Application, and Region

Key Companies Profiled

ABITEC Corporation (ABF Ingredients)
NOF (Nippon Oil & Fats) Corporation
Lipoid GmbH
Nippon Fine Chemical Co. Ltd.
BASF SE
Dishman Group
Cayman Chemical Company
CordenPharma
Croda International Plc
Gattefossé
IOI Oleo GmbH
Merck KGaA
Stepan Company
Evonik Industries AG

Report Coverage

Market Forecast, Company Share Analysis, Competition Intelligence, DROT Analysis, Market Dynamics and Challenges, and Strategic Growth Initiatives

Customization & Pricing
Key Questions Answered in Report
Which is the most lucrative market for pharmaceutical lipids?

North America has the highest share in the global pharmaceutical lipids market. Within North America, the U.S. has emerged as the dominant market.

Which is preferred type of pharmaceutical lipids?

Triglycerides are expected to lead the pharmaceutical lipids market as the more preferred product type.

Which are some of the leading companies offering pharmaceutical lipids?

Some of the leading companies in this landscape are ABITEC Corporation (ABF Ingredients), NOF (Nippon Oil & Fats) Corporation, Lipoid GmbH, Nippon Fine Chemical Co. Ltd., BASF SE, Dishman Group, Cayman Chemical Company and others.

Which is the key application of pharmaceutical lipids?

Conventional lipid-based drug delivery systems have emerged as key application of pharmaceutical lipids.

Which is the preferred pharmaceutical lipids forms?

Pharmaceutical lipids are largely preferred in semi-solids forms.
Pharmaceutical Lipids Market by Category
By Product Type:
Triglycerides
Phospholipids
Sphingolipids
Cholesterol
Fatty Acids
Others
By Form:
Liquid Pharmaceutical Lipids
Semi-solid Pharmaceutical Lipids
Solid Pharmaceutical Lipids
By Source:
Synthetic Pharmaceutical Lipids
Semi-synthetic Pharmaceutical Lipids
Natural Pharmaceutical Lipids
By Application:
Conventional Lipid-based Drug Delivery Systems
Self-Emulsifying Drug Delivery Systems
Self-Microemulsifying Drug Delivery Systems
Liposomes
Solid Lipid Nanoparticles
Nanostructured Lipid Carriers
Others
By Region:
North America
Latin America
Europe
East Asia
South Asia
Oceania
Middle East and Africa (MEA)
Need specific information?
Talk Show:
The Rise of Intelligent Packaging
Personalized, Connected and Sustainable
November 18, 2021
11:00-11:45 AM PST (USA & Canada)
This is a LIVE session