Pharmaceutical Lipids Market Outlook & Key Findings
Pharmaceutical Lipids market expected to grow at 5.2% CAGR during 2020-2030
Synthetic and semi-synthetic lipids are in greater demand as compared to natural variants
East Asia pharmaceutical lipids market continues to show lucrativeness
North America pharmaceutical lipids market driven by strong gains in the US
Outbreak of Covid-19 has catalyzed the market due to use of lipid-based formulations in vaccine research
Lipid-Based Formulations: The Ongoing Trend
Poor water-soluble drugs pose a challenge for research with respect to bioavailability and solubility. The American Association of Pharmaceutical Scientists states that close to 90% of drugs in pipeline and 40% of marketed drugs are poorly water-soluble. Lipid-based formulations are preferred with regards to formulation of nutraceuticals, diagnostics, vaccines, and pharmaceuticals.
Lipid-based formulations are categorized as Type I, II, III, and IV. Their composition and instances of approved drugs are as follows:
Type I (Oils (Triglycerides, mixed mono and diglycerides) ->Amitiza Rocaltrol
Type II (Oils, Low-HLB Surfactants) -> Sandimmune Neoral
Type III (Oils, High-HLB Surfactants Hydrophilic Cosolvents) -> Xtandi, Lipofen, Kaletra
Type IV (Low-HLB Surfactants, High-HLB Surfactants, Hydroalcoholic Cosolvents) -> Agenerase, Norvir
The other advantage of lipid-based formulations is that they render protection to active compounds from biological transformation or degradation; which, in turn, ascertains improvement in drug potency. Plus, lipid-based particulate DDS are reported to curtail toxicity of several drugs by altering their biodistribution. As such, safety of sensitive organs remains intact.
Pharmaceutical lipids market players onto an Expansion Spree
The pharmaceutical lipids market is driven by expansion (both – organic and inorganic) to establish a competitive edge over one another.
For instance –
In Jul 2020, Retrotope announced entering into preclinical development of second D-PUFA drug candidate – RT011 (a deuterium-stabilized version of DHA (docosahexaenoic acid) to treat AMD (age-related macular degeneration)
In Jul 2020, Abitec Corp announced acquisition of Larodan AB to expand the former's functional lipid product offerings as well as scientific capabilities for serving the industrial, nutritional, and pharmaceutical sectors better
In Jul 2020, Croda International Plc agreed upon acquisition of Avanti Polar Lipids, Inc., so as to expand its research capability with respect to drug delivery
In Jun 2020, KD Pharma signed a licensing agreement with Herbolea Biotech Srl for granting the former rights of utilizing the latter's Bio-Herbolysis extraction technology in Europe
Market Players Focusing on R&D
The market is subject to an extensive research, which is expected to foster the entry/adoption of novel medications in the forecast period.
For instance –
In Dec 2019, research report regarding development of biomimetric rLips by making use of folic acid (FA) – modified bovine serum albumin (BSA) as replacement for apolipoprotein and its anti-tumor and tumor targeting capacity was tabled. The report did show positive results.
In Oct 2019, researchers at Tsinghua University developed a tandem mass spectrometry-based workflow that is capable of quantifying and characterising phosphatidycholines (a class of mammalian lipids that are helpful as biomarkers in research pertaining to cancer). This instrument produces the best results by adding ammonium bicarbonate.
In Oct 2019, it was revealed that as per researchers at Mashhad University of Medical Sciences (Iran), Fentanyl Citrate Drug encapsulated in nanostructured lipid carrier showed enhancement in pain relief.
In Sep 2019, researchers from MIT announced development of lipid nanoparticles for delivering RNA vaccines, which help in inhibition of growth of melanoma tumors.
Covid-19 Impact
The outbreak of Covid-19 has escalated the demand for pharmaceutical lipids (like the other medications) as healthcare personnel and researchers across the globe are looking out for ways to combat Covid-19. Let's glance through the efforts being taken in this regard:
In May 2020, Moderna Inc. announced extension of deal with CordenPharma for securing huge volumes of lipids used for producing its experimental Covid-19 vaccine.
Moderna also stated that on success with the vaccine, it plans supplying a million doses per month in 2020 and 10 million doses in a month in 2021.
As per researchers at Hebrew University (Israel), fenofibrate – an existing cholesterol drug, is capable of downgrading the threat related to Covid-19 to common cold.
Pharmaceutical Lipids Market: Region-wise Analysis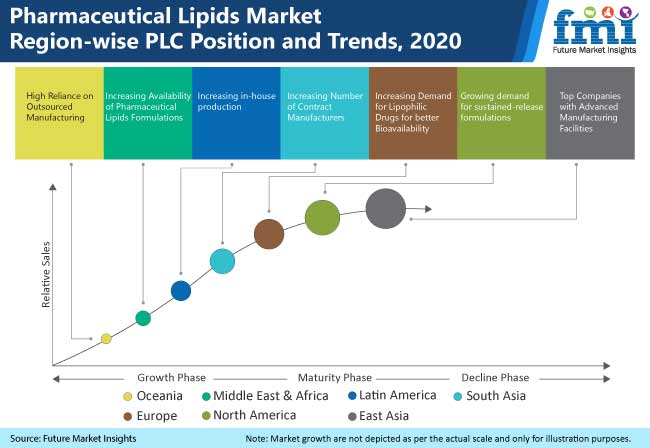 East Asia is the most profitable market on the count of pharmaceutical lipids owing to high rate of adoption related to patented medicines. North America and Europe follow suit, as far as revenue is concerned. The US has been consistent regarding Y-o-Y growth rate, and is set to witness growth of 5.5% in 2020.
North America holds ground also an increasing demand for sustained release formulations. On the other hand, Europe is driven by demand for lipophilic drugs due to better bioavailability. South Asia is a promising market due to growth in in-house production.
Key Players in Pharmaceutical Lipids Market
The pharmaceutical lipids market comes across as a highly competitive one. The strategies include developing new lipid-based formulations.
Research is being conducted regarding devising combination drugs (lipids and proteins) for prognosis on the part of cardiovascular disorders and also dyslipidemia. This trend is expected to create a major upswing in the forecast period.
For instance – as per NCBI, omega-3 fatty acid based nanostructured lipid carriers of AT (atorvastatin) are being formulated to treat hyperlipidemia. Success with this formulation is expected to drive the players towards their production at the commercial level.
On the other side, clinical trials are already being conducted pertaining to success with chronic ailments like ovarian cancer and tumor. For instance – the Islamia University of Bahwalpur is researching on devising lipid-polymer hybrid nanoparticles for co-delivering cisplatin and curcumin for improved cytotoxicity against ovarian cancer.
The success with above-mentioned research will pave the way to a new line of treatment for ovarian cancer and prompt the players to go for production of the drugs along these lines.
The key players in the pharmaceutical lipids market include:
Merck KGaA
Avanti Polar Lipids Inc.
BASF SE
Corden Pharma International
NOF Corporation
Cayman Chemical Company
Croda International Plc
Stepan Company
*The list is not exhaustive, and only for representational purposes. Full competitive intelligence with SWOT analysis available in the report
Pharmaceutical Lipids: The Way Forward
The long-term pharmaceutical lipids market outlook remains strong, with FMI estimating it to grow at over 5.2% Y-o-Y. The market is expected to gain greater traction amidst Covid-19, as lipid-based formulations are being tried out to produce vaccine against Covid-19.
The market players need to focus on reaching out to wider geographies through collaborations, joint ventures, partnerships, mergers, acquisitions, so that the cost factor could be taken care of.
Key Segments of Pharmaceutical Lipids Market
FMI's study on the market offers information divided into four important segments— product type, form, Application, and region. This report offers comprehensive data and information about the important market dynamics and growth parameters associated with these categories.
Product Type
Triglycerides
Phospholipids
Sphingolipids
Cholesterol
Fatty Acids
Others (Glycolipids, Lipopolysaccharides, etc.)
Form
Source
Synthetic
Semi-synthetic
Natural
Application
Conventional Lipid-based Drug Delivery Systems (LBDDS)
Self-Emulsifying Drug Delivery Systems (SEDDS)
Self-Microemulsifying Drug Delivery Systems (SMEDDS)
Liposomes
Solid Lipid Nanoparticles
Nanostructured Lipid Carriers
Others
Region
North America
Latin America
Europe
East Asia
South Asia
Oceania
Middle East and Africa
Need specific information?