Pharmaceutical Solvents Market Overview
[250 Pages Report] Demand for pharmaceutical solvents Market was not impacted significantly during the height of the COVID-19 pandemic in 2020. Currently, due to the ever-increasing demand for fresh formulations and innovative chemical recipes aiming to effectively tackle the pandemic situation, pharmaceutical solvent manufacturers are trying to meet the hiking demand particularly by increasing production and by devising effective global supply chains.
As individuals and governments are becoming more aware of the relevance of pharmaceutical products, such as sanitizers, the pharmaceutical solvents market is expected to boom in the 2021-2031 forecast period.
Market players such as Sigma-Aldrich Company LLC, BASF SE, The Dow Chemical Company, Avantor Performance Materials, and Clariant are focusing on meeting the evolving requirements of end-users.
For instance, Sigma-Aldrich Company LLC has developed an online platform, in response to the Covid-19 pandemic, that lets the companies and pharmaceutical research firms purchase pharmaceutical solvents and other raw materials utilized towards the development of pharmaceutical formulas that can tackle the pandemic.
Also, the company has developed an impressive global task force aiming to analyze and improve the supply chain to maximize the supply and to tackle any possible disruption.
US and Europe will continue to account for significant demand for pharmaceutical solvents, particularly owing to the increased number of pharmaceutical industries, well-established supply chain and logistic capabilities, and increasing awareness among people regarding the importance of pharmaceutical remedies.
Key Findings
Pharmaceutical solvents Market demand is anticipated to grow at a CAGR of above 4% through the forecast period (2020-2030)
China, US and Germany cumulatively account for ~ 38% of the total market share for pharmaceutical solvents
Ester and Ether based pharmaceutical solvents account for nearly 30% revenue share
Tight regulations surrounding residual solvents limits is opening up a plethora of opportunities for key players for non-toxic and greener solvents
Stringency in RS Limits to Fuel Innovation
High spending within the pharmaceutical industry for novel medicines and drug delivery systems is enhancing the uptake of pharmaceutical solvents. These solvents are used as building blocks, excipients, or active substances at any step of the synthesis pathway or during the process of drug formulation.
The pharmaceutical industry is governed by stringent regulations surrounding the toxicity of solvents used. Thus, the Residual Solvents (RS) limits have been well established by regulatory agencies. For this reason, manufacturers are working feverishly to reduce the amounts of solvents used. Additionally, excess amounts are known to accelerate decomposition of the drug.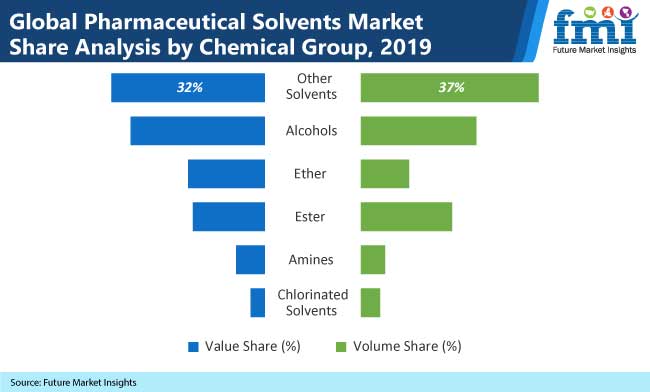 Within the market, organic solvents are gaining immense traction and are unquestionably better and are finding widespread usage in tablets production. Solvents such as methanol, acetone, ethanol and ethyl acetate are notably being used for high-quality tablet coatings.
Regionally, Europe and North America will witness the highest production of pharmaceutical solvents and are set to capture one-third of the volume share through 2020-2030
Solvent Recovery in Pharmaceuticals to Pave Way for Potential Savings
Pharmaceutical Market companies benefit commercially when they keep solvent recovery on-site instead of relying on a chemical processor to recover solvents. Others benefit by contracting incineration of solvents and obviating the expensive overheads in shipping off hazardous chemicals.
By capitalizing on solvent recovery on their own, pharmaceutical companies stand to improve their bottom line. Recovering of solvents on- premise also enables the company to exercise better quality control.
Recovery of solvents is usually done by sending them to a toll processor to clean and return. The other alternative is incineration but with incineration and recovery and return, the company also runs the risk of increasing its carbon footprint.
Thus companies are now recognizing the importance of solvent recovery designs that use a combination of extraction and distillation columns. These have shown to significantly reduce operating expenses by at least 15%-20%.
Regional Analysis: East Asia Accounts for Sizeable Pharmaceutical Solvents Market Demand
As per analysis by Future Market Insights, East Asia is identified as the fastest growing region with growth higher than the global pharmaceutical solvent market. China, Japan and South Korea which make up the East Asia region, account for one quarter of the global demand for pharmaceutical solvents.
Closing in is Europe which cumulatively along with Asia Pacific captures 65% of the demand pie. Europe is led by Germany which accounts for 1/4th share within the region.
Latin America is poised to be stable in terms of sales and the region is projected to continue being import driven, with a large chunk of pharmaceutical solvents imported by the region.
Pricing Analysis – Manufacturers' Margins Sharp Despite Exorbitant Raw Material Costs
The raw materials used in the production of pharmaceutical solvents make up the highest cost accounting for anything between 48%- 50% of the overall production costs. Vis-à-vis this, cost incurred on energy and fuel is a mere 25%. Manufacturers' though are using astute pricing strategies and selling their products at US$ 1000 – US$ 1500 per tonne and still making good profits.
The changes in crude oil prices have left a profound impact on the petrochemicals sector. With propylene prices fluctuating immensely, manufacturers are resorting to acetone based isopropanol production methods which is more cost-effective.
With propanol being an essential solvent used in pharmaceuticals, these methods will create growth opportunities for the major players.
Pharmaceutical Solvents Market Manufacturers – Research Initiatives on Solubilization to Gather Traction
The Pharmaceutical Solvents Market is fairly consolidated in nature with leading stakeholders accounting for half of the total share. Pharmaceutical solvent manufacturers are focusing on solubilization technologies for solvents to expand profit pools. Many are extensively collaborating with universities and start-ups that are helping to spur investments in the development of eco-premium solutions.
With stringency in regulations, many leading players such as Dow Chemical, BASF SE, Clariant AG and Eastman Chemical Company are innovating to meet high standards surrounding the usage of pharmaceutical solvents.
Thermal Kinetics, a US based engineering and design Services Company has been giving a distinct advantage to its clients through reduced chemical costs with the help of distillation processes that are being effectively used for solvent recovery. With distillation being a highly energy intensive process, the company is effectively utilizing Mechanical Vapor Recompression (MVR) as a more efficient manufacturing method to reduce overall energy costs.
BASF SE, a leading German chemicals manufacturer offers a range of solvent solutions for the pharmaceutical sector. The company is deeply involved in solving the myriad solvent and formulation challenges that plague the pharmaceutical sector. Towards this, the company has launched a state of the art lab which focuses on dermatological topical formulations. It conducts extensive testing for allergic reactions and irritations through its range of solubilizers.
The Dow Chemical company, headquartered in US offers a range of performance materials and chemicals. Within the pharmaceutical solvent landscape, the company offers propylene glycol and has a production capacity of 900 KT. The company has received accolades for its solubilization technology which has helped to strengthen its brand.
Alcohol-based Pharmaceutical Solvents Set to Gain Traction with High Demand for Ethanol and Isopropanol
The demand for alcohol based solvents is expected to be considerably high. Propanol as an alcohol based pharmaceutical solvent is being used extensively as a direct solvent in pharmaceuticals and also to produce other solvents used in antifreeze, soaps, dyes and cleaning agents. The segment is anticipated to grow at a CAGR of above 4% throughout the forecast period.
Alcohol based pharmaceutical solvents are being widely used in OTC drugs and syrups. Within this segment Ethanol and Isopropanol are witnessing high demand growth on back of their high applicability as excipients.
Key Market Trends - Application of Green Chemistry for Pharmaceutical Solvents Market
The pharmaceutical industry is taking a step forward towards green chemical processes owing to its distinct advantages such as decreased waste and cost. These new-found strategies are gradually being implemented across a range of solvents and catalysts in the pharmaceutical landscape.
The U.S. Environmental Protection Agency (EPA) has widely acknowledged the need for greener chemical processes in pharmaceutical solvents sector in order to reduce environmental impact of toxic chemicals used in drug formulation.
The incorporation of green chemistry is purported to save the global pharmaceutical industry US$ 65 million in terms of manufacturing costs through 2020.
Through sustainable solutions via green chemistry, chemists and scientists engaged in the pharmaceutical industry can efficiently utilize non-hazardous and eco-friendly solvents during drug synthesis. Many examples of green solvents can be seen in intermediates used in drugs which can further be used for synthesis:
Vegetable oils are essential oleo chemicals that are processed after extraction from plants. They are being extensively researched as biopolymers and as a new source of green solvents
Glycerol also derived from natural oils has a high sustainability index and its low cost makes it a prolific green solvent. Glycerol is seeing applicability in pharmaceutical solvents, tobacco and cellulose films
Water with its versatile physical and chemical attributes is an ideal green solvent and is advantageous over conventional variants due to it non-toxic, non-flammable properties and cost-effectiveness
How Packaging and Handling are Paving the Way for Growth
With new diseases proliferating and complexities in patient demands, there has been an advent of new drug formulations for bio similar and biologics. These require nuanced packaging solutions that are in tandem with RS limits of solvents used and also enhance quality and traceability.
AccuRec, a packaging solution has two chambers that are helping end users to re-constitute oral drug formulations. The packaging is not only tamper-proof but also child-friendly. The solvent and drug powder are stored in each chamber and a twisting mechanism helps in accurate dosage by releasing the powder into the solvent. The packaging helps to maximize drug efficacy by ensuring that active ingredients in the drug formulation only interact with solvent at the time of dosage thus reducing the need to add excipients.
Other packaging offerings that meet regulatory stringency are low delamination propensity glass vials that showcase minimal delamination. Glass delamination is a serious issue that threatens pharmaceutical companies. Delamination can cause glass particles to mix with the solvents in the vials causing severe toxicity and threatening patient safety. These vials offered by companies such as Ompi, an offshoot of an Italian MNC, Stevanato Group are helping reduce potential drug recalls with the occurrence of delamination.
World's Most Profilic Intelligence Engine
Get Access To The World's Largest Market Research Database. Ngage with a revolutionary intelligence engine that scale and pricing that flexes as per your needs
Sign Up Now
Taxonomy:
By Chemical Group
Alcohol

Ethanol
Isopropanol
Propanol
Propylene Glycol

Amine

Aniline
Diphenylamine
Methylethanolamine
Trimethylamine

Ester

Acetyl Acetate
Ethyl Acetate
Butyl Acetate

Ether

Diethyl Ether
Anisole
Polyethylene Glycol

Chlorinated Solvents

Carbon tetrachloride
Dichloromethane

Others (Chelating Agents, Acetone, glyc
By Region
North America
Latin America
Europe
South Asia
East Asia
Oceania
Need specific information?