Sodium Nitrate Market
Market Insights on Sodium Nitrate covering sales outlook, demand forecast & up-to-date key trends
Sodium Nitrate Market: Global Industry Analysis 2013 - 2017 and Opportunity Assessment; 2018 - 2026
Market Introduction & Outlook
Sodium nitrate is a type of alkali metal nitrate salt, also popularly known as Chile saltpeter (as large deposits of this salt are found in Chile) to differentiate it from ordinary saltpeter and potassium nitrate. It is a white, crystalline solid and though it is non-combustible, it increases the burning rate of combustible materials.
Large quantities of sodium nitrate result in fires, or explosions in cases where the combustible material is finely divided. Sodium nitrate finds important applications in solid propellants, explosives and chemical fertilizers, apart from many other uses. It also finds important applications in several reactions carried out on industrial scales for the manufacture of chemical fertilizers, pyrotechnics and smoke bombs, glass and pottery enamels, preservatives for food applications and in the manufacture of solid rocket propellants.
Sodium nitrate is also used as a color fixative in cured meats and poultry. It finds application as an oxidizer in fireworks, thereby substituting potassium nitrate commonly found in black powder, and as a component in instant cold packs.
Sodium nitrate is combined with potassium nitrate and calcium nitrate for the purpose of heat storage and, lately, for heat transfer applications in solar power plants. A mixture of sodium nitrate, calcium nitrate and potassium nitrate finds application as an energy-storage material in prototype plants, such as the Andasol Solar Power Station and the Archimedes projects.
Apart from this, sodium nitrate also finds application in wastewater treatment processes for facultative microorganism respiration. Nitrosomonas, a genus of microorganisms, consumes sodium nitrate preferentially vis-à-vis oxygen, enabling it to grow more rapidly in the wastewater to be treated.
Considering these important aspects of applications of sodium nitrate, the study of sodium nitrate becomes an important read.
Rising demand from the food and beverages industry
In recent times, there has been a rise in the demand for food preservatives from the rapidly growing food & beverage industry. Preservation of processed food has been gaining importance over the past few years. Sodium nitrate is being increasingly used as a preservative in specific processed meats, such as bacon, jerky and luncheon meats.
Moreover, the volume of processed food & beverage consumed has been rising exponentially, which can be primarily attributed to the rising population with high income groups, especially in developing economies. These factors have been largely contributing to market growth.
Sodium nitrate market Assessment by region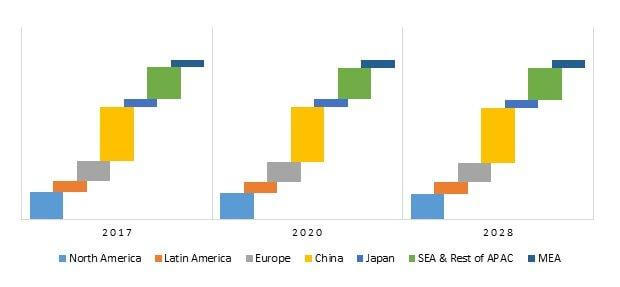 Download Report Brochure
Regional Market Outlook
In terms of geography, the sodium nitrate market can be been divided into seven regions – North America, Latin America, Europe, South East Asia (SEA) and Rest of APAC, China, Japan and Middle-East & Africa. China and SEA & the rest of APAC are dominating regions in the sodium nitrate market, due to growing population and increasing demand for sodium nitrate applications across a diverse range of industries.
North America and Europe are the next most important regional markets for sodium nitrate and Germany, France and the U.K. are key countries in the European region. The sodium nitrate market in Asia is expected to be the most promising market for players during the forecast period, owing to various factors such as developing healthcare facilities, growing chemicals, plastic & rubber and paint & coating industries and the increasing use of sodium nitrate in pharmaceutical & healthcare industries.
Talk to Analyst
Find your sweet spots for generating winning opportunities in this market.
Talk to Analyst
Competition Outlook
Some of the key manufacturers operating in the global sodium nitrate market include BASF SE, Merck KGaA, Grupa Azoty, Sumitomo Chemical Co., Ltd., and Avantor Performance Materials, Inc. Some of the other producers of sodium nitrate include Deepak Nitrite, Ricca Chemical Company and LabChem, among others.
Sodium Nitrate Vendors
BASF SE
Honeywell International Inc.
Merck KGaA
Grupa Azoty
Sumitomo Chemical Co., Ltd.
Avantor Performance Materials, Inc.
American Elements
Graham Chemical Corporation
SQM
Pure Chemicals
Become a MarketNgage Insider
An unified Market Research Subscription Platform, built for today's disparate research needs.
Sodium Nitrate Vendors
Deepak Nitrite Ltd.
Ricca Chemical Company
LabChem
Jost Chemical Co.
Rashtriya Chemicals & Fertilizers Limited
Brenntag Nederland BV
Allan Chemical Corporation
Universal Preserve-a-Chem Inc.
Santa Cruz Biotechnology, Inc.
Fisher Scientific
Vendor Developments
In August 2017, Deepak Nitrite Ltd. – an Indian manufacturer – filed a legal petition seeking review investigations on sodium nitrite imports from China into India. This was further supported by some other manufacturers operating in the country to protect their business interests pertaining to sodium nitrate in the country. The result has been that the country's Ministry of Finance has imposed a five year anti-dumping duty on sodium nitrite imports from China, thereby providing a favorable judgment to the petitioners.
Manufacturers of sodium nitrate have been expanding their manufacturing capacities to meet the rising demand from their customers. For instance, in June 2016, SQM declared that it would be increasing its total potassium nitrate production capacity by 500,000 metric tons per year.
Key data points covered in report
The report covers exhaustive analysis on:
Sodium nitrate market by grade, end use industry and region
Regional level market analysis of North America, Latin America, Europe, Asia Pacific Excluding Japan, Japan, Middle East & Africa by test type, end user and country segments
Sodium nitrate market dynamics & opportunity assessment
Volume consumption of sodium nitrate at regional level
Regional level average cost of sodium nitrate
Historical actual market Size, 2013 – 2017
Sodium nitrate market Size & Forecast 2018 – 2028
Sodium nitrate market current trends/issues/challenges
Competition & companies involved
Research Methodology
The market sizing of sodium nitrate will be done by adopting the data triangulation approach. The demand side approach will be followed to assess the actual market size of sodium nitrate. Secondary research is used during the initial phase to identify the feasibility of target products/technology categories and their respective segments, product and service offerings, investment base in manufacturing facilities, adoption rate and future impact of new technologies.
Additionally, regional consumption of sodium nitrate among end users is tracked at a granular level to obtain the most accurate information. Each piece of information is eventually analyzed during the entire research project, which builds a strong base for primary research information.
Primary research participants include demand-side respondents, such as marketing managers, and procurement managers as well as key opinion leaders in addition to supply-side respondents, such as sales professionals at the manufacturers' end, distributors, wholesalers and exporters, who provide valuable insights on trends, research applications of products and technologies, purchasing patterns, services offered and associated pricing.
The research report presents a comprehensive assessment of the market and contains thoughtful insights, facts, historical data, and statistically supported and industry-validated market data. It also contains projections using a suitable set of assumptions and methodologies. The research report provides analysis and information according to market segments such as geographies, application, and industry.
The report covers exhaust analysis on
Market Segments
Market Dynamics
Market Size
Supply & Demand
Current Trends/Issues/Challenges
Competition & Companies involved
Technology
Value Chain
Regional analysis includes
North America (U.S., Canada)
Latin America (Mexico. Brazil)
Western Europe (Germany, Italy, France, U.K, Spain)
Eastern Europe (Poland, Russia)
Asia Pacific (China, India, ASEAN, Australia & New Zealand)
Japan
Middle East and Africa (GCC Countries, S. Africa, Northern Africa)
The report is a compilation of first-hand information, qualitative and quantitative assessment by industry analysts, inputs from industry experts and industry participants across the value chain. The report provides in-depth analysis of parent market trends, macro-economic indicators and governing factors along with market attractiveness as per segments. The report also maps the qualitative impact of various market factors on market segments and geographies.
Market Taxonomy/Segmentation
Market by Grade:
Industry grade sodium nitrate
Food grade sodium nitrate
Pharmaceutical grade sodium nitrate
Market by End Use Industry:
Fertilizers
Pharmaceutical & Healthcare
Explosives
Food & Beverage
Others
Market by Region:
North America
Latin America
Europe
China
Japan
South East Asia (SEA) & Other Asia Pacific (APAC)
Middle East & Africa
Frequently Asked Questions
Table of Content
NA
List of Tables
NA
Talk to Analyst
Find your sweet spots for generating winning opportunities in this market.
Talk to Analyst
List of Charts
NA