Molded Wood Pallets Market – Key Research Findings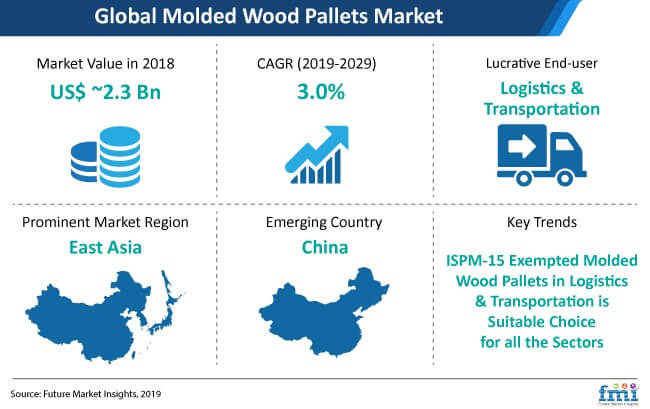 The global molded wood pallets market size in 2018 was approximately US$ 2 Bn.
The molded wood pallets market is projected to grow at approx. 3%, during the next ten years.
The ISPM-15 safety measure regarding wooden pallets, which requires hardwood pallets to be heat treated, is expected to boost the molded wood pallets market growth. Molded wood pallets are heat treated and in compliance with the measure.
The molded wood pallets market is dominated by the usage of full size pallets as they are an appropriate choice for industrial packaging as well suitable for retail displays.
Europe and Asia Pacific are expected to remain leading regions in terms of market value share, cumulatively accounting for more than half of the global molded wood pallet share.
In the United States, full size pallets are preferred as compared to quarter size pallets and half size pallets.
Manufacturers in the pallets market are shifting towards providing sustainable and convenient products.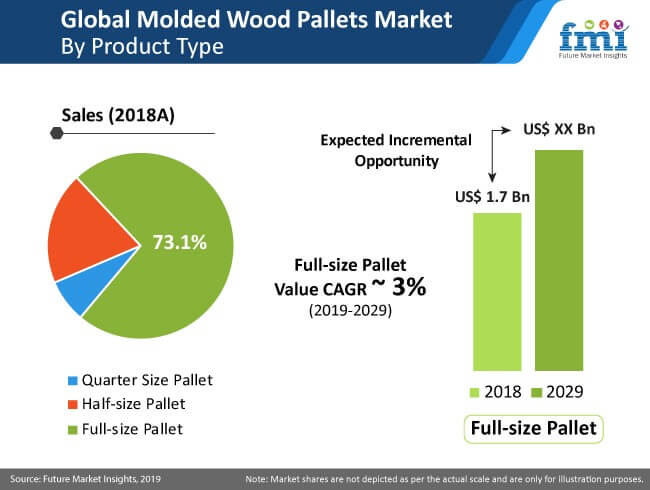 Key Factors Shaping the Global Molded Wood Pallets Market
Manufacturers' Preference: ISPM-15 Exempted Molded Wood Pallets
ISPM-15 is a measure for packaging of wooden materials of thickness greater than 6mm, for shipment between two countries. The measure is developed by International Plant Protection Convention (IPPC) to prevent the spread of diseases and insects that could negatively affect the ecosystem.
More than 85 countries have adopted the measure, which states that wooden pallets should be heat treated at a certain temperature and pressure. Molded wood pallets are compliant with the ISPM-15 measure and consequently don't require post-heat treatment.
Increment in Export/Import to boost the Molded Wood Pallets Market Growth
To enhance the quality of shipment and provide optimum packaging to the consumer, manufacturers use compact pallets. Decrement in transportation cost, as well as reduction in storage & warehousing space creates demand for molded wood pallets.
Key market trends imply that the global pallet market is driven by the demand for cost-effective and convenient packaging solutions. Manufacturers and distributors in the molded wood pallets market are focusing on cost-effective logistic products as well as improvisation in production capabilities.
Market Inclination towards Recycled Product Manufacturing
Molded wood pallets are 35% lighter than conventional hardwood pallets, and are durable enough for reuse, which increases their preference over other wood pallets. Convenient manufacturing process, less material sourcing requirement, and sanitization during manufacturing makes them cost-effective. Apart from cost-effectiveness and lightweight of molded wood pallets, utilization of recycled material is the driving factor for manufacturers in the pallets industry.
Flexibility in Choosing Raw Material: The raw materials used for making molded wood pallets are hardwood & softwood chips, bamboo shavings, wooden residues, agricultural residues, and wheat straws, among other forms of wooden particles. Manufacturers also use old wooden pallets and recover them in the form of molded wood pallets.
Cost-reduction through Software Analysis: Litco International Inc. uses software analysis for cost & storage space saving, which enables manufacturers to maximize transportation of pallets.
Introduction of Insulated Pallet Covers
Manufacturers in the market came up with pallet covers that provide insulation together with required strength and flexibility. Insulated pallet covers resist punctures, block light, prevent UV and odor transfer, act as an ultra-radiant barrier, as well as an insulating bubble layer. Introduction of insulated pallet covers is expected to trigger the molded wood pallets market growth in the upcoming years.
Unravelling the Growth of the Molded Wood Pallets Market
Nestable molded wood pallets are easy to handle and require less storage space as compared to other pallets, be it plastic or wooden pallets. The demand for nestable pallets is more in logistics & transportation industry as compared to other end-use industries. The molded wood pallets market is expected to expand at a moderate growth rate during the forecast period.
Increment in Trade among Emerging Regions is expected to Increase Consumption
The European region is expected to account for a major market share in the global molded wood pallets market. The developing countries in South & East Asia will lead in terms of growth rate and incremental opportunity during the forecast period. Emerging countries such as India and China, are expected to represent higher incremental opportunities in their respective regions.
Molded Wood Pallets Market Structure Analysis
Manufacturers in the molded wood pallets market maintain their strategic focus on providing pallets with high strength, along with the utilization of wooden residue.
Diversification in the product portfolio according to size and product type is a key strategy for manufacturers to expand their business operations in the molded wood pallets market.
Key tier 1 players in the molded wood pallets market include Litco International Inc. and INKA Paletten GmbH.
North America and Europe are estimated to account for noticeable consumption of sustainable products during the forecast period.
Molded Wood Pallets - A Stepping Stone to Sustainable Logistics
Although a wide range of factors continue to influence the modern logistics supply chain, a number of components, machines, and systems that make up the holistic chain still lack optimal efficiency and environmental regulation compliance. As stakeholders explore alternative solutions, pallet manufacturers are turning to sustainable process to convert wood waste, damaged logs, and even agriculture residues into molded wood pallets. Their efforts have been complemented and encouraged by a cross-industry emphasis on recycling and sustainability.
The pallet industry has been a stakeholder, and a collaborator, in the broader concerted efforts to streamline and strengthen product shipments. Over the years, a slew of developments, regulations, and challenges have impacted the industry uniquely. Future Market Insights (FMI), in its new study, examines these factors in detail, offering a lucid analysis of a market that can create sustained opportunities for the stakeholders.
Molded Wood Pallets Market – Preference for Compact and Sustainable Drives Demand
Pallets have evolved over time and use, and a wave of 'going green' has been impacting the industry in recent years. Subsequently, engineered wood pallets have garnered significant traction as a viable alternative to conventional pallets in terms of weight, cost-effectiveness, compactness, and sustainability.
In addition to taking up one-third of the space of wooden pallets, molded wood pallets are compliant with ISPM-15 and do not require extensive heat treatments, thereby paving the way for increased adoption in international trade activities. As industries as well as consumers continue to shift their focus towards bio-based products, molded wood pallets market is likely to witness a steady growth in the future.
Big gains in manufacturing and warehousing activities along with rapid replacement of worn pallets with newer units are expected to provide growth prospects to market players. However, it is imperative to note that, the emerging trends of pallet pooling programs to reduce wasted material and the cost of continually procuring new pallets can stymie the degree of opportunities.
Consequently, to align with the evolving trends, manufacturers are directing their investments in improving the product properties relative to reusability and recyclability.
Asia Pacific's Thriving Warehouse Industry: Opportunities Abound
Manufactured according to a guaranteed pest-free process, molded wood pallets are suitable for worldwide exportation, as they are exempt from ISPM 15/NIMF 15, colloquially known as the "wheat stamp." While Europe market for molded wood pallets continues to account for greater share with strong presence of key stakeholders, market consolidation in Asia Pacific is expected to offer distinct lucrative opportunities.
Considering the warehousing industry in the region, which has been visibly growing in recent years, molded wood pallet manufacturers are likely to instate new production plants in developing countries. Availability of higher resources and affordable workforce in the region will further lead to realignment of these strategies.
Trends Influencing the Molded Wood Pallets Market
As most industries are taking a closer look at improving their sustainability practices, pallet manufacturing and distribution have come under increased scrutiny. With flexibility of choosing raw materials that are about 97% recyclable and plant-based, molded wood pallets have captured significant attention from a wide range of end-use industries.
However, these pallets can't be repaired, and are ideal for just one-way shipping. Manufacturers are thus continuously working on enhancing their reusability and for the advancement of the concept of circular economy. These factors further intensified when Litco International, Inc.'s molded wood pallets achieved 'Cradle to Cradle' recertification in 2018, signifying improvement in all five quality attributes and overall environmental impact.
Considering the nature of product, high levels of heat or cold can become a real issue during the shipping process of various products, especially pharmaceuticals. Therefore, molded wood pallet manufacturers are introducing insulated pallet covers to improve the viability and quality of whole supply chain.
While many standard models meet most packaging and shipping needs, a number of manufacturers are offering a molded wood pallets in range of sizes to fit many applications. Aligning with overall supply chain strategy also remains key focus area of the manufacturers to make new strategic moves.
Molded Wood Pallets Market – Gearing Up for the Road Ahead
Ensuring that products loaded onto the base remain free from damage, molded wood pallets have become a pallet of choice in number of end-use industries. As use of conventional pallets contributes to environmental degradation, the focus has shifted to adopting recyclable raw materials and manufacturing without the use of screws and nails.
Implementation of regulatory norms on sustainability and recyclability, which was once an afterthought, are expected to gain prominence in the coming years. Therefore, molded wood pallet manufacturers should be looking at a period of sustained demand.
While constant developments in logistics & transportation continues to significantly impact manufacturers' bottom lines, they are tapping into potential opportunities in rapidly expanding building & construction and F&B manufacturing sectors. In the view e-commerce penetration and increasing online populace, market players are working on building effective distribution strategies.
In addition to launching new websites and mobile apps to facilitate the online purchase, manufacturers are incorporating new response mechanisms and allowing buyers to pre-order bulk and truckload quantities of products.
Key Segment
By Product
Nestable/Stackable Pallets
Rackable Pallets
By Size
Quarter Size Pallets
Half Size Pallets
Full Size Pallets
By End Use
Manufacturing & Warehousing

Food & Beverages
Chemicals
Automotive
Pharmaceuticals
Others

Logistics & Transportation
Building & Construction
By Region
North America
Latin America
Europe
South Asia
East Asia
Oceania
MEA
Need specific information?