Molded Fiber Pulp Packaging Market Outlook & Key Findings
Global molded fiber pulp packaging market to surpass US$ 8 Bn mark by the end of 2020 as it remains well-positioned to create new value opportunity of US$ 300 Mn every year till 2025
Among pulp types, transfer molded and thermoformed fiber segment to collectively contribute US$ 4 Bn between 2020 and 2030
Thick wall and processed pulp segments anticipated to witness a marginal drop in growth
16% of companies using plastic-based packaging anticipated to switch to molded fiber pulp packaging in Europe and North America
An average drop of US$ 200 in production cost per ton of molded fiber pulp produced expected in next three years as producers optimize production strategies
Sneak Peek into a World beyond Eggs for Molded Fiber Pulp Packaging
Future Market Insights (FMI) captured a tectonic shift in perception about molded fiber pulp packaging. Amongst potential customer who believed the usage of this material was restricted to packaging of eggs reduced to only 12 % according to FMI's 2020 report. The same survey conducted in 2014 revealed that 54% of potential end users of molded fiber pulp consider it be used only for egg transportation. Food producing and processing, pharmaceutical, and electronic manufacturing companies were prominent in the respondent list.
In the span of past five years, molded fiber pulp packaging companies have been able to foray into conventional plastic-based packaging solutions across key industry verticals. Food and beverages (F&B), pharmaceuticals, and electronics have been the primary users, accounting for over 65% of the global demand in 2020.
The food and beverages sector can further be segregated as F&B retail product packaging and F&B services, of which the former leads the demand share. Molded fiber pulp packaging companies are estimated to collectively generate revenue of US$ 3.5 Bn in 2020 from the F&B retail segment.
A large chunk of this consumption is correlated with egg packaging and shipping, which witnessed a slight southward trend. This shift is largely attributed by other application areas coming to the fore. Surprisingly, fiber based packaging market has been reported as a preferred primary packaging material for cosmetics and automotive components amongst manufacturers.
Apart from the mainstream application, molded fiber pulp companies are also eying for non-conventional applications. A few such applications include flower pots, wine shippers, fruit and vegetable trays, corner protectors, and disposable urinal to mention a few.
Emergence of these application areas is certainly going to have a perception change, not only at supplier level but also the end user level, resulting into heightened spending on product design. FMI, based on the historical track of product introduction, anticipates at least five to seven new packaging products made out of molded fiber pulp entering the market every year, over the mid-term forecast period.
What Attracts End-use Industries towards Molded Fiber Pulp Packaging?
Molded fiber pulp is a versatile material that continues to impress not just the suppliers but also the end users, as it ensures effective protection and packaging. Historically, expanded polystyrene (EPS) packaging has been a preferred choice for packaging while shipping. However, molded fiber has seen widespread adoption as it is an environment-friendly packaging option with excellent vibration dampening and cushioning properties.
It offers reliable protection to the packed products against damages caused by impact during transportation and storage. Molded fiber has better grip, shock absorption, and elasticity. Thus, molded fiber pulp packaging has been used regularly by wine producers, cosmetics brands, computers peripheral manufacturers, candle manufacturers, and popular mobile phone brands.
It is interesting to note that unlike other packaging segments, the demand pattern for different types of packaging differs with respect to end-use industries. For instance, healthcare packaging accounts for nearly 60% of the total molded fiber bowls market, whereas in F&B sector dominates in trays segment.
CDEG (Consumer durable and Electronic goods) accounts for maximum share in the custom products as electronic products such as computers, internet modem, cellphones requires custom design. Automotive and transport and logistic cumulatively account for half of the total end caps market. Increasing adoption of molded fiber over EPS is another epicenter of growth for molded fiber pulp market. Chart below explains product and application demand across the industry for 2020.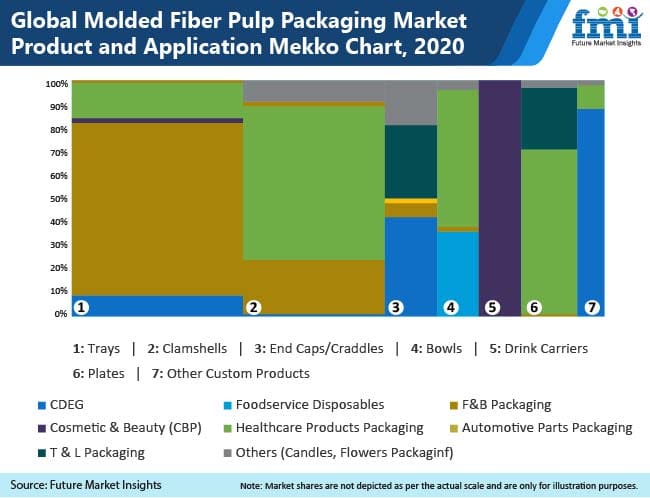 Spirit of Sustainability to Push Molded Fiber Pulp Packaging Closer to the Customers
Eco-friendly and biodegradable molded pulp packaging is gaining wide acceptance and recognition. Molded fiber is a packaging material made from recycled paperboard and newsprint papers. It is a collective term used to describe the process of producing robust, protective, and biodegradable packaging that aims to incorporate ethos of 100% recycled materials.
Molded pulp fiber manufacturing process has no wastage, as all the residue and water are reused and recycled. Environment-friendly and green-molded fiber packaging meets customer needs and expectations in terms of both packaging excellence and ecological responsibility.
Established brands in pharmaceutical manufacturing and cosmetics are experimenting with molded fiber pulp, and several such products have already made it to the market.
Proctor & Gamble partnered with a molded fiber supplier to develop a biodegradable package for its Gillette Fusion ProGlide using molded pulp packaging, which is 20% lighter and allows it to cut the percentage of plastic by more than 50%
Aveda Corporation has entered into a partnership with UFP Technologies, Inc., an innovative designer and custom converter of foam, plastics, and natural fiber products, to develop packaging for its Aveda Uruku lipstick using molded pulp packaging. The packaging is in clamshell form surrounded by a sleeve that holds everything in place
Pangea Organics has shown innovation in the packaging of soap products by adding plant seeds in the slurry of molded pulp. Soap is packaged in a molded fiber clamshell made completely of processed pulp. Once the package is used, it can be decomposed and buried to grow the plant
Newton Running Shoes created a shoebox made of molded pulp in which the outline of the shoebox curves around the shape of the shoe. This design not only creates strength in the package, but also saves material by not adding extra tissue paper to fill the empty space in the standard packaging of a rectangular shoebox
Molded pulp can be considered as a cost-effective medium of packaging due to its low disposal costs, minimum inventory and warehousing costs, and easy packaging process. It is made up of fully recyclable, inexpensive, and readily available newsprint and paperboard that have witnessed stable prices for years.
It reduces costs in terms of transportation, warehousing, labor, and design. Molded fiber packaging solutions lead to reduction in packaging eco-tax. Many European countries prefer molded cellulose for packaging as the packaging tax is ten times lower than plastics. In addition, there is cost optimization during transportation and storage because more products can be stored in a given space in this form of packaging.
How Packaging Industry Leaders are Planning to Foray in this Business?
Future Market Insights, over the years, has developed a panel of experts who share key insights in terms of prevailing trends as well as new developments. One of the industry insider revealed the market entry strategy of leading packaging companies is adopting a data driven ADA strategy (Attack-Defend and Avoid Strategy).
Global molded fiber pulp market can be sliced from end-use industry's perspective and big packaging companies would want to expand with a precise strategic planning. Owing to the capability and industry of experience, packaging companies target sectors. Close to one third of established packaging companies enter market by offering molded fiber pulp packaging products in food service & food retail and pharmaceuticals.
Though, F&B and pharmaceutical are dominating end-use verticals, a plenty of white spaces is still available in new product categories such as horticulture pots, protective corners to replace air-pillow, and end caps.
Over a thousand different product categories are hipped from one country to another and protective packaging is used to prevent damage to the product. To this application area, molded fiber pulp is an effective solution.
Ten High Profitable Applications of Molded Fiber Pulp
Trays (for packaged food, fruits, vegetables, horticulture etc.)
Clamshell
End Caps
Drink Carriers
Fitment Packaging
Corner Protectors
Die-cut Kits
Lamp Packaging
Candle Packaging
Blister Packs
How the Global Molded Fiber Pulp Market is Structured?
Global molded fiber pulp packaging market can be structured into four categories, and existing companies can be segregated. These four categories are Market Dominators – which primarily consist of Huhtamaki and Hartmann. These account for close to one fourth of the global market share.
Closely followed by market dominators are Market Challengers. Companies like Pactiv and UFP can be placed in this category. Individually, such companies have less than five percent market share, and generally operate in selected industry vertical with limited products.
Followers and Aspirers are other two category of companies identified by FMI. These set of companies operate regionally and have marginal presence in the market. Many of new entrants in the market have been categorized in this bracket of competition.
What are the Notable Advancements in Molded Fiber Pulp Packaging?
Manufacturers of molded fiber pulp packaging are looking for alternative sources to procure pulp, owing to increasing demand for sustainable packaging. This demand has compelled them to explore non-wood fibers such as bagasse, bamboo, wheat straw, and more. These fibers have gained wide traction in the past few years and have emerged as a viable source for the production of molded fiber pulp products at a commercial scale.
Technological advancements have led to state of the art printing and coating techniques for on molded fiber pulp products. Use of bio-based coatings is trending in paper-based packaging, as it maintains sustainability of the product yet enhances its moisture resistance and printability. The same trend is emerging for molded fiber pulp packaging, which is likely to further boost its application protective packaging.
A Balanced Regional Canvas for Molded Fiber Pulp Packaging
Regional variance in demand for molded fiber pulp packaging is balanced between west and the east, with total demand from North America as well as Europe is higher by 400 BPS than Asia Pacific. Collective demand from the Middle East and Latin America is less than 10%. By and large Asia pacific has been the profitable raw material supplying destination. However, emergence of regional packaging goliaths in Asia Pacific, especially in China, India and Japan is adding new dimension to the regional market.
Opportunity-packed Future for Molded Fiber Packaging
As companies operating in food & beverages, pharmaceutical consumables and equipment, and electronic and industrial good manufacturing opting for sustainable and impactful packaging, the northward growth of molded fiber pulp packaging is evident. FMI projects a drift towards molded fiber pulp based blister packs in pharmaceutical sector.
Similarly, a sizable movement among F&B retail as well as F&B service provide towards molded fiber pulp packaging is also anticipated, attracting brownfield investments from existing market players. FMI forecasts that over the span of next three years, molded fiber pulp packaging industry will witness an anticipated investment of over US$ 250 Mn in brownfield expansion.
These developments within the industry will aid to the overall growth of the industry and eventually attract new customers, as new entrants along with existing ones will continue to attract these customer groups with new and innovative products.
Market Taxonomy
The global Molded Fiber Pulp Packaging Market is segmented in detail to cover every aspect of the market and present complete market intelligence to readers.
By Product Type
Trays
Drink Carriers
Boxes
End Caps
Plates
Bowls
Cups
Clamshell Containers
Application
Primary Packaging
Secondary Packaging
Edge Protectors
Molded Pulp Type
Thick Wall
Transfer Molded
Thermoformed Fiber
Processed Pulp
End Use
CDEG
Food & Beverage

Egg Packaging
Wine Packaging
Fruit Packaging
Others

Cosmetics
Food Services
Healthcare
Automotive
Logistics
Others (Candles, Flower Packaging)
By Region
North America
Latin America
Western Europe
Eastern Europe
APEJ
MEA
Japan
Need specific information?